How to Decorate Your Kids' Bedrooms for Christmas on a Budget
Christmas is a time for family, friends, and fun. It's also a time for decorations! One great way to get your kids excited about the holiday is to decorate their room with Christmas cheer. Decorating your kids' bedrooms for Christmas is a fun and affordable way to get them excited for the holiday season.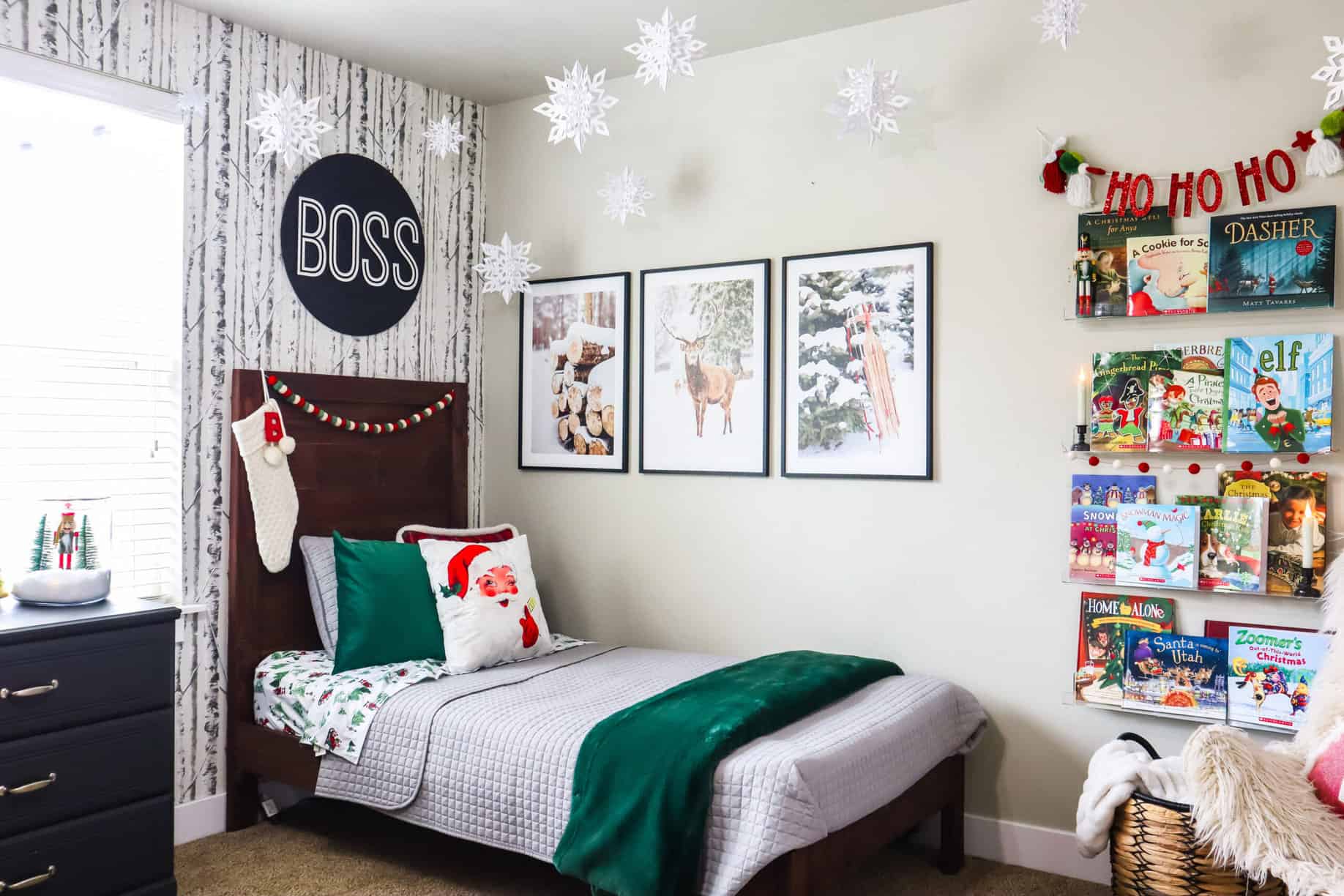 In this blog post, we will discuss some easy and affordable ways to decorate your kids' bedrooms for Christmas. You can create a winter wonderland in their room with garlands, string lights, a mini tree, a countdown for the holiday, Christmas bedding and throw pillows, and other DIY projects. By creating a festive atmosphere in their bedroom, you can help your child get into the Christmas spirit!
Keep reading for kid's room Christmas ideas!
Decorating Your Kids' Rooms for Christmas
Adding Christmas decorations to your kids' rooms is a super fun idea and a great way to bring the holiday spirit into more of your house than just the living room. When deciding what holiday decor to add to your child's room, however, the first thing you need to think about is the age of your child.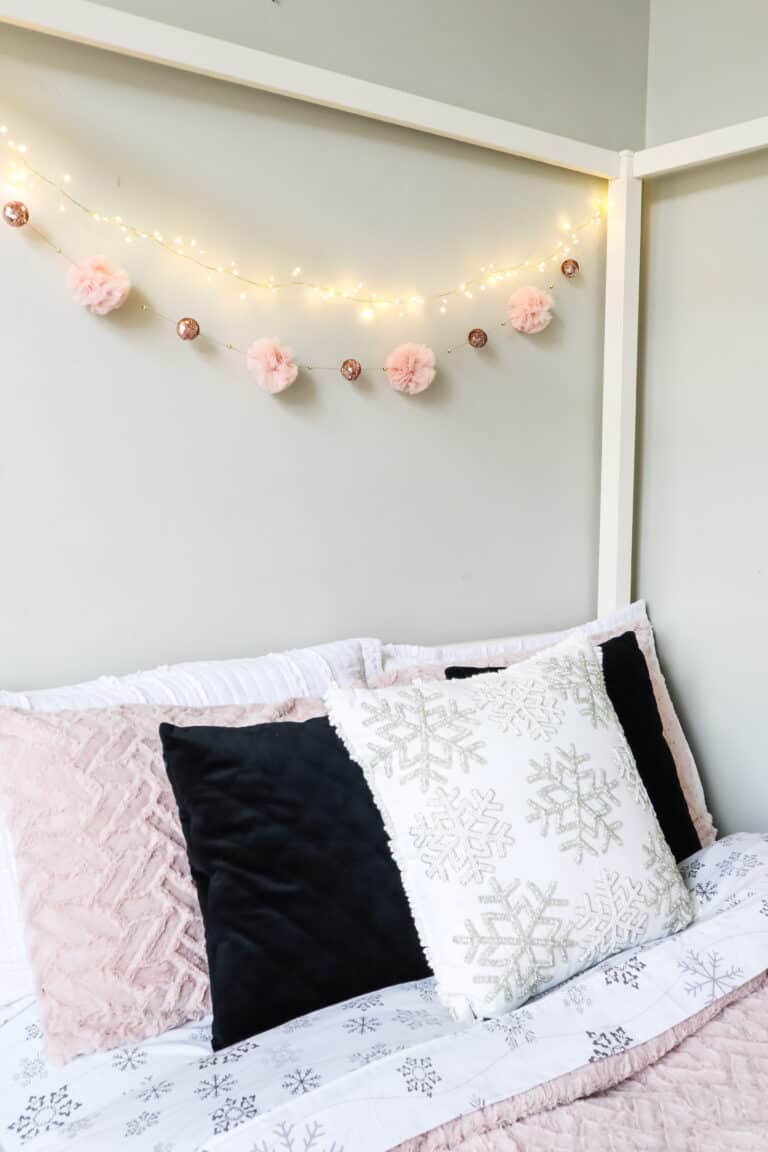 If you have older kids, they may have very specific ideas about what they want their room to look like for Christmas. In this case, it's best to sit down with them and discuss a decorating plan so that everyone is happy with the end result.
If you have younger kids, on the other hand, you'll probably have more control over the final look of the room. You'll also want to make sure the decorations are appropriate for a toddler's room and aren't breakable or something they might swallow and choke on.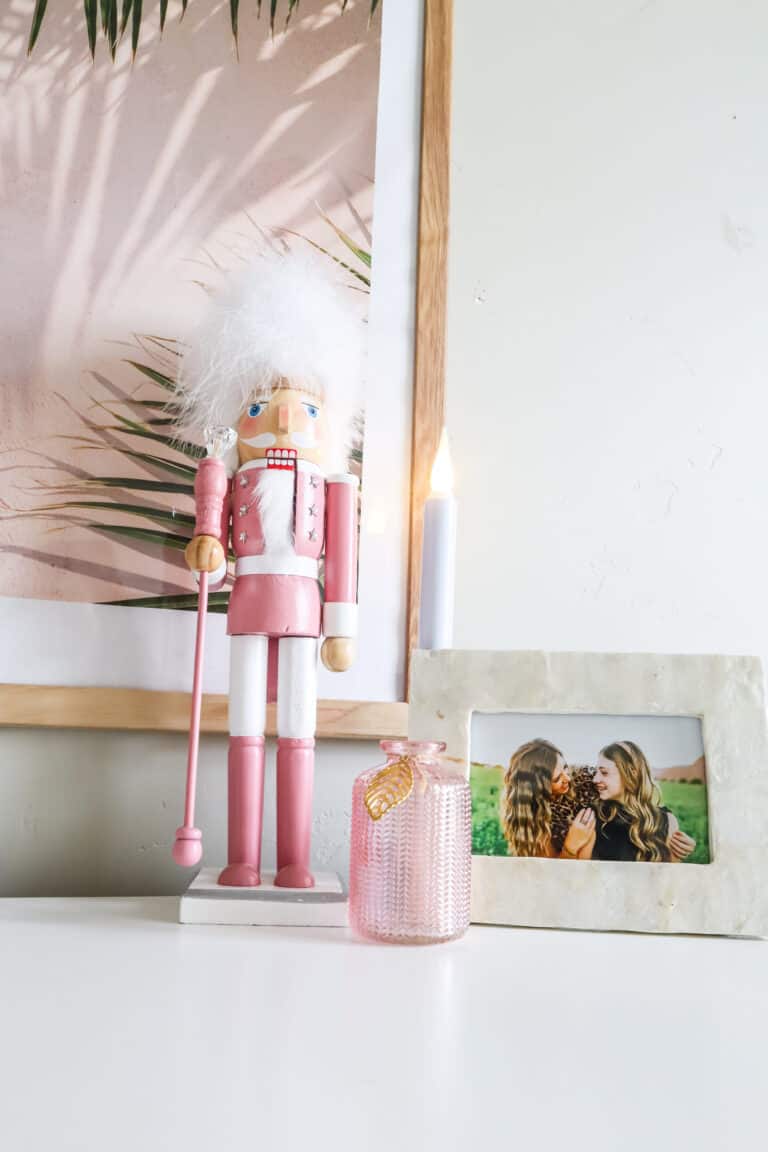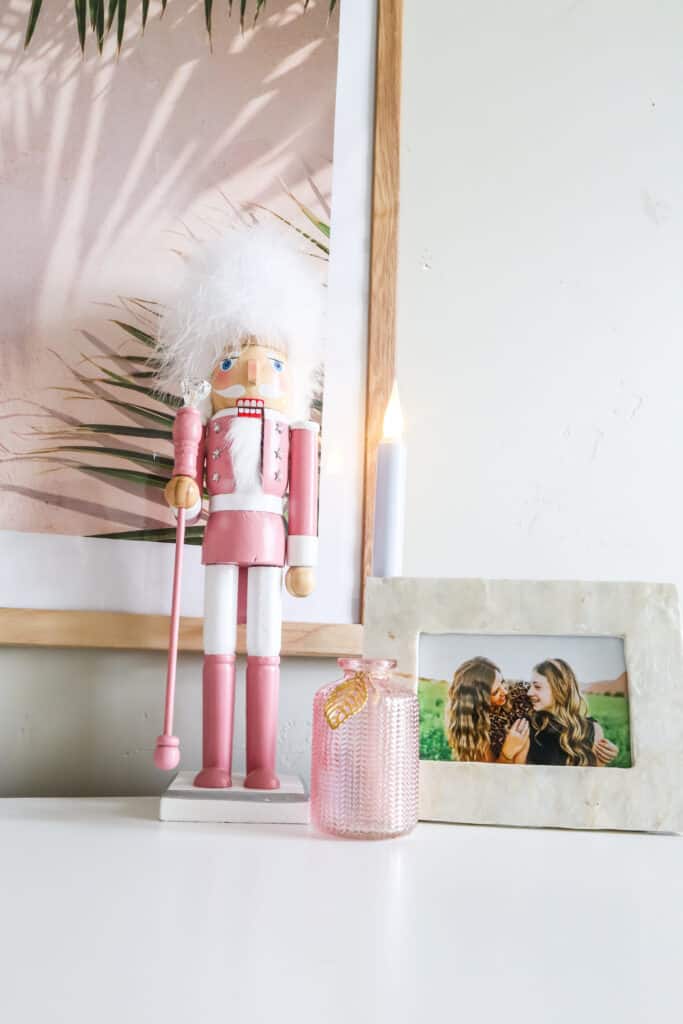 Keep your kids' ages in mind while you read through these Christmas bedroom ideas.

GIRLS BEDROOM DECOR LINKS

You don't have to spend tons of money!
One other thing to remember while you find Christmas decorations you like is that you don't (and probably shouldn't) spend tons of money on this. These are decorations your children will only have up for a month or so.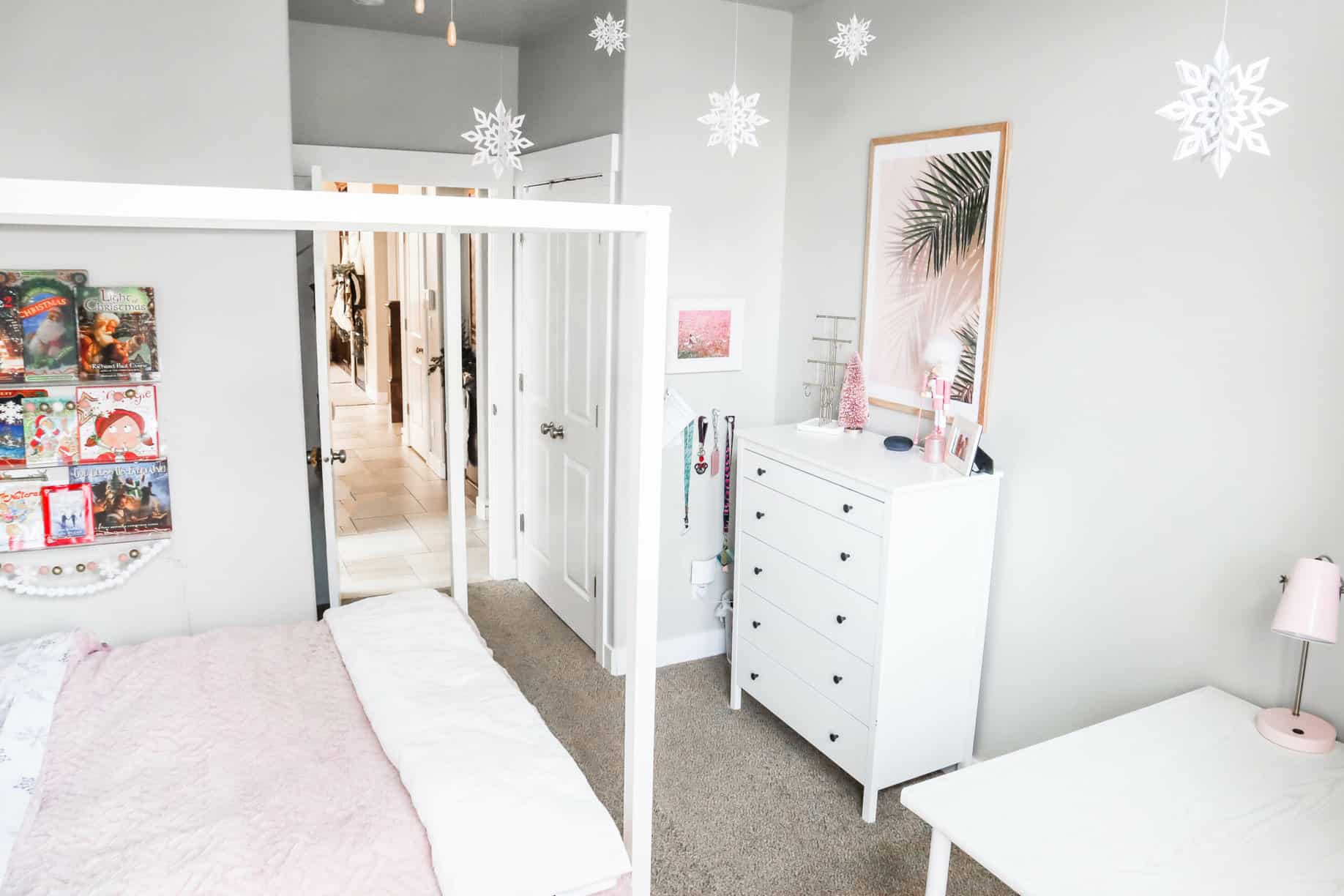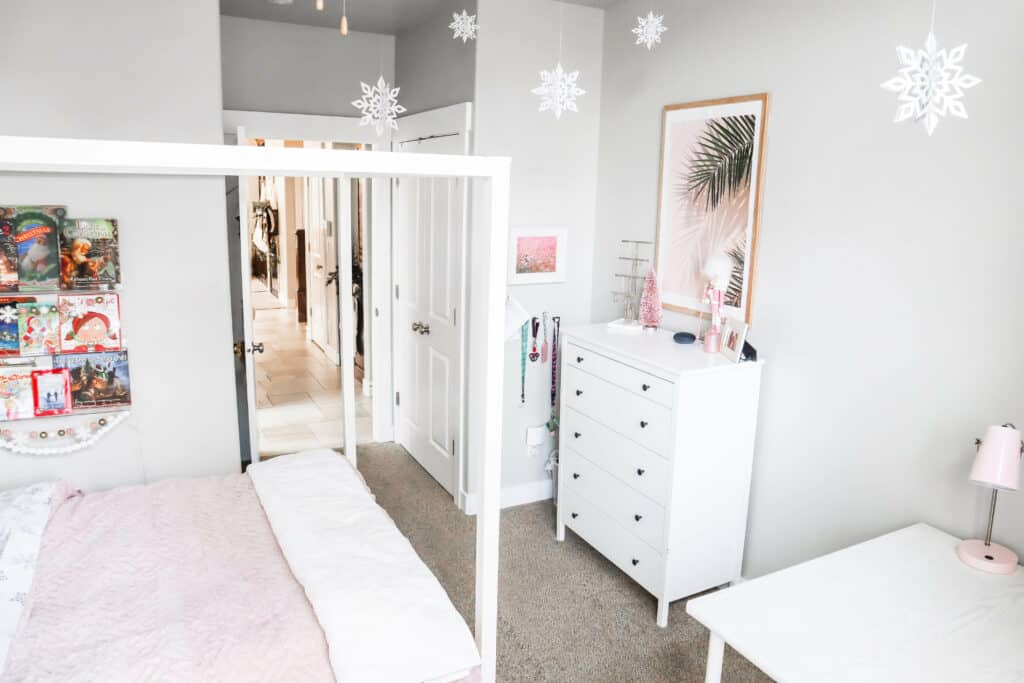 You can look through the decorations you already have and let your kids pick out a few things to put in their rooms, or you can buy new items. If you are buying new things, set a budget and stay within that amount. I've added a few ideas of fun things you can purchase that aren't very expensive, and you can definitely find other affordable products online or in your local stores.
You're probably already buying beautiful gifts for your children, so don't add to your stress by spending tons of money on bedroom decorations. Just pick a few things you like from these ideas and stick with it – you don't need to do it all to create a festive Christmas bedroom for your kids.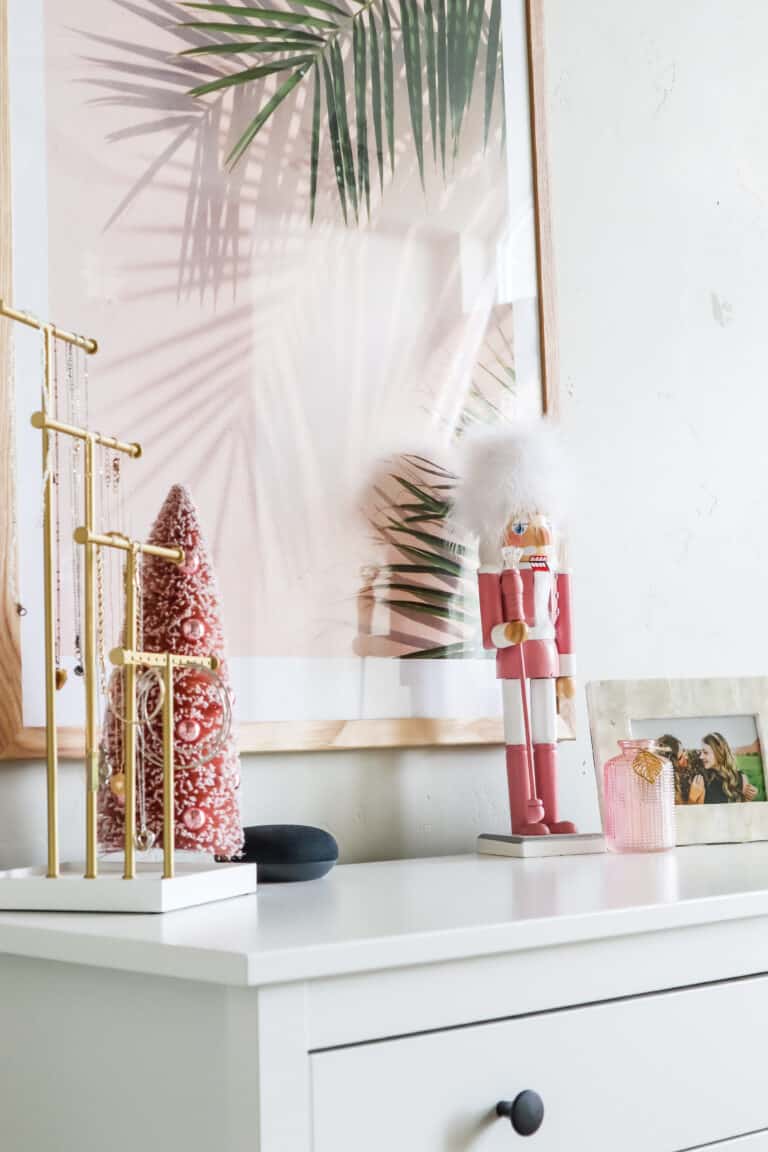 Decorating Ideas for Kids' Rooms
The most excited people in your house for the upcoming holidays are probably your kids. So make your kid even happier by letting the holiday spirit really seep into their room. Here are some of my favorite Christmas decorating ideas for a kids room.
Get Some Christmas Bedding
One of the easiest ways to decorate a kid's room for the holidays is by making their bed a cozy Christmas haven. You can find some really cute holiday bedding sets that will make your kid's room feel extra festive. I like snowflake sheets for a winter wonderland kids room, but you can also get Santa sheets or other Christmas-themed bedding.
I am obsessed with this pink faux fur duvet that I put on my daughter's bed. It's the softest material I've ever felt and I see her laying on it constantly. I chose a plain pink color so that we can use it all winter long. It's super cozy and I love the quality.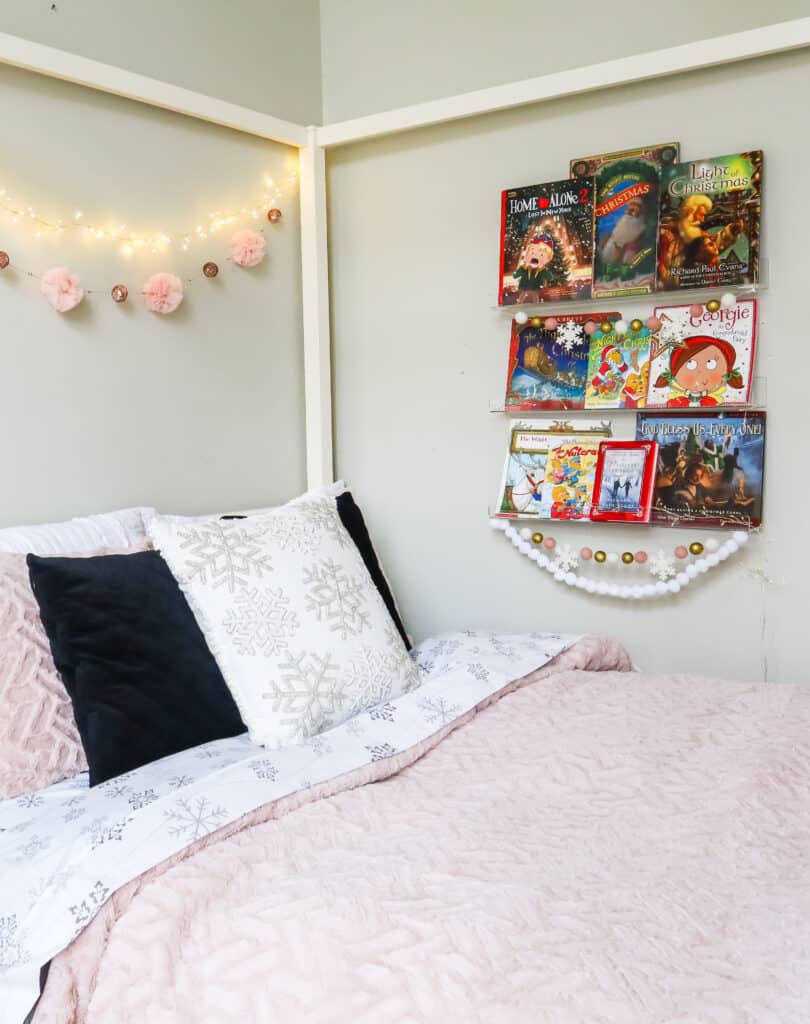 Getting throw pillows is also a cheap and easy way to bring the Christmas spirit into a kids room. If you have an older kid, like a teenager, you could get these green velvet pillows. You can also add a plaid accent pillow like this one. It's a cool, colorful way to bring the holiday to their room without it being overpowering.
If you have a younger child, they might like a Santa pillow like this one. It's more overtly Christmas-themed, but young kids usually love that!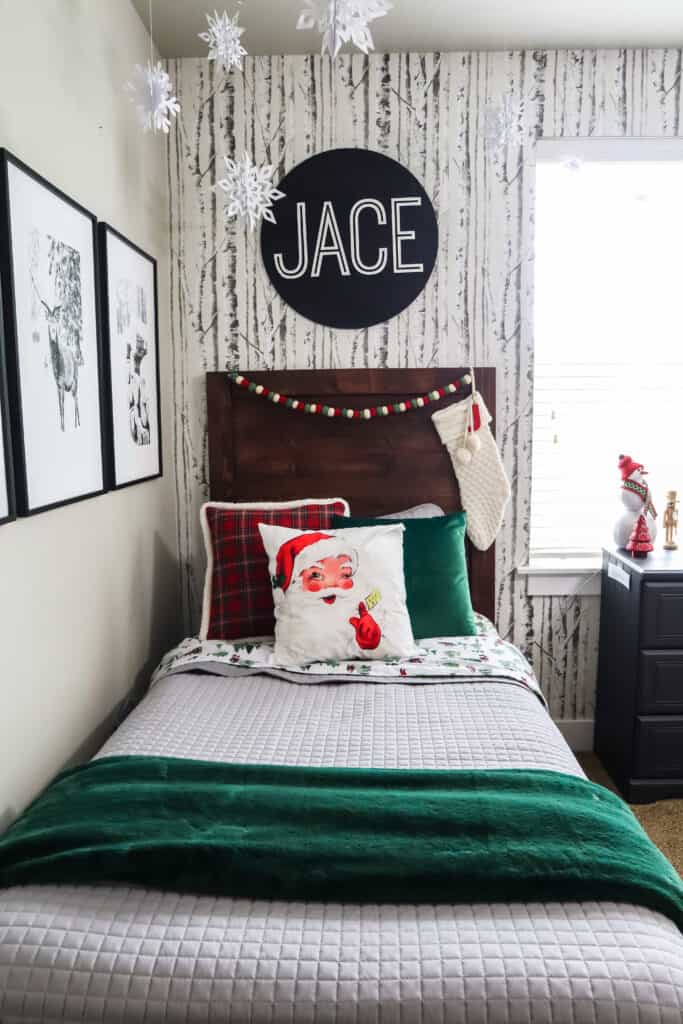 GIRLS BEDROOM DECOR LINKS

Hang Some Lights or Garland
Garland and string lights are a must for Christmas decorations. You can drape garland around the bed frame or headboard, or even across the ceiling. And string lights can be draped around the windows or on top of the dresser.
Ask your kids if they would prefer bright white lights or colorful lights. That's an easy way to get your kids excited and involved in decorating their room! If you're worried about cords and outlets, there are now battery-operated lights available that are safe to use in kids' bedrooms. These are a great option because you can easily hide the battery pack and you don't have to worry about a cord trailing down the wall.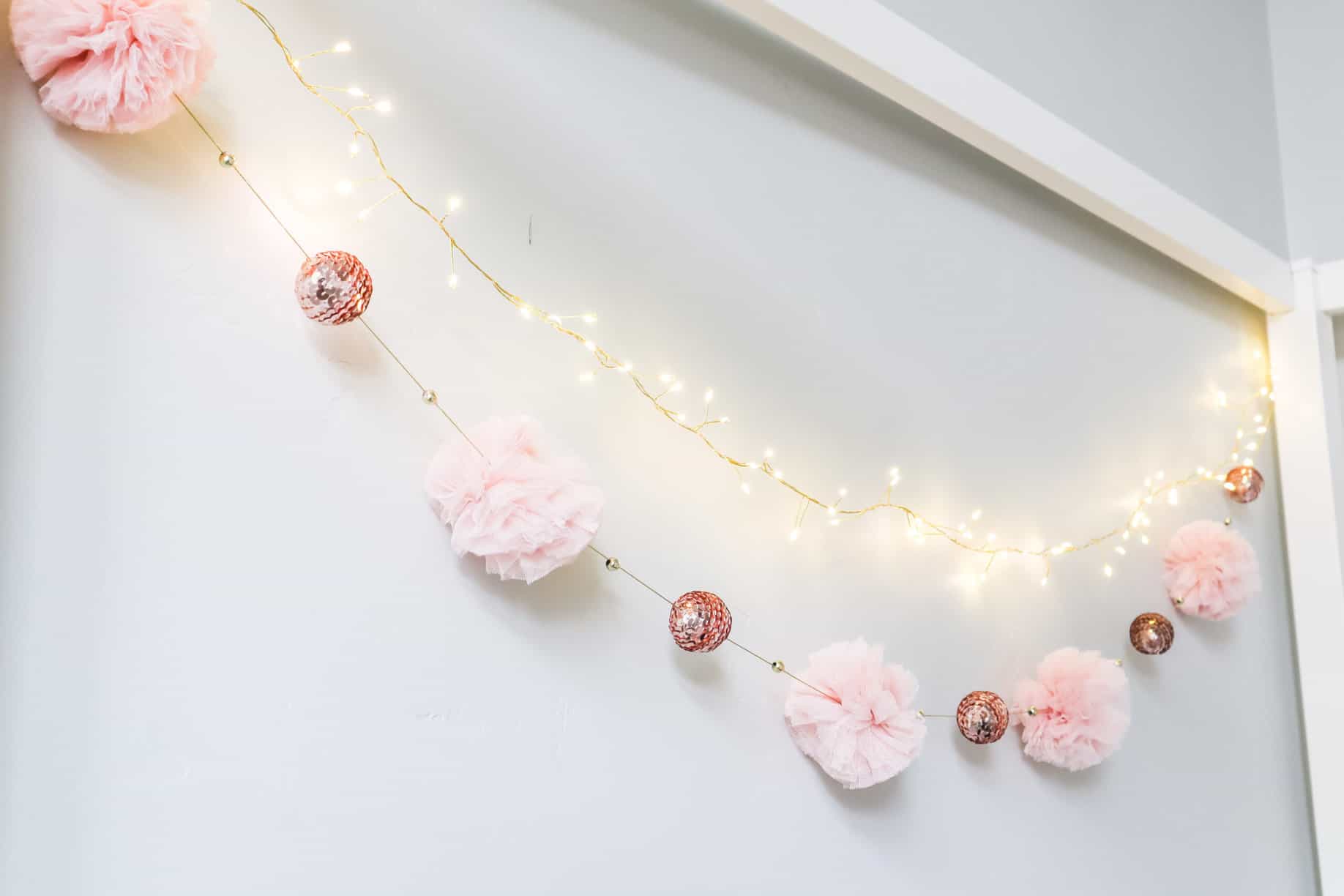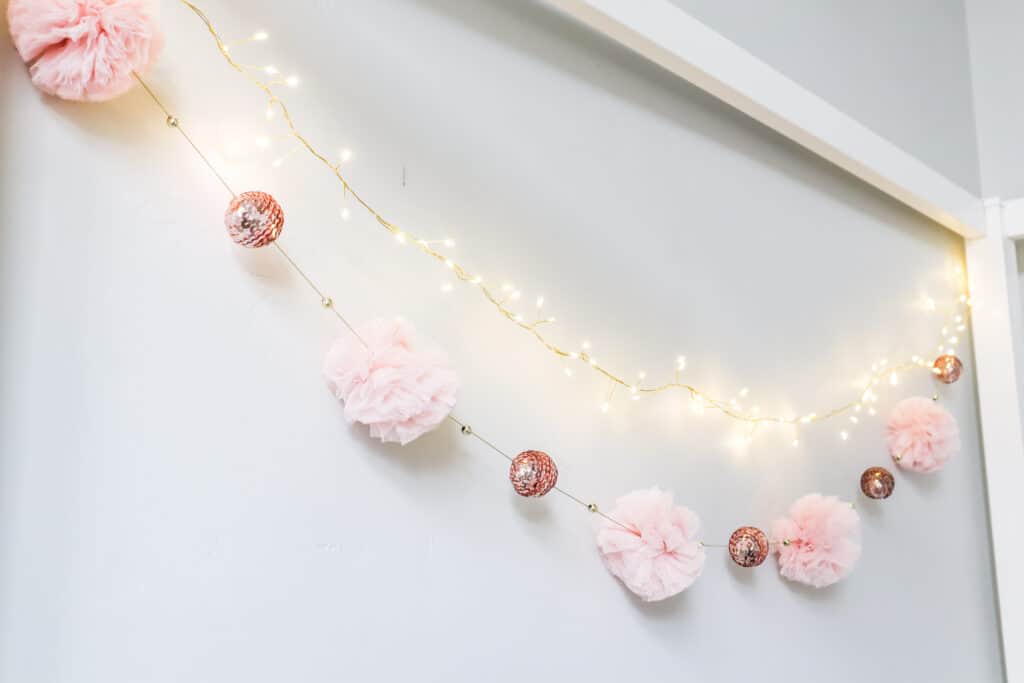 If garland isn't enough, you can also hang small stockings on the wall. Depending on your Christmas traditions, you can put fun treats, candy canes, small toys, or kind notes in their bedroom stockings each morning and every week leading up to Christmas!
Get Window Clings or Art
Hanging up Christmas decor on the walls or putting window clings on the window can add a touch of holiday cheer to any room. You can find art and window clings at the dollar store or online.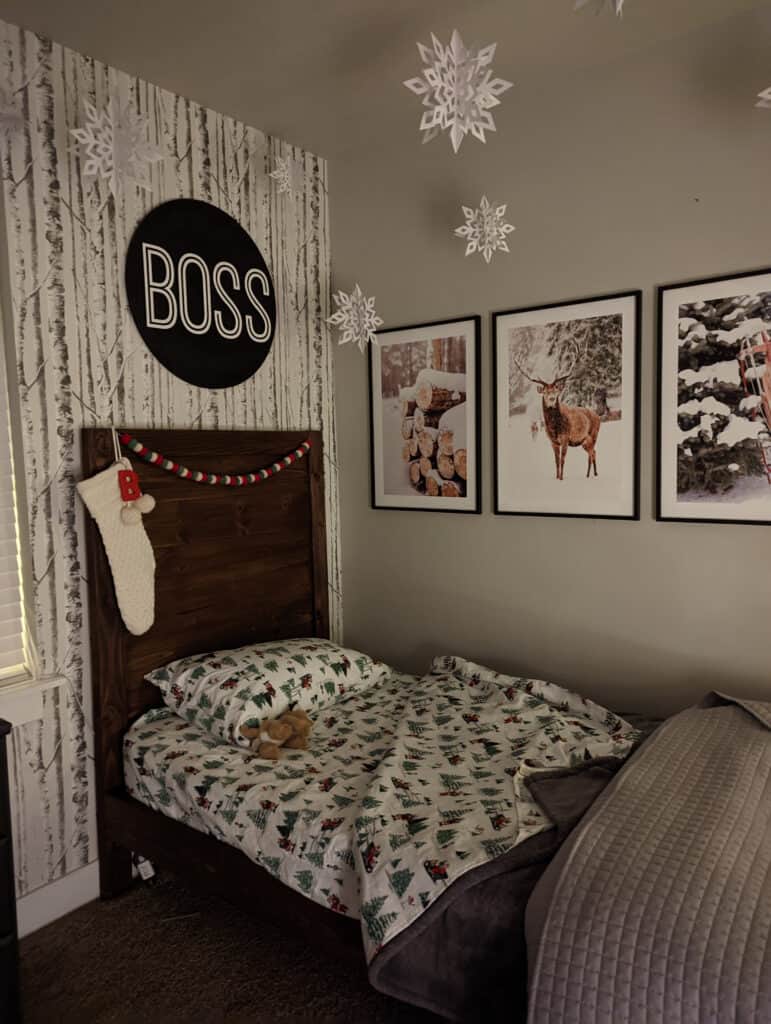 Finding bright Christmas decor can really help elevate the space, and you can find prints pretty cheap online. It's also a great way for your kids to get more involved in the process as they choose the art they want in their room or hang up the clings themselves.
Add a Mini Christmas Tree
One of the most obvious ways to decorate a child's room for Christmas is with a Christmas tree! You probably have a big Christmas tree decorated and standing in the main room, but adding mini Christmas trees to your kids' rooms is a great way to make the space feel more festive. You can find small fake trees at most stores during Christmas time, or you can buy one online.
This is also a way to let your child go a little crazy. Do you want to put a pink Christmas tree in our daughter's room? Does she want all pink ornaments? You can do that! Or does she want a black tree with white and silver ornaments? You can do that too!
If you have the budget, finding a colorful Christmas tree can really liven up the space. If you don't want to get a full Christmas tree, consider getting a wreath for above their bed or bedside table.
Set Up a Countdown
One of my other favorite Christmas decorating ideas is adding a countdown for Christmas. This is one of the many ways you can make your child's room more festive. You can find printables online or buy a pre-made countdown. You could also make a paper chain counting down to Christmas Eve.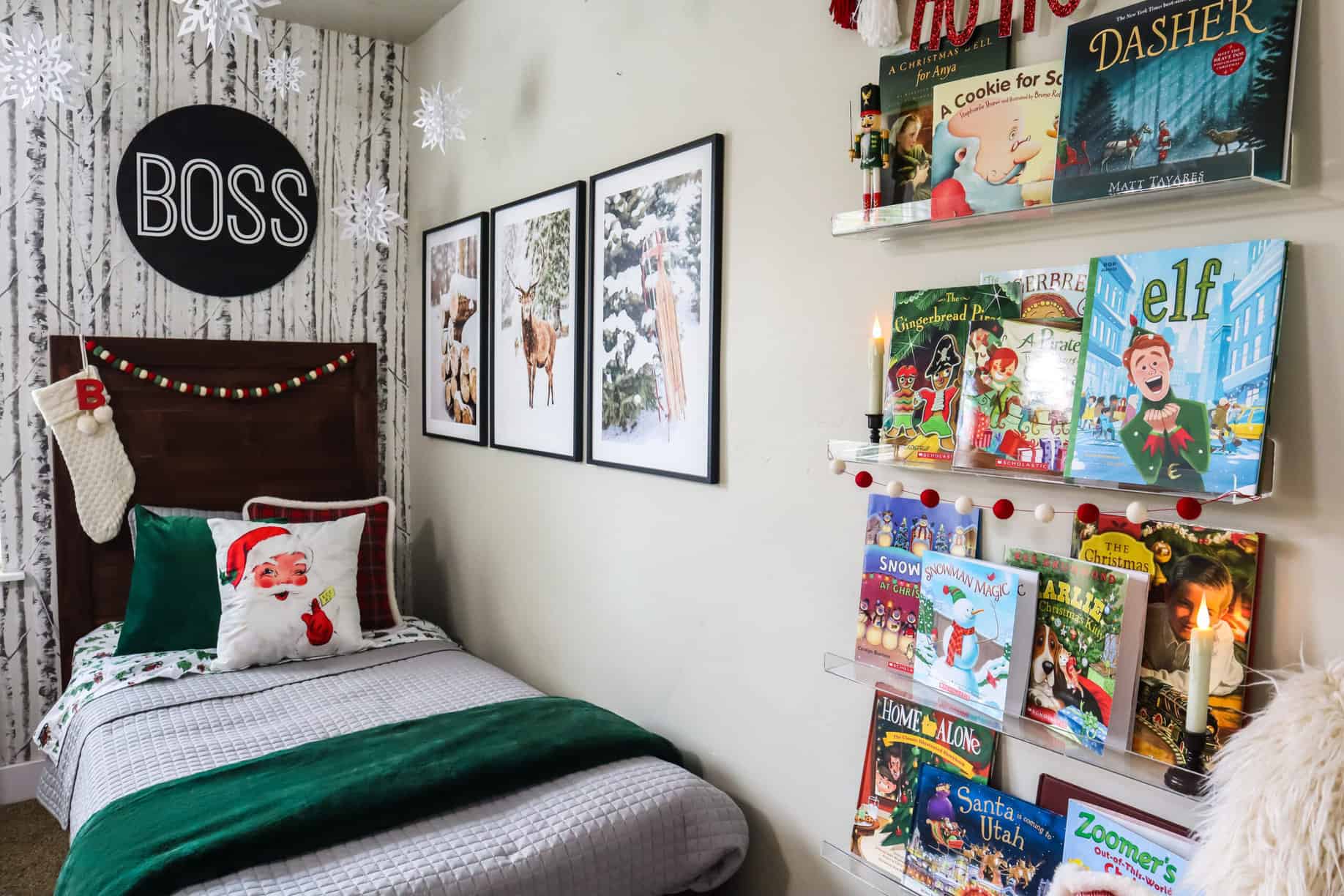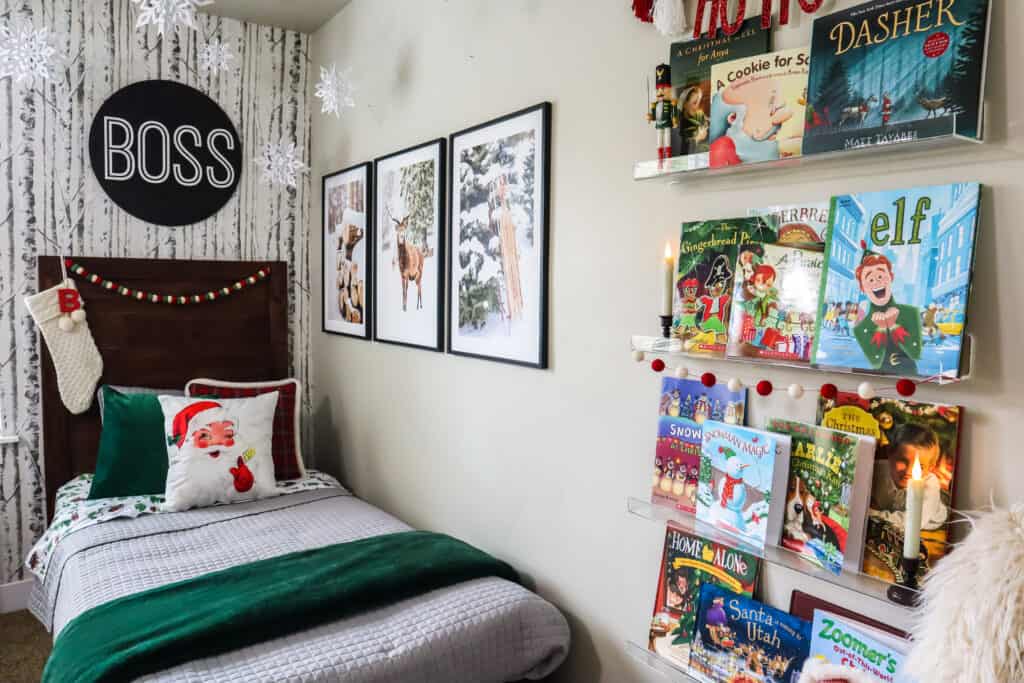 You could also create a "25 Days of Christmas" activity calendar. This can include things like reading a holiday book, decorating gingerbread houses, making paper snowflakes, and other things you want to do with your children during the Christmas season.
A countdown or activity calendar will give your kids something to look forward to every day while acting as cute decor at the same time!
Add Some Christmas Artwork
I was looking for some cute winter-themed art work that I could put on my boy's bedroom walls. I purchased these winter art prints from Etsy and had them printed through Mixtiles. I'm super happy with how they turned out and how great the print quality is. I also love how I can hang them myself (they are light!) and I can adjust their position as needed without having to put holes in the walls.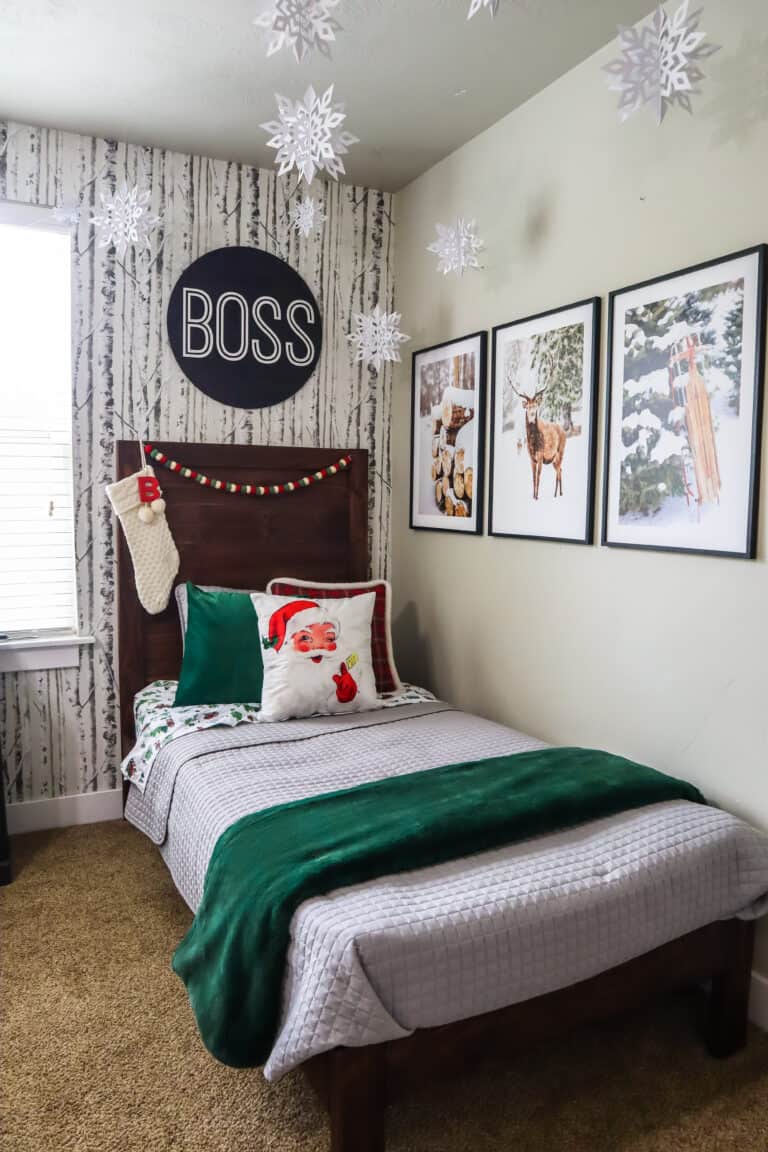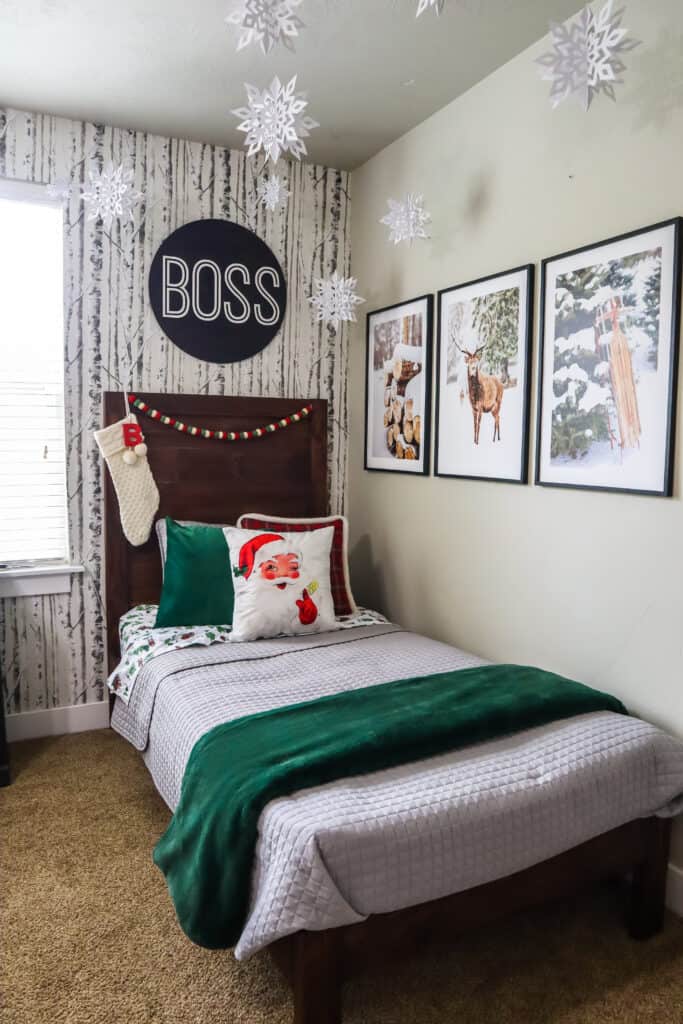 Make a Christmas Book Wall
I have a whole post about Christmas book walls, so go check it out, but setting up shelves in the corner of the room with their favorite Christmas books is a cheap and easy way to decorate your child's room for the holiday.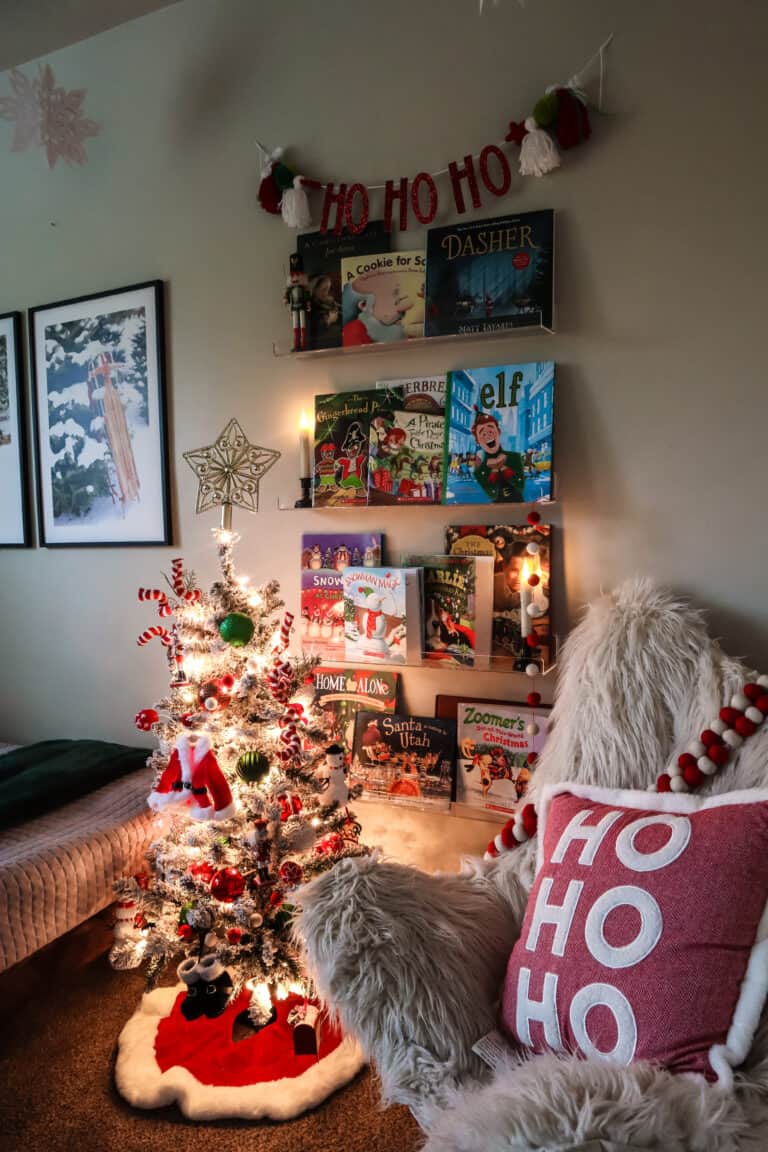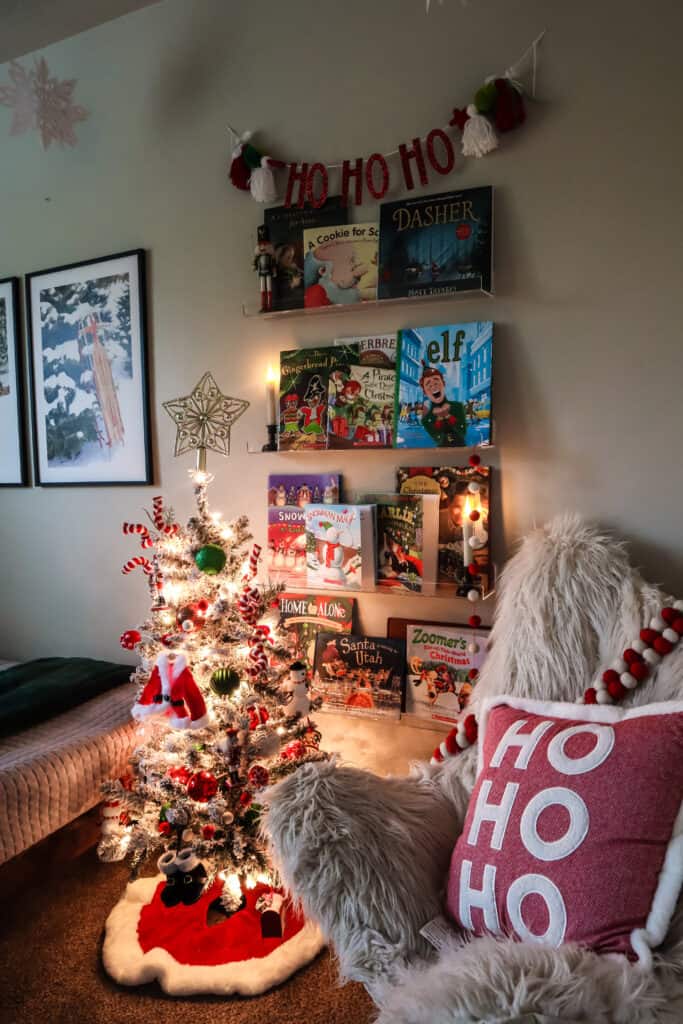 A Cozy Christmas Kids Room
I hope these decorating ideas for kids bedrooms help you create a cozy Christmas space for your kids! Remember, you don't have to do tons to decorate their room. Do as much or as little as you'd like to bring Christmas to each room in your house!
Do you decorate your kids' rooms for Christmas? Tell me any fun ideas you have – I always love getting more inspiration!