How to Create a Christmas-Themed Book Wall for Kids
It's the most wonderful time of the year! With Christmas just around the corner, it's time to get into the holiday spirit. What better way to get into the spirit of Christmas than by creating a festive book wall with your kids?
A book wall is a great way to show off your favorite books or, in this case, to add some Christmas cheer to your kid's bedroom. Not only will it look great, but it's also a lot of fun for the whole family.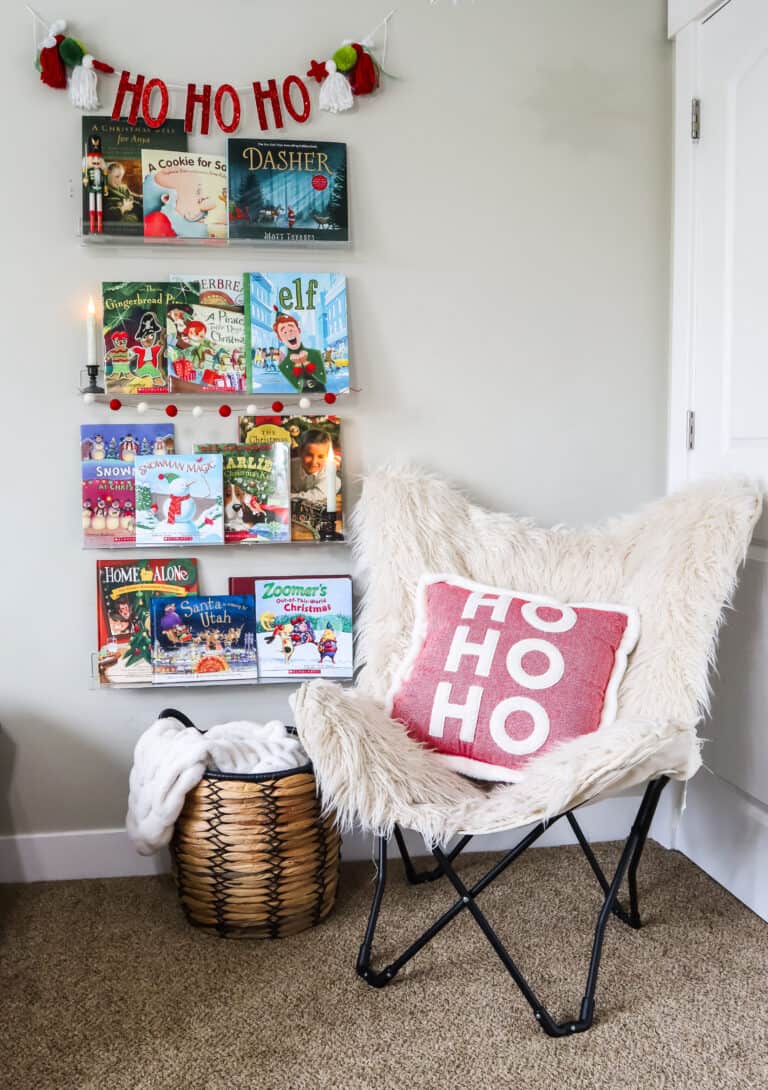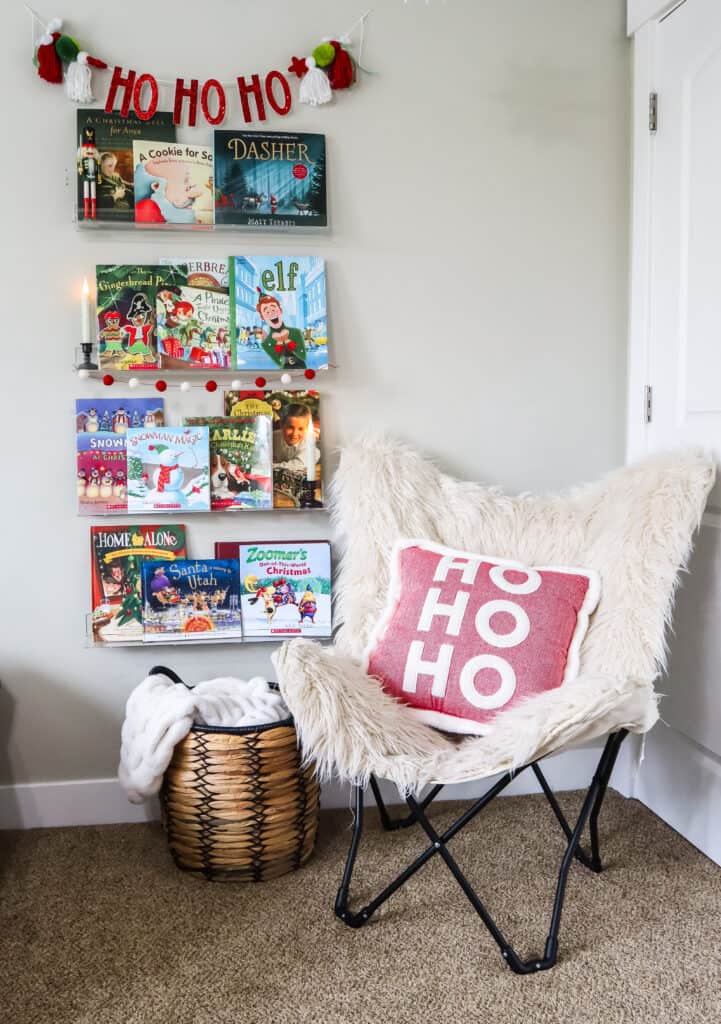 This post is all about how to create a Christmas-themed book wall for your little ones. It's a great way to show off their favorite books and get them excited about the holidays. So gather up some books, grab some supplies, and let's get started!
Creating a Christmas Book Wall for Kids
Adding a book wall to your children's bedrooms is a wonderful way to encourage your kids to read. With shelves, cute books, and a few extra decorations, you get to use their favorite books as decor!
Well, with the holidays just around the corner, you can use Christmas books as indoor Christmas decorations in your kids' rooms. Christmas trees are nice, but you probably won't be adding one to each room in your home. So, if you're hoping to add some holiday decor to your kids' rooms, this is the perfect solution.
Creating a Christmas wall of books is super easy. Here's how you do it.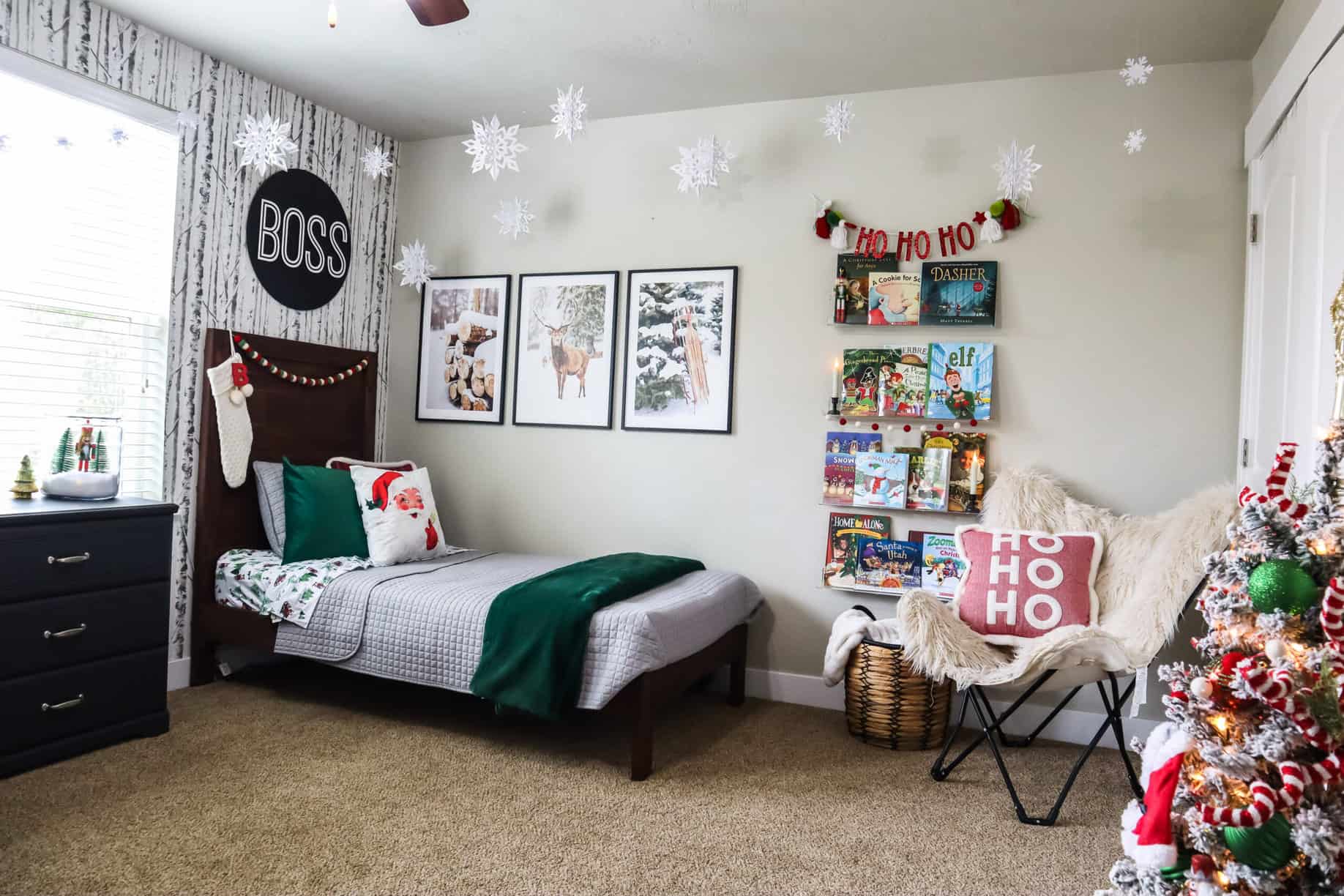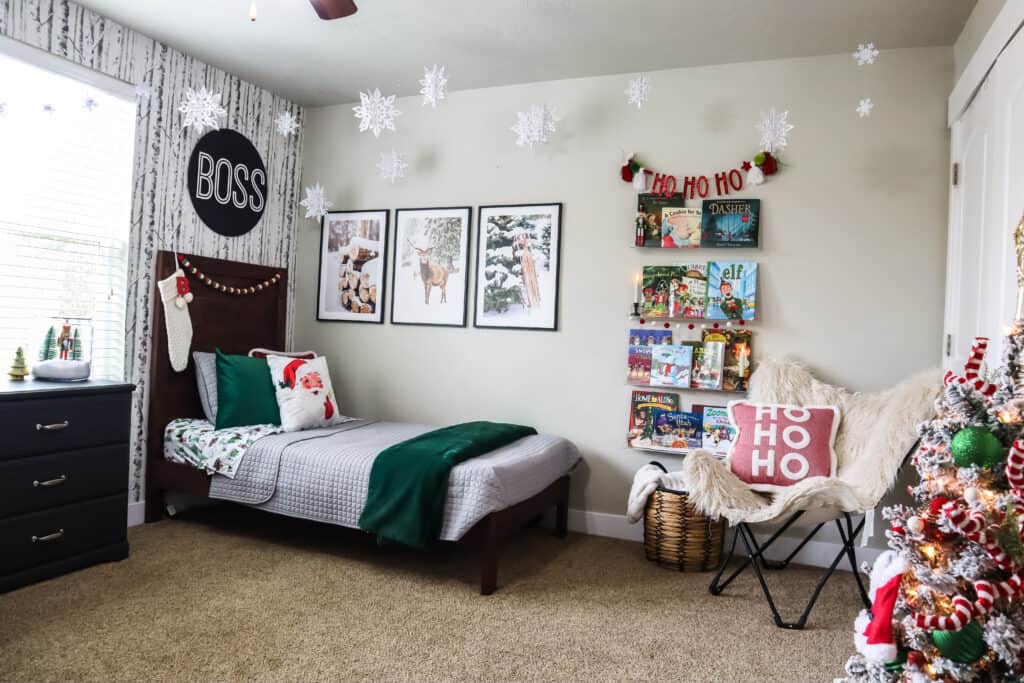 Shelving
When creating your Christmas wall, the first step is to decide where you'll be putting it and how you'll be setting it up. That means shelving.
Setting up shelving for your Christmas wall is easy. You can use existing shelves in your home, or you can purchase some inexpensive shelving from a local store. Just make sure that the shelving is sturdy enough to hold all of the books you'll be using.
If you're short on space, don't worry! You can also use floor shelving for your book wall or a bookshelf you already have. The beauty of a book wall is that you can use anything you have. You don't have to shop a ton for a new product or lots of new shelves and things if you don't want to. Look around your home for floating shelves or a bookcase you can use.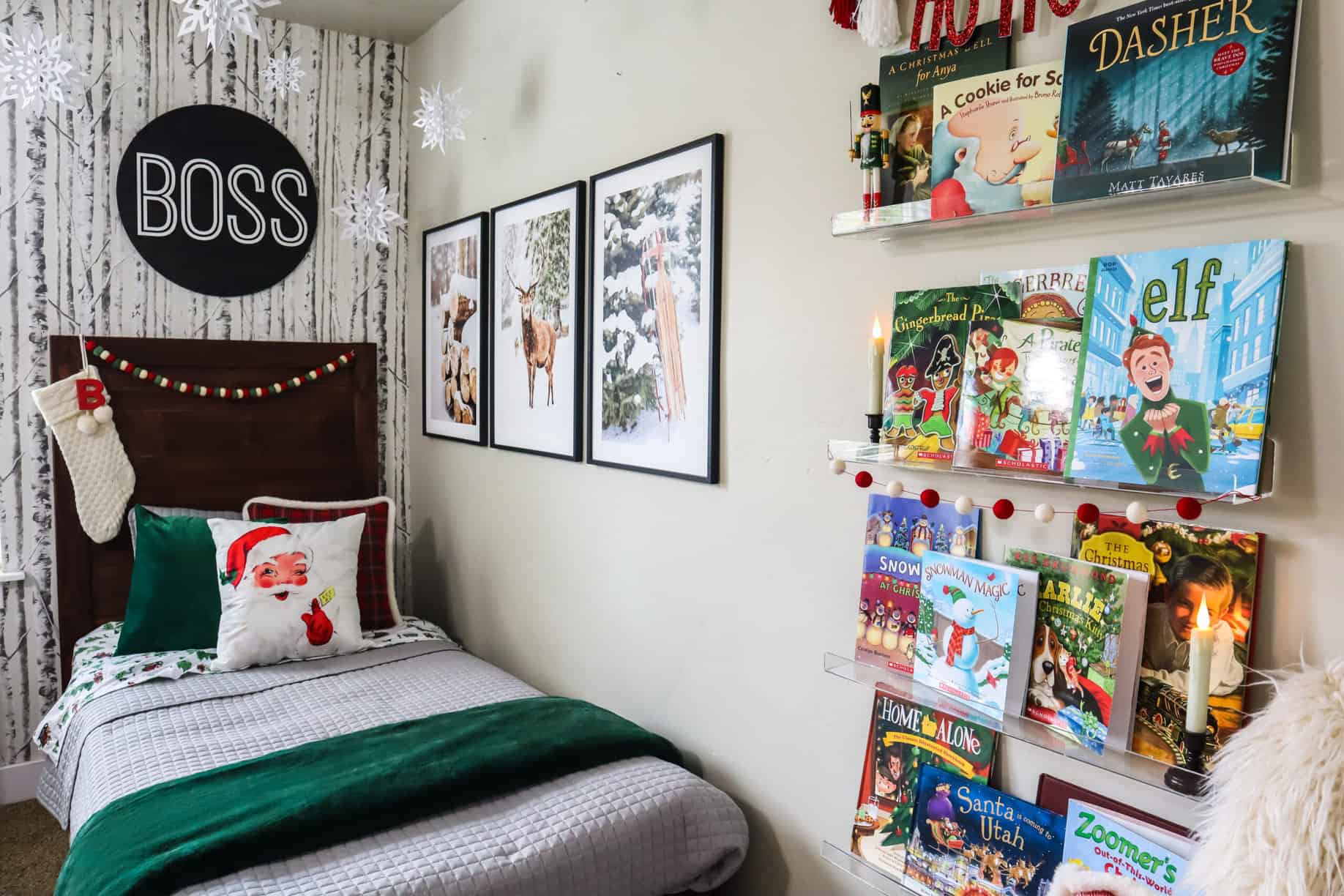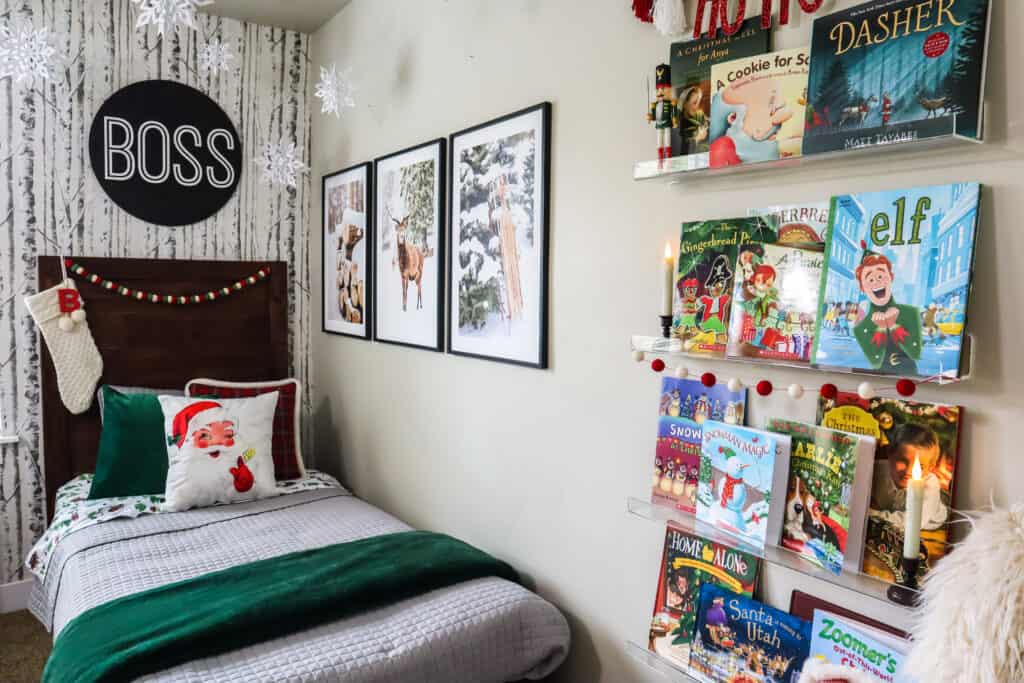 Floating Shelves
I love using floating shelves for a book wall because they don't take up a lot of space and they offer a modern look. You can purchase these shelves from most home improvement stores or online. If you want to save some money, you can even make your own!
To make your own floating shelves, you'll just need wood and nails. Depending on the wood you have, you may need to cut it to size, sand it, and paint it, but you can probably create some great shelves with things you have on hand.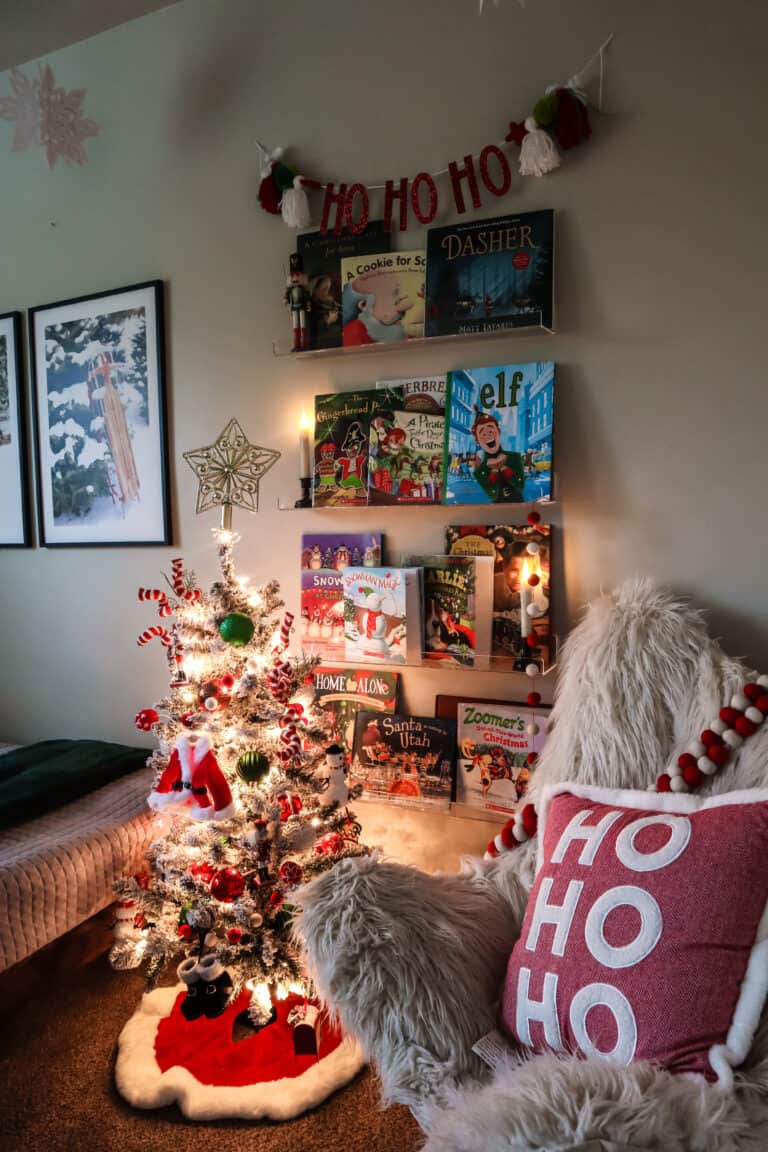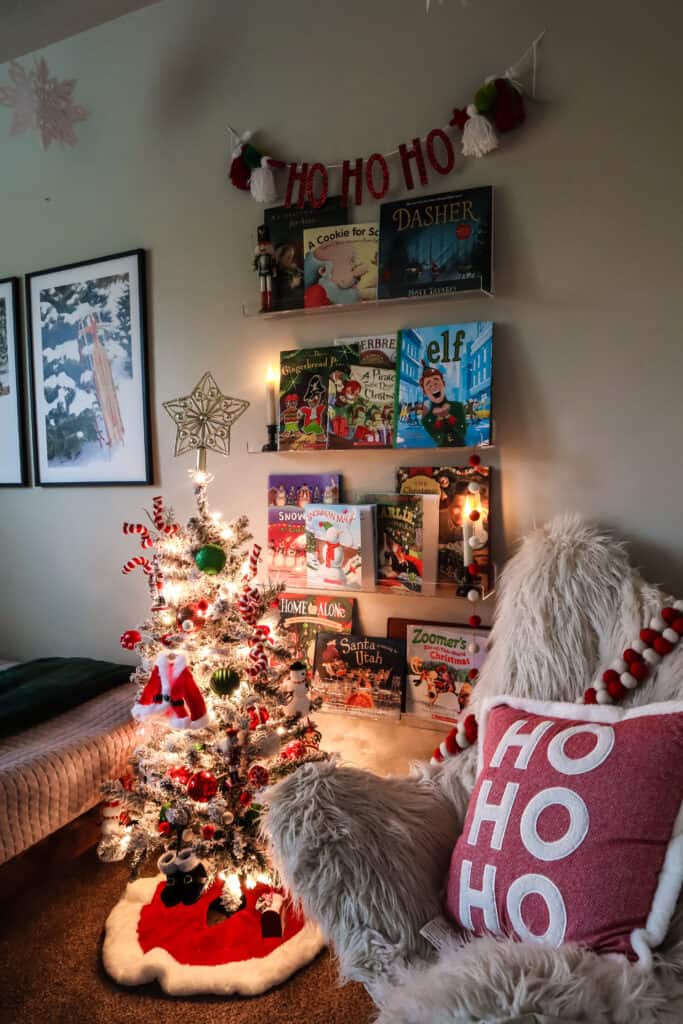 If you want to purchase shelves, I love these acrylic shelves. The price isn't bad either because you get three! There is a lip at the bottom of the shelf which will keep you books and Christmas wall decor on the shelf, but because this product is clear, you will still be able to see the entire cover of the book or the wall art you've placed on the shelf.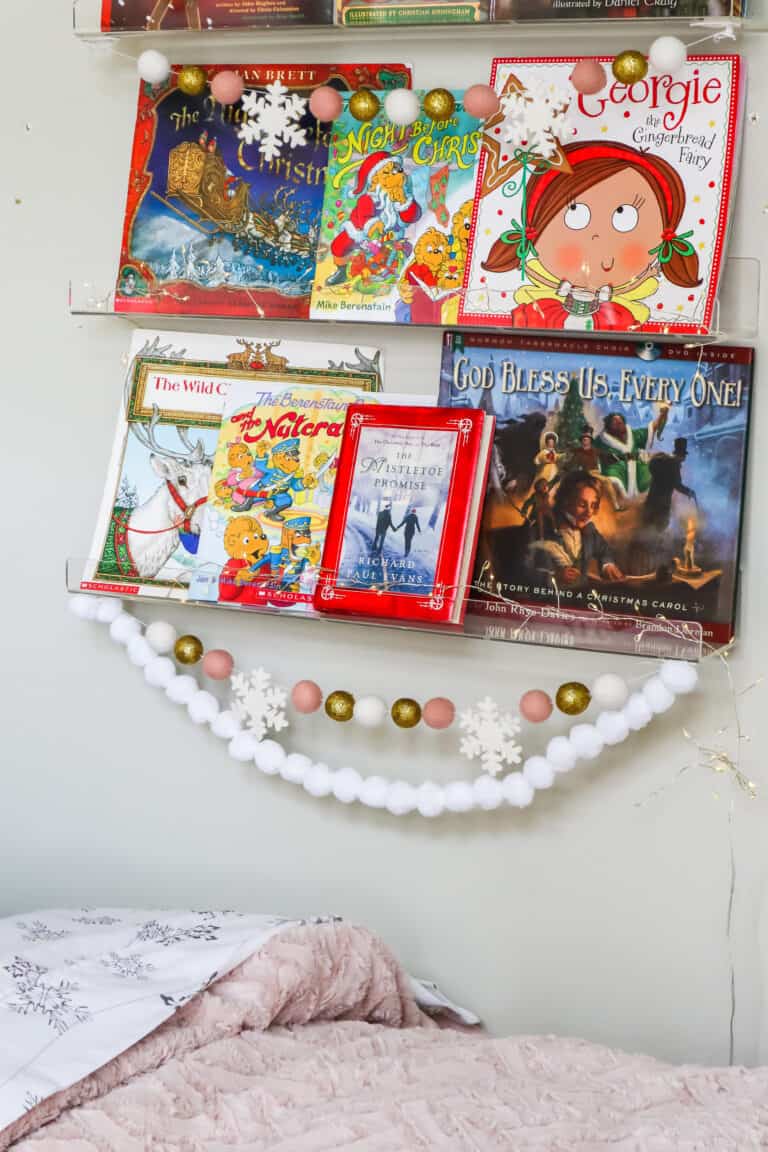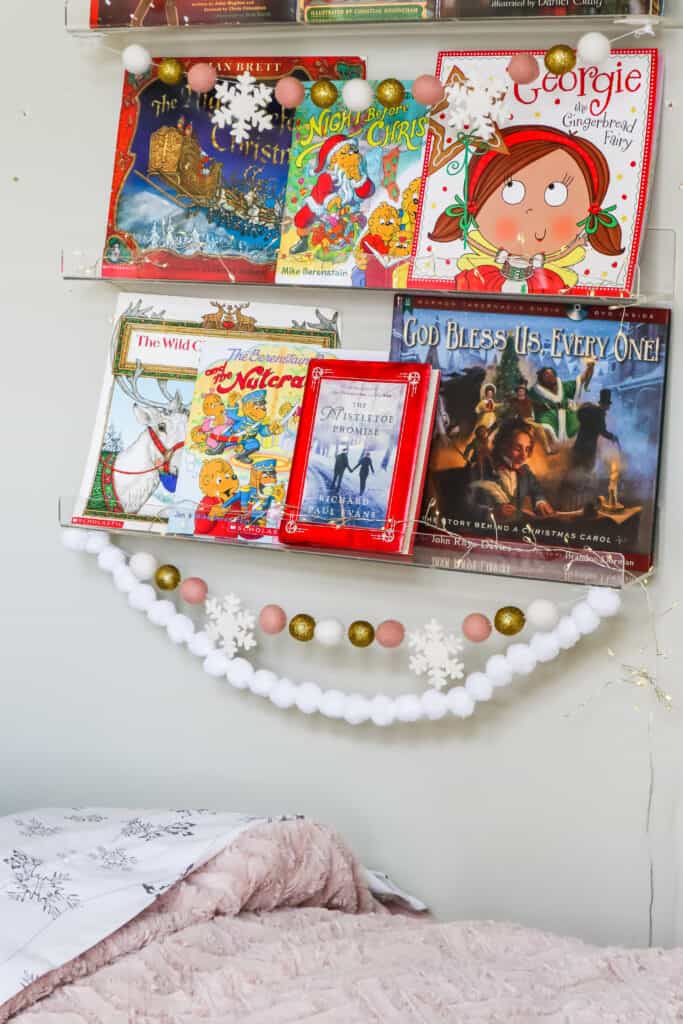 Bookcase
If you don't have shelves and don't want to buy a new one, you can always use a bookcase! Just clear off a shelf or two and use that as your book wall space. This is a great option if you want to be able to rotate and change the books on the book wall frequently. You could even use a rolling cart if you don't have a bookcase available.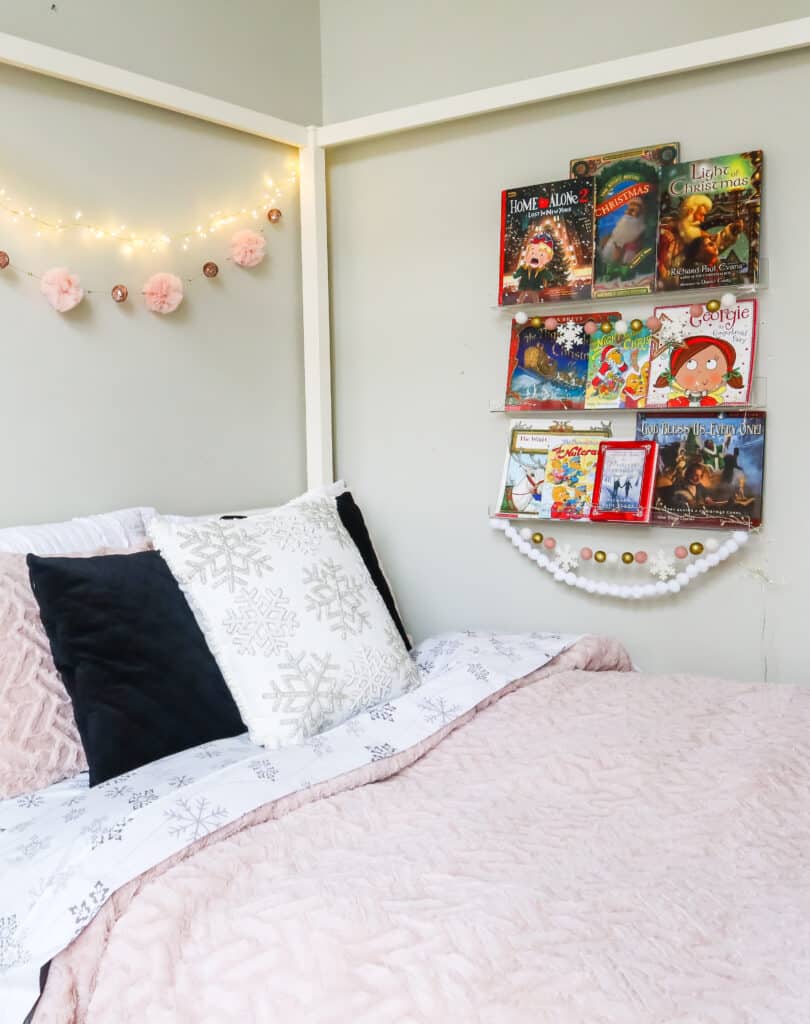 Books
What is a book wall without books? And since we are making a Christmas wall, then we need holiday books to reflect the season!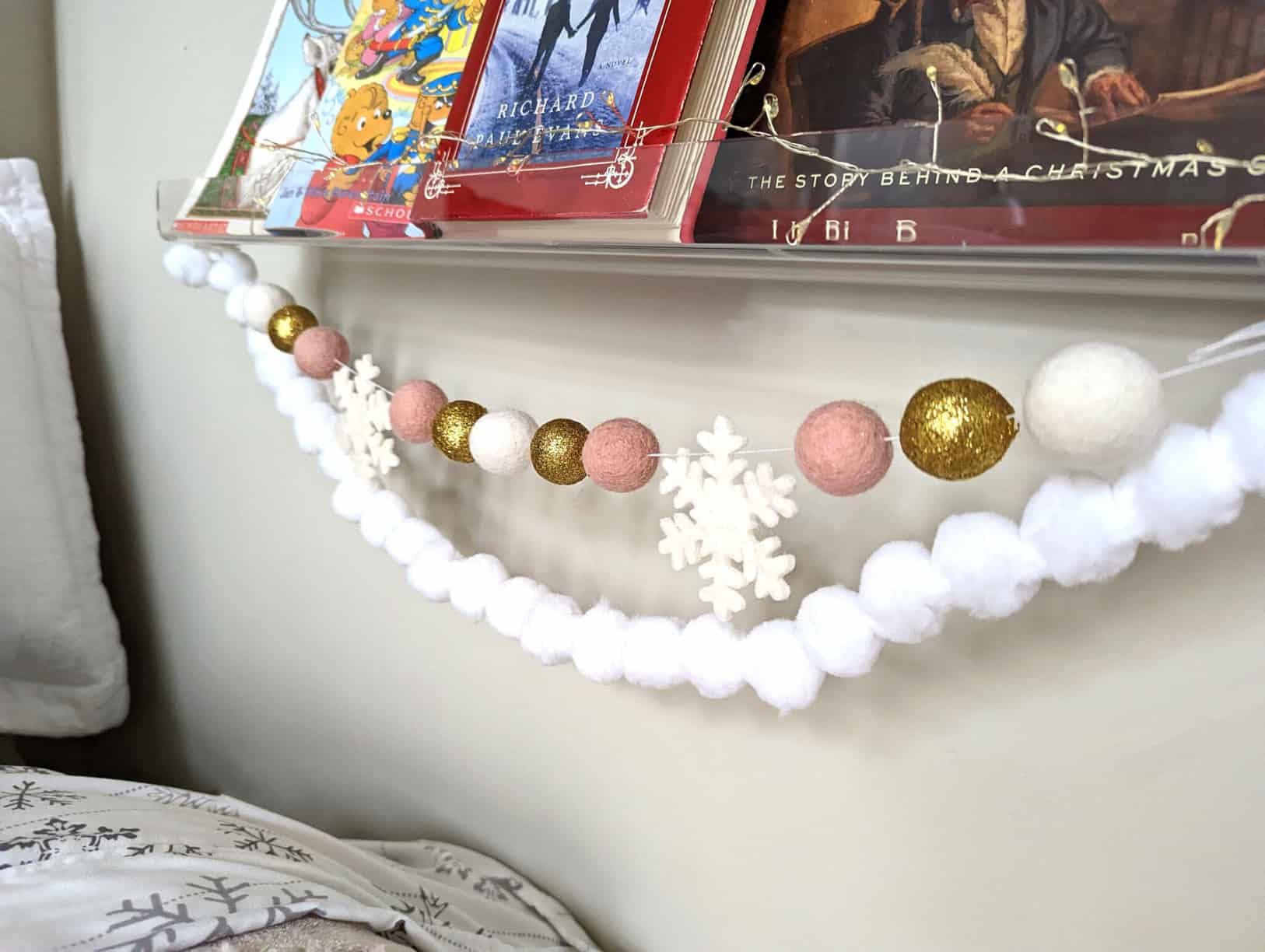 There are tons of Christmas books out there for you to choose from, and if your kids have some favorites then you should definitely use those. But if you need some help finding adorable Christmas books, here are some of my favorites.

Other Decorations
One way to make your Christmas wall really shine is to add something besides books to it. Sure, this is a book wall, so you definitely need books to take the spotlight, but I find that when I add other items to my Christmas wall, it just looks better.
After all, this book wall is acting as Christmas wall decor, so you want to try to create a real Christmas feel on your holiday shelves.
Here are some ideas of things you can add to your Christmas wall to really help it shine!
Garlands
Themed garlands work well with any holiday, but they work especially well with Christmas. Garland is basically meant for Christmas!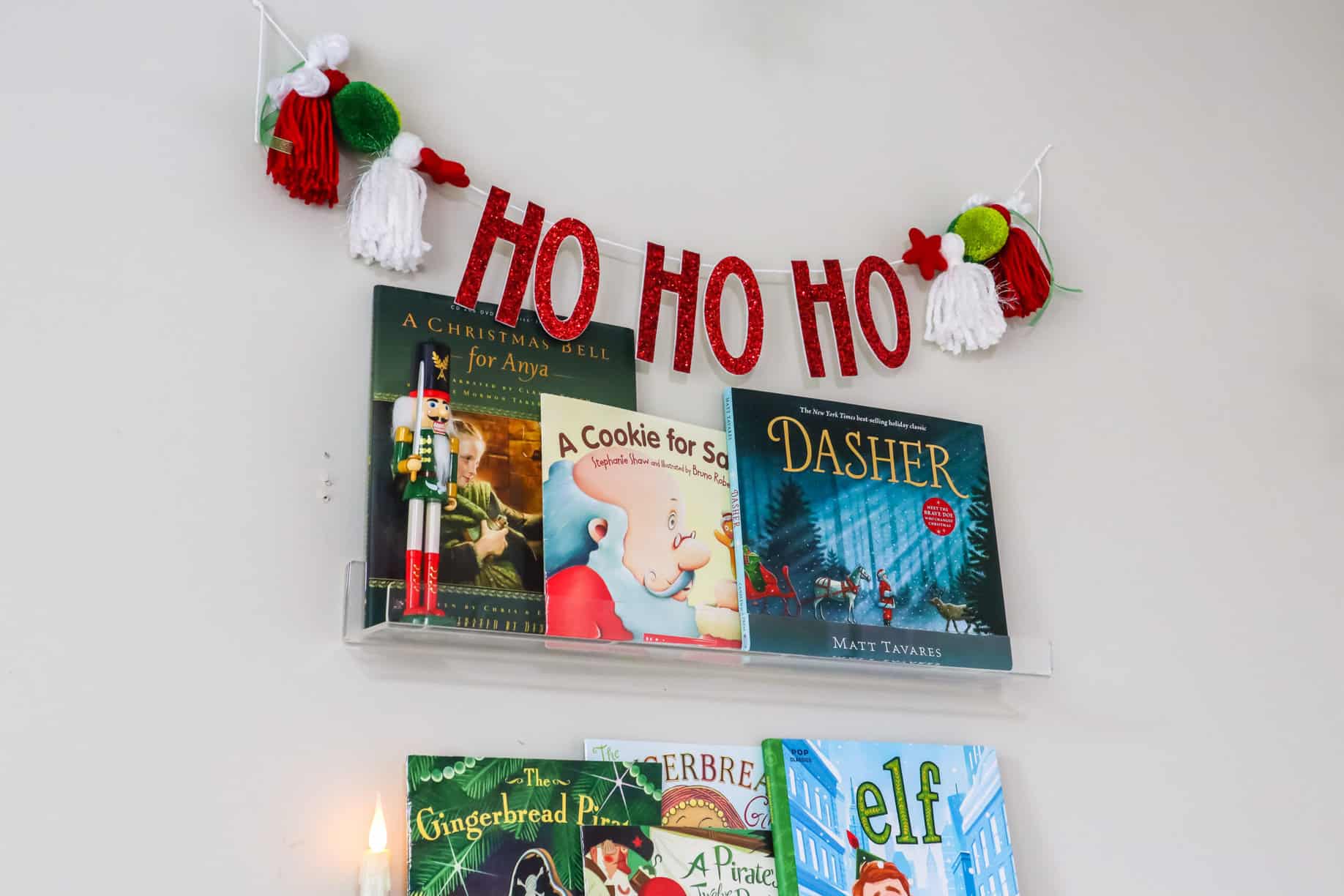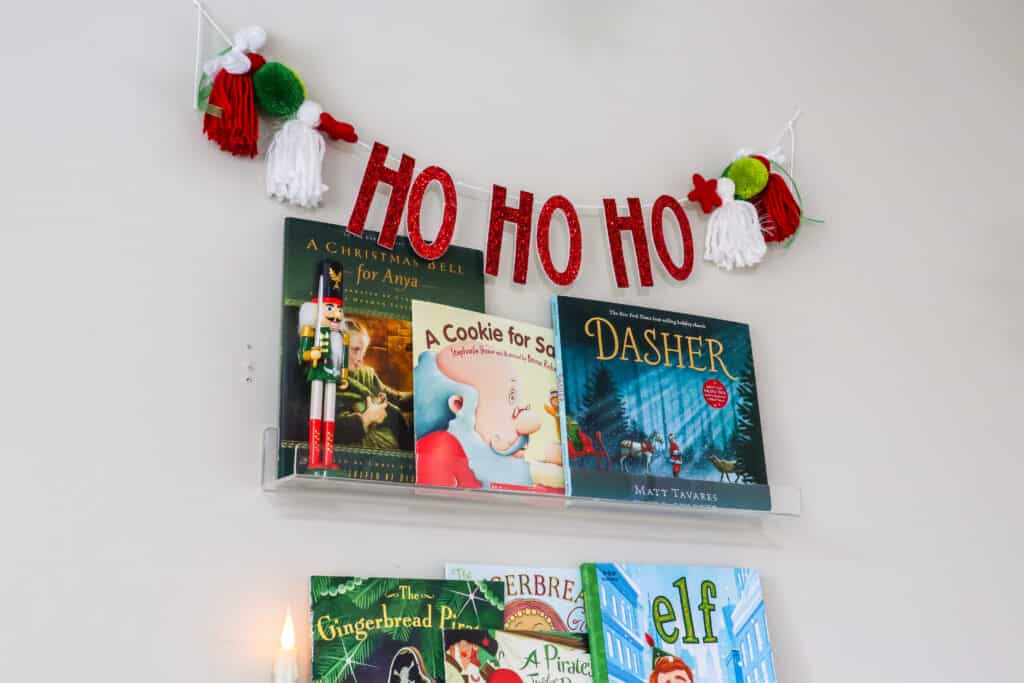 I love this garland because it is simple and the red and green colors definitely scream Christmas. A little pom-pom garland always looks good. But you can find any sort of holiday-themed garland! Anything red and green, or something with things like trees, gifts, stockings, Santa, sugar cookies… you name it! There are so many Christmas garlands out there, so just find one that you think your kids would like!
For my daughter's room, I wanted a garland on her shelves that would match the rest of her room. Since she has pink, gold, white, and snowflake Christmas decor, I settled on this garland that fits her room theme absolutely perfectly! I just love how it all fits together so well.
Lights
Little fairy lights or Christmas lights are the perfect thing to add to your holiday book wall. Tiny lights bring a cozy feeling to the room, so having lights on your Christmas wall will bring such a warm, inviting feeling to your Christmas wall decor – especially at night when the room is dark.
My Fave Book Wall Accessories

Battery Powered Candlesticks
There is something really magical about candlesticks all around the house. I decided to put some of these bronze-based candle sticks on my boy's bookshelves for an extra enchanting touch. I have been so happy inside when I see my boys snuggled up in their reading chair reading books by the candlelight.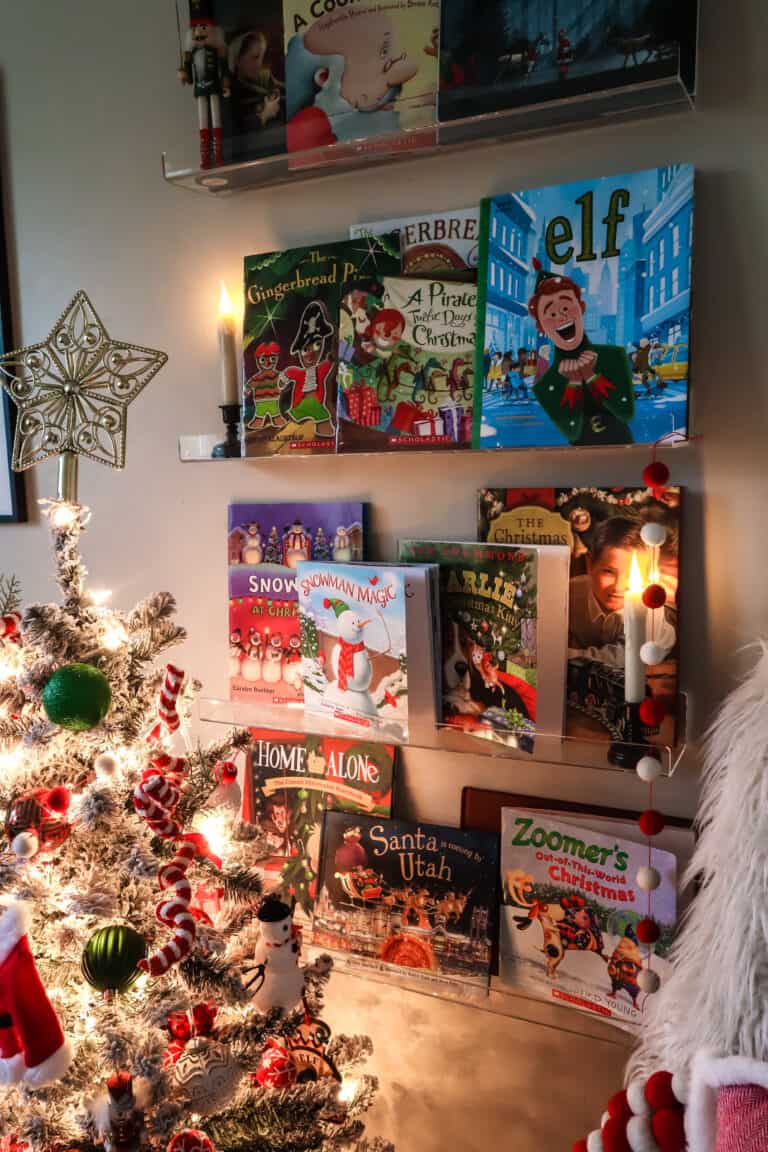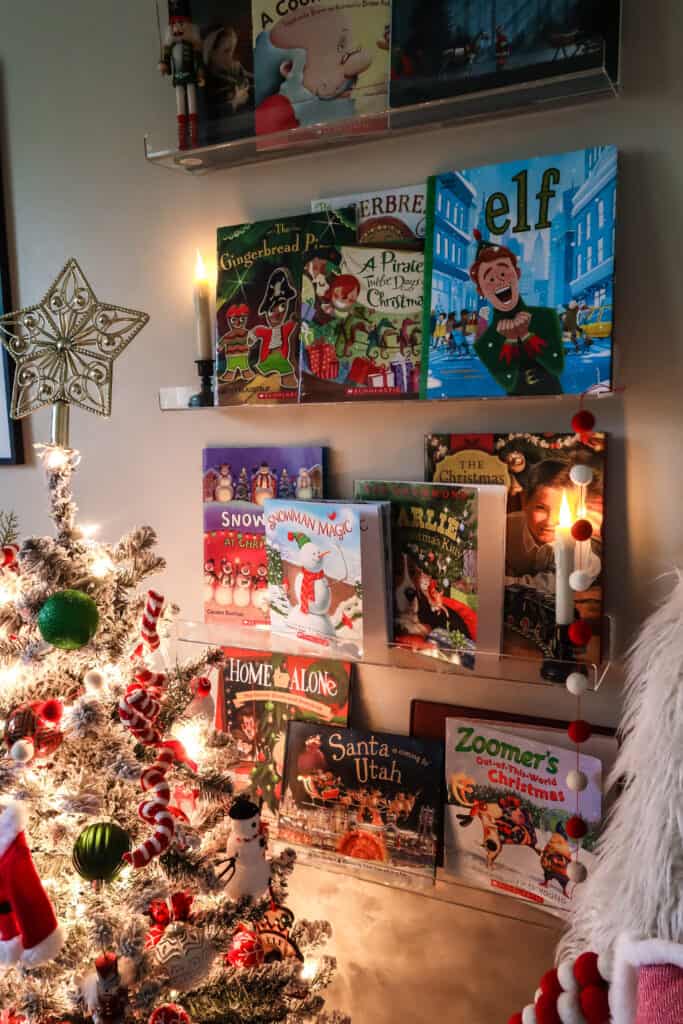 I wanted to add more gold to my daughter's bedroom so I add some of these gold-based candlesticks to her bookshelf for the same enchanting effect.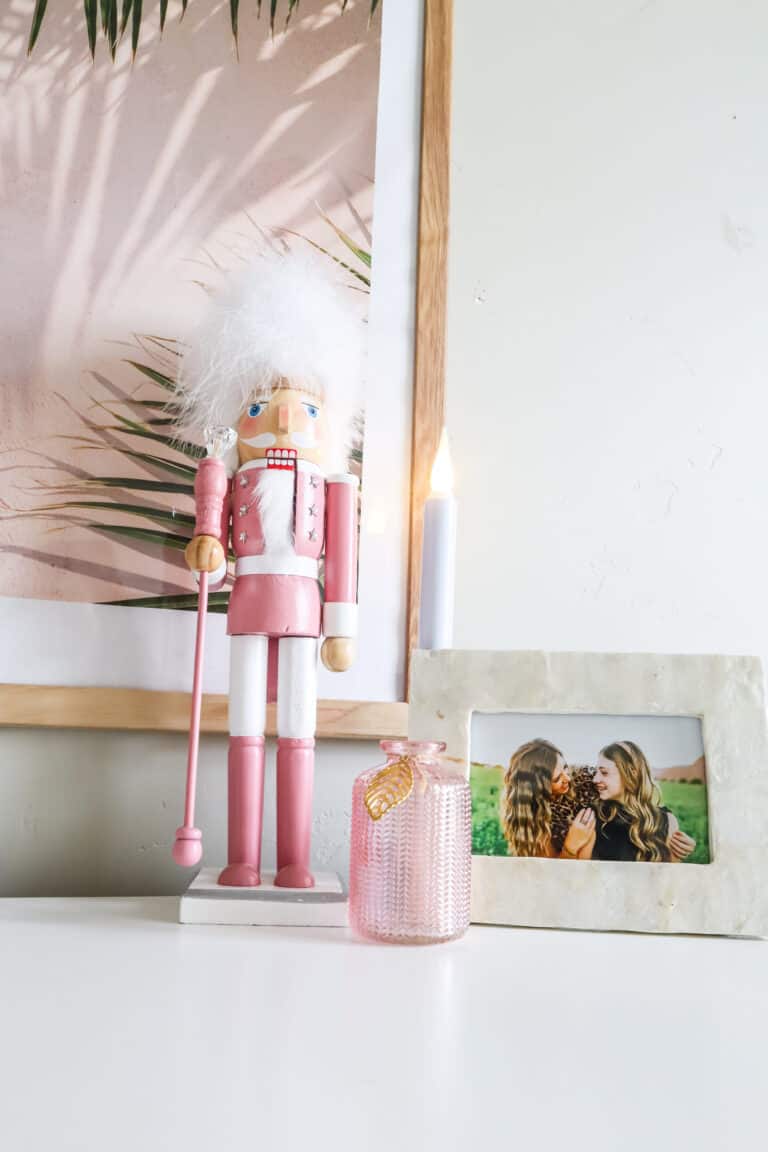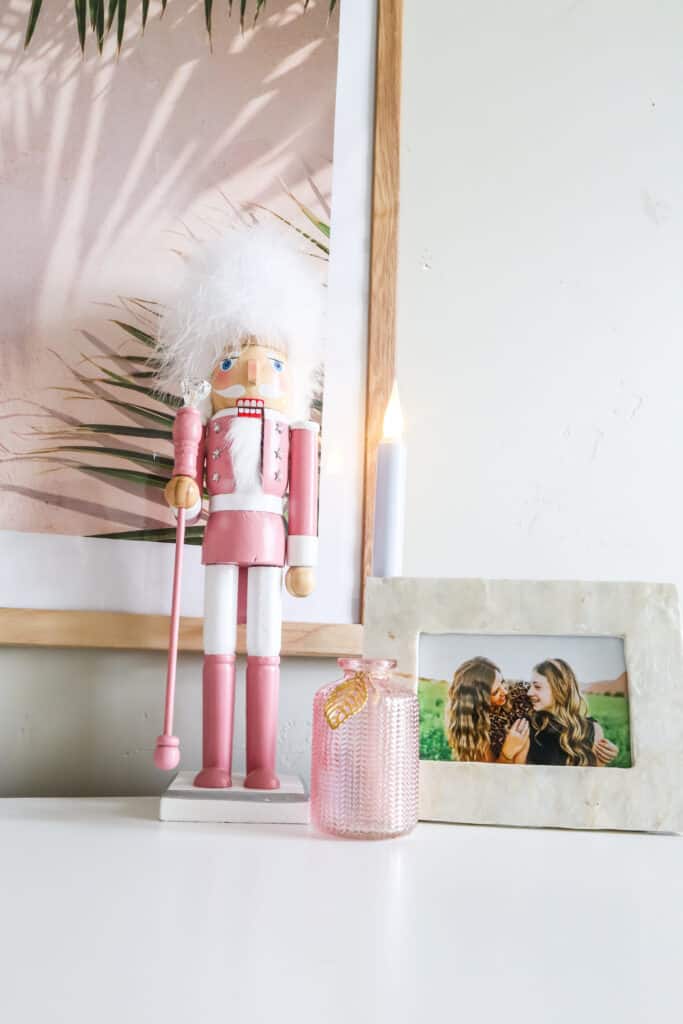 Christmas trees
If you can find small Christmas trees or small decorative gifts, those can be great things to add to your wall. They can bring some height to the wall and make it more interesting. Just make sure that whatever you add is lightweight so that it doesn't damage your walls!
Wall Art
Wall art is another great way to add depth, dimension, and different heights to your shelf. Take a little time to find Christmas wall art that your kids will love. You can even have them help you pick it out!
Whatever you choose to put on your wall, make sure that it is something your kids will enjoy looking at. This is their space, after all, so they should be involved in the decorating process!
Other Christmas-themed items
Look for other small Christmas-themed items to add to any spaces you have between books. Stockings are a great ways to decorate your book wall. You can even add a few Christmas-themed stuffed animals, nutcrackers or dolls. Get creative and have fun with it!

Now you have a Christmas Book wall!
Creating a book wall is a great way to encourage your kids to read more and share the joy of reading. It's also a lot of fun to do together as a family. And when you make it a holiday wall, it will change the feeling and bring some nice Christmas cheer to the room!
Choosing what to add to your holiday wall is totally up to you, but add things your kids will love and you'll be content with. Imagine how fun it will be to curl up next to a wall of Christmas books at night and read all their favorite Christmas stories.
Shelves full of cozy Christmas books and wall decor is the perfect way to make your kids' rooms a bit more festive.