How to Create an After School Routine Checklist + A Free Printable
Believe it or not, kids thrive on routine. For as much grief as they give us for completing chores or doing homework, they sure don't show it! But studies have shown (and from my own personal experience) kids do much better when there's a schedule and a routine in place. That's why I created this after school routine checklist!
Make sure to scroll down to get your free checklist (plus a blank one that is editable to fit your needs!)
Need more ideas? Check my post about How To Create A DIY Face Mask Station and 10 Habits of Moms who Never Have Stressful Mornings
I don't know about you, but for me, having a routine in place significantly helps me manage a household so much more peacefully. Instead of realizing that we didn't do yesterday's homework 5 minutes before it's time to leave for school, it's already been done and packed in their backpack! So creating a routine is as much for kids as it is for parents.
Developing the routine is the hard part! It takes consistent effort but over time, kids come to learn that there are certain expectations that they must fulfill before they get to do the fun things that they want to do.
Kids are motivated by different things. My kids are really motivated by friends. They know that the sooner they get their after school chores done, the sooner they get to play with friends! I'm so grateful that this is what motivates them and generally speaking, my kids are typically pretty great at moving through the motions of their routine. But it is taken me years of practice for them to realize my expectations. So don't give up Mama! It's so worth it!
Hang Up Coat and Put Away Shoes
For some strange reason, there is something innate in all children… when they get to the house after school, they drop everything in one heap and walk in the door. I still haven't figured out why my kids do this but it's getting a little bit better each year.
One thing that helps our family is is to have hooks for each member of the family right by the outside garage door. So before they even walk in the house, they hang up their coat and line up their shoes (in theory).
I have this really funny life hack that my husband implemented on a whim that has actually worked really well for our family. My kids used to drop their shoes right in the walkway of the door every single time. It was really irritating! So my husband took some masking tape and put a giant X on the floor in front of our garage door. Signaling to the kids that this is not where you put your shoes! Next to the giant X, he created a box shape with masking tape where the kids are supposed to put their shoes. It's been touch and go but we are definitely making progress!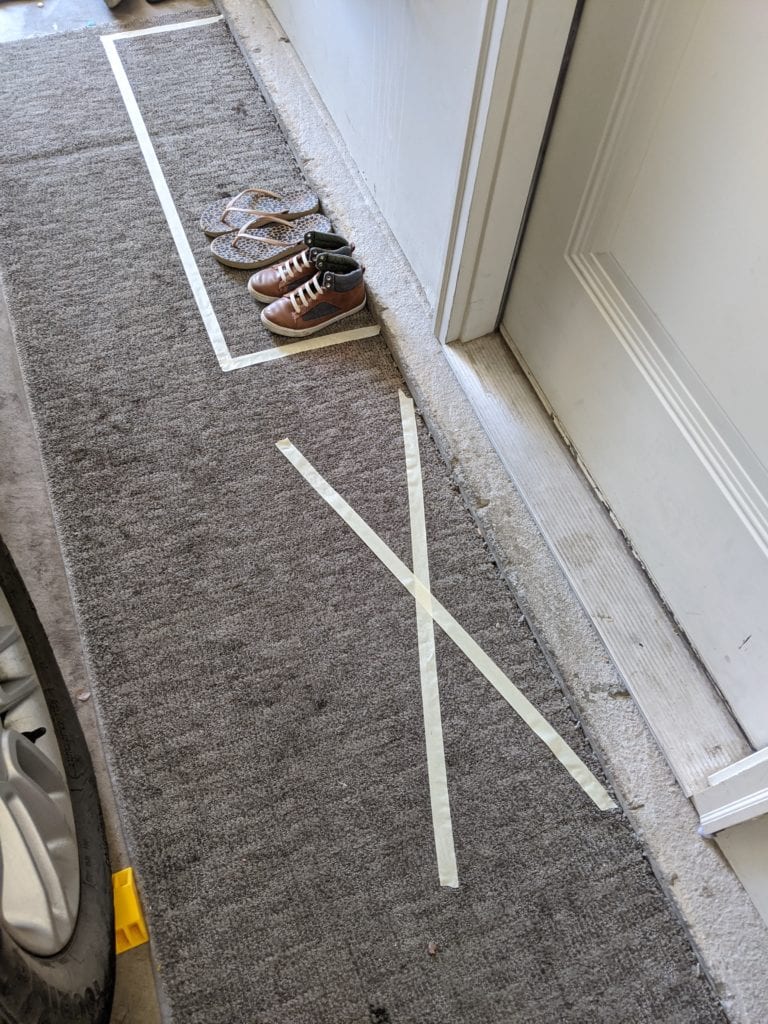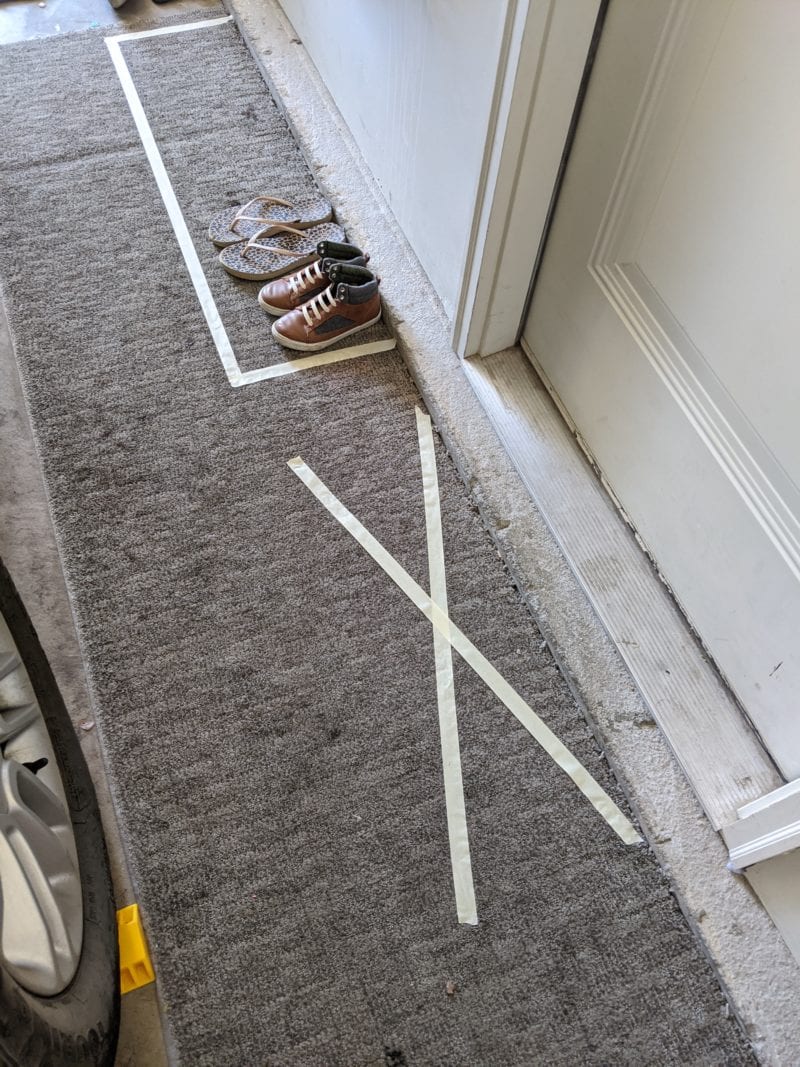 Wash Your Hands
The year 2020 has been absolute insanity! And going back to school is going to be extremely different this year. Some states may not be doing school at all but for us here in Utah, our kids are allowed to return to the classroom.
Many extra precautions are being taken in order to keep our kids safe and healthy. One of which is that our kids are going to be wearing masks in school. This is definitely not something that I would have chosen for my kids because I can hardly stand to wear them at the grocery store for an hour. But I just don't feel like there is any replacement for in-school learning.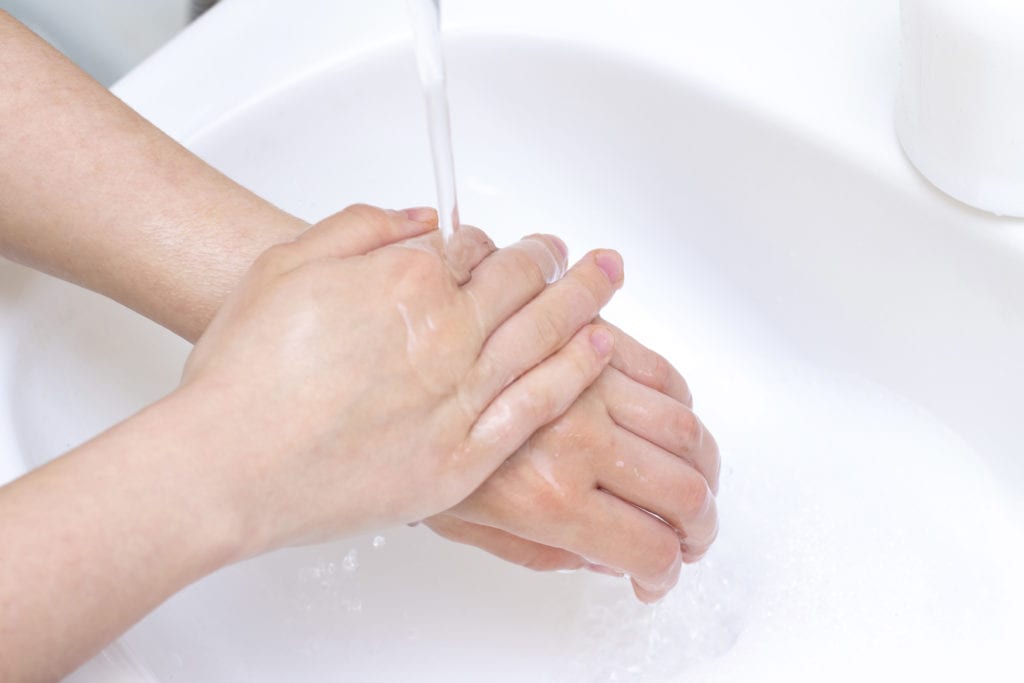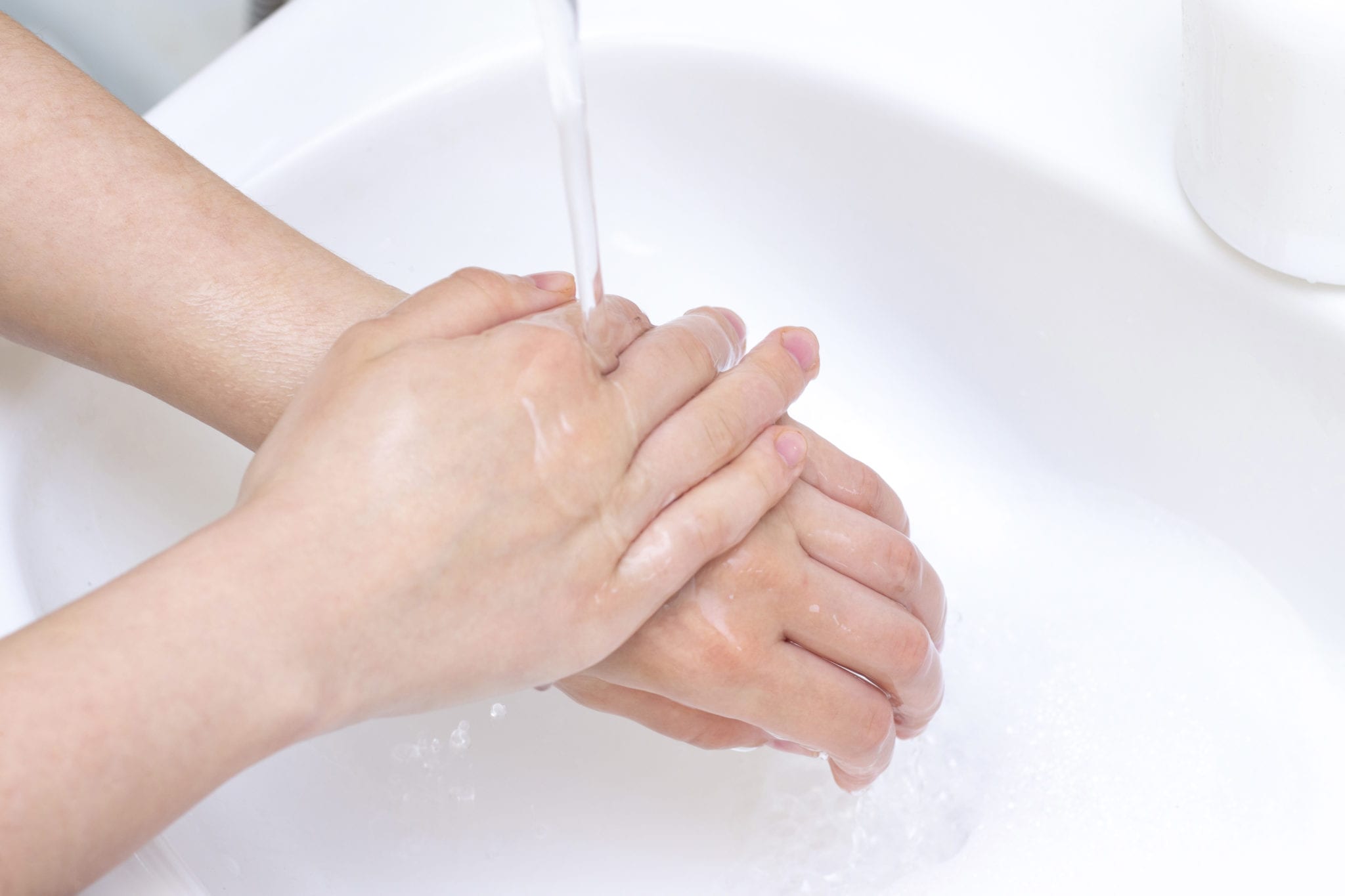 Because of COVID-19, washing their hands after school is even more important! So the first thing that I want them to do after taking off their coat and backpack is to go straight to the bathroom and wash their hands with soap and water. I even used my silhouette cutting machine and some vinyl to make a reminder by the back door that will hopefully help them remember as they walk in the door.
Create a Spot for Dirty Face Masks
Because our kids have to wear masks at school every day, it is going to get tricky to remember which masks are clean and which masks are dirty. They have to wear a clean mask to school every day so, in order for that to be possible, there needs to be some sort of system in place in order to better keep track of it all. So I want my kids to put their mask in a specific place right when they get home.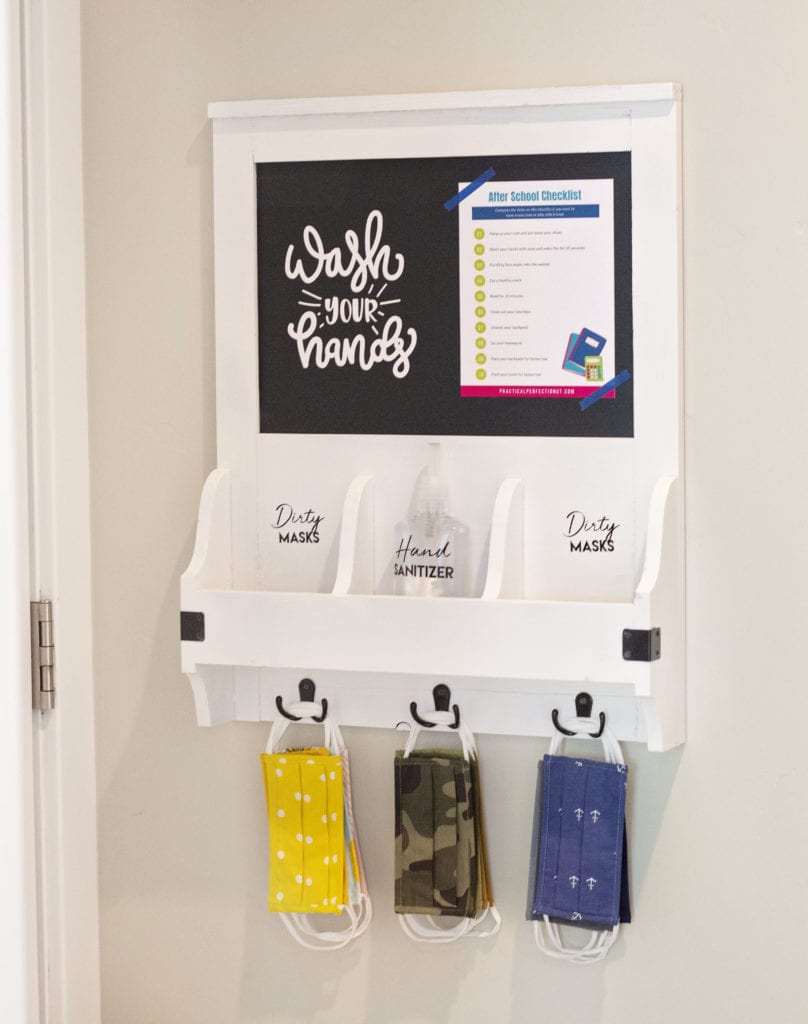 There are of course many different places that they could put their masks after school. One option is straight into the washer (and then run the washer when you have enough clothes added). I created a "Mask Station" (using this shelf that I painted white) where I am able to keep an easily organized cycle of clean masks, dirty masks, hand sanitizer, and our after school checklist. Or you could even have a small garbage can where everyone stores their dirty masks.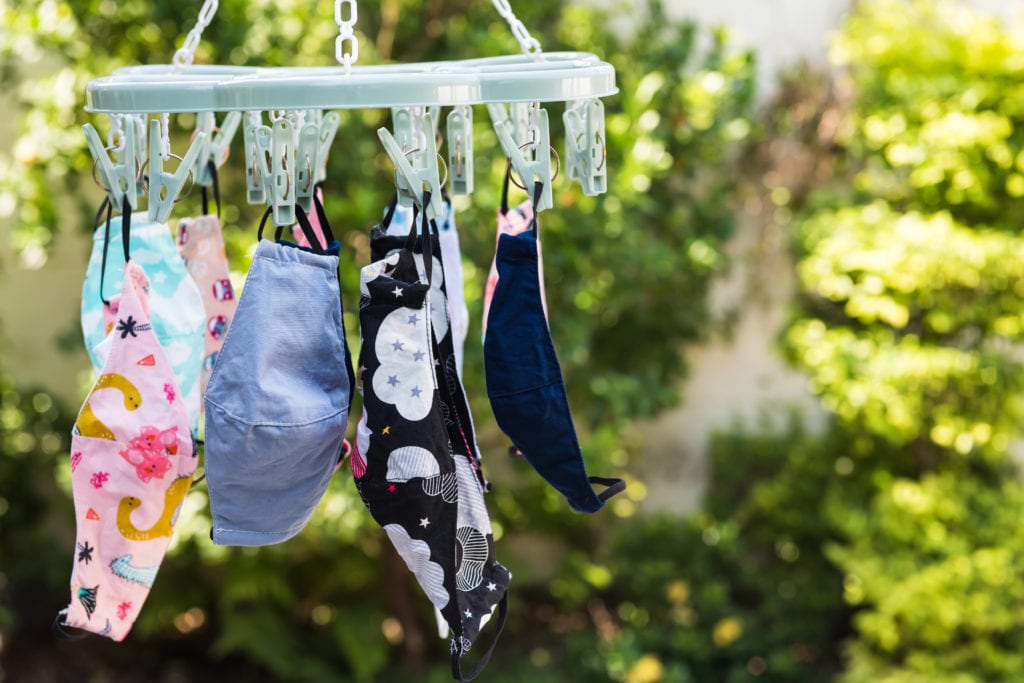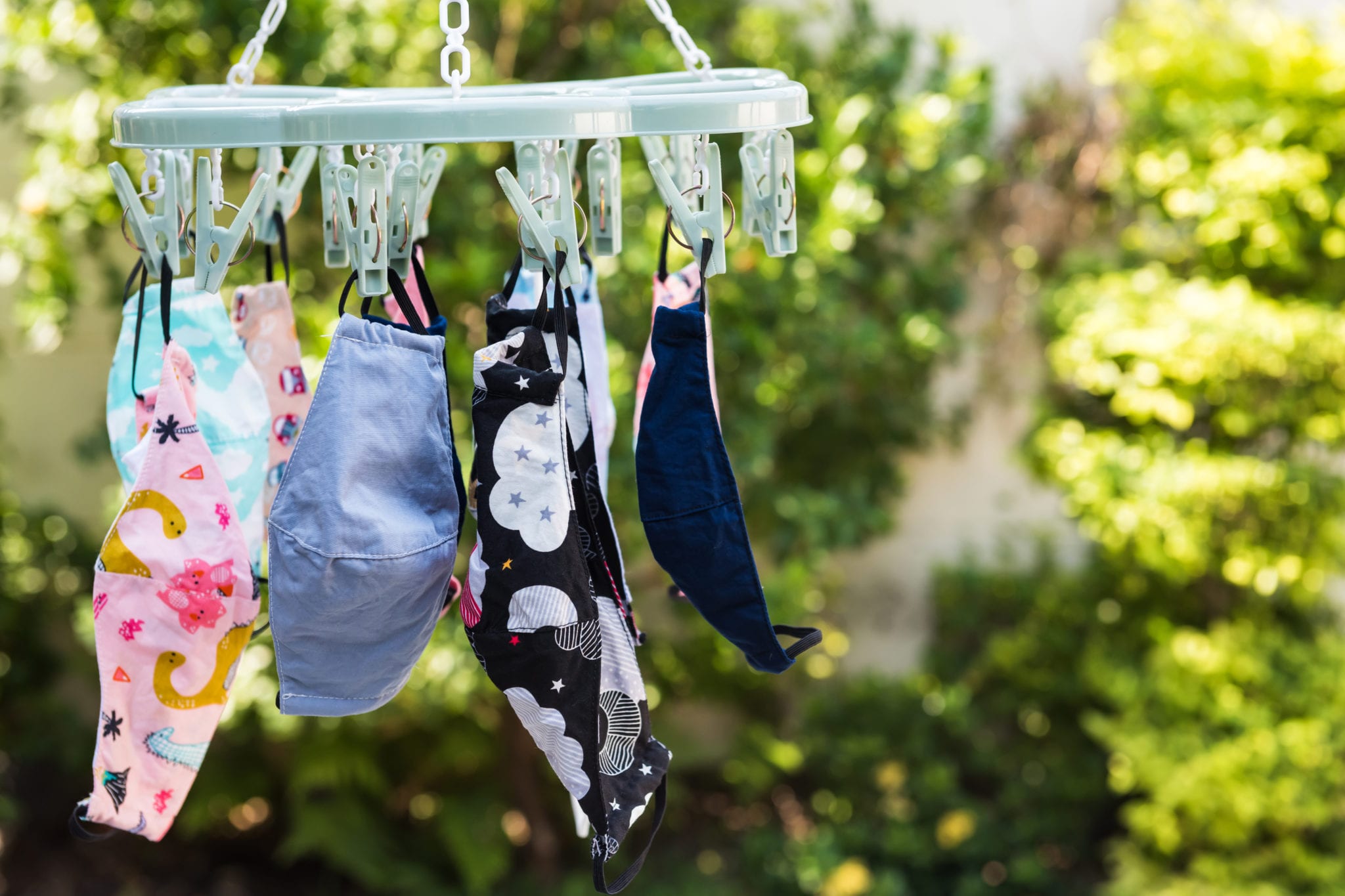 Clean Out Your Lunchbox
Have you ever opened up your kid's lunchbox Monday morning only to realize that you forgot to empty it before the weekend and now you have rotten, spoiled food to deal with? Yep, me too. More times than I can count! I'm hoping that this year will be a little bit different if I put it on their after school checklist.
Eat A Healthy Snack
My kids are usually really hungry by the time they get home from school so having an after-school snack is one of the first go-to things that they do. I really try to feed them healthy snacks after school to help tide them over until dinner time.
One thing that I did last year for after-school snacks that helped my kids eat healthy was to create a small charcuterie board for them to pick at. Because the fruits, veggies, and nuts are already cut up and available, my kids were much more prone to eating those healthy foods than normal.
You can also check out my other posts about prepping healthy snacks for kids: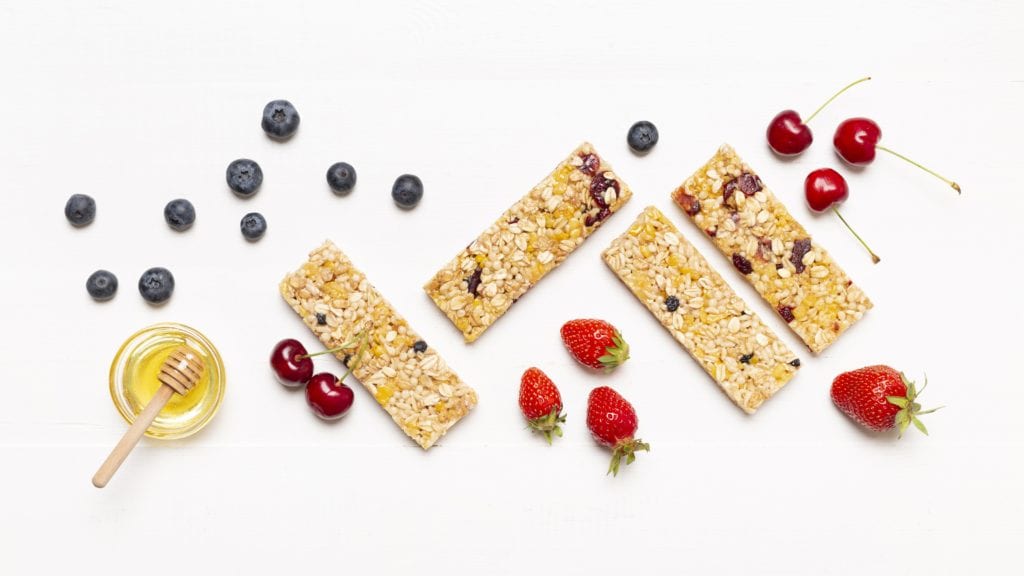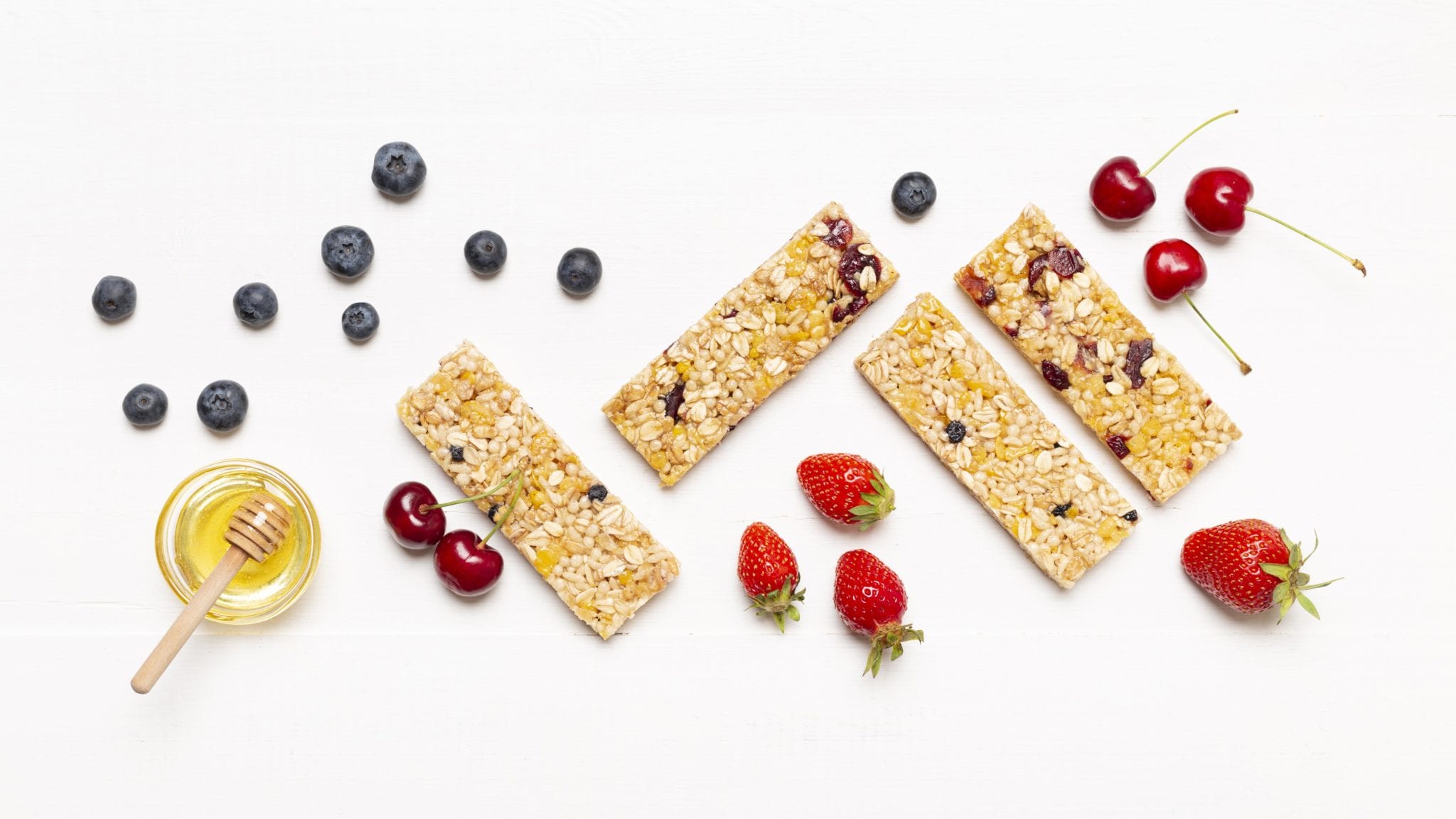 Reading Time
Because reading is so important for kids, most kids have an allotted reading time as a part of their required homework. So reading after school is a must! Sometimes my kids wake up early enough that they can get their reading done before they leave for school. But I still put it on the after school checklist because sometimes they don't get to it.
If you are looking for a great way to incentivize reading with your kids, check out my At-Home Kids Reading Program printables in my store!
Unpack Your Backpack
Unpacking my kids' backpack is something that I forget to do a lot of times! Extracurricular activities can sometimes take over our after-school routine and I have been known to forget to check my kids' backpacks every night. So this is something that I want to implement as a part of our routine that we do every day so there aren't piles and piles of paper and artwork collecting in their backpacks!
Plus, what better time to do this than right before they do their homework? That way you are on the same page as your child as far as knowing what needs to be done and what is expected of them as far as homework goes.
Do Your Homework
This one is pretty self-explanatory but a necessary element to an after-school routine. I wish that schools didn't do homework after school was over, but it is what it is! Luckily, my kids are not at the age where homework is super intense. They generally get it done fairly quickly and are motivated to do so so that they can go play with their friends!
Doing homework at night can sometimes be stressful but it's much better than trying to get it done 5 minutes before the bus arrives! In times of difficulty, you can get help with your homework. Such companies can sometimes really bail you out.
Pack Your Backpack for Tomorrow
This is one of those steps that can really help you have a smooth morning! If you can teach your kids to pack their backpack and get everything ready for school right after they get their homework done, then they don't have to think about it again! Don't forget to pack a new mask for the following school day!
If your kids eat lunch from home, then this is the perfect time to have them pack their own lunches and leave them in the fridge until the morning.
In order to help you create a more peaceful home, I have created an After School Checklist for you do download! The best part is that you can edit the file (in Adobe) to fit the needs of your own family.
My Favorite Products for Laminating Checklists:

I hope this post has given you some ideas for what to include in your after school routine checklist. Every family is so different so it will definitely take some trial and error for you to figure out what works for your family. So you have the option to use the blank after school routine checklist and create your own items that work best for you and your kids!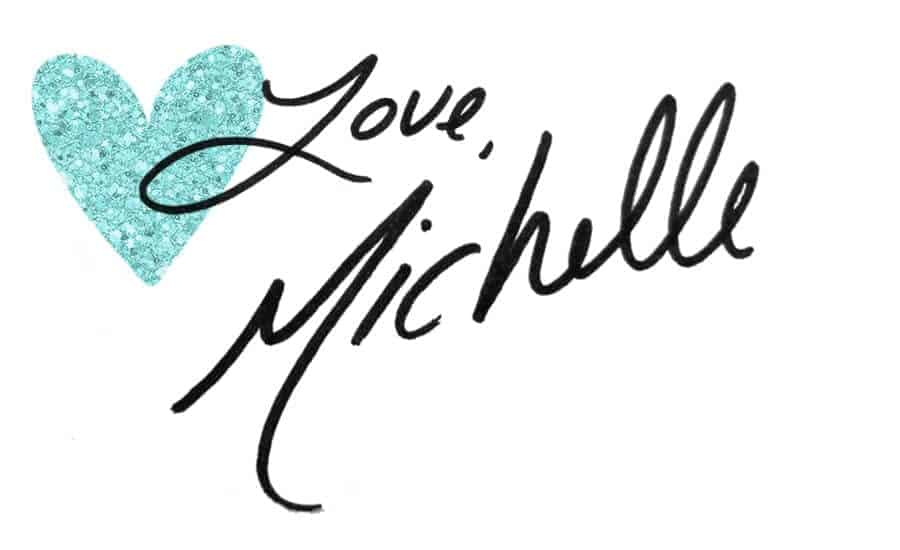 P.S. I was featured in the Top 50 Organizing blogs to read in 2020! I know that doesn't sound like that big of a deal, but for a new blogger, it's a pretty big compliment! Yay me!