Moving Into a New Home? Get the Ultimate Cleaning Checklist
When you buy a new house, there is a lot you need to do. It can be super overwhelming. But one very important step after you buy a house is to make sure you clean it before you move everything in.
This post provides a list of things you need to clean when moving into a new house. I'm also providing a free cleaning checklist that will help you as you get your new house clean and ready to live in!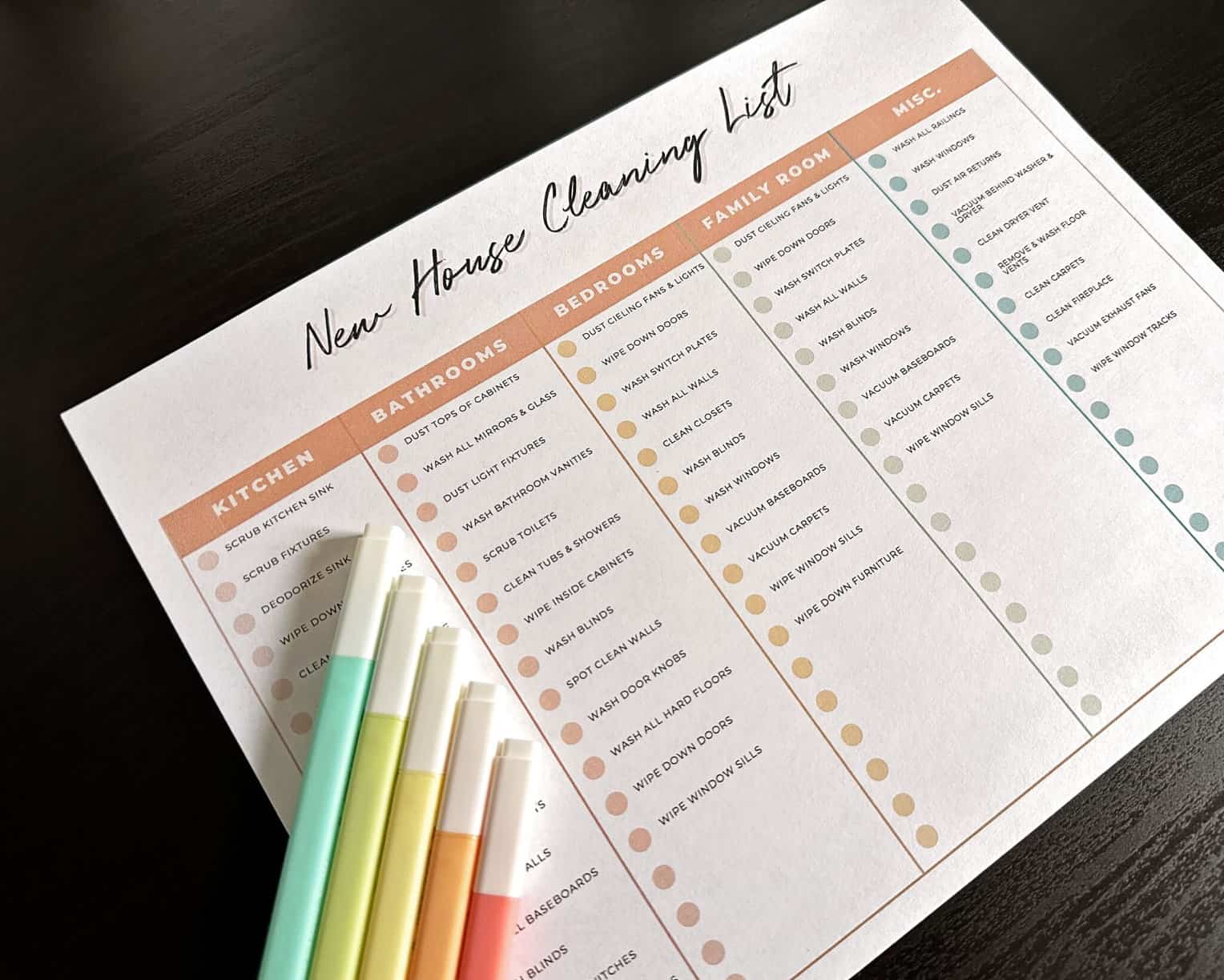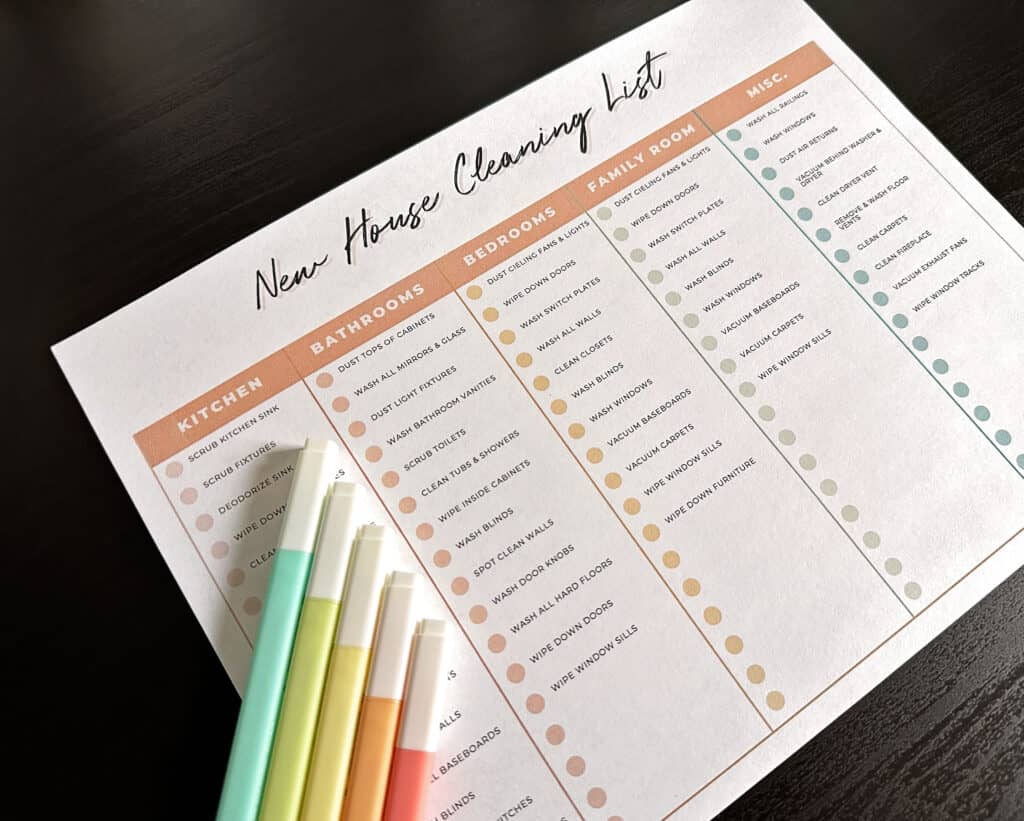 Why should I clean my new house?
Here's the thing. Even though the house is new to you, that doesn't mean it's clean. Before you bought it, you probably had a fairly thorough inspection done, but that doesn't mean the house is clean. The previous owners could leave dust and dirt, or they might have had pets that left odors on the carpets.
Even if it was just built, there can be dirt, dust, and debris left behind from the construction process. And if it's an older house, then you definitely want to do a deep clean.
It may seem like a lot of extra work up front, but doing a thorough cleaning will help you feel more comfortable in your new home and reduce your risk of health issues caused by bacteria, dust, and other allergens. Plus, it can help you spot any potential issues with the house that need to be fixed or addressed before they become bigger problems.
What should I do when cleaning my new house?
Depending on the size and condition of your home, there are a few different approaches to getting it clean.
First, you can always just hire professional cleaners. If you don't have the time or energy to clean, hiring a cleaning service is a good option.
If you prefer to clean yourself, or you want to save a bit of money after the hefty price of buying a new home, this post will cover the cleaning process with detailed instructions that will help you give a good deep cleaning to your empty house.
BESTSELLING CLEANING CHECKLISTS

What cleaning supplies do I need?
Before you get started on deep cleaning, you'll need to have the proper cleaning supplies. Here's what you need:
Vacuum (in all my years as a cleaner, this is the best vacuum I used…and now own)
Mop and bucket or a steam mop (I also own this steam cleaner that is a must-have)
Sponges
Microfiber cloth
An all-purpose cleaner (or different cleaners for bathrooms and kitchen)
Window or glass cleaner (or you can replace glass cleaner forever with my favorite rags)
Paper Towels
Disinfectant wipes
Toilet bowl cleaner and a brush
Scrub brushes and/or steel wool
Duster (I love this washable/reusable duster)
Rubber gloves
Hydrogen peroxide (helps remove mold and mildew)
Baking soda (DIY baking soda solutions can really help when deep cleaning)
White vinegar solution
Any other cleaning products you like! Here are my favorite cleaning products I can't live without.
How do I deep clean my new home?
Now that you have the right cleaning supplies, it's time to start deep cleaning your empty house. I've broken down the cleaning tasks you need to do in each room so the entire house feels pristine when you are finished cleaning.
Move-In Cleaning Checklist for All the Rooms
Begin with the most heavily trafficked and visible parts of your home first. Start by dusting all surfaces, including furniture and walls. Vacuum carpets, floors, and upholstery. Backpack vacuums are great for clearing large areas and carpets because they are very convenient. Clean any countertops or surfaces in the kitchen and bathrooms with an appropriate cleaner. Clean and dust light fixtures and ceiling fan blades.
You'll also want to wipe down all light switches throughout the home and wash windows from both the inside and outside. Disinfect door handles and dust any window frame. Wash any stains on walls and remove dust from, well, everywhere.
Here's a more detailed to-do list for cleaning each room.
BESTSELLING CLEANING CHECKLISTS

Checklist for Bathrooms
When cleaning the bathroom in a new home, it's important to make sure that all the surfaces are properly disinfected. Start with scrubbing the bathtub and shower (including the shower head), followed by cleaning and disinfecting the toilet seat. Use a cleaner specifically designed for bathroom surfaces such as tile, countertops, and floors.
Wipe out any medicine cabinet in your bathroom and use a clean cloth and cleaner for the mirrors. Scrub down the toilet seats in the house and toilet bowls. Wash the cabinet doors as well.
Clean out the sink drain and scrub any grimy grout you see. As you wipe down the countertop and other surfaces, be sure to pay attention to any nooks and crannies. Finish up by mopping the floor with a disinfecting solution or using a steam cleaner if necessary.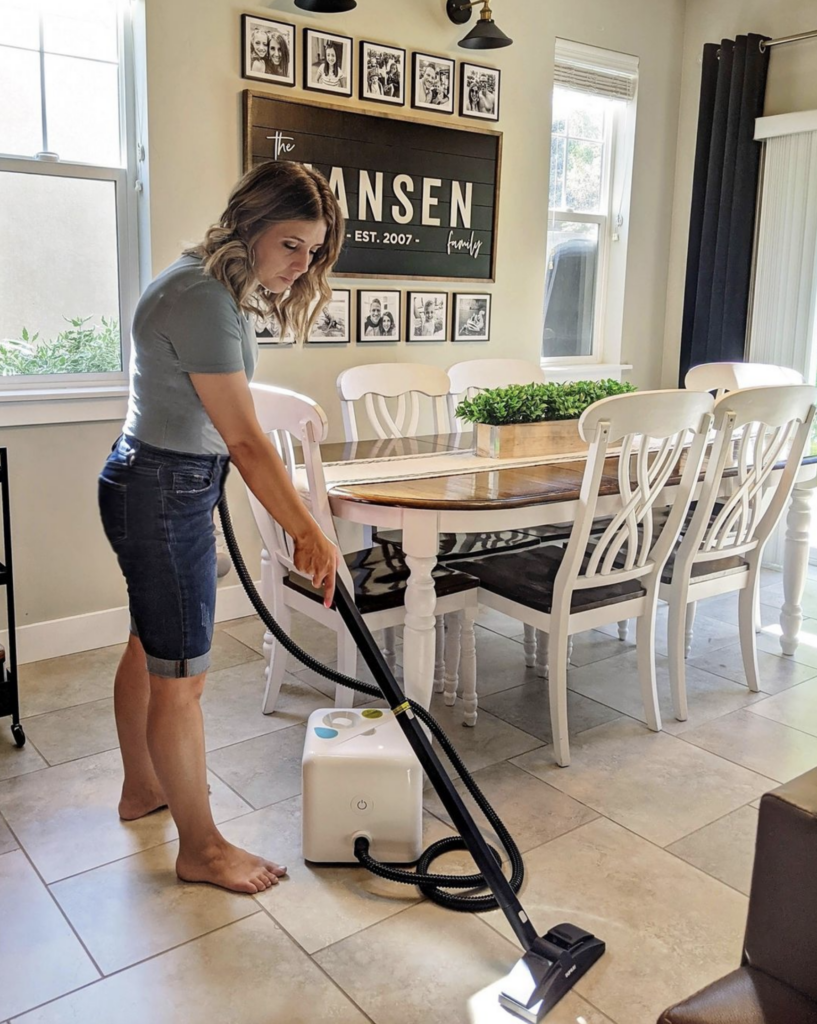 Checklist for Kitchen
Wipe down all the surfaces in the kitchen. That means the counters, wood cabinets, and appliances. Clean the inside and outside of your kitchen cabinets.
You'll also want to clean the refrigerator and oven. There could be leftover odors or sticky spills. Even if you're bringing your own fridge, it's always nice to deep clean everything in your new home – even items you're bringing along. So make sure you wipe out your microwave as well with a microfiber cloth or a disinfecting wipe.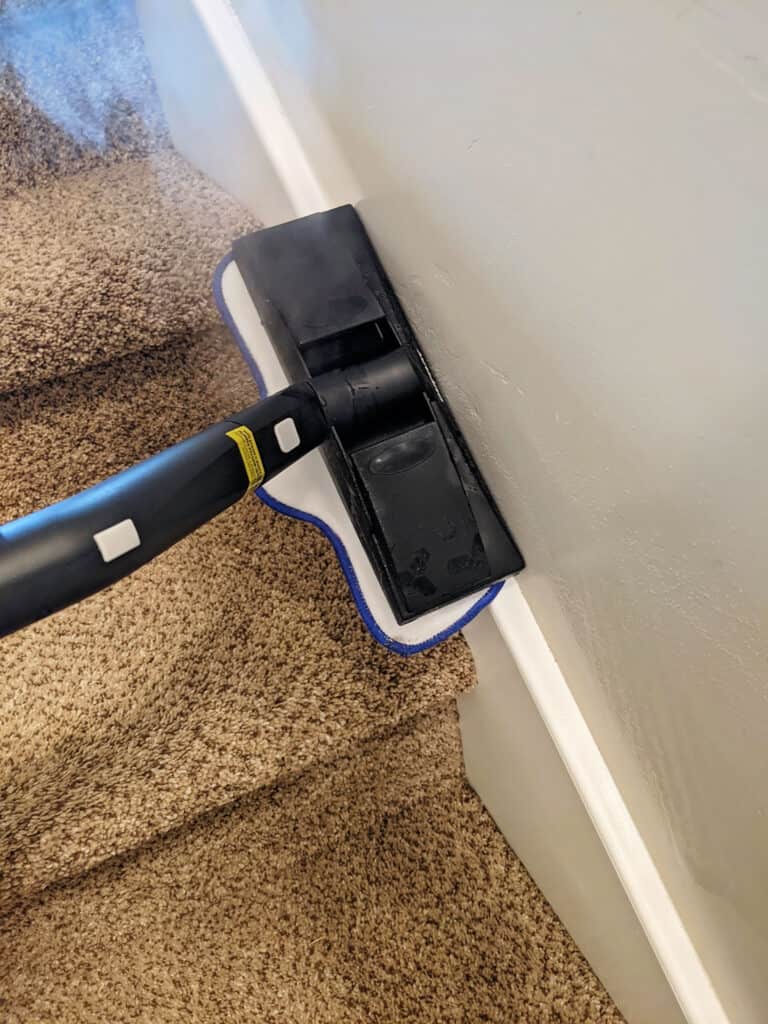 Clean the kitchen sink and drain. Run the garbage disposal and make sure there are no strange smells or sounds. Scrub off any grimy buildup or soap residue around the faucet. You may also want to clean out the dishwasher if there is one in your kitchen. Finally, sweep and mop all hard surfaces such as tile, countertops, and floors.
Checklist for Bedrooms
When moving into a new home, clean the bedrooms by vacuuming the carpets, dusting from top to bottom, and washing windows, window sills, and blinds. Dust and clean any closet shelves.
Once you move in all your belongings, clean any upholstered furniture, wipe down surfaces such as dressers and nightstands, and change bed linens so you have nice clean sheets.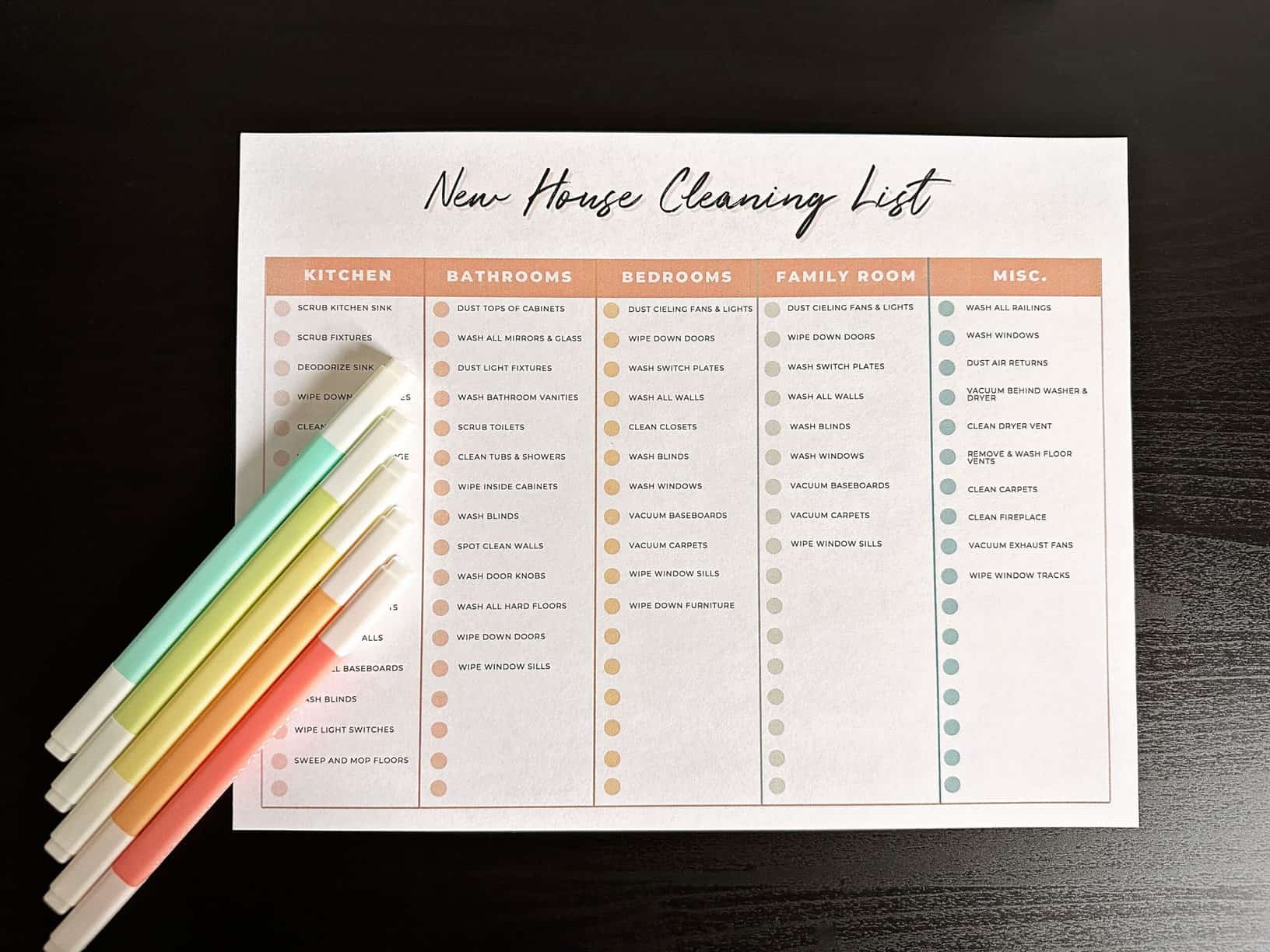 Checklist for Living/Family Rooms
Dust off all furniture, ceiling fans, and windowsills. Vacuum carpets and floors, especially in areas where dirt easily accumulates such as under couches or near windows. Vacuum carpets, rugs, sofas, and chairs.
Disinfect any doorknobs for the room and any handles on furniture from previous owners. Dust and clean lamps and light fixtures. I'd also suggest you steam clean furniture, whether it's new or old.
Checklist for Outdoor Spaces
Cleaning outdoor areas might not be as popular as other cleaning activities, but it's just as important. Sweep any dirt or debris from the patio and deck. Pressure wash outdoor furniture to get rid of the grime that has built up over time.
You should also check for any cracks in your fence or walkways and fix them before they become a bigger problem later on. The outside can probably wait until the moving truck leaves – that can be a work in progress. Just don't forget about cleaning outside when you move into your new space.
Unexpected Places to Clean
Clean walls, the dryer vent, and any space where you see dust built up. You may consider setting traps for rodents or insects, as well as vacuuming the area around any vents or fans.
Clean your window sills and tracks, and make sure your windows are properly sealed to keep out moisture. Finally, check for mold in any areas where there may be high humidity or water leaks.
If you're considering a move and wondering about reasons people move to Valdosta, explore insights and real estate opportunities at reasons people move to Valdosta with eXp Realty.
New House Cleaning Checklist
Having a move-in cleaning checklist makes it so much easier to deep clean your new house before you move in. Hopefully this comprehensive checklist you can download for free will help get your home into good shape.
Moving into a new home can be overwhelming but a detailed checklist will help make the process easier. After all, it's also super exciting to move into a new place, so you want to use a little elbow grease and create a space you love.
Enjoy moving into a new home!