What to Wear: The Ultimate Guide To Game Day Outfits
Are you tired of feeling unsure and unprepared when it comes to game-day outfits? Don't worry – we've got you covered! Whether you're supporting a professional team or cheering on the local little leagues, having options for comfortable game-day outfits is a must.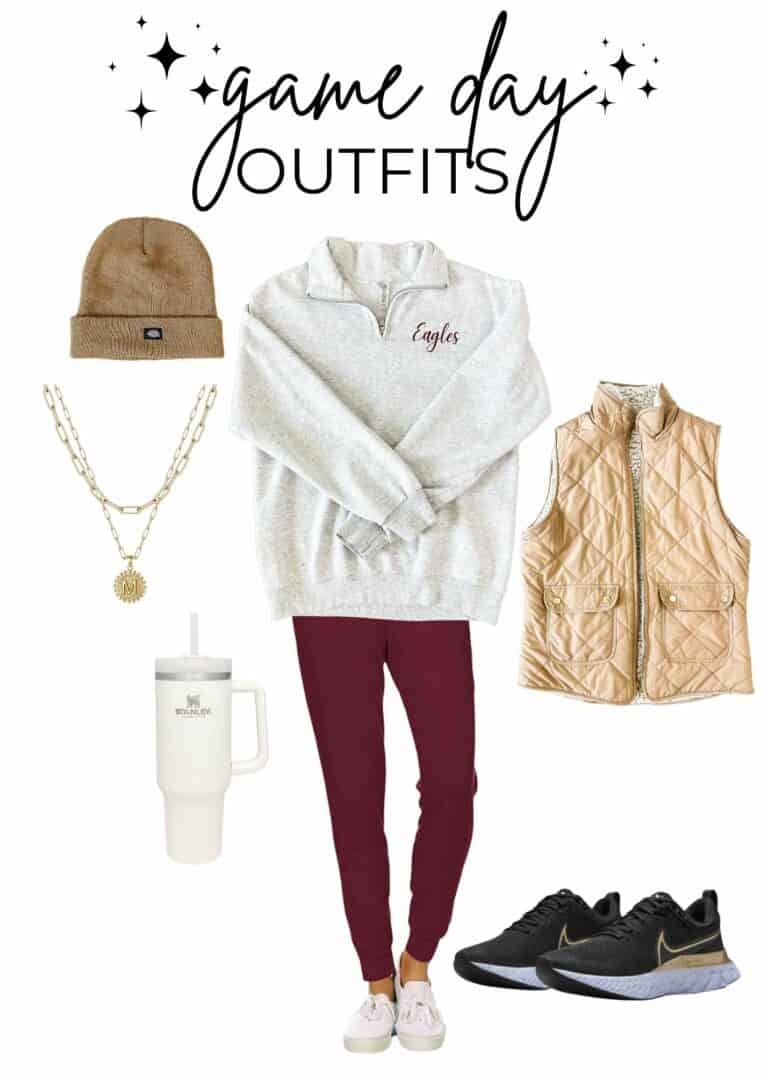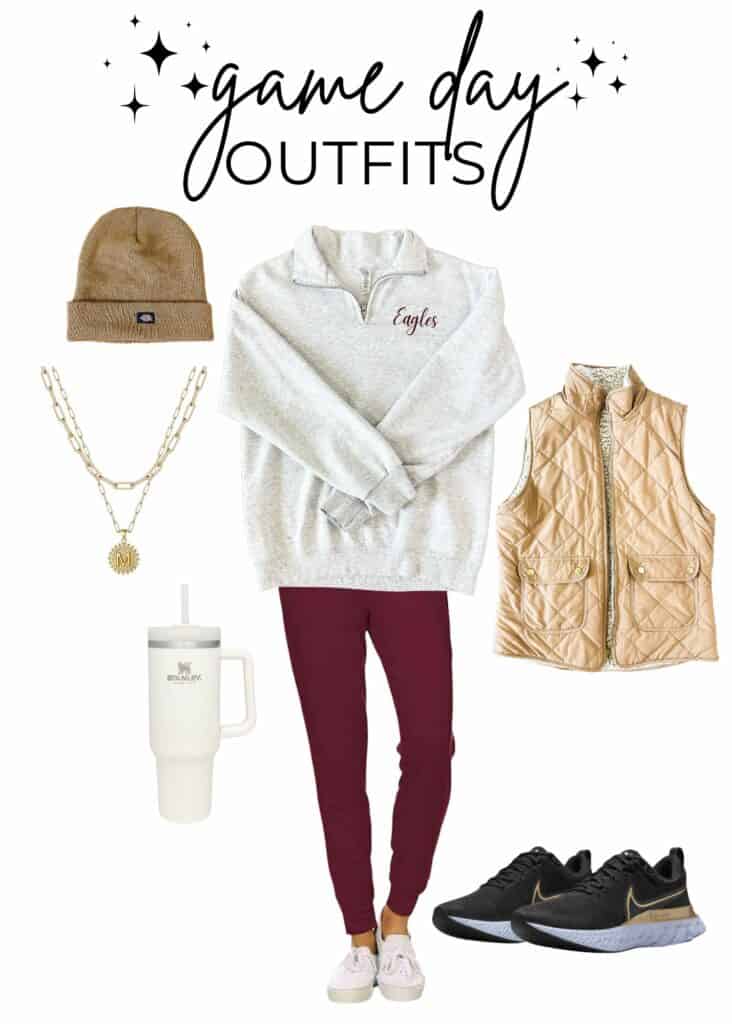 This post will show you how to create the perfect ensemble with layers, hats, sunscreen, and of course — comfy clothes! We'll provide you with all the information needed to ensure you look great while cheering on your favorite team and rocking their colors. So sit back, relax, and start creating your ultimate guide to game-day outfits!
SPORTS BAG ESSENTIALS
SPORTS BAG ESSENTIALS
Wondering what essential things you need to keep in your sports bag? Always be prepared for any type of weather or situation for all of those sports games!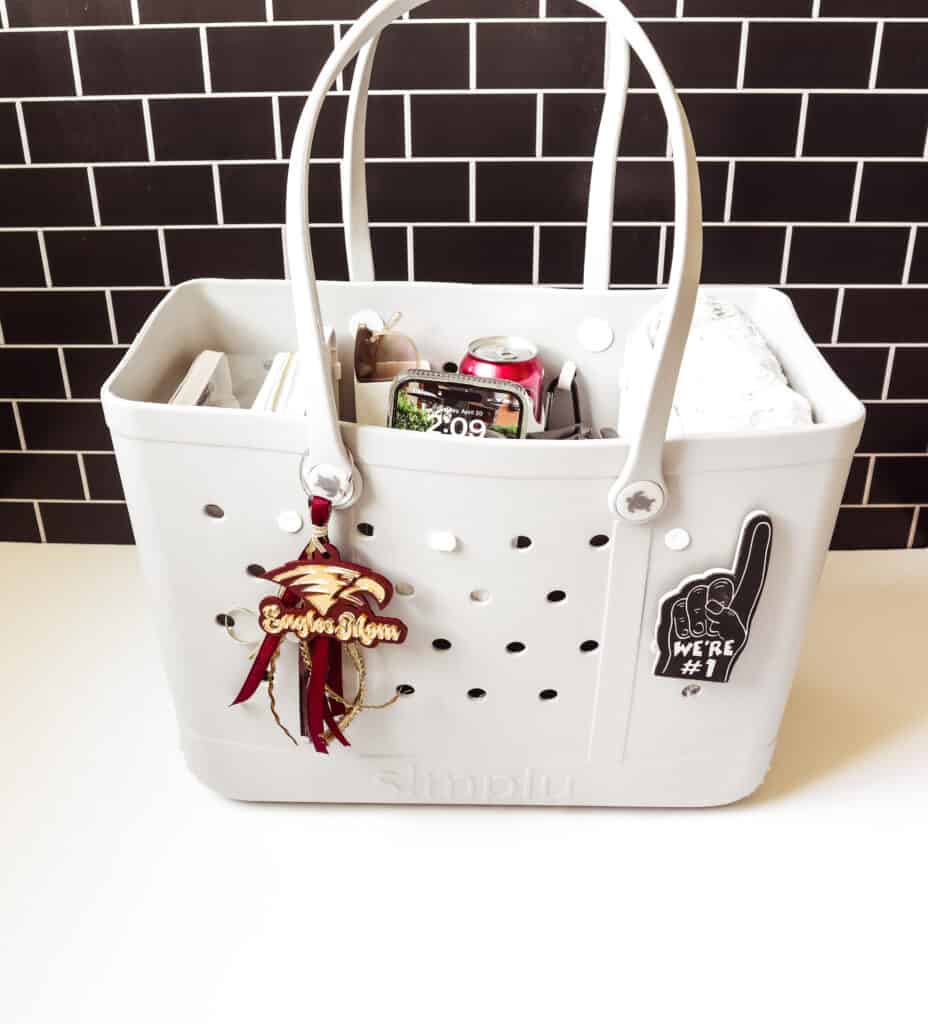 Creating the Ultimate Outfit for Game Days
When game day rolls around, you might be searching through your closet for the perfect gameday clothes. To help make your life easier and help you land on the a cute game day outfit every time, here are some ideas for the ultimate gameday outfit!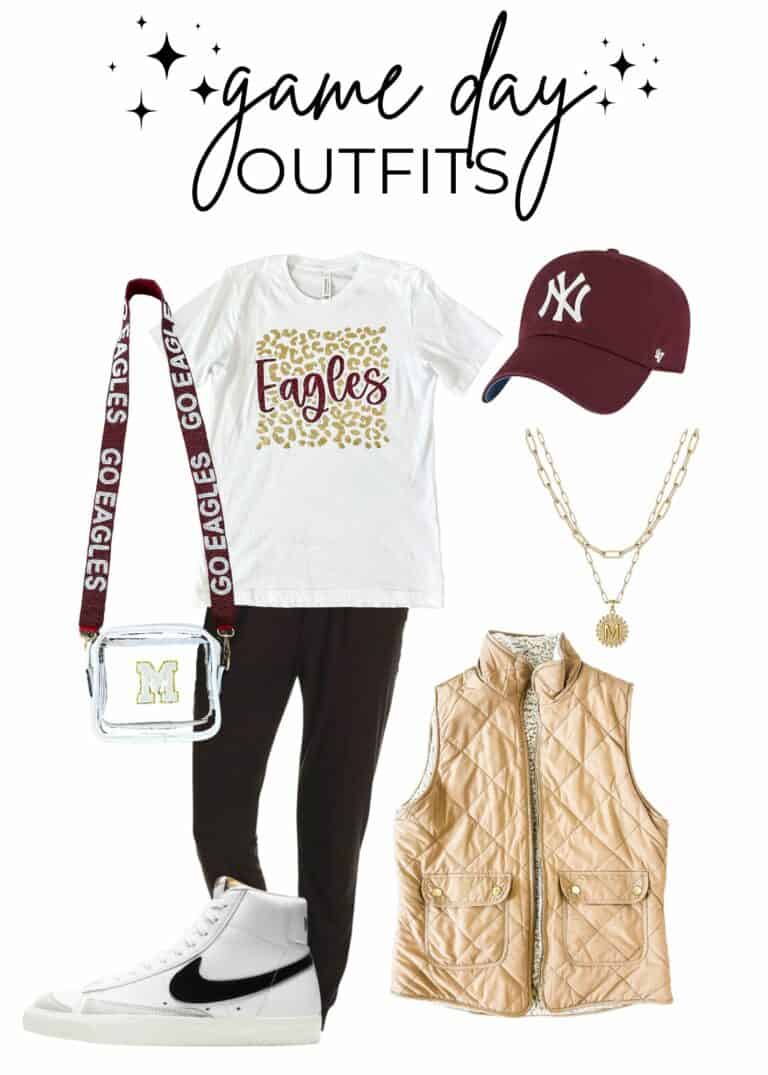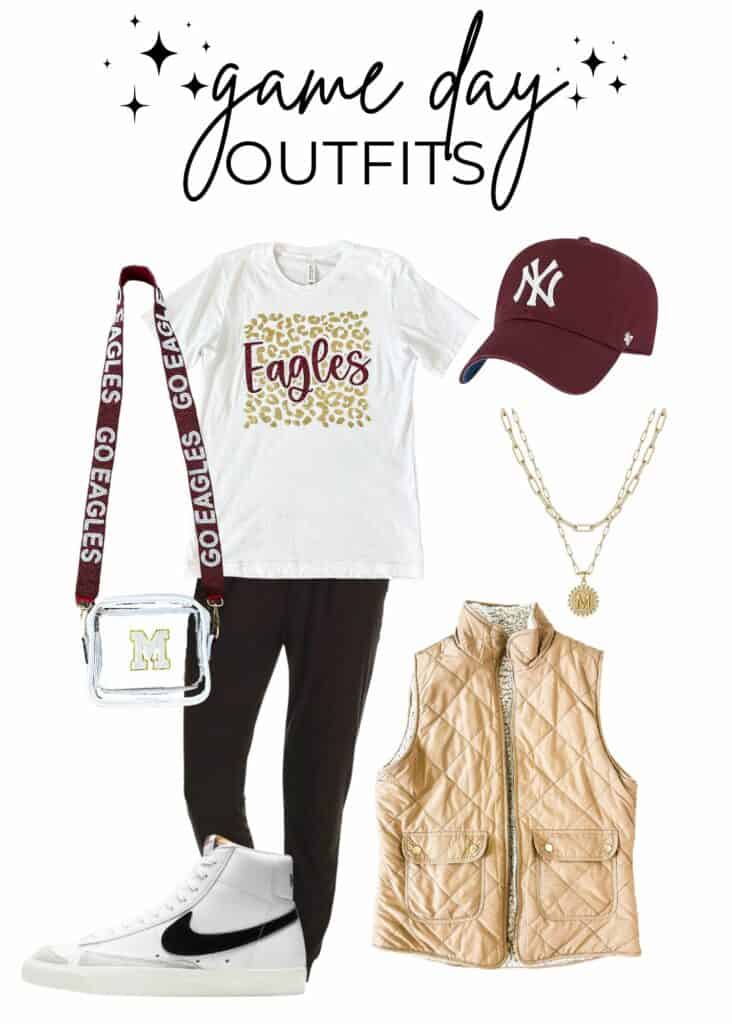 T-Shirts
Whether you're going to a stadium, field, arena, or little league court, when you're watching a game, being comfortable is important! Sitting in those chairs is usually uncomfortable enough already, so wearing clothes that are comfortable will really help!
When it comes to tops, wearing a T-shirt is a great way to stay comfortable while still looking cute on game day. If you're rooting for a professional team, finding a good T-shirt won't be too hard! Many teams make their own branded shirts with graphics and even the team logo on them.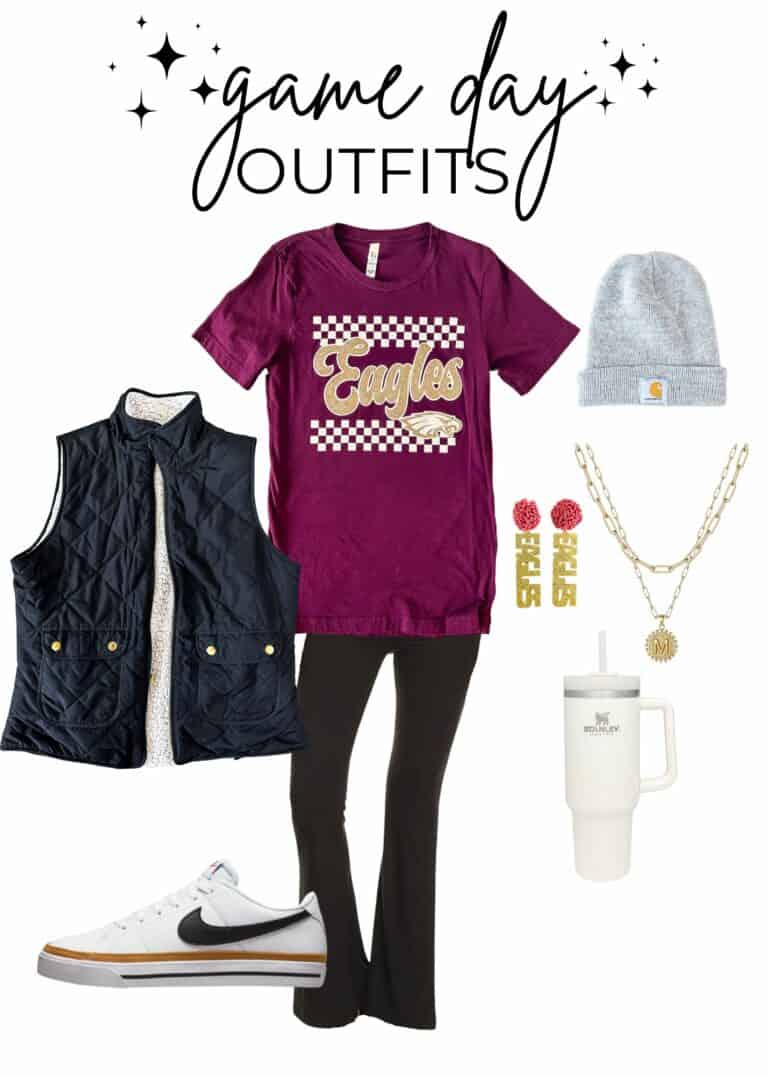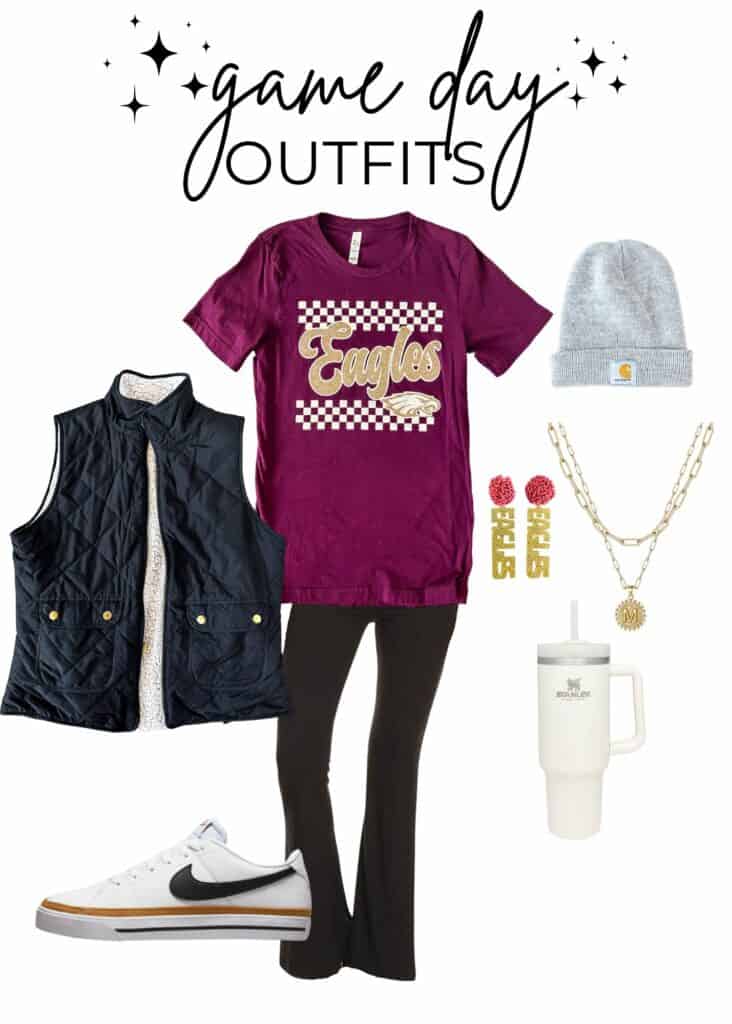 If you're rooting for a school team or your little league team, there are still plenty of options! You can find all sorts of cool T-shirts online that feature funny designs or sayings related to the sport.
Or if you want a custom T-shirt, you can get something like this shirt. You can personalize it by adding special instructions on the shirt color you like, adding the name of the mascot of your team, the mascot's color, and whether you want the writing in glitter or matte. Getting a custom or personalized game day T-shirt is a great way to show support! If that shirt isn't your style, there are tons of others you can choose instead!

Bottoms
For comfortable bottoms to wear on game day, there are plenty of options. Athletic shorts are a great choice and come in a variety of colors, styles, and lengths. They're lightweight but still offer lots of coverage, which makes them perfect for cheering on your favorite team. You can also layer with leggings or jeggings if the weather is cool.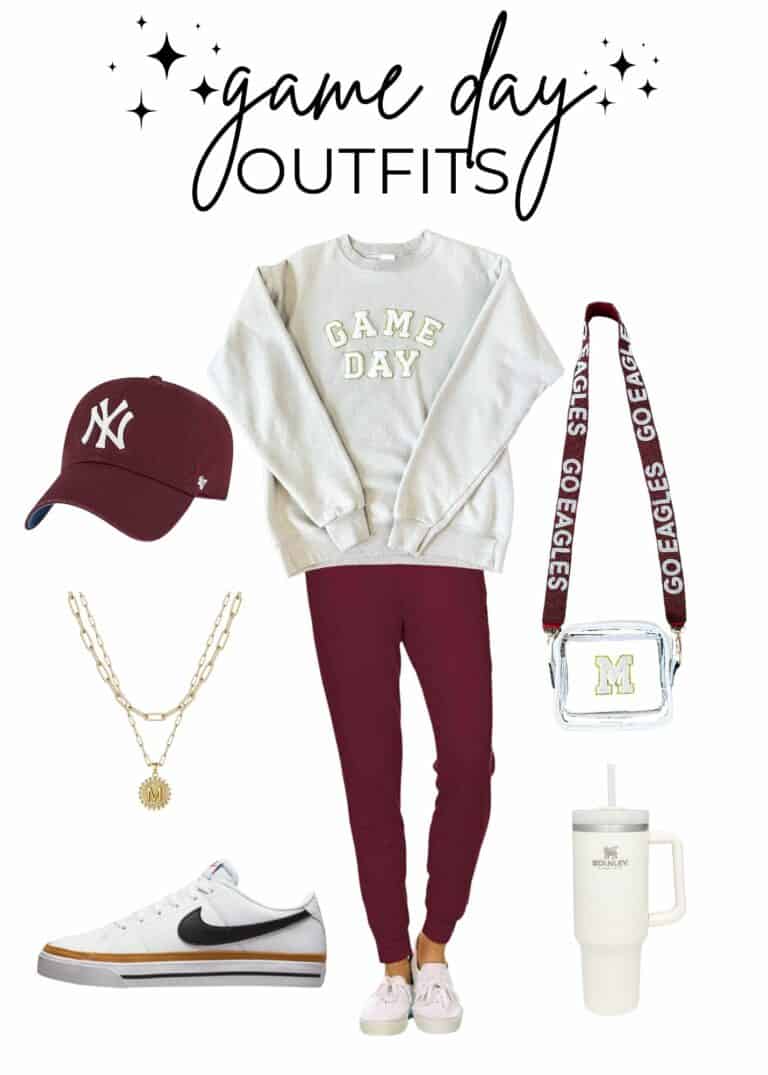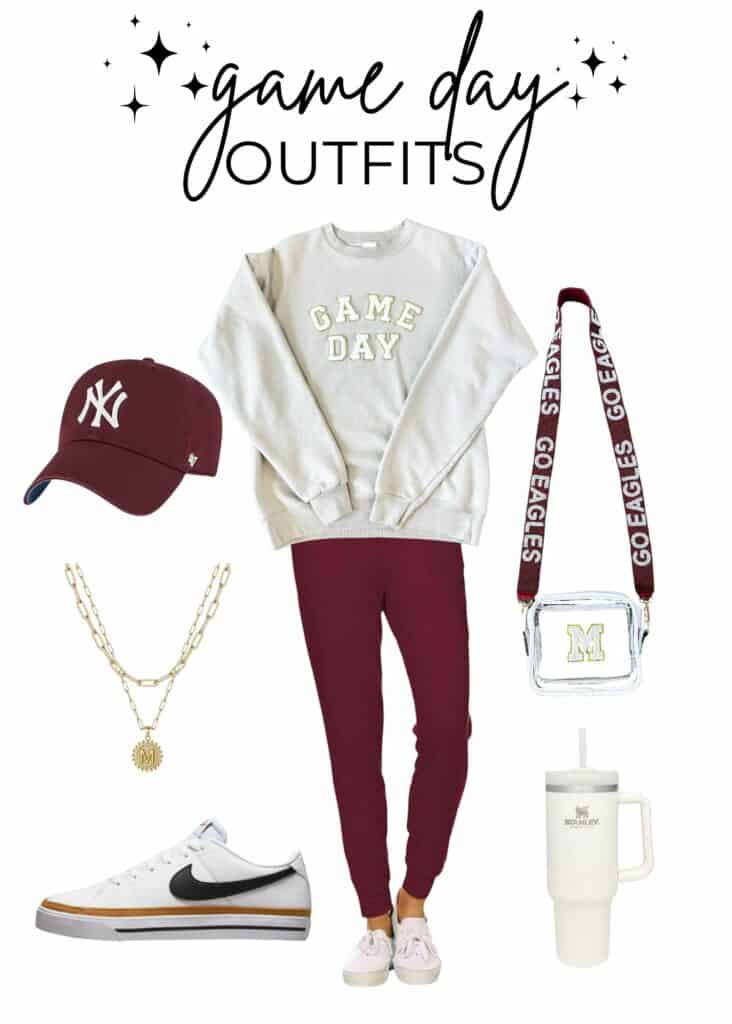 If you want to wear jeans, make sure you have a comfortable pair. You can also wear thick sweatpants if it's in the middle of the winter season and the game is outside. You can also easily find customizable sweatpants online to order if you want cute pants that show off support as well!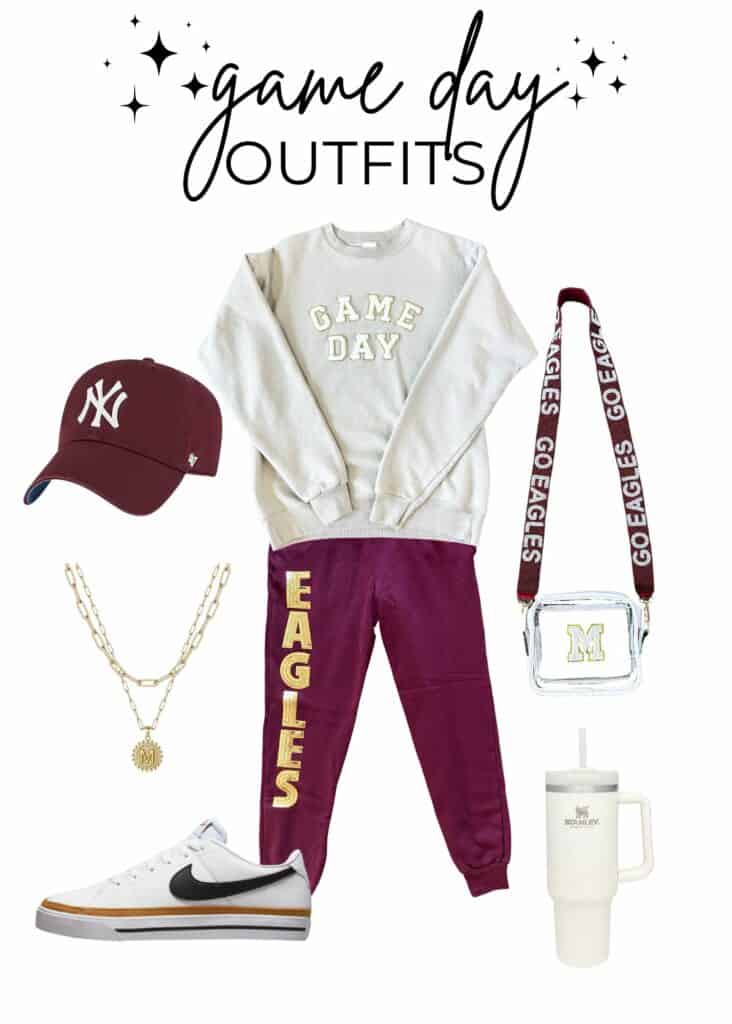 If it's warm outside, you can opt out of the T-shirt and pants and go for nice summer dresses! Casual dresses can be a comfortable and cute option for professional, high school, or college game day outfits.

Sweatshirts
If it's fall or winter, a T-shirt might not cut it. In that case, it's time to break out the sweatshirts! Here are a few of my favorite options.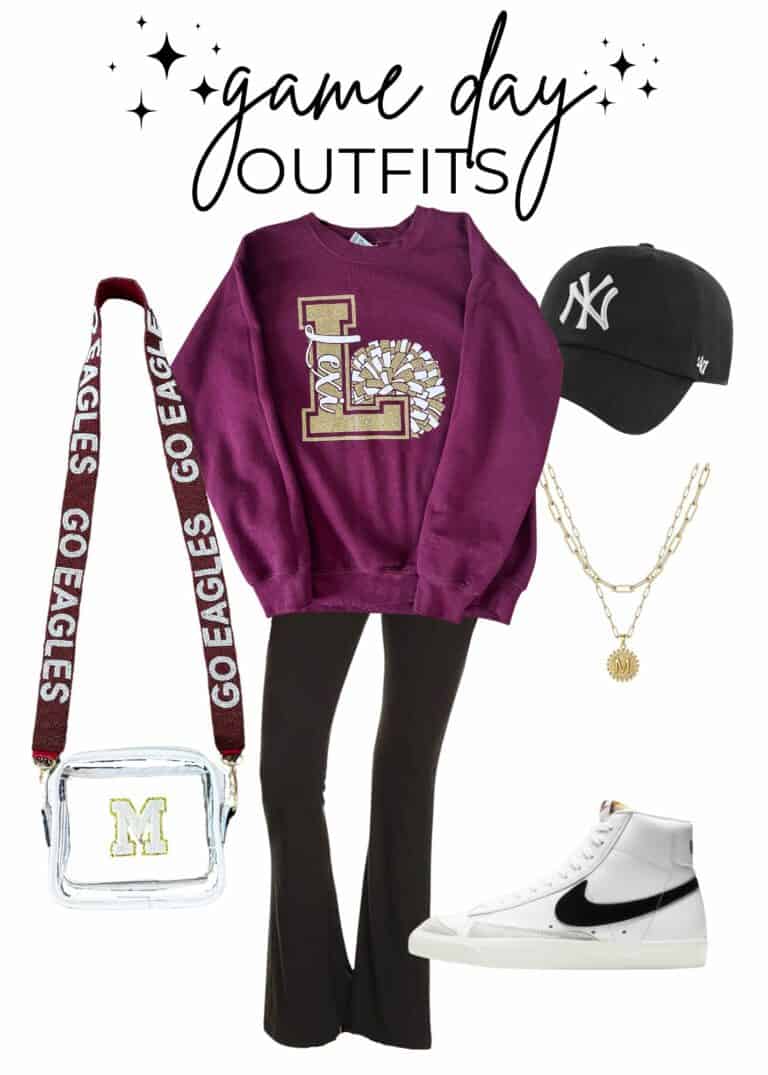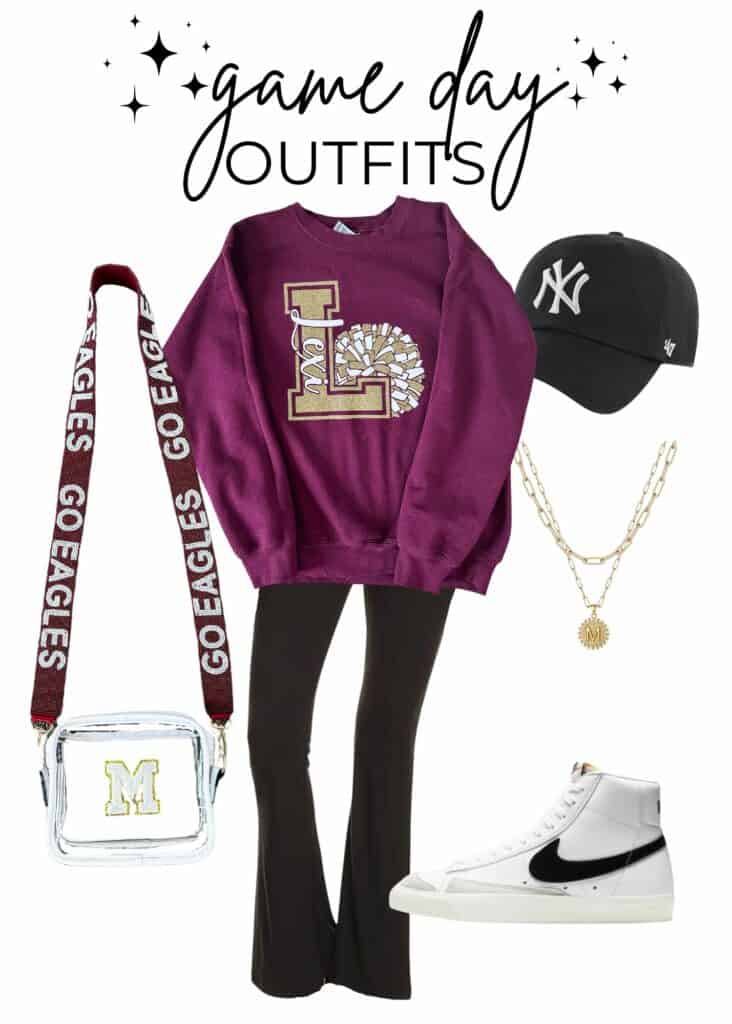 This leopard print sweatshirt lets you add the name of the mascot, like the T-shirt I recommended before. The background for all of the orders is leopard print, so keep that in mind.
This sweatshirt is perfect if you like a more simple style. It just has a puff vinyl with your team's mascot's name. It's simple, straightforward, and pretty!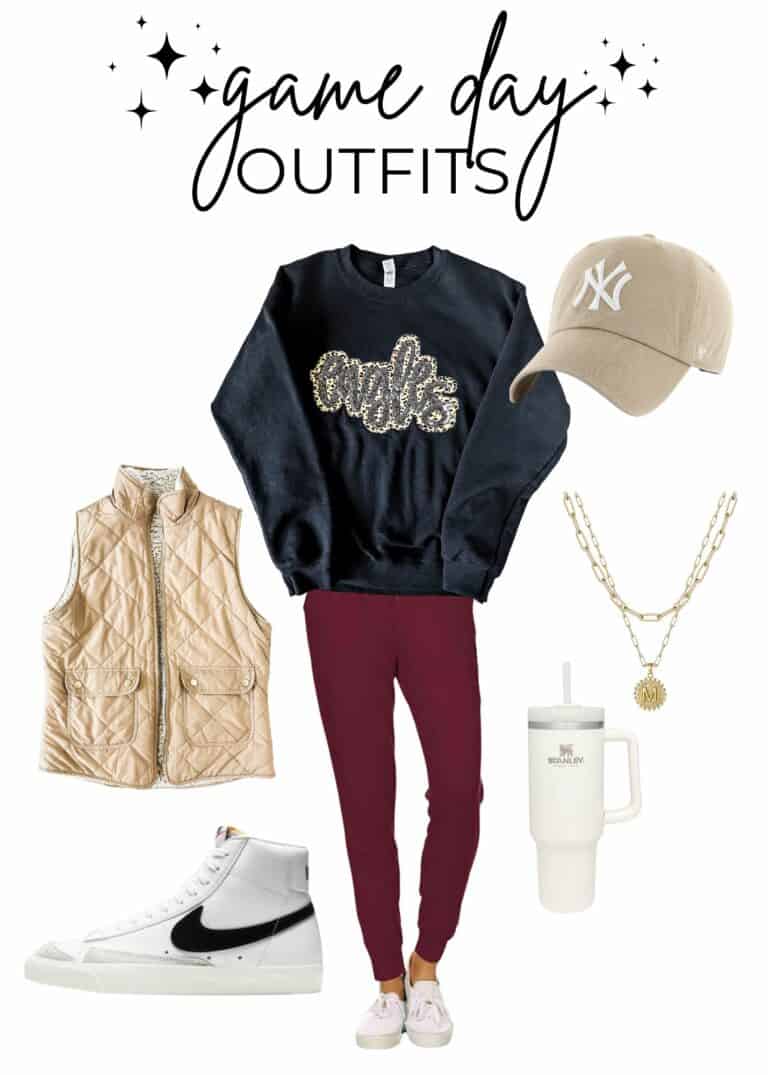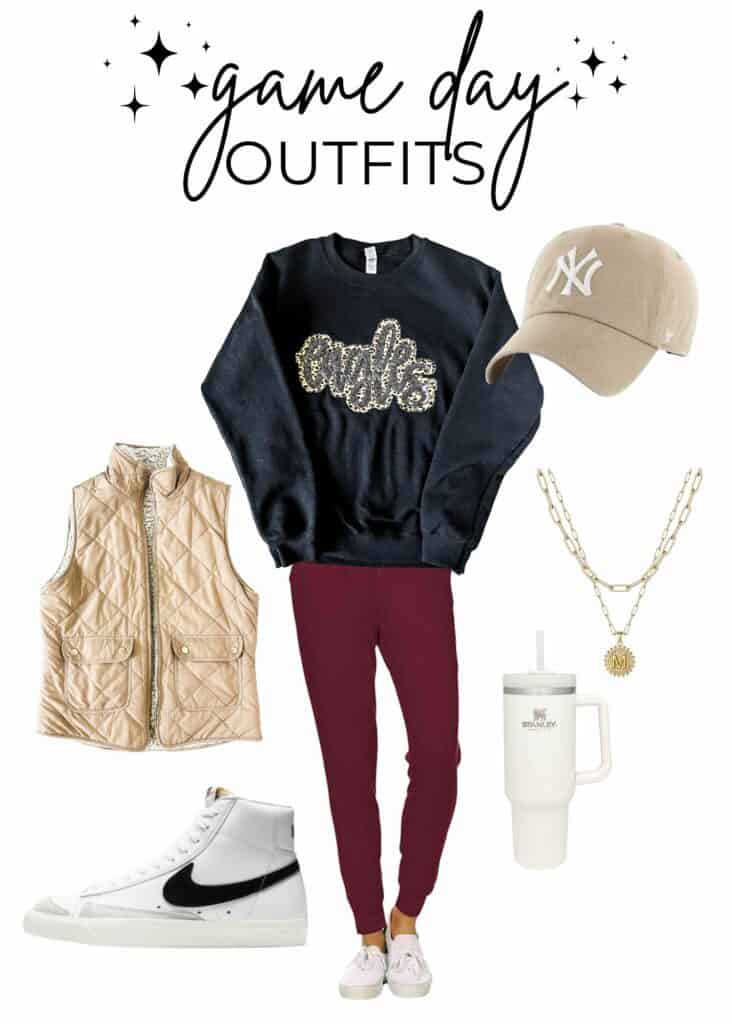 This sweatshirt has a cool checkered border that is perfect for game day! Customize it with the mascot name and they'll even add a little symbol that matches the mascot or the sport.
If you don't like any of those options, shop around for other options! There are lots of nice things you can find online that will show off your school spirit! If your kids like going to games, it's also fun to get some for their group of friends so they can all have matching high school or college game day outfits.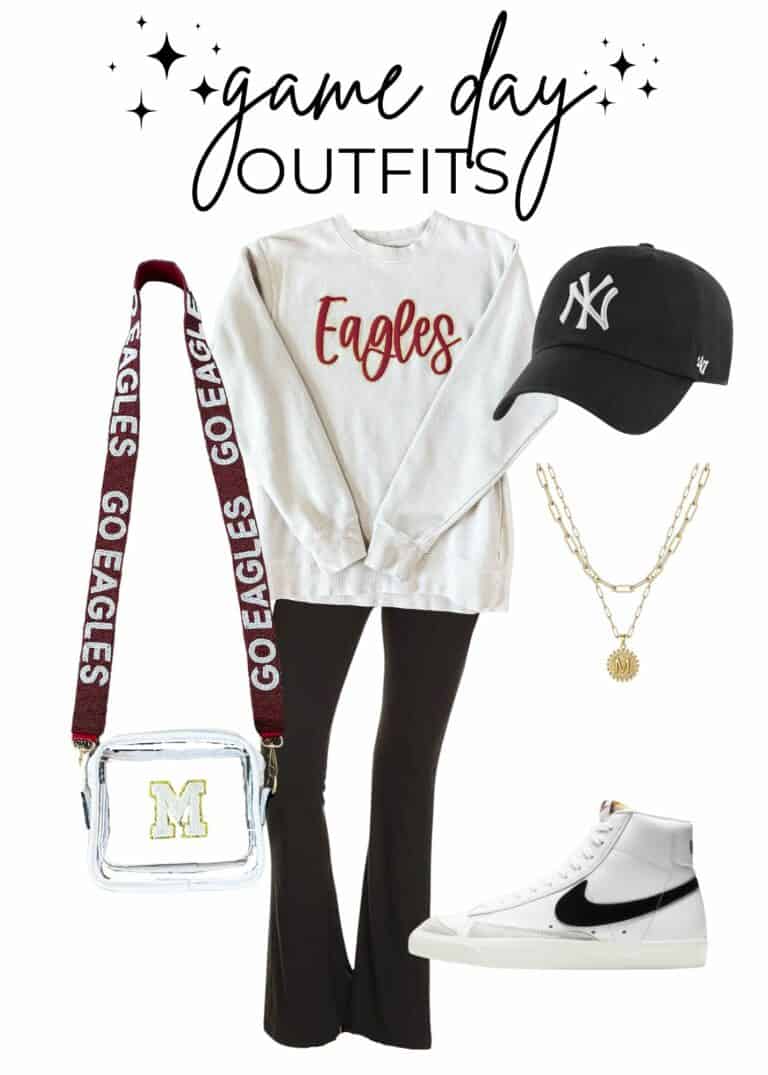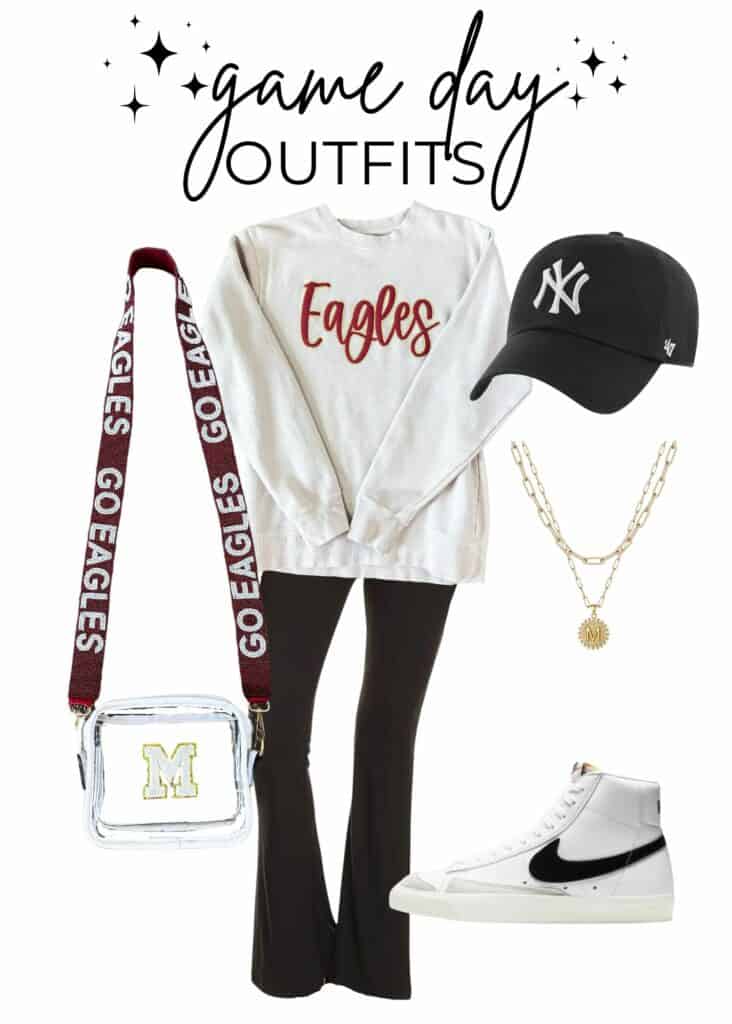 Warm Weather Options
If it's really cold outside, you might need more layers than just a sweatshirt! If that's the case, you'll need to add on a jacket, puffer vest, scarf, and/or gloves. Remember, it's always easier to take off clothes if it gets warmer. You don't want to not bring extra layers and regret it halfway through the game!
If you live in an area with milder winters, you can opt for something like a lightweight team windbreaker or T-shirt. And don't forget the hats – they come in all colors and styles so you can find one to match your school's colors perfectly!
Shoes
Like with the rest of your gameday outfit, you want your shoes to be comfortable too! You don't want to be walking up and down the sidelines, stairs, or to the concession stand with aching feet.
Sneakers are always a great option. Even if you're not playing in the game, they give you traction and stability on the turf. If it's raining or snowing, make sure your shoes are water-resistant and warm enough to keep your feet dry. If normal tennis shoes are too boring for you, get rhinestone Converse shoes or any of the general goodness of team-themed shoes.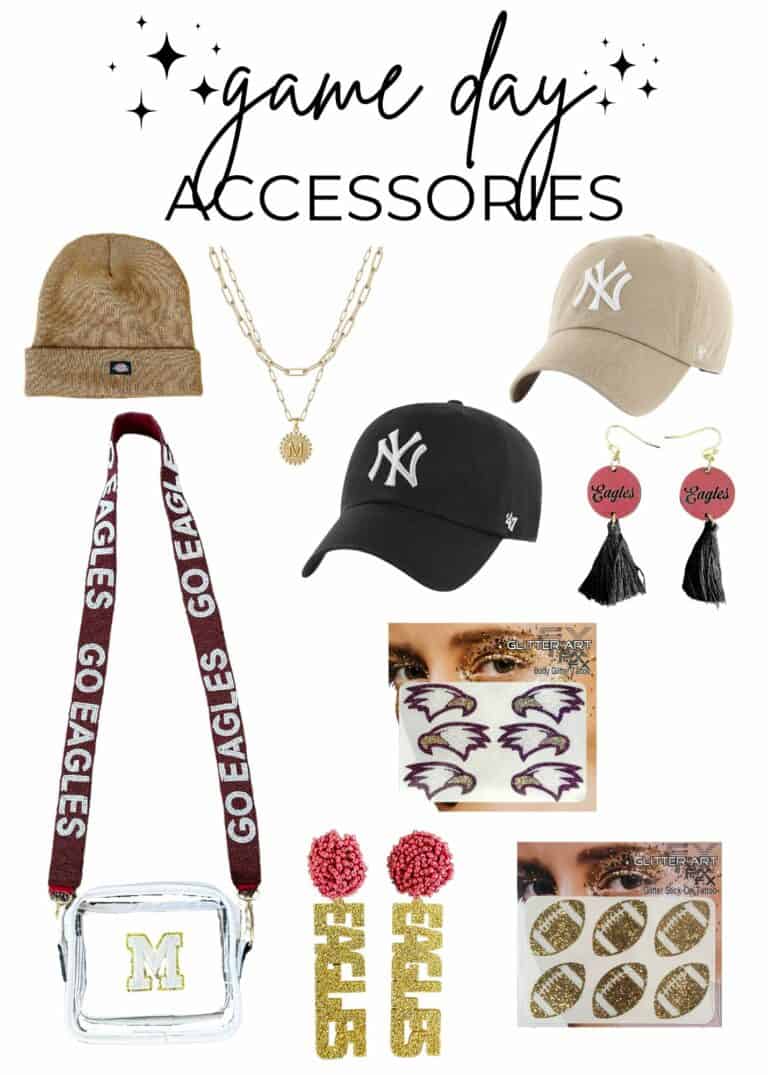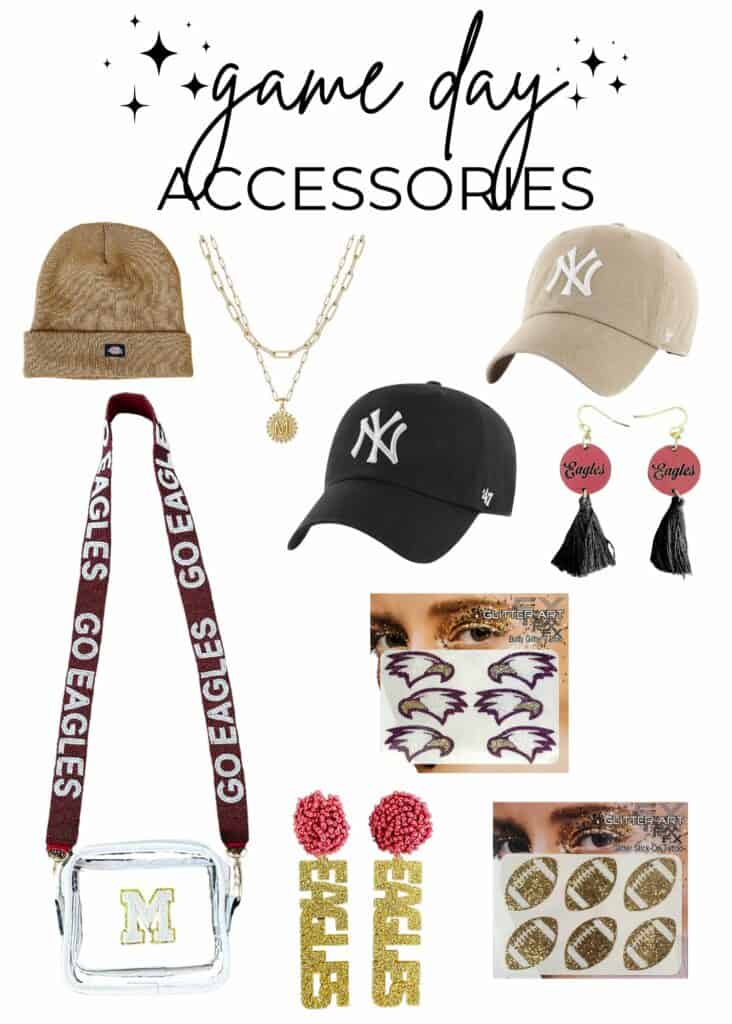 Jewelry
Jewelry is a really fun way to show your support for the sport in general or for a specific player. Options like these earrings or these subtle ones that just have the school colors are perfect!
This isn't jewelry, but these glitter tattoo stickers are such a fun way to show your support on game day! Get these decals and stick them on your cheek the day of! You can also get these fun beaded straps to show off your school spirit every day!
Game Day at Home
Sometimes the best option is to just watch the game in the comfort of your own home. In that case…you'll need all of your team's comfy game-day wear! My favorite to get licensed gear is the FOCO website where they have a huge variety of game day wear, no matter what team you support.
I was really impressed with the high quality of the team gear in these photos and I'll definitely be ordering from them again.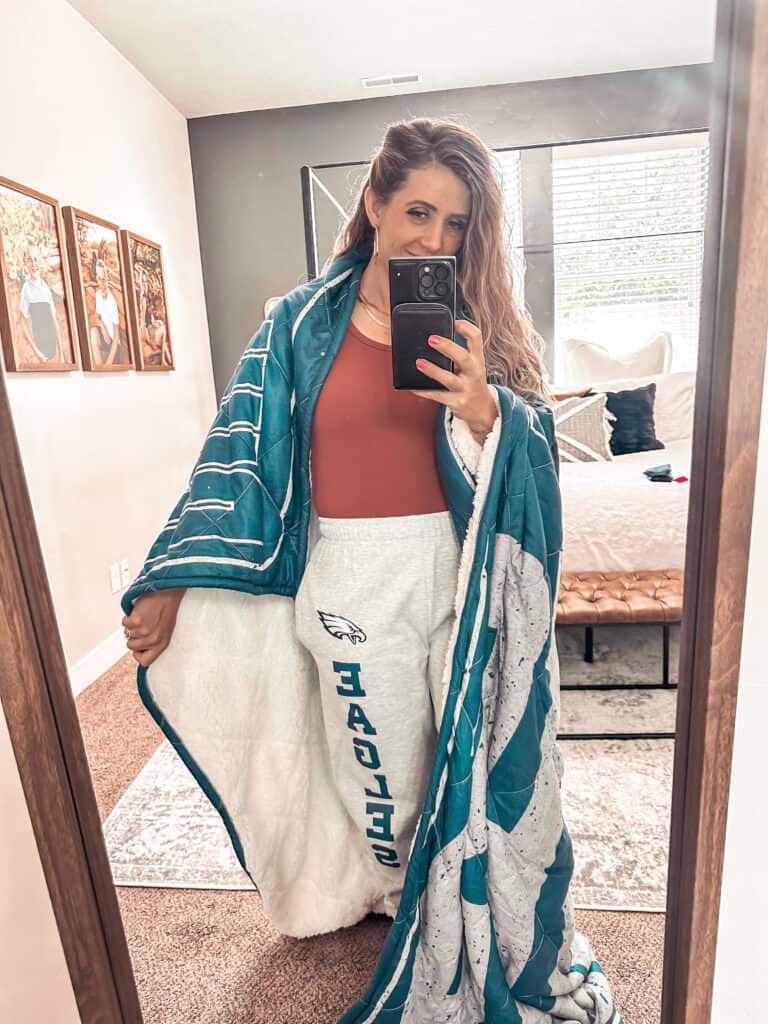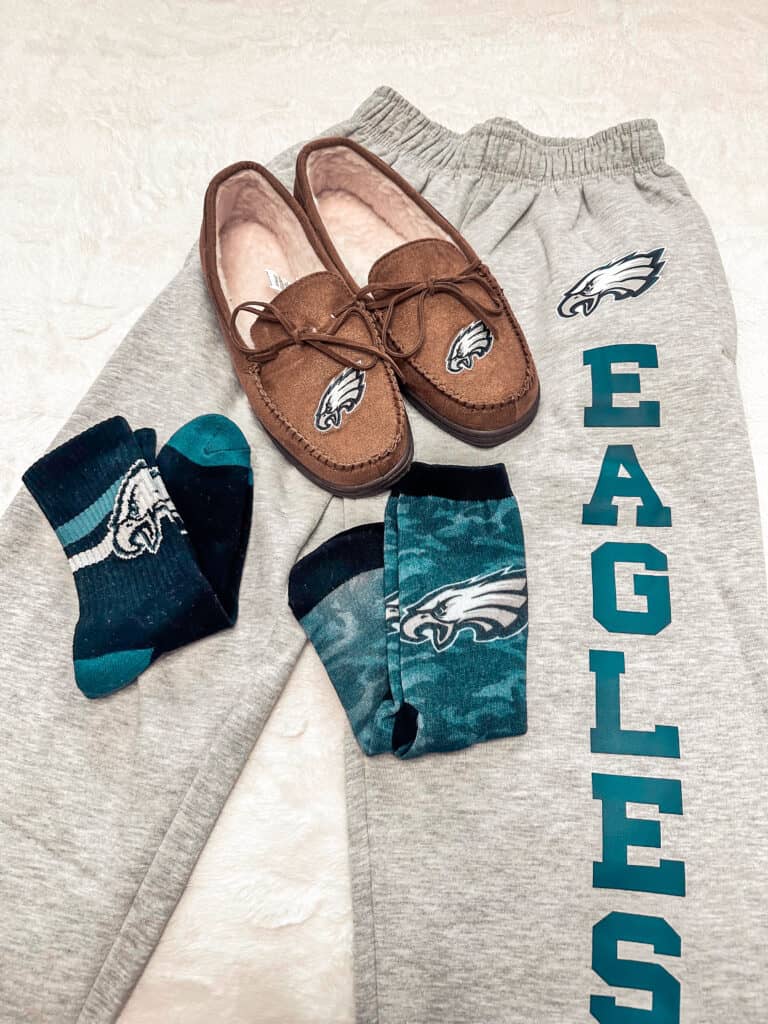 Final Tips
If you're rooting for a professional team, sometimes you can get free stuff at events before the game or after the game. A lot of teams will throw tee shirts up into the crowd, so you can try some nice free items to wear on a gameday in the future.
If you've had an eye on a specific T-shirt or jersey, keep an eye on their website for a sale. Sometimes you can get free domestic shipping, a coupon code for your first order, or a percentage off the unit price or your entire order. Be patient and wait for that sale!
However you join in on the fun doesn't matter, but wearing special outfits with the team colors, mascot, or accessorizing to show off your pride can be a great way to get the most out of game day!