The Ultimate Guide to Organizing Your Linen Closet: How to Create a System That Works
If you're like most people, your linen closet is probably a mess. It can be hard to keep everything organized, especially when you have a lot of stuff. But don't worry, we're here to help! In this blog post, we will teach you how to declutter and organize your linen closet so that it works for you. Having an organized linen closet can make your life a lot easier, and it's really helpful when you have guests over. So read on for our tips!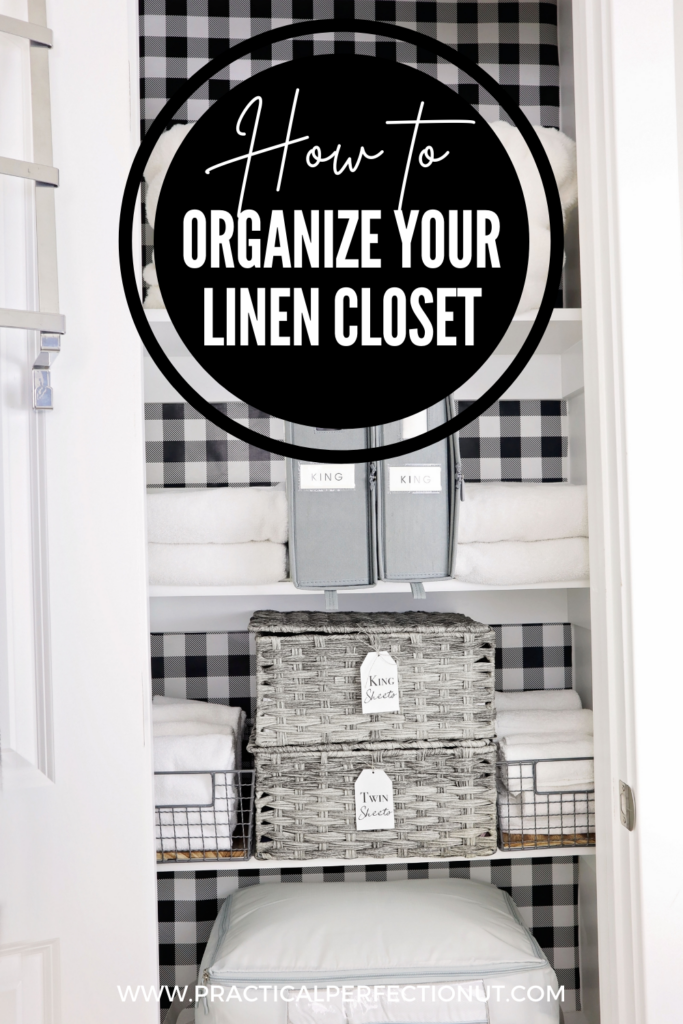 How do you organize a linen closet on a budget?
Typically the biggest problem with most linen closets is that they have WAY too much stuff. It's so overloaded that it becomes difficult to find anything, and even more frustrating when you're looking for a specific item. So the first step is to declutter. Get rid of anything that you don't use or need. The best part is that decluttering the linens that you don't use doesn't cost you a thing! So even if you only do this one step, you'll be shocked at how much more organized your linen closet looks.
This can be tough to part with your sheets and old towels, but it's so worth it in the end. Don't be afraid to get rid of old sheets that you never use. If you haven't used them in the last year, you won't miss them. Once you've decluttered, it will be much easier to organize what's left. Now we can start organizing!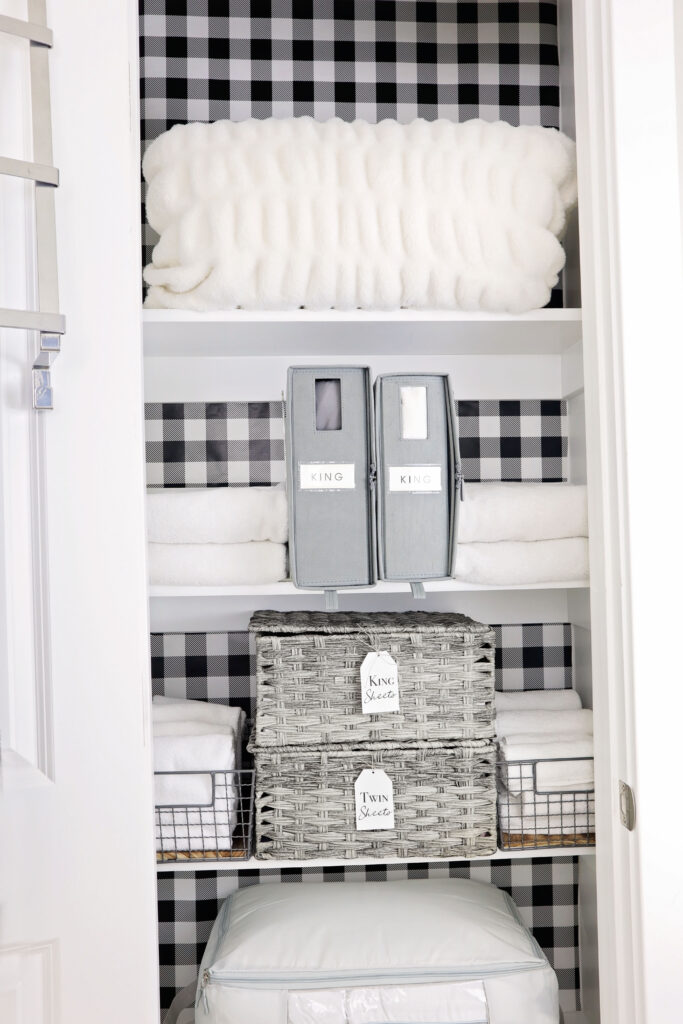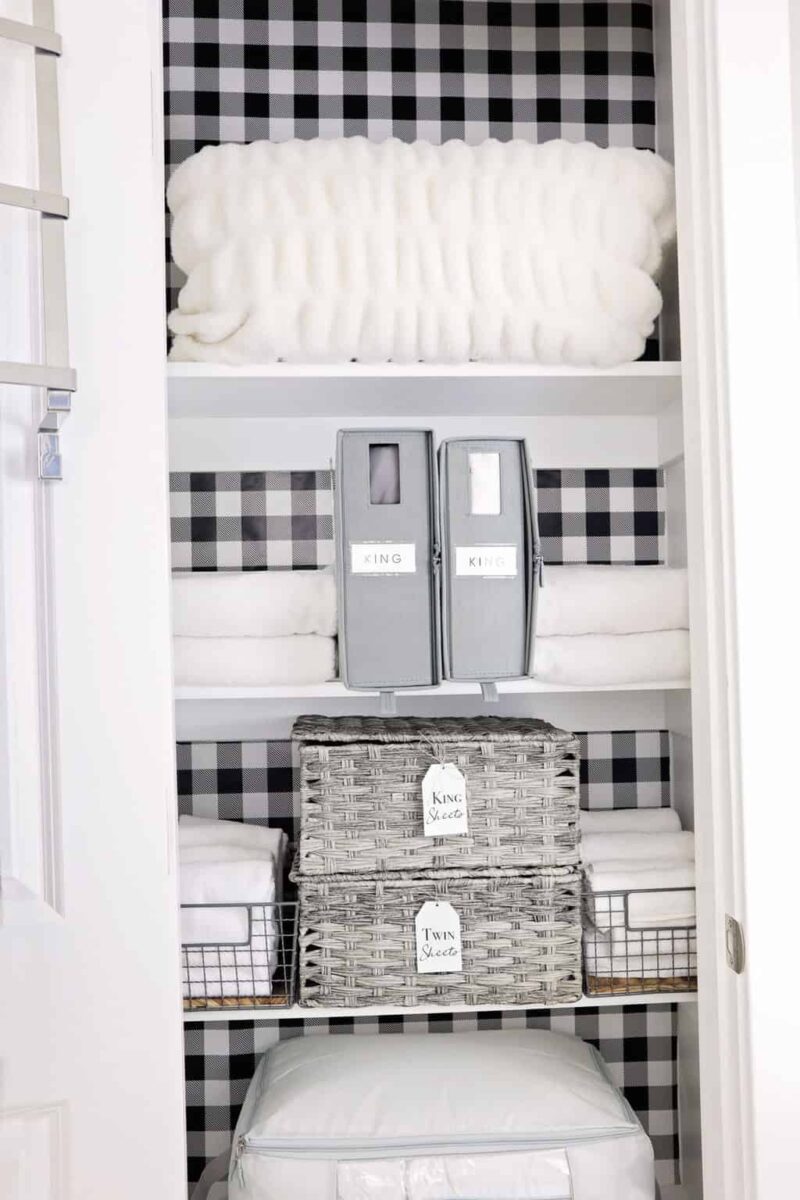 Things to store in the Linen Closet
There are a lot of different things that you can organize in your linen closet but generally, these are the types of things that you store in there:
Beach Towels
Bath Towels
Washcloths
Hand Towels
Fitted Sheets
Flat Sheets
Pillowcases
Ironing Board
Cleaning Supplies
Backstock Bathroom Items
Extra Blankets
Extra Pillows
Non Essential Linens
Cleaning Rags
Toilet Paper
Duvet Covers
Now that you know what can go in your linen closet, let's talk about how to organize it! There are a few different ways that you can organize your linen closet.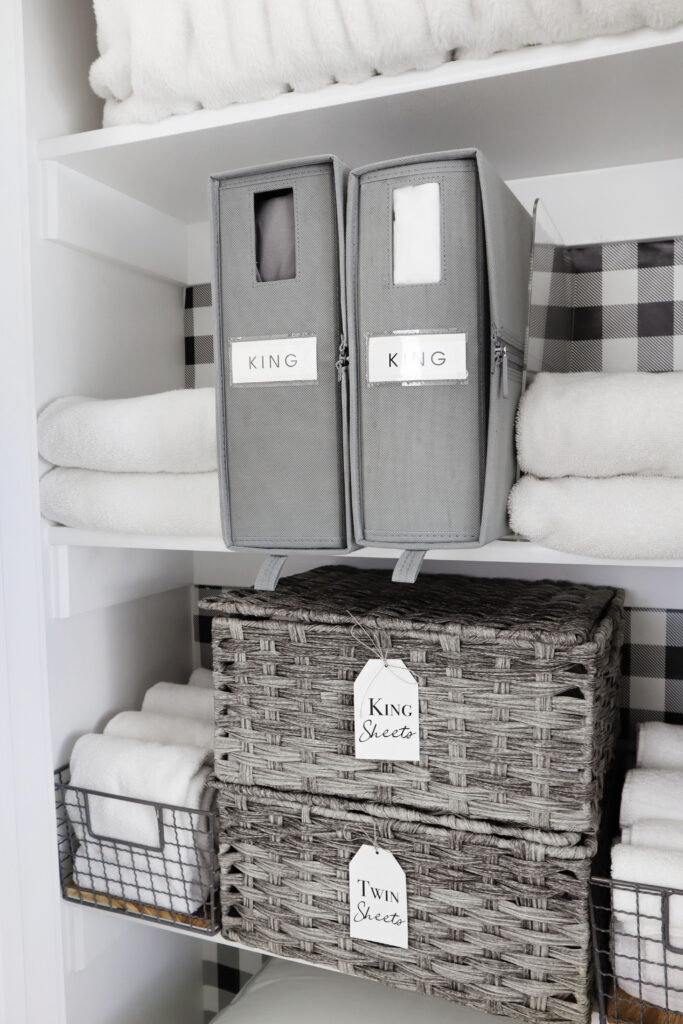 Helpful tips for beautiful Linen Closet Organization Ideas
Get Coordinating Towels and Hand Towels
One way to create a streamlined look for your linen closet is to purchase coordinating bath towels and hand towels. This way, all of your white towels will be together, all of your blue towels will be together, etc. You can either mix and match colors or go with a solid color scheme.
When choosing colors, make sure that they coordinate with the other decor in your bathroom. If you aren't sure which color scheme to go with, white is always a great option because it will match any bathroom decor. Either way, a color theme really helps your bathroom look cohesive. And if the whole family has the same color of towels, it will be easier to change things out.

Consider Lining your closet with wallpaper or wrapping paper
If you're looking for a fun way to jazz up the style of your closet then you can easily make it look more stylish by lining it with wallpaper or wrapping paper. This is also a great way to add some color to the space.
If you choose to go with wallpaper, make sure that it's removable so that you can easily change it out if you ever want to switch up the look of your closet. There are an infinite number of wallpaper designs to choose from to fit every style!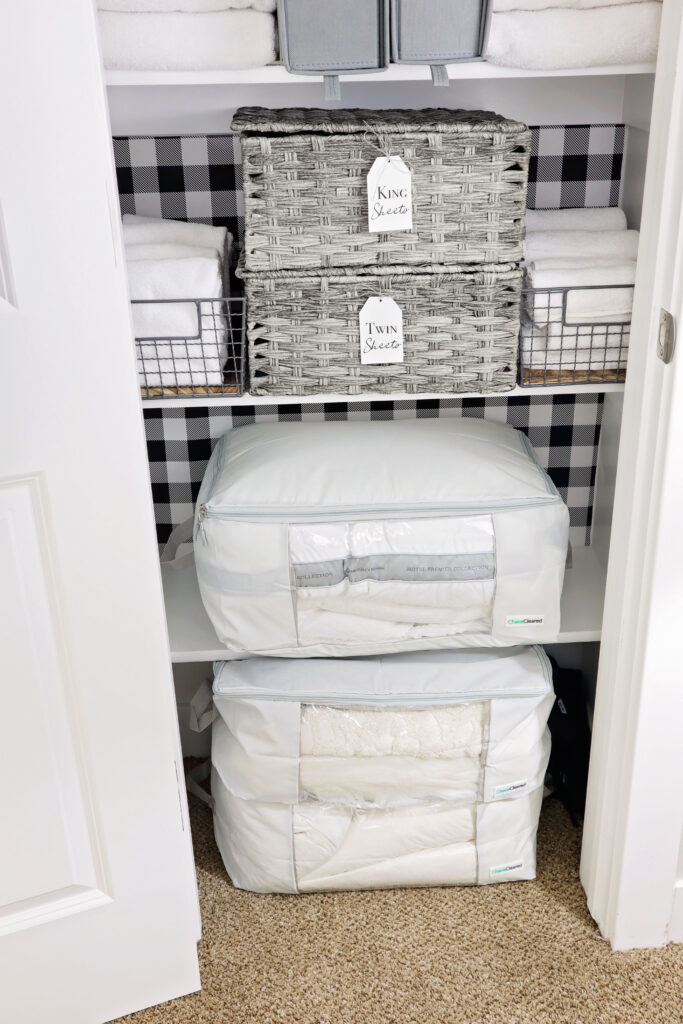 Believe it or not, wrapping paper works just as great! Just tape the wrapping paper to the wall with packaging tape and you'll be surprised to see how great it stays! (mine has stayed up for almost 2 years now)

A fresh coat of paint
Take a few extra minutes to give your shelves a fresh coat of paint if they are looking scratched up and damaged.
Only 2 sheets per bedroom
It's easy to let your closet space get cluttered with WAY too many sheets. But really, you only need two sets of sheets per bedroom. Anything more than that is just taking up valuable space in your closet.
If you have guests visiting often, then you might want to keep an extra set of sheets on hand. But for the most part, two sets should be plenty.
Get Coordinating Baskets or Bins For Storage
It can really make a big difference to have matching baskets or bins to store your items in. Not only does it look nicer, but it's also easier to keep track of what goes where. Plus it makes it easier to grab what you need when you're in a hurry.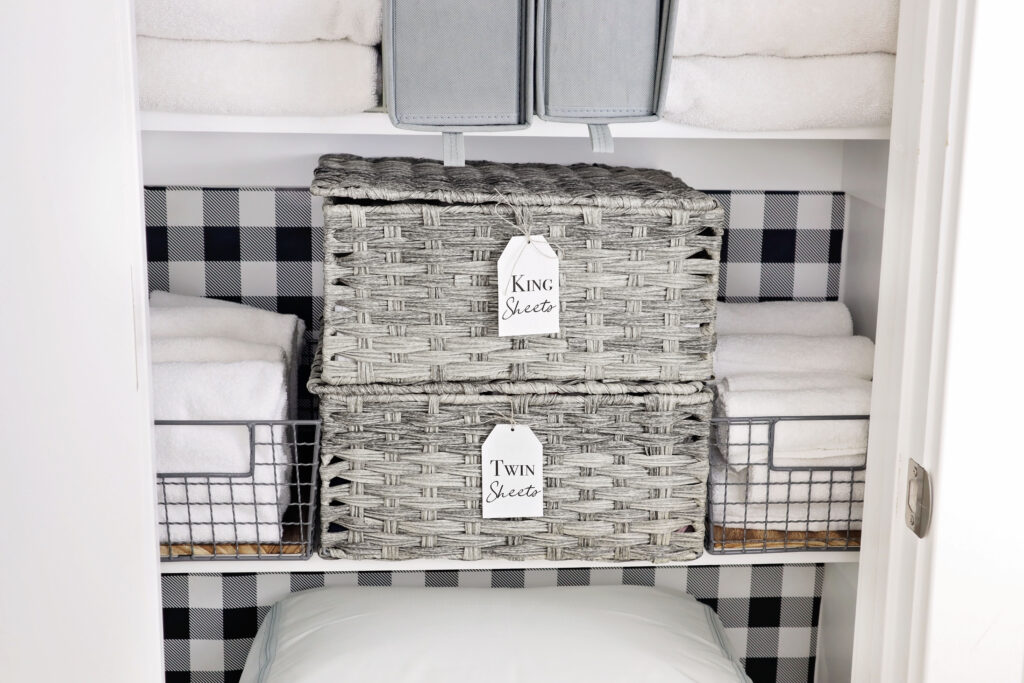 I like to use baskets with handles for things like towels and bedding. That way I can easily grab them and go without having to search through everything.
You can store smaller items in small baskets like hand towels, washcloths, matching pillowcase, and even cleaning rags!

How do I organize my linen closet?
First, you need to declutter. Get rid of anything that you don't use or need. This includes things like old towels, sheets with holes, etc. If it's something that you can't use anymore, then get rid of it.
Once you have decluttered, then you can start thinking about how you want to organize everything. Do you want to keep all of your towels together? Or do you want to store them by size? It's up to you!
One way to organize your linen closets is by using baskets or bins. This will help to keep everything organized and in its place. Plus it makes it easy to grab what you need when you're in a hurry. It also creates a designated space where

Create zones to store sheet sets, towels, extra pillows, pillowcases, and cleaning products
Now that you have a little more space, it's time to create some zones within your linen closet. This will help you to quickly find what you need when you're in a hurry. You could organize by type of item (sheets, towels, etc.), or by color. Most frequently used items should be stored at eye level so it is easy to access.
Instead of storing all of your flat sheets together and your fitted sheets together, consider folding sheets together in sheet sets so you can easily grab a spare set when you need it instead of searching through various piles. I recommend adding the pillow cases to the sheet sets as well. Some people like to store their fitted sheet and flat sheets separately but I feel like it's easier to just grab one set rather than hunting for both.
Try to keep like items together. For example, keep your sheets on certain shelves and other linens on other shelves. This will help you keep your house more organized.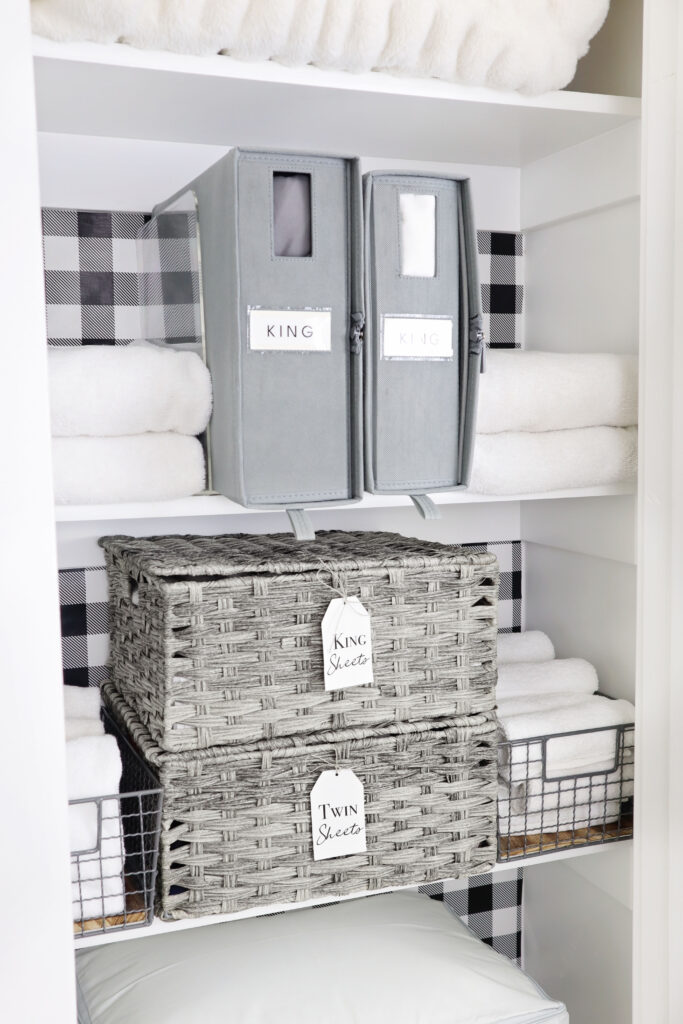 I also recommend storing items that you access most on the shelves that are at eye level. Lower shelves and high shelves should be reserved for things you don't use as often.
Decide on your Style of Storage Containers
Storage bins, baskets, or even shelf dividers can be a huge help when it comes to linen closet organization. This works especially well for small items like washcloths, hand towels, or even pillowcases. If you store your bathroom products in your linen closet then you can keep everything contained in a bin so it stays organized.
Creating an organized linen closet is all about creating a system that reminds you where things go. Make your organization so easy that it is harder to put things in the wrong place than it is to put them in the right place.
Using decorative baskets makes the closet look more stylish instead of it just being a storage closet. Baskets come in all shapes and sizes and can be used to store anything from clothespins to extra sheets.
Use your Vertical Space
Another way to organize your linen closet is to make sure to use your vertical space. This is especially important if you have a small linen closet. You can use baskets or hooks to organize things so they are not just taking up space on the floor or in a pile. This will help you to be able to see everything that you have and make it easier to grab what you need without having to dig through a pile.
When you organize your linen closet, it's helpful to organize towels is by size. You can have a section for large bath towels, a section for hand towels, and a section for washcloths. This way, you won't have to search through all of your towels to find the right one.

Utilize the Linen Closet Door
If you have a small closet, a great way to add shelf space is to use the closet door. You can buy over-the-door organizers that will hold a lot of your linens. This is also a great way to organize if you have a large collection of sheets and towels.
Another option for adding more storage space to your linen closet door is to use an over-the-door towel rack to hang extra blankets or towels.
How to Fold Towels for a Polished Look
Towels can be tricky to fold and organize neatly, but there are a few tips and tricks you can use to get them looking polished.
First, fold your towels in thirds lengthwise. Then, fold the towel in half and then in half one last time. This hides the folded edge and creates a beautiful spa-like look. How you fold your towels will really add to the overall look of your linen closet when you are organizing.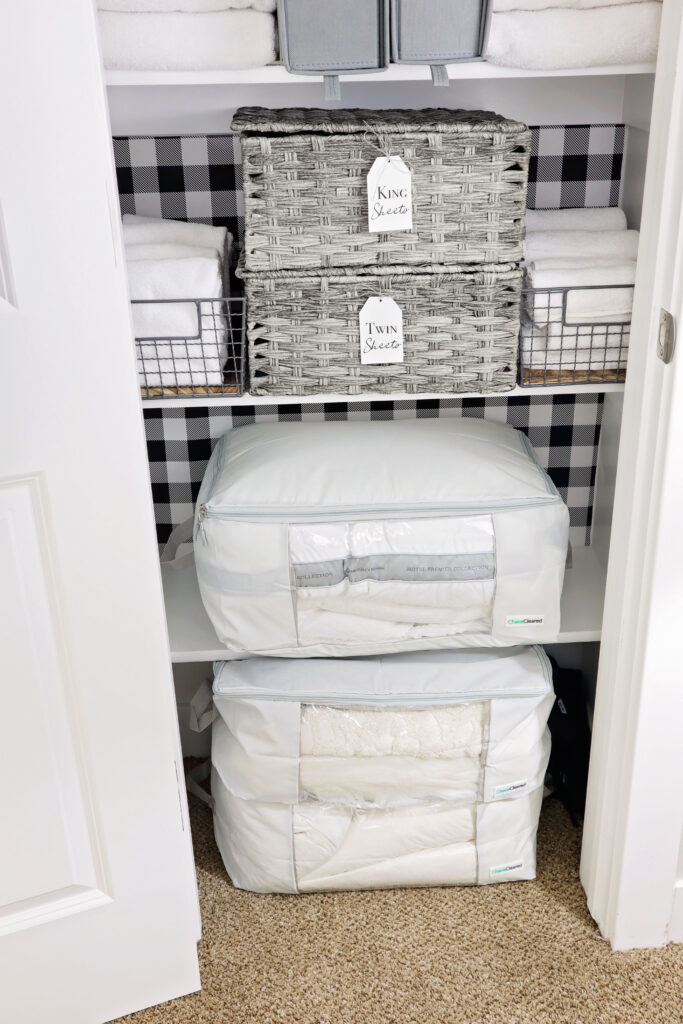 Use Linen Bags
It can be hard to contain big blankets, duvets, or large towels. So sometimes it's really beneficial to purchase some zippered linen bags that can hold all of these things. I highly recommend the bags that have a clear window so you can see exactly what's in there without having to open everything up.
This is one of those must-have items that you're most likely going to need when you organize your linen closet.
Label each section of the Linen Closet
Linen storage is only as successful as your labeling. It's deflating to take the time to organize your linen closet only to have family members mess everything up. But if you take a few extra minutes to label each separate pile, it'll be much easier for everyone to know where things go.
You can use sticky labels, painter's tape, or anything else that will clearly mark each section.
You can either use labels that are already made or make your own with a label maker. This will help you know what is in each container without having to open it up and take a look what's inside.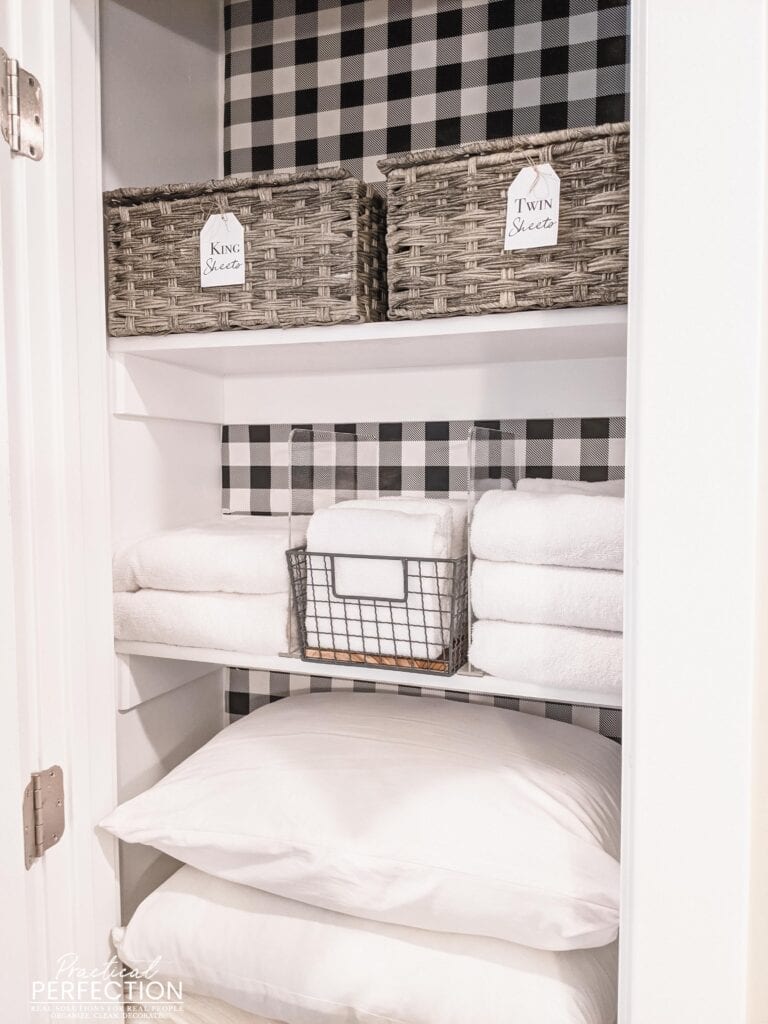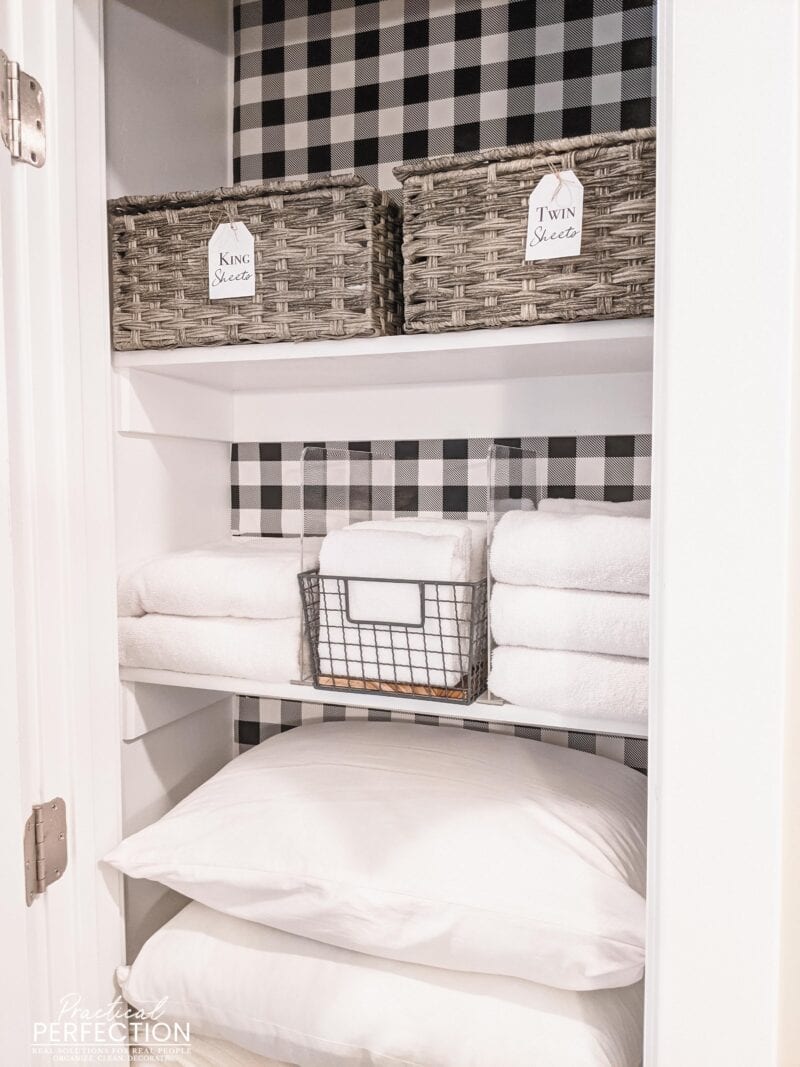 You can even get pretty specific with how you label items such as "twin sheets", "guest towels", and so forth.
How to Get Rid of the Musty Smell in Your Linen Closet
Have you ever been a guest at someone else's house and when you go to get into bed at night, the sheets smell stale and musty? Musty odors may be due to humidity (or several other reasons) but there are a few things you can do to keep your already clean linens smelling clean and fresh.
Sachets
Linen closets tend to smell over time but having linens that smell amazing is important! One of my VERY FAVORITE tips for keeping closets fresh-smelling is to use sachets. Sachets sound like an old-fashioned thing to use but they have been life-changing when it comes to making sure that my linen closet smells incredible, and in turn, so do the linens inside!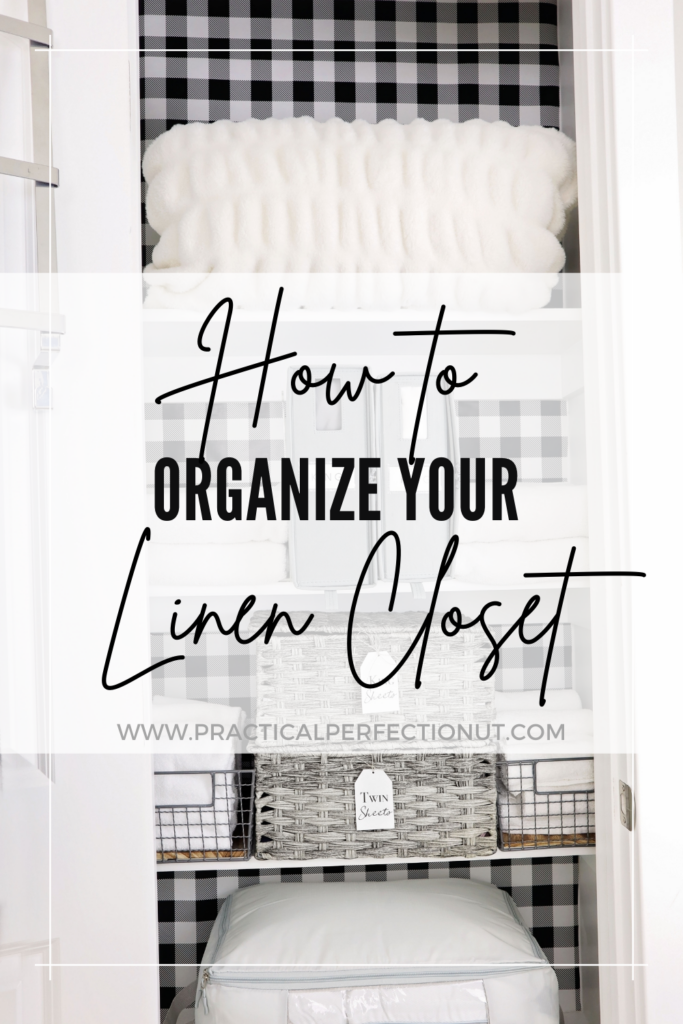 Storing the sachet within easy access allows you to easily change it out every few months when the scent wears off. The scent usually lasts around 4 months for me.
You can hide the sachet on the top or bottom shelves, out of sight but it makes a big difference.
Dryer Sheets
Dryer sheets are another great way to keep your linen closet smelling fresh. I like to tuck a dryer sheet in between towels and sheets to help them smell nice and fresh. You can also put a dryer sheet on the shelves themselves and it will help everything smell great! It doesn't work quite as well as sachets but it's still a great cost-effective method!
I hope these tips help you organize your linen closet!