How to Organize Sports Equipment in the Garage
It's that time of year again! Time to get outside and enjoy all the sports and activities that come with warmer weather. But before you can head out to the ball field or tennis court, you need to organize your sports equipment.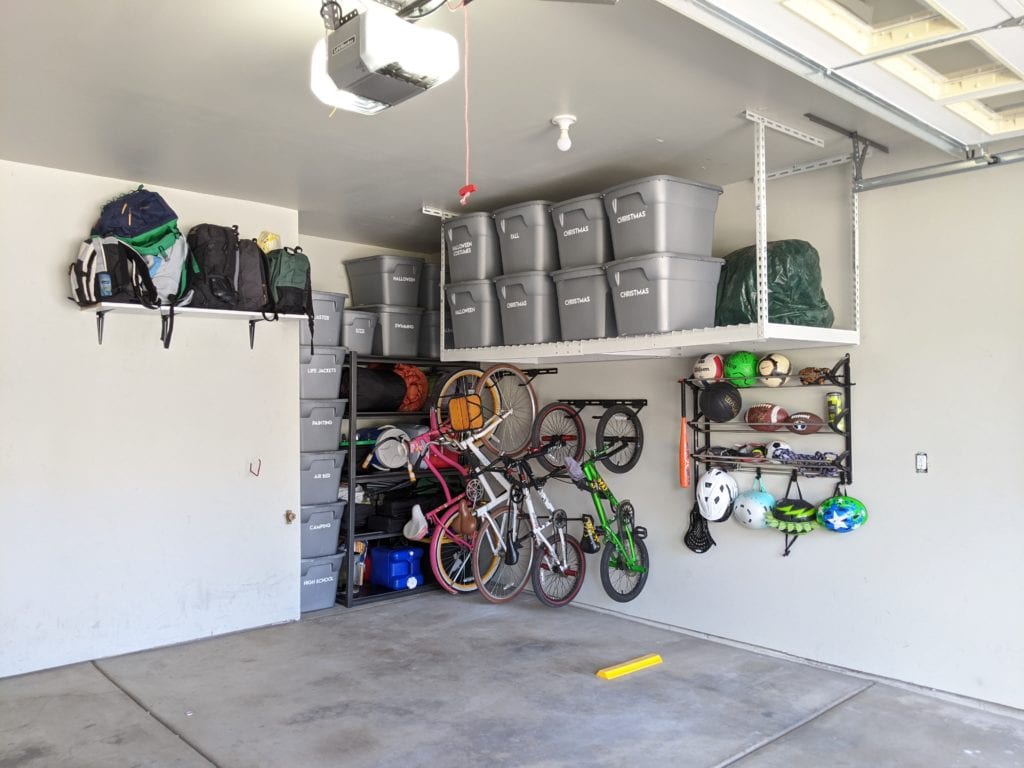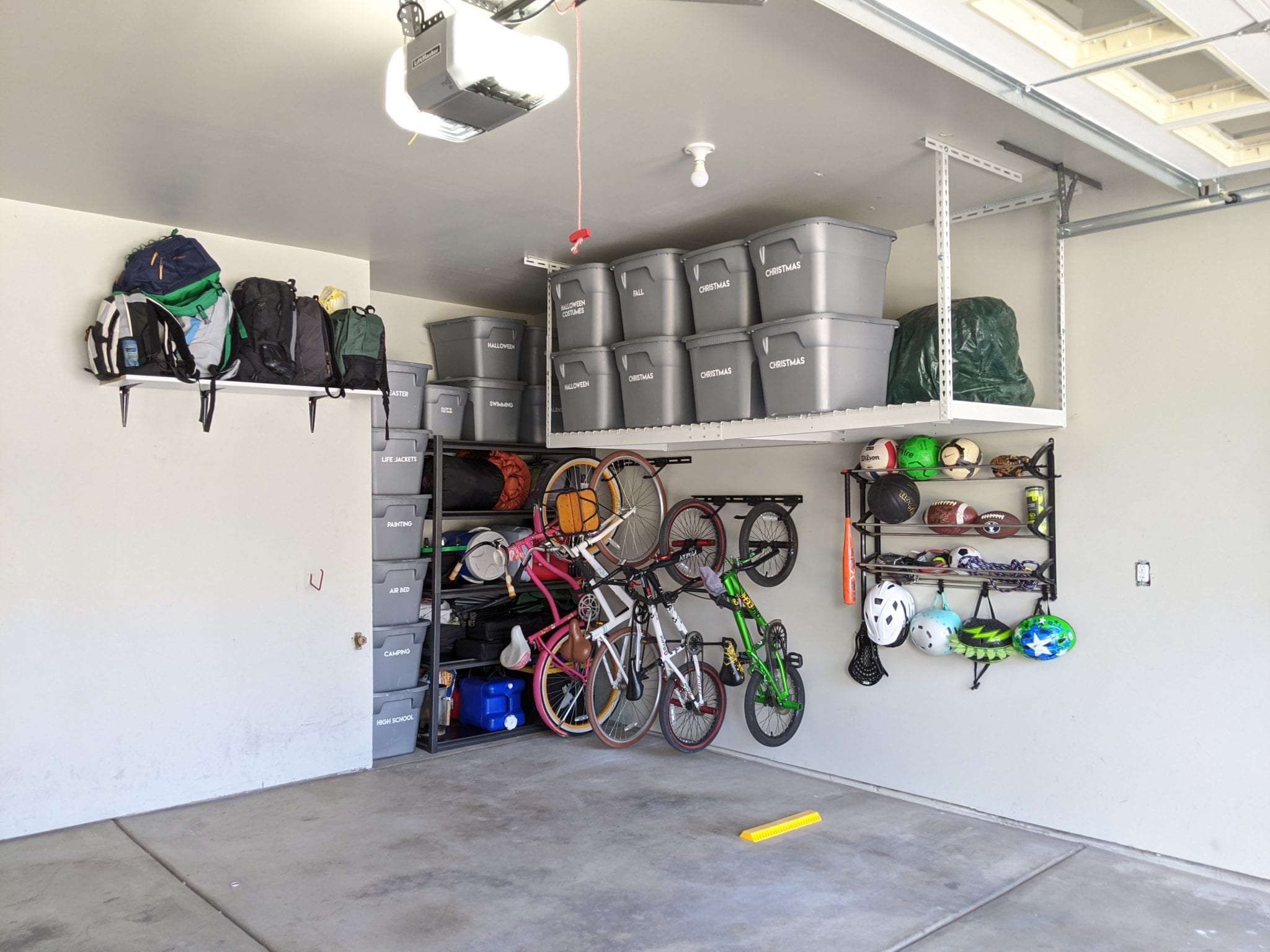 This can be a tricky task, especially if you have a small garage. By using some simple tips, you can create storage space for everything and make it easy to grab whatever you need when it's time to play.
UPDATE: Scroll down further in my post to see my updated method of organizing sports equipment using a StoreWall Garage Unit system…my favorite system I've ever implemented!
It can also get tricky if you have children who play sports. If you're trying to store their equipment but make sure it's easily accessible for practices and games… it can be a bit of a hassle. You never want your sports equipment to take over your garage.
So this post will help you with sports equipment storage solutions! You won't have to worry about that sports equipment taking up your entire garage space anymore!
Let's take a look at how to organize sports equipment in the garage.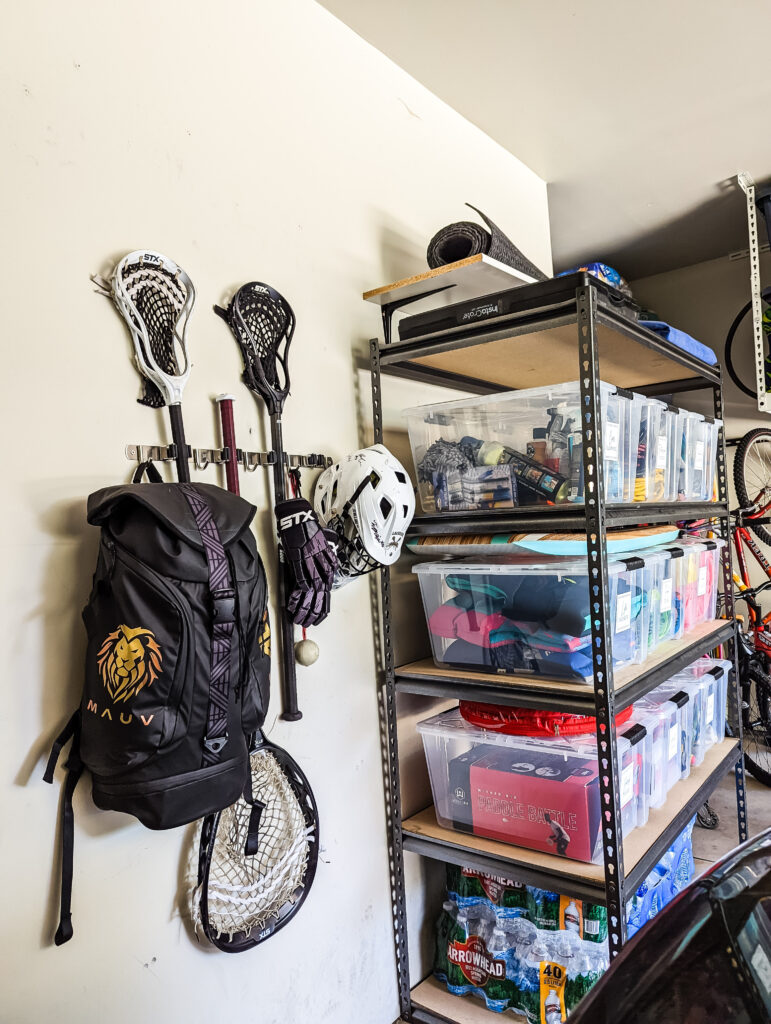 Organizing Sports Equipment in Your Garage
Depending on the configuration of your garage and how large it is, not all of these tips and tricks will work. So we will cover a variety of sports equipment storage solutions and I'm sure you'll be able to find one that works for your garage!
But first…
However, before you can get to organizing, you need to clean out that sports equipment storage you already have!
Go through your sports equipment and figure out what sporting equipment you don't use anymore, have outgrown, or are broken. Do you have wooden baseball bats that are cracked? Tennis rackets that are broken? Bike helmets that don't fit anymore? Baseball gloves that are too small?
Go through your sporting equipment and sports accessories and get rid of anything that you don't use anymore. If they are still in decent condition, donate them or give them to a friend who will use them. Otherwise, just throw them out!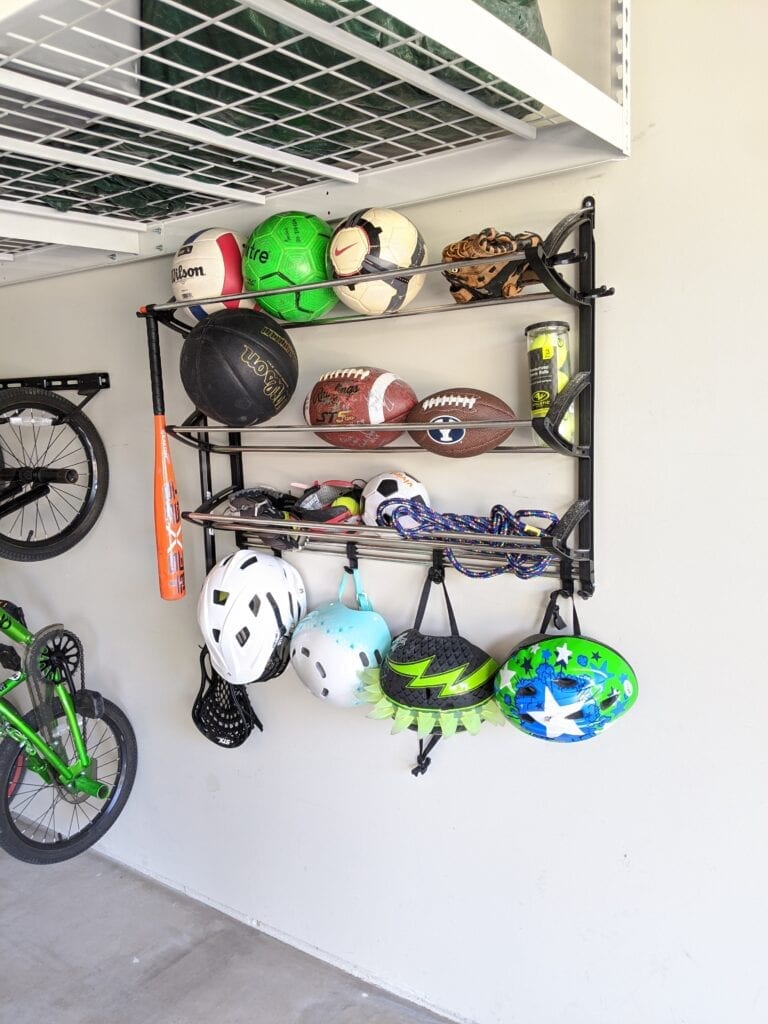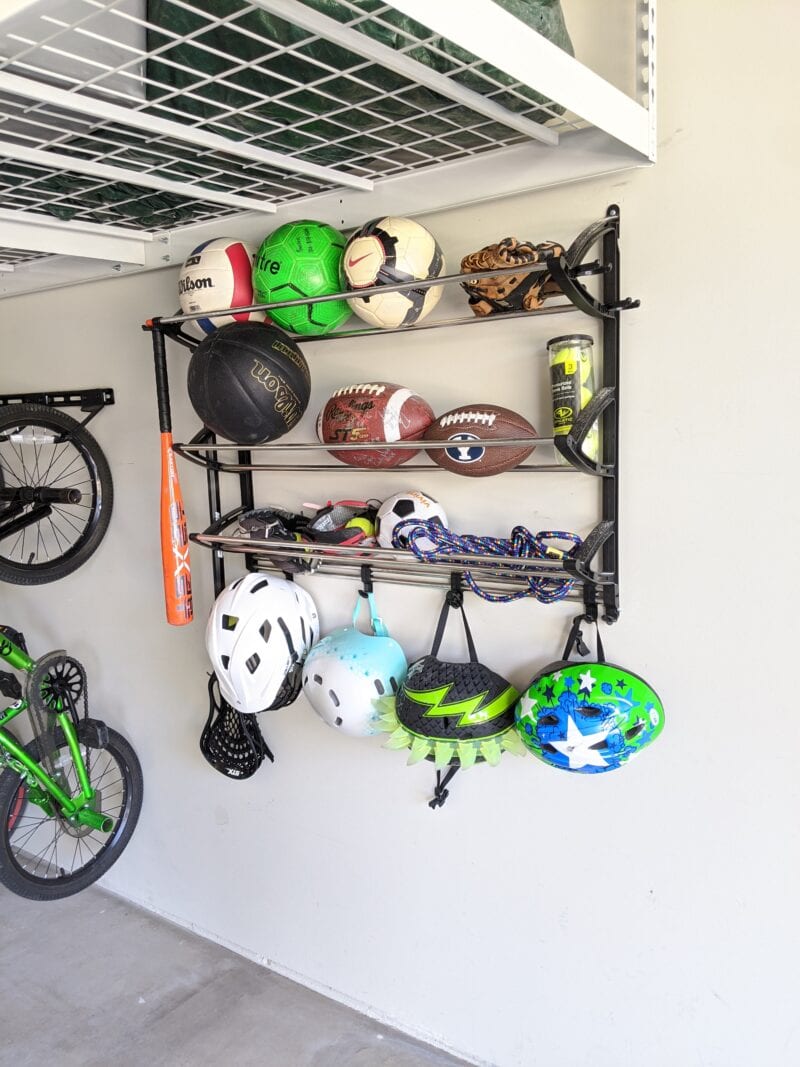 Next, assess your space.
The next step is to look at your garage. What are the storage options in your space? Do you have a lot of floor space? What about the wall? Do you have a big, empty wall in your garage? How about the ceiling? Is there a part of your garage ceiling that can be used as storage space?
Assess your garage and try to find storage solutions within your space. Once you find a wall or area where you have room to store sports equipment, you can start to find organization or storage systems that work for you.
Since writing this post originally, I've updated my garage organization and how I choose to organize the sports equipment in my garage.
I chose to go with a StoreWall garage storage system that can easily adapt to the ever-changing needs to my family. I love how I don't have to constantly add more holes to the garage wall…and the best part is that it is SHOCKINGLY easy to install. We started this project thinking it would take us a couple of hours and we were blown away when we were finished in 20 minutes. (watch the video below!)
I have the Large Standard Duty Wall System and the Basket Bundle. Use the code PERFECT10 for 10% off your entire purchase!
Using Floor Space
One of the first areas you can use for storage in your garage is the floor. Usually, you don't want to clutter garage floors as it can be a tripping hazard to have too many things on the floor, but if you have a big garage, this can work.
To utilize the floor in your garage while organizing sports equipment, add a piece of furniture!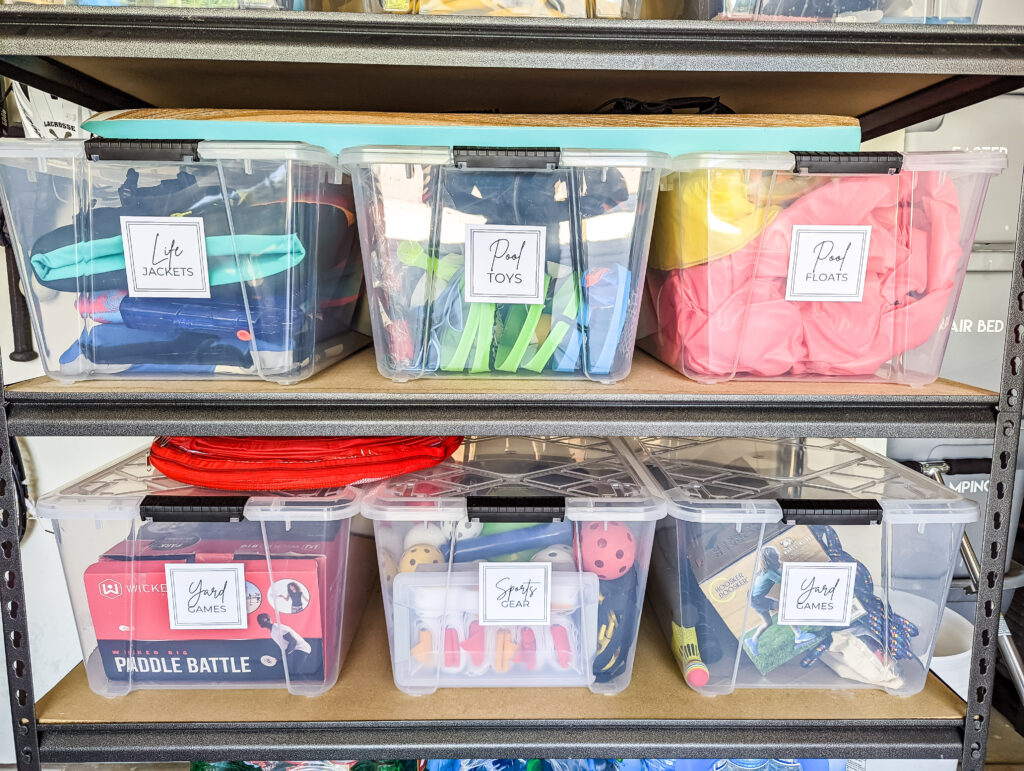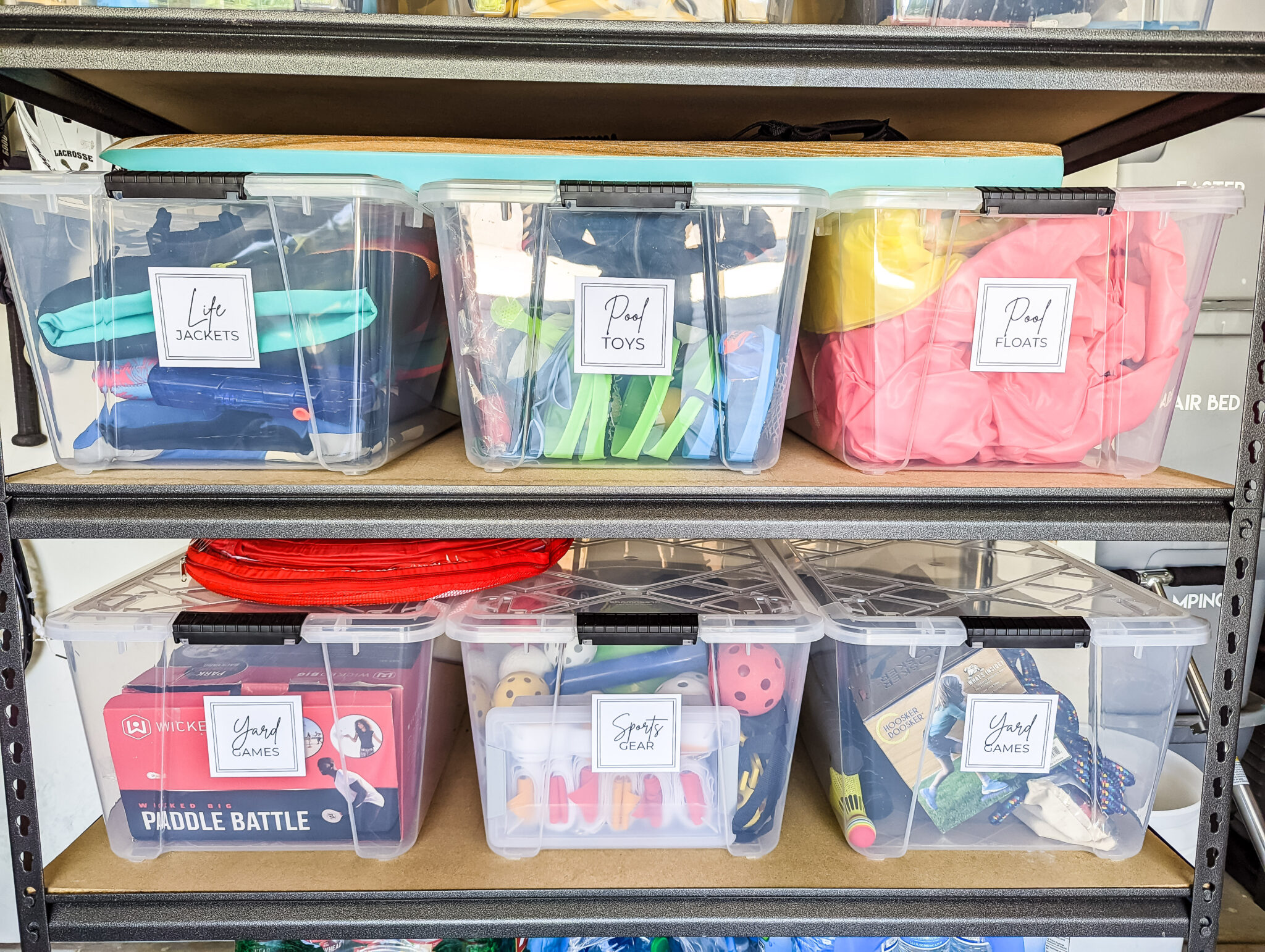 What storage systems work for the garage floor?
Consider buying a cabinet to place along the wall. You can usually find some fairly skinny ones so they won't eat up too much floor area in your garage.
You can also get a storage rack or rolling cart that has several areas for sports storage. For example, you can get (or make) a storage system with an open top that you can slide hockey sticks and baseball bats into and keep them standing up.
A great idea for storing all those balls you have lying around is getting or making a storage rack that has bungee cords keeping the balls in. Then you can easily get a ball out when you need it, but it keeps them stored and contained when not in use.
Just remember those work best for bigger balls like soccer balls or basketball balls. For small balls like tennis balls or golf balls, you'll probably need to get smaller bins with solid sides. Otherwise, those smaller balls will roll away.
Just make sure to not put any of your storage in the way of the garage doors. If you're garage doors are in need of repair, you may need help with garage door installation.

Using Ceiling Space
If you don't have a lot of floor space, or if you want to keep the floor area clear, utilizing your garage ceiling is another option.
The garage ceiling is not always used for sports equipment storage, but it's a great place for garage storage.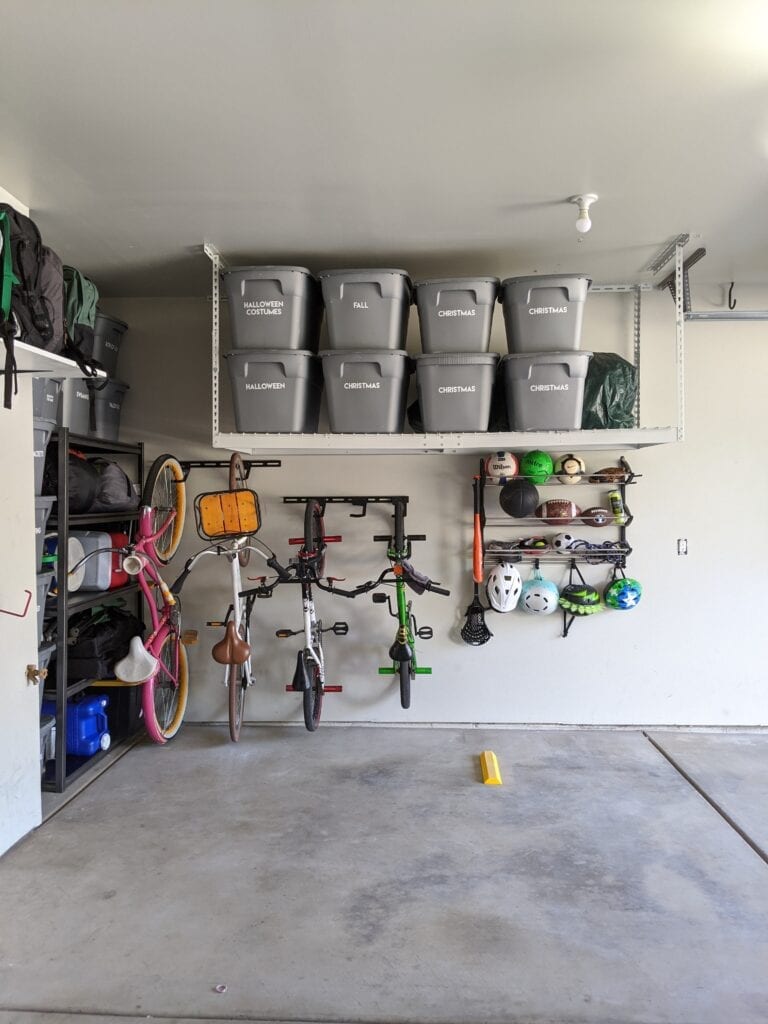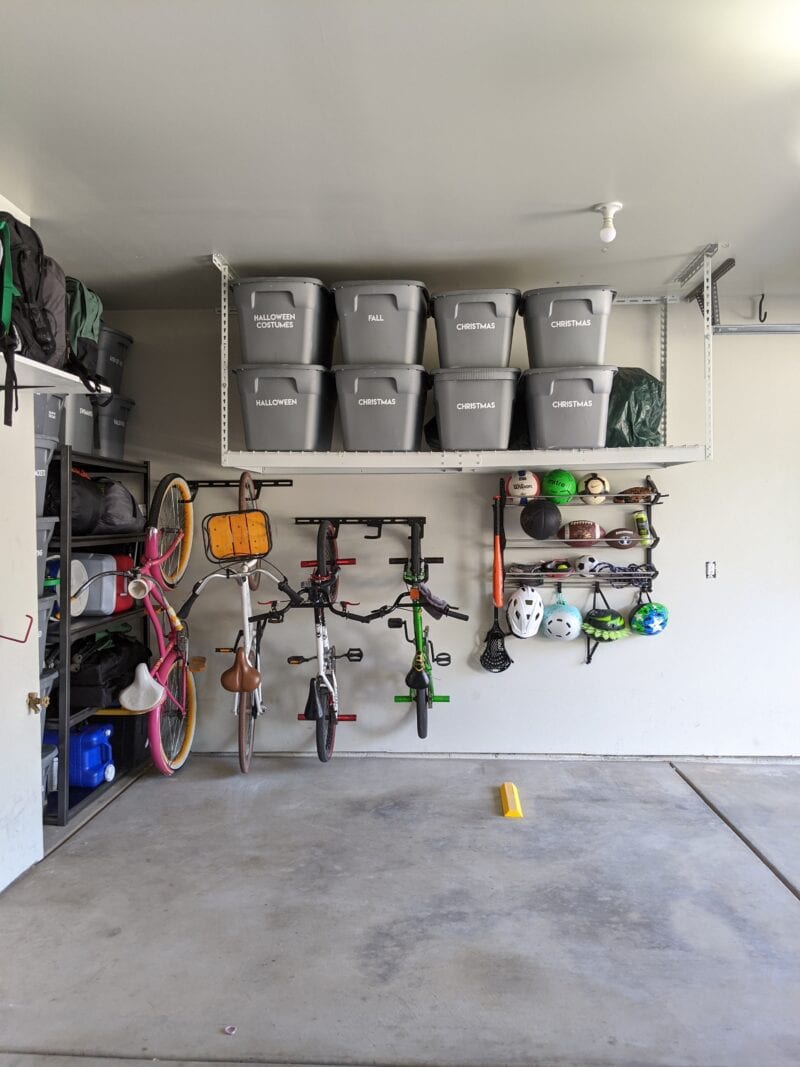 Add a Ceiling Storage System
You can install ceiling storage systems that allow you to slide bins right in and out. This can be a great way to store things out of the way.
One downside to this type of sports equipment storage is that it's not always the easiest to get down. It's not the most accessible way to store sports gear.
But it can be a great way to store seasonal sports equipment, like hockey gear you only need for a few months out of the year, bike helmets that you won't need in the cold winter, or other gear.
You could also use the ceiling storage to store camping equipment or camping gear if you don't use that too often and clear out space on the wall or floors for your sports gear!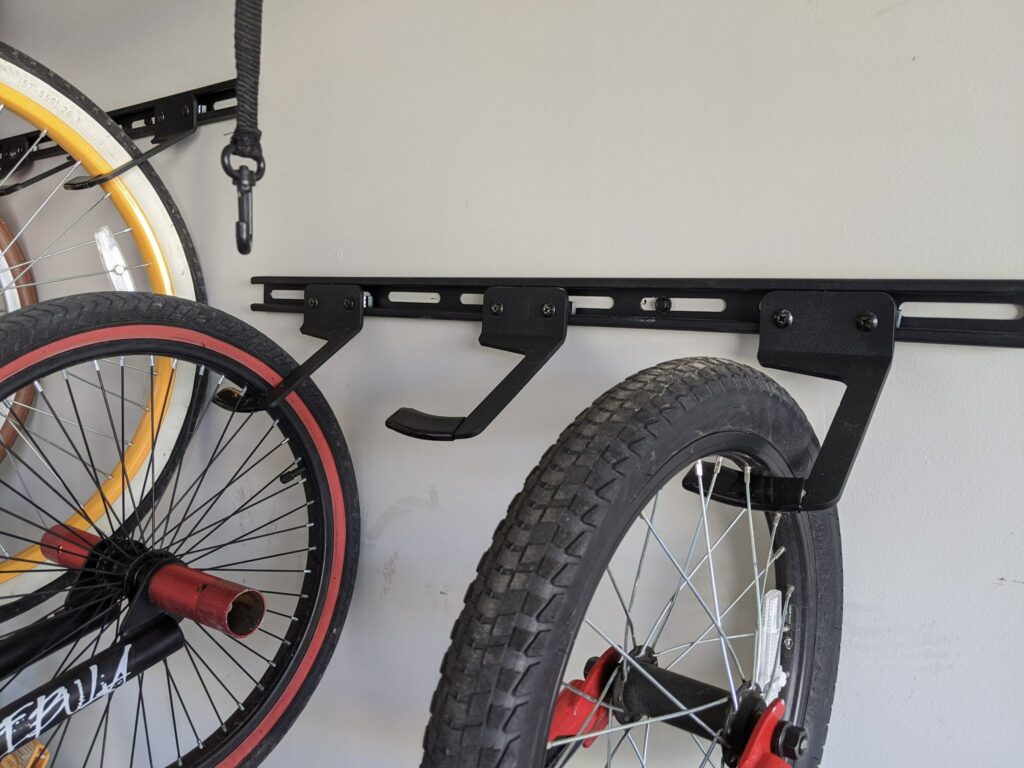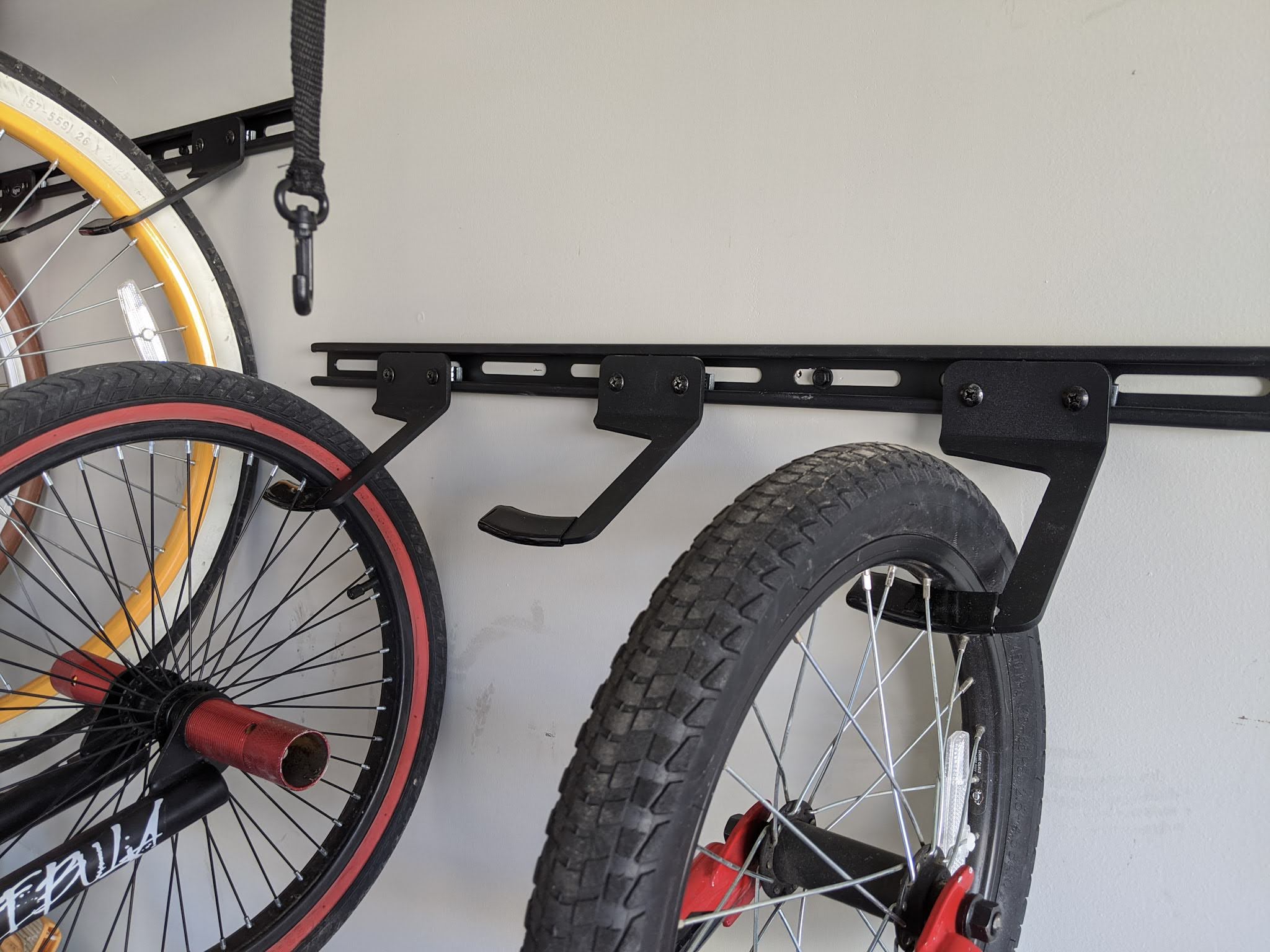 Add Hooks
One other good way to use the ceiling to store sports equipment is by installing utility hooks that hang down to where you can reach. Then you can hang things like resistance bands and skipping ropes on the hooks.
If you have a corner in the garage that you don't use often, consider adding hooks or even hanging baskets that you can use to store accessories or smaller items.
I like using rubber-coated hooks to protect my gear and not worry about anyone getting hit by a sharp hook, but you can use any hook that you like!

Using Wall Space
Using your wall space gives you the most freedom and options for sports equipment storage. There are lots of ways you can use your garage wall for storage.
Add Slat Wall
One great way to create storage in your garage is by adding slat to the wall. This is a great option if you want to be able to see all of your equipment at once and have it easily accessible.
Slat wall is also easy to install and you can find it at most home improvement stores.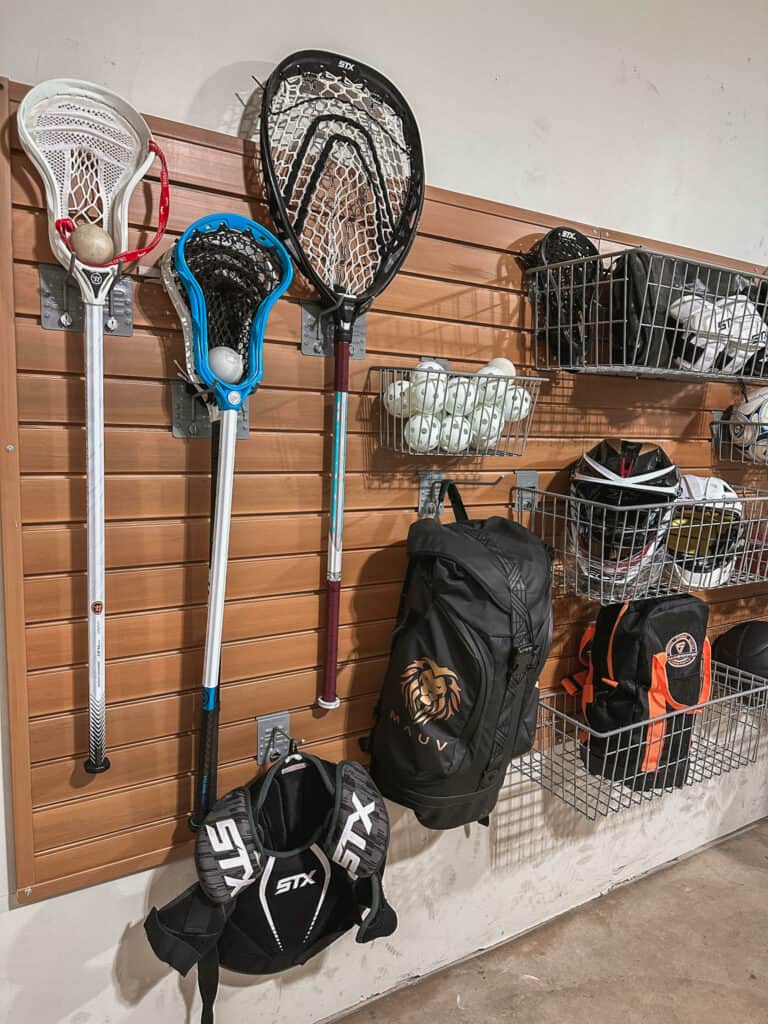 With slat walls, you can add bins, hooked, or shelves that will allow you to really categorize and organize your sports equipment and other accessories.
Make shelving to hold football shoes and baseball gloves. Add wall hooks to hang your bikes. Get baskets for your kids balls and other items.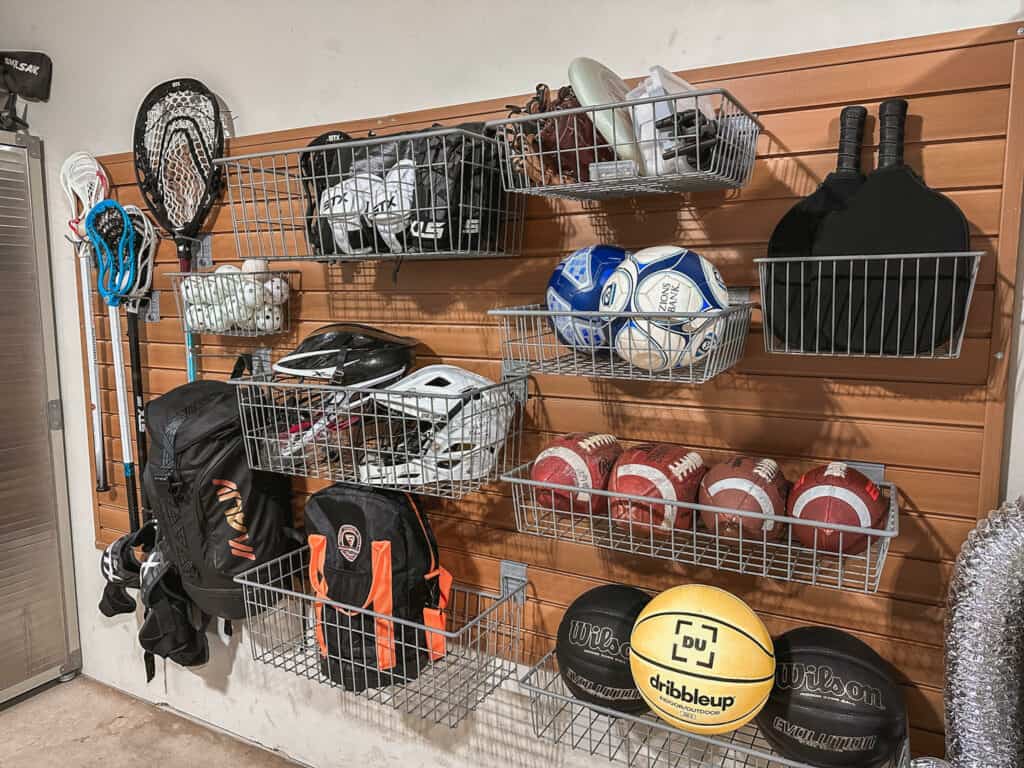 Slat walls are a great way to organize sports gear.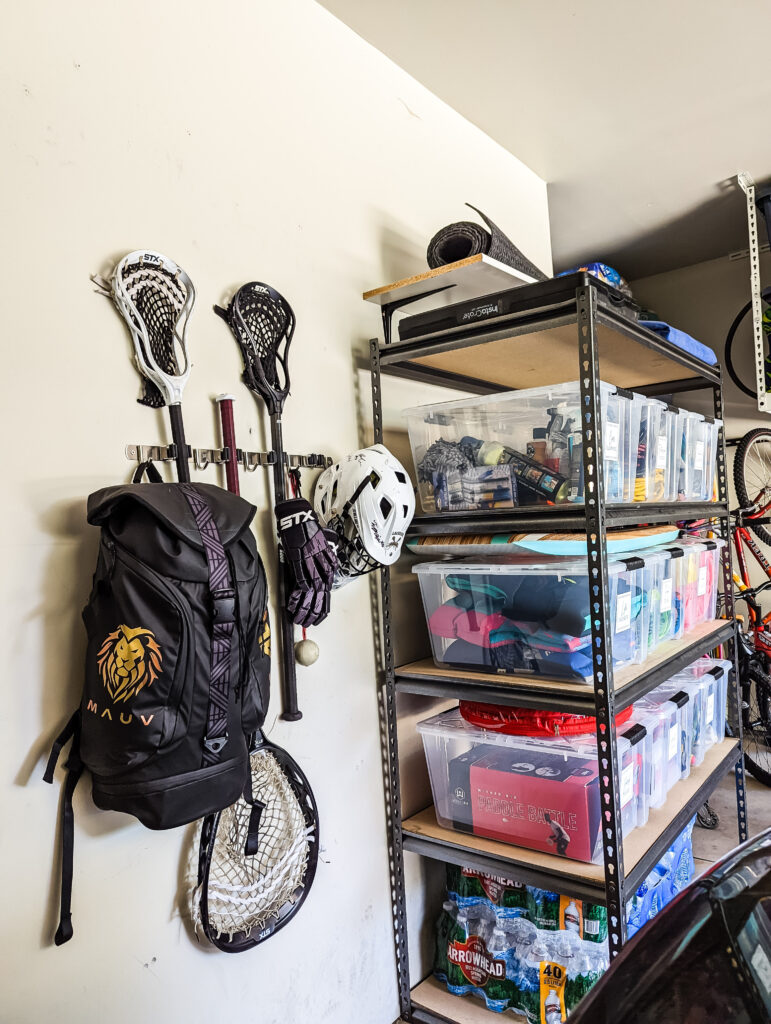 Add a Pegboard Wall
If you don't want to use slat, you can also install a pegboard wall. It works very much the same way, as you can add hooks and shelves to store equipment, small items, golf shoes, or whatever you want depending on what bins and racks you add to the pegboard.
Both slat and pegboard can give you tons of storage options for your equipment, so it's just a matter of preference or what you have available!
Either way, I love having an entire wall, or at least a portion of it, with lots of sports equipment storage space.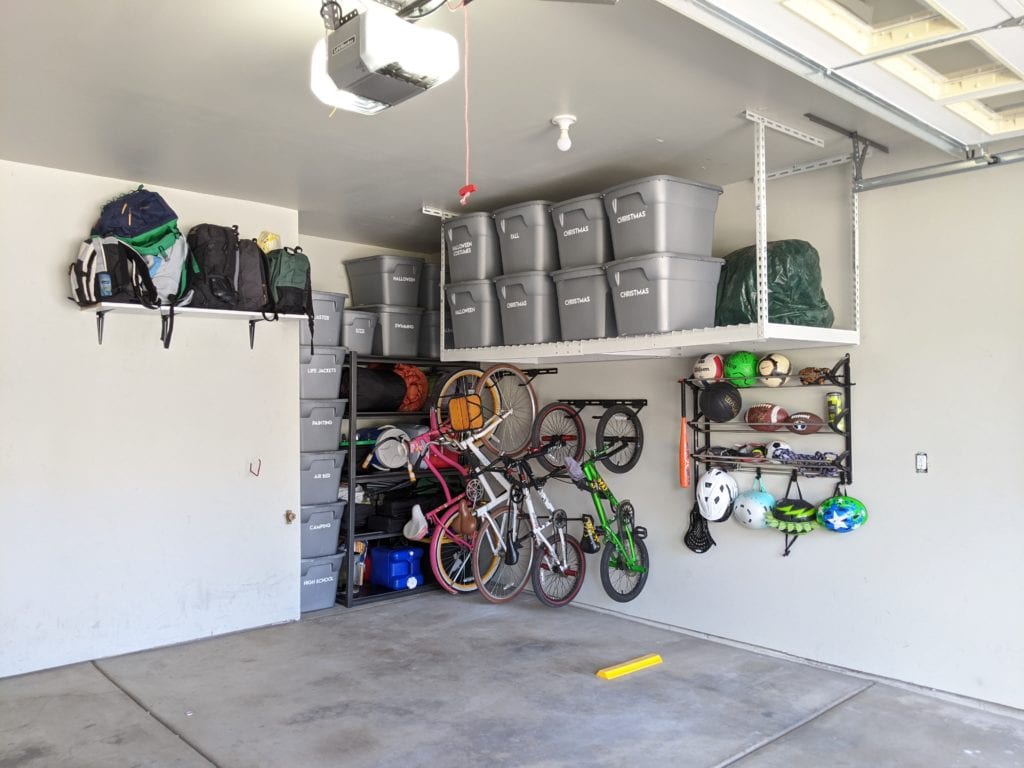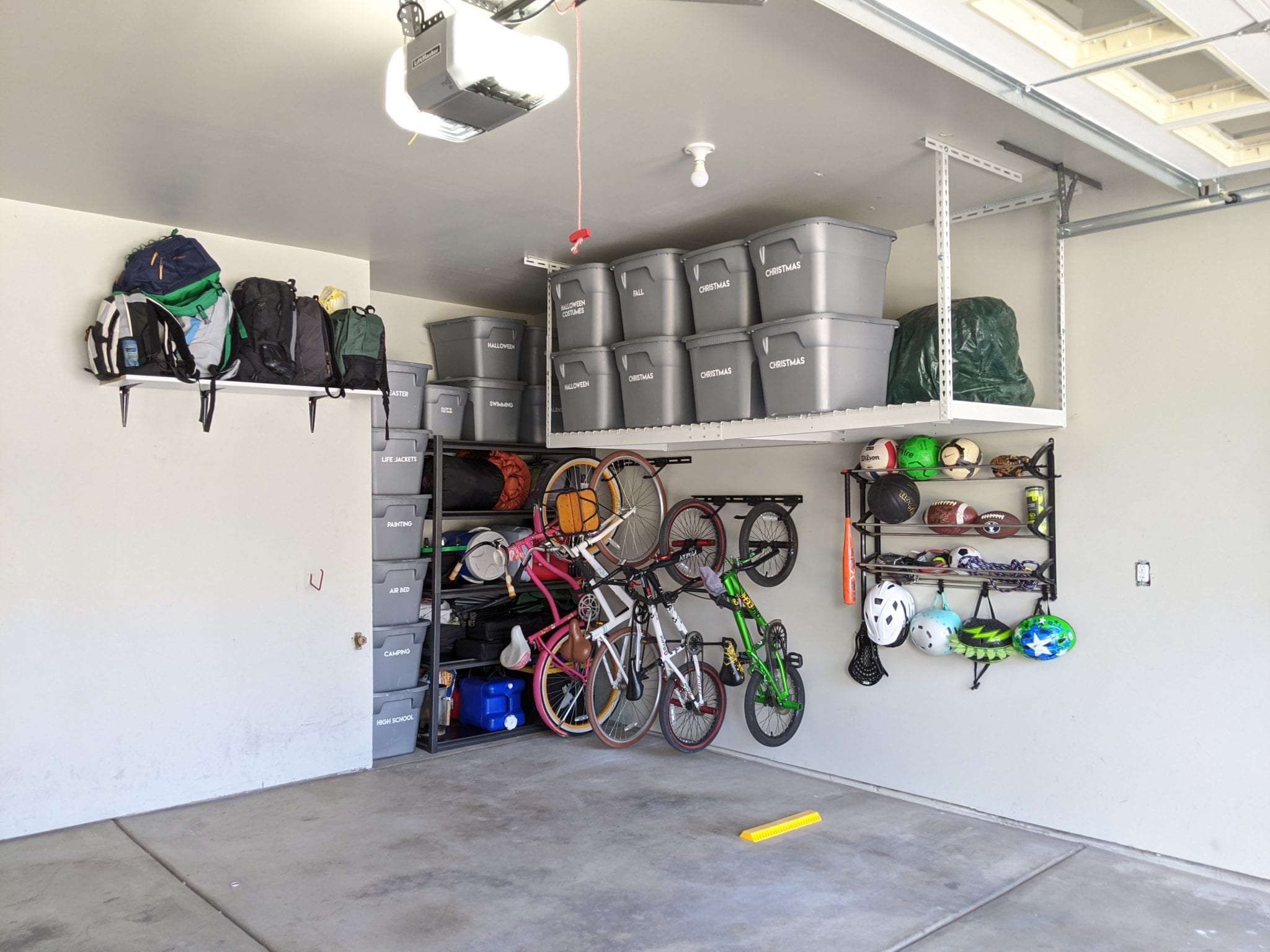 Hang Racks
Another option for using your wall is to hang racks. Adding a rack can help as it can give you a place to organize your equipment while freeing up the floor.
I particularly like hanging racks for things like baseball bats, lacrosse sticks, and other larger gear that can be awkward to store.
You can find a sports rack online or at your local sporting goods store. Just make sure you get a rack that is heavy-duty and will last a long time and hold any heavy equipment.

One last tip…
If possible, hang everything. We hang out bikes up and I love it. It makes it so easy to grab the exact bike I need instead of rummaging through a pile of bikes to get my bike out.
If you can hang things like baseball gloves, golf bags, football gear, or any other items in a corner of your garage, it will make your life so much easier.
Sports Equipment Storage Made Easy
When you have kids that play a sport, your house or garage can get inundated with gear from that sport. Or you may find your house overflowing with balls and shoes from tons of different sports and hobbies.
But by using the area you have available in your garage, you can make sports storage easy!
And when your kids gear is stored properly, it can be super easy to grab what they need from that rack in the corner or pull their bike down from the hook.
Your garage is part of your house, so make sure you don't forget about organizing that sports equipment storage in the garage, even if it's easily hidden away. I promise it will make you feel so much better as you run out the door to yet another game.