22 Stylish Stanley Tumbler Accessories You Need to Add to Your Collection
The Stanley Tumbler is undoubtedly one of the most popular and recognizable tumblers in the world. It has become a staple item for outdoor enthusiasts, travelers, and anyone who loves a good drink on the go. But did you know that there are many stylish and practical Stanley tumbler accessories available for your Stanley?
From personalized nameplates to boots that protect your tumbler from scratches and dings, the possibilities are endless. In this blog post, we will highlight 22 must-have Stanley tumbler accessories for those obsessed with their Stanley.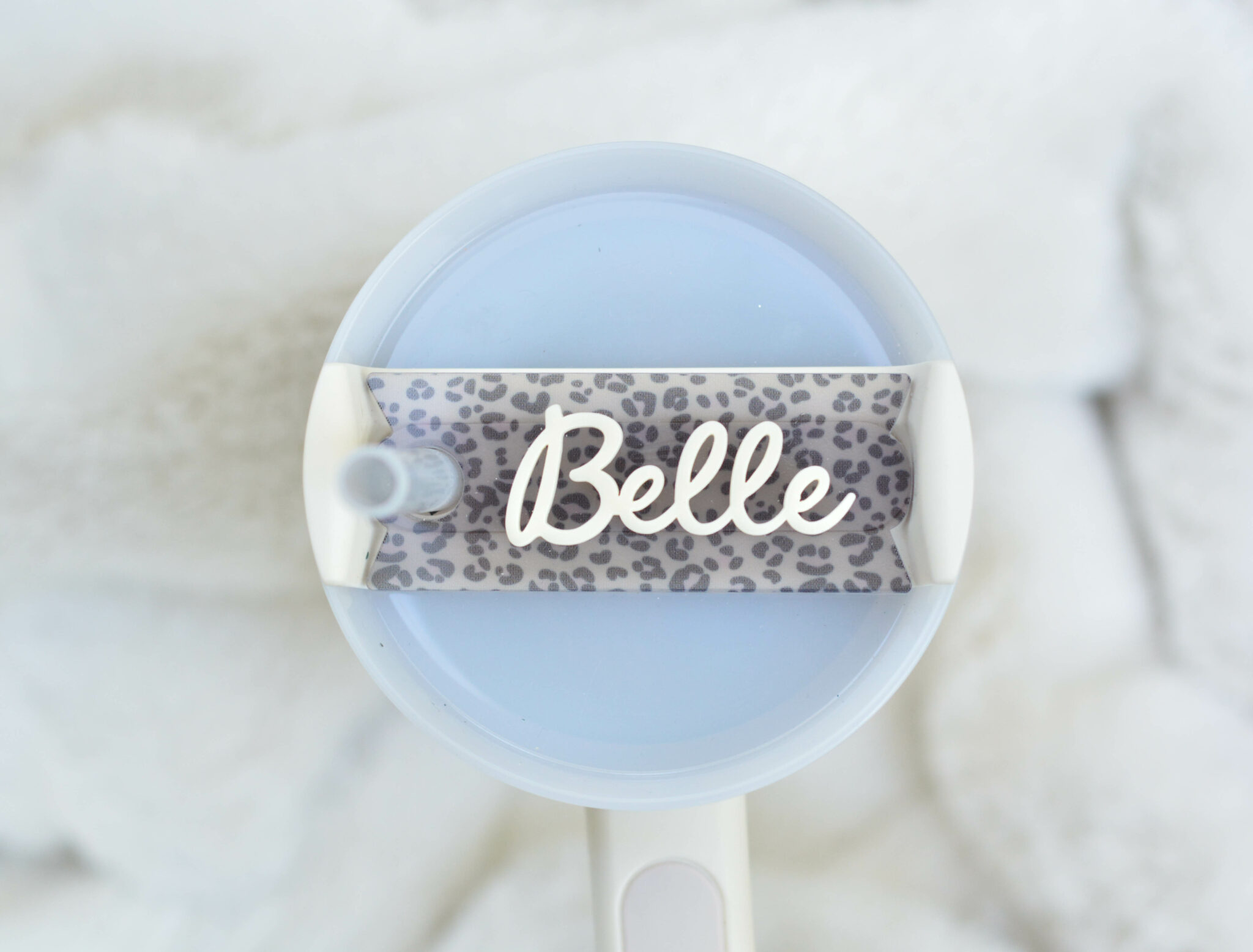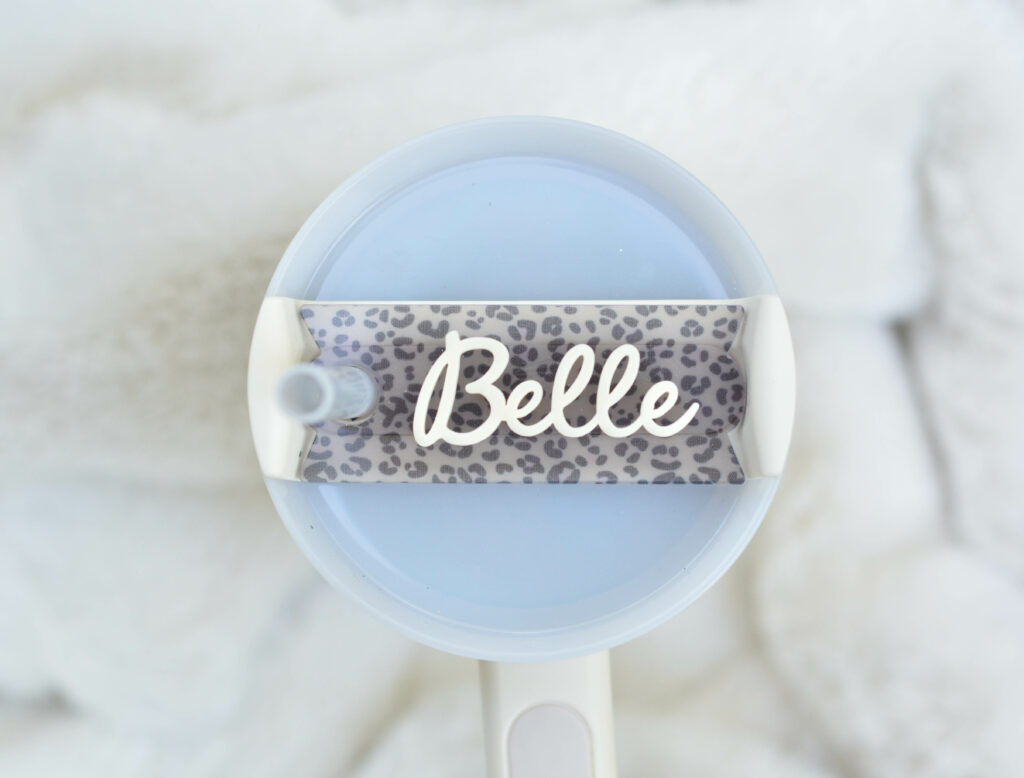 Benefits of Owning a Stanley Tumbler Cup
There is a reason why these cups have taken the world by storm is the variety of issues that other tumblers have. Here are a few of the benefits of owning a Stanley:
Superior Insulation: Stanley's double-wall vacuum insulation guarantees hours of hot or cold drinks, far outperforming normal tumblers.
Robust Design: Stanley tumblers are known for their durable construction. They have a reputation for being virtually indestructible, which is not something every tumbler can boast.
Eco-Friendly: Unlike disposable cups, the Stanley tumbler is reusable, reducing your environmental footprint.
Customization Options: Stanley offers a range of accessories, allowing you to personalize and enhance your tumbler.
Lifetime Warranty: Stanley tumblers come with a lifetime warranty, offering peace of mind that isn't typically available with other tumblers.
Fits in a cup holder: most tumblers are too large to even fit in your car. But the Stanley fits perfectly but also allows you to have plenty of water while on the go.
Must-Have Stanley Cup Accessories
Top Stanley Tumbler Add-Ons
Whether you're a devoted Stanley user or just getting started, accessorizing your cup can enhance your overall use of your cup. Here are some of the top Stanley Tumbler add-ons that might appeal to you. The best part is that most of these accessories will fit other brands is you don't have a name-brand cup.
Label your Stanley Cup
Nameplate
Personalize your Stanley Tumbler with a custom nameplate that showcases your unique identity. Because so many people take their Stanley cup with them wherever they go, it can be easy to get them mixed up if two people have the same color. This is the perfect way to differentiate between your cup and someone else's. Plus, they are ridiculously cute!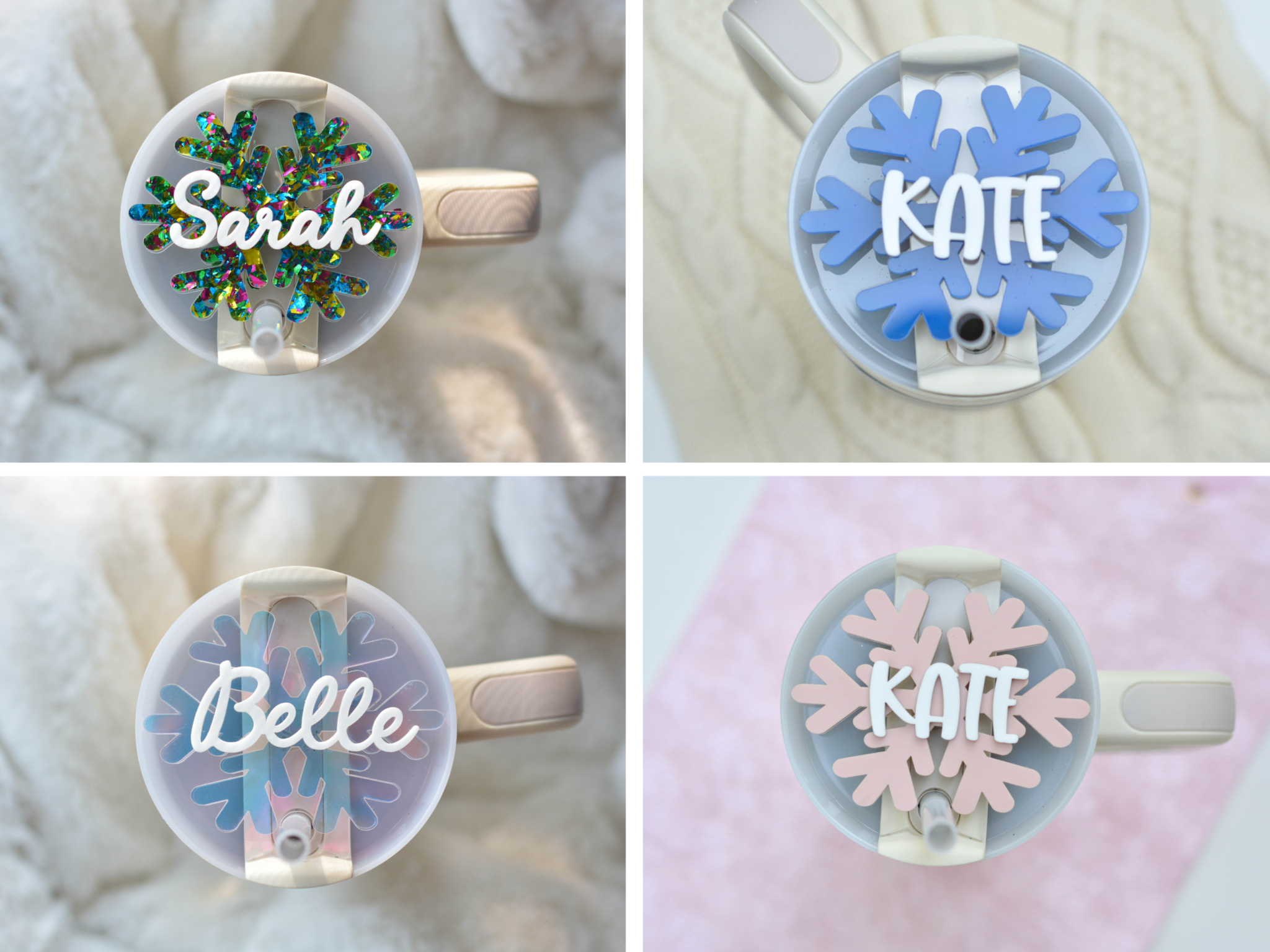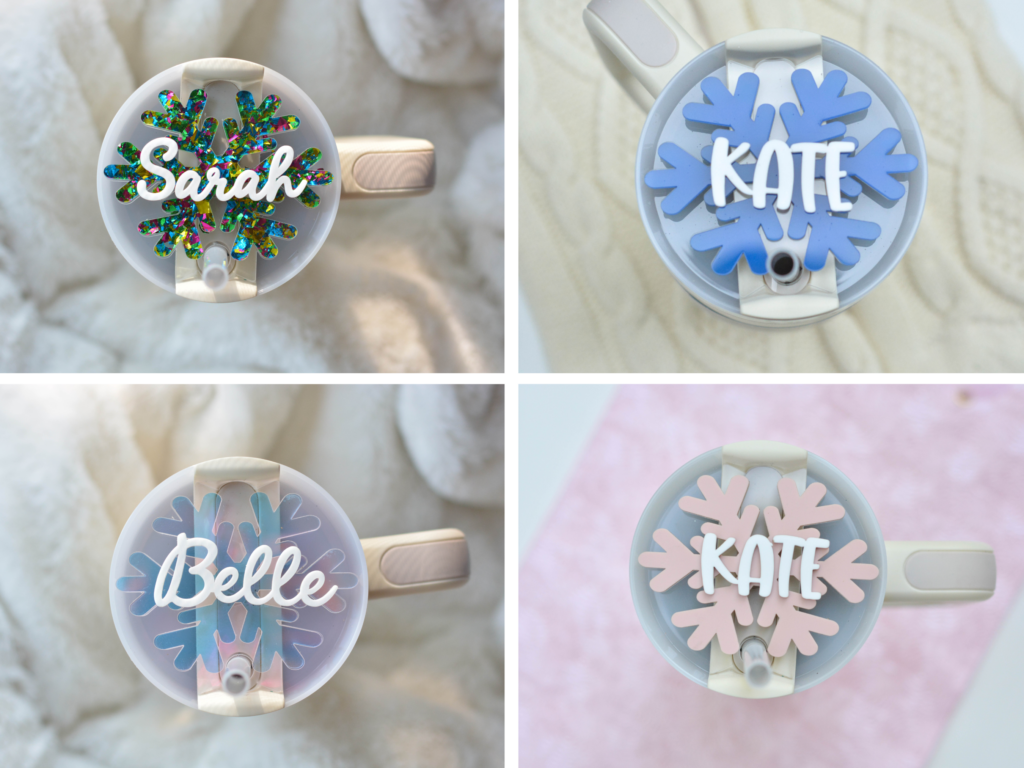 I love how the name plates are so customizable and how you can customize them to the time of year! They have so many varying details that you can customize, making it all your own.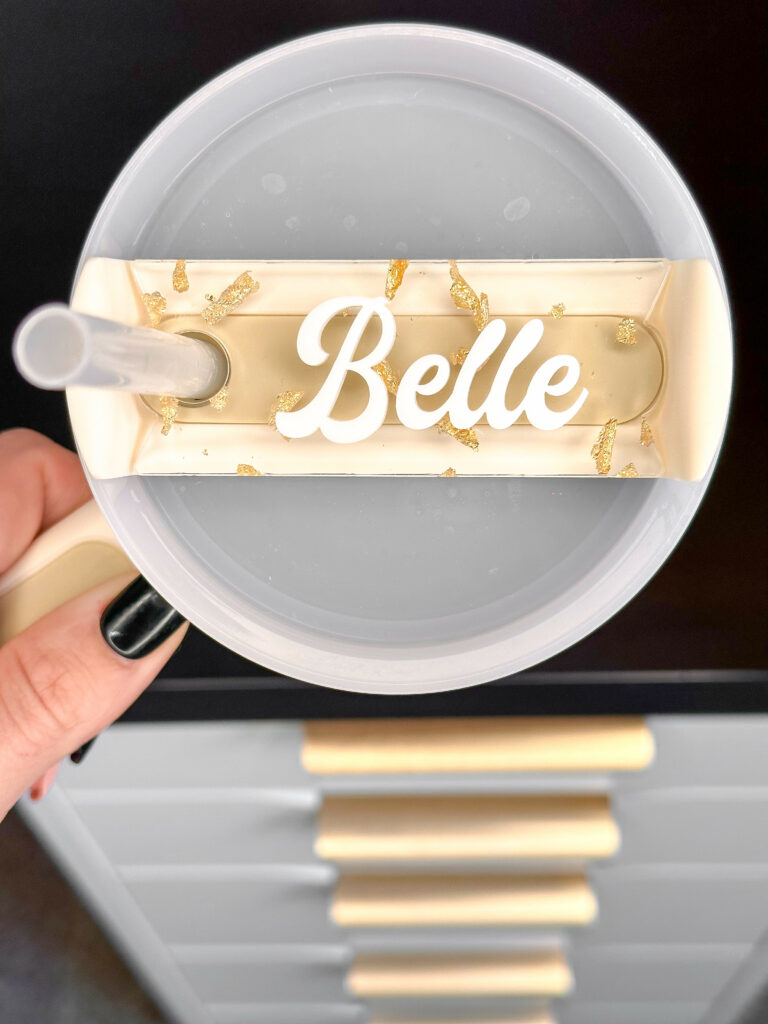 Initial Letter Charm
Another way to label your Stanley cup as your own is to use an initial charm that attaches to the handle of your cup. You can add a charm that has your initial or even add a charm that most represent you!
Custom Name Charm
I love how dainty and customized this name charm is! It's the perfect addition to your cup to prevent you from unknowingly sharing your drink with a friend. It's sturdy and won't show much wear and tear.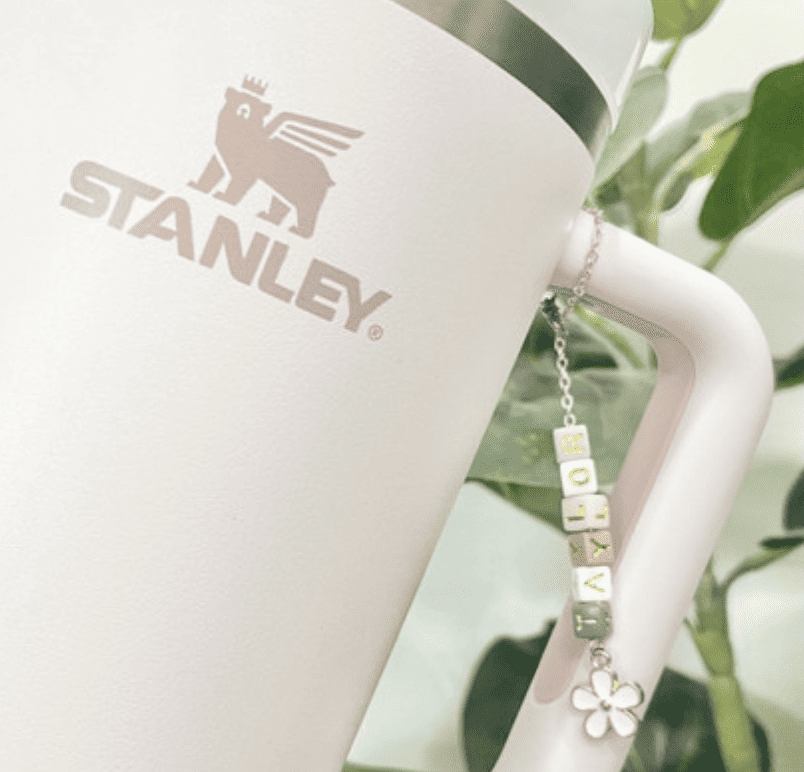 Vinyl Decal
Make your Stanley stand out with a custom vinyl decal that features your favorite design or quote. There are even some Etsy shops that offer custom engraving on your Stanley if you prefer that over vinyl.
Handle Charm Rings
I love the dainty nature of these handle charm rings. They are a great option if you have a minimalist style but still want to keep track of your own water bottle. It simply snaps onto the handle!
Silicone Bottle Labels
These silicone custom name labels are great for fitting onto the bottom portion of your stanley cup so you can tell who is the owner.

Stanley Cup Straws
Straw Toppers
Adding a fun straw topper to your cup is a great way to keep your straw in place and add some personality. There is a huge variety on Amazon of straw toppers to fit every personality.
Silicone Caps
Keep your drink fresh and secure with a silicone cap that fits snugly over your tumbler's opening. This is a great way to keep your straw clean and in my case, keep kids from drinking my drink! Lol.
Glitter Straws
This isn't necessary, but who doesn't love some glitter!? Add a plastic glitter straw to the mix to jazz up your cup and set your cup apart from the rest. Make sure it's dishwasher-safe!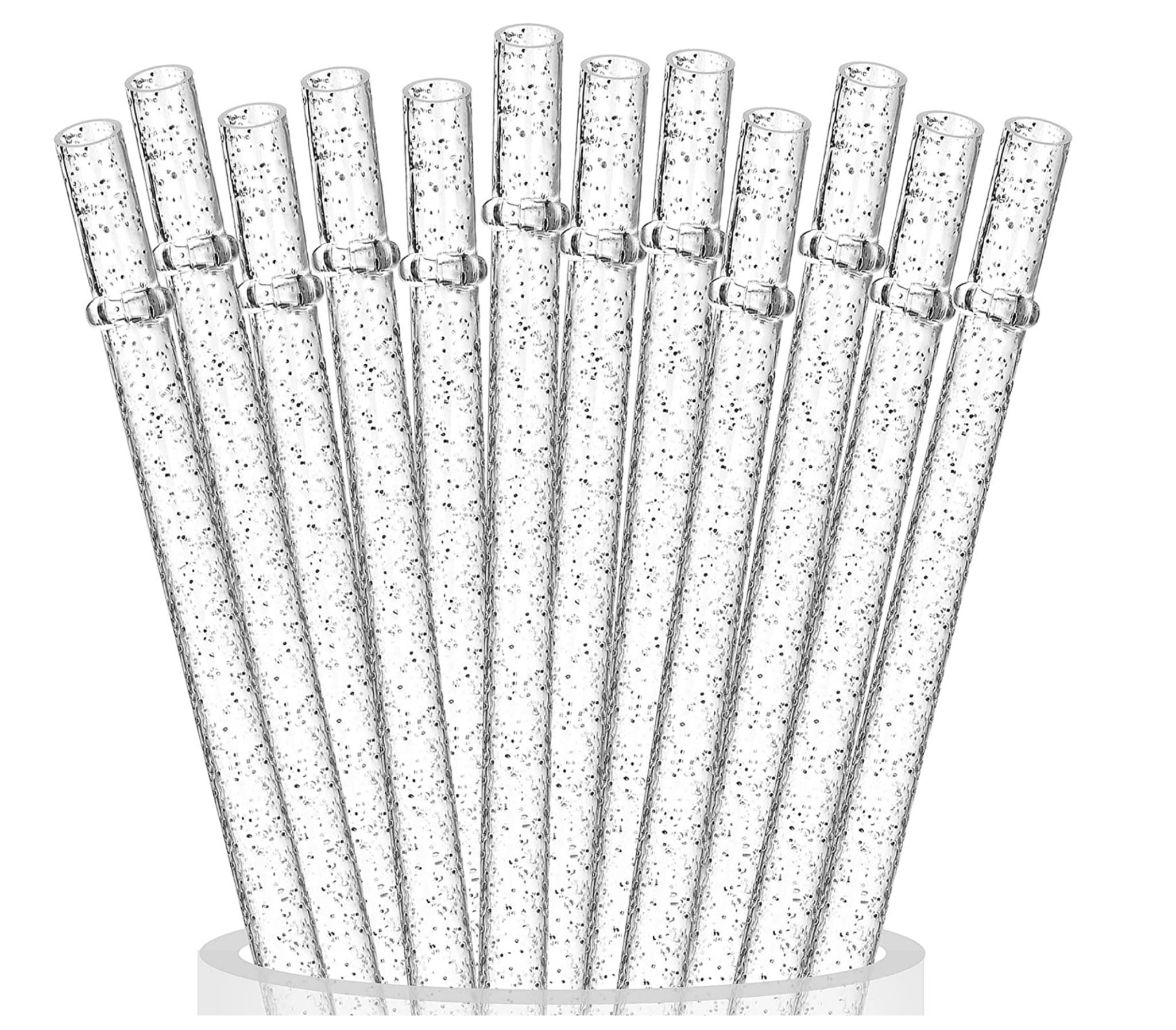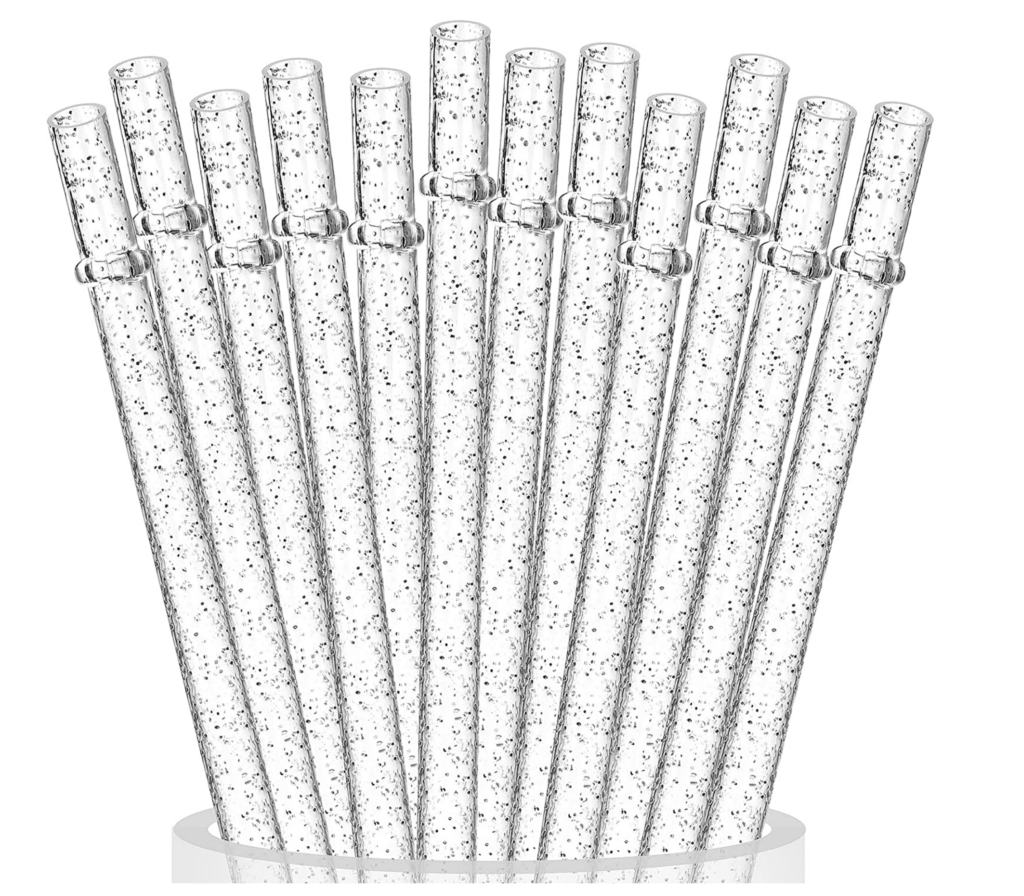 Glass Straws
Using glass straws not only looks classy, but it also helps reduce plastic waste. You do have to be more careful with glass straws so if you are worried about breaking them, I'd go with the stainless steel. Make sure they are tall enough for large water bottles!
Stainless Steel Straws
Durable and eco-friendly, stainless steel straws are the perfect addition to any Stanley cup. These types of straw will last you a lifetime, eliminating waste! Make sure they are tall enough for large water bottles!

Stanley Tumbler Accessories for your lid
Spill-Proof Lid
For those who experience frequent spills, investing in a spill-proof lid can save you from messy accidents. The OG Stanley Cup has a notorious reputation for spilling the entire contents of the cup when it's knocked over. So if you have an older version with this problem, you may want to consider a spill-proof lid. Make sure to make sure it's dishwasher safe!
Other Stanley Cup Accessories
Silicone sleeve with Pouch
This silicone sleeve with the pouch is a great option to carry around your cup without worrying about it getting dirty! Silicone is really low maintenance and stores small essentials that you need to keep with you at all times. Because it's slim, it will still fit in your cup holder!
Customizable Tumbler Pouch
I am constantly carrying around an array of items with me when I'm running errands so I was looking for some way to be able to carry lip gloss, earbuds, keys, etc when I found this darling custom letter patch pouch that attaches to your tumbler. It was love at first sight! It's been working perfectly for me.
And for those of you wondering, my name is Michelle (this the letter M) but my husband's nickname for me is "Belle" from The Beatle's song, called Michelle.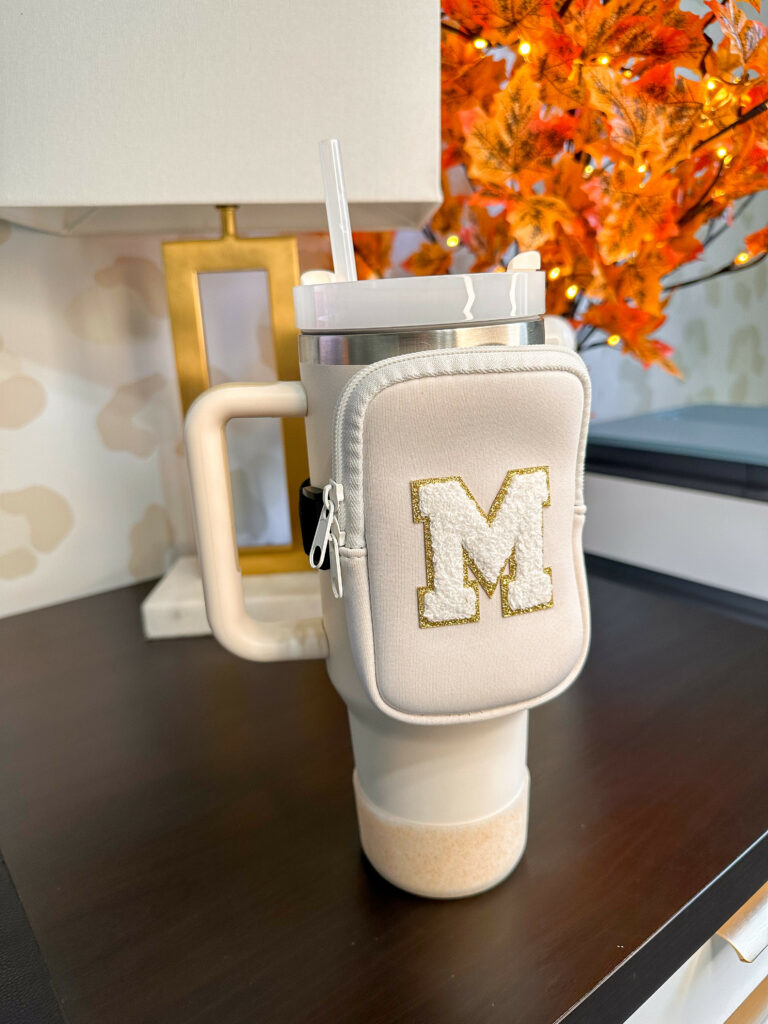 Stanley Ring and Jewelry Holder
This is a fantastically original item that solves a huge problem! Simply put your jewelry into this little compartment that attaches to your handle while you're at the gym!
Chapstick Holder
This chapstick holder attaches to your cup handle so your chapstick is always within reach!
Silicone Boot
Protect your tumbler from scratches and dings with a stylish bumper that fits snugly over the bottom. There is a wide array of silicone boots (also called a bumper) to help accessorize your cup and add some style or bling to your cup. My cup has a glitter boot that I just LOVE!
I love how it muffles the metal sound that my cup used to make when setting it on the counter. Much quieter now!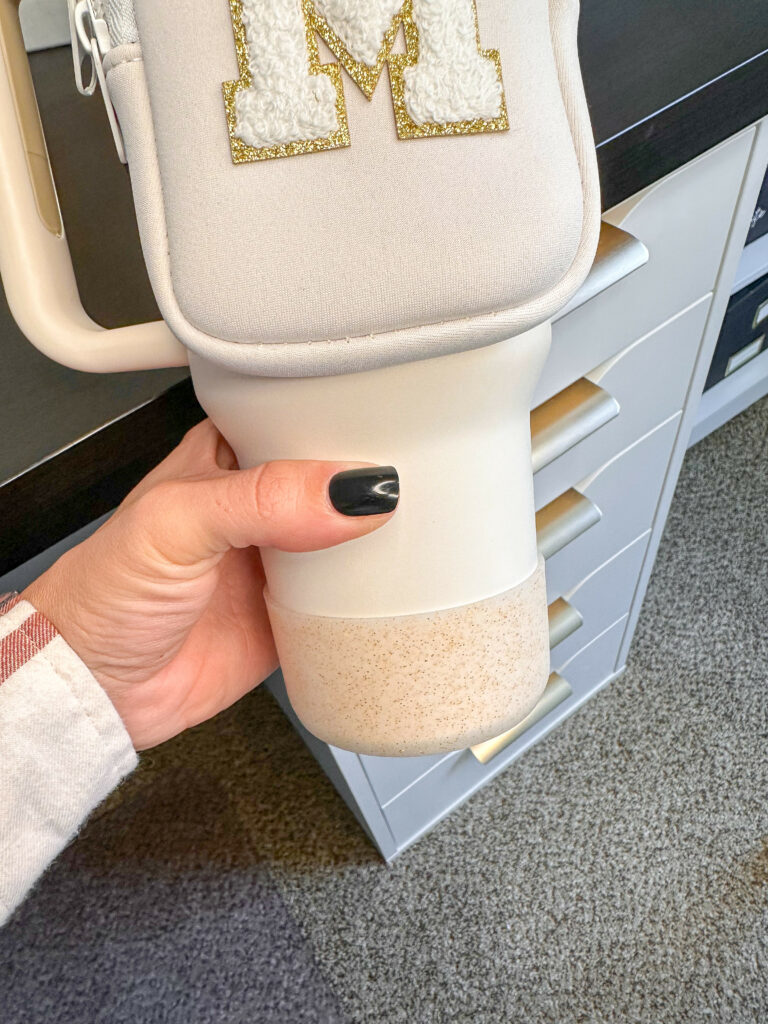 Anti-Tip Boot Kit
These cups are notorious for tipping over and spilling the contents of your drink everywhere. This anti-tip boot kit is genius! Now you don't have to worry about your cup spilling over anymore.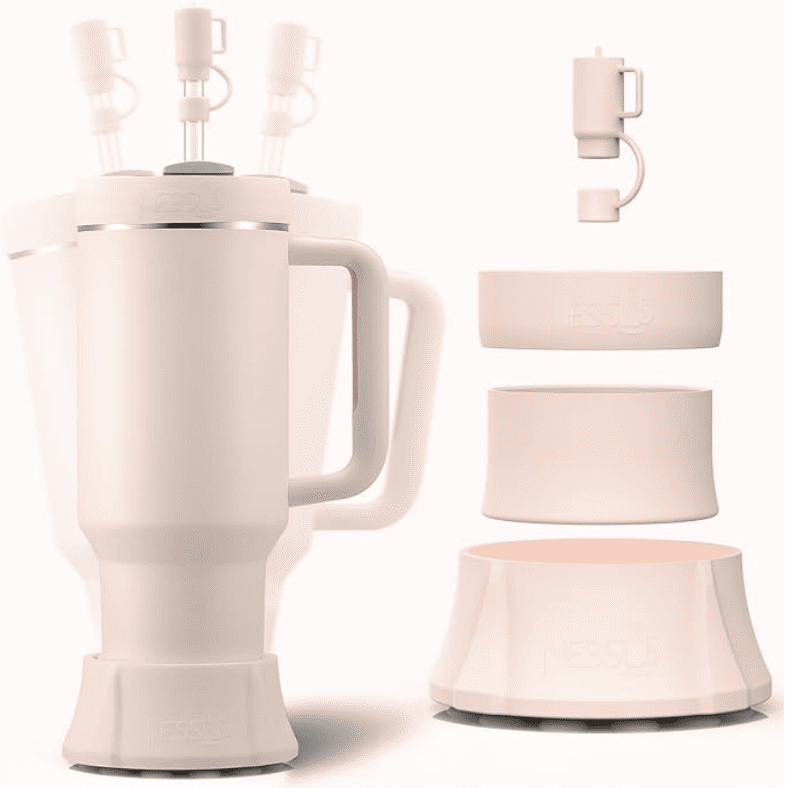 Faux Leather Carrying Case with Strap
This is the perfect faux leather carrying case for when you need to cart around your water but you need to have both of your hands. I love how classy this one looks!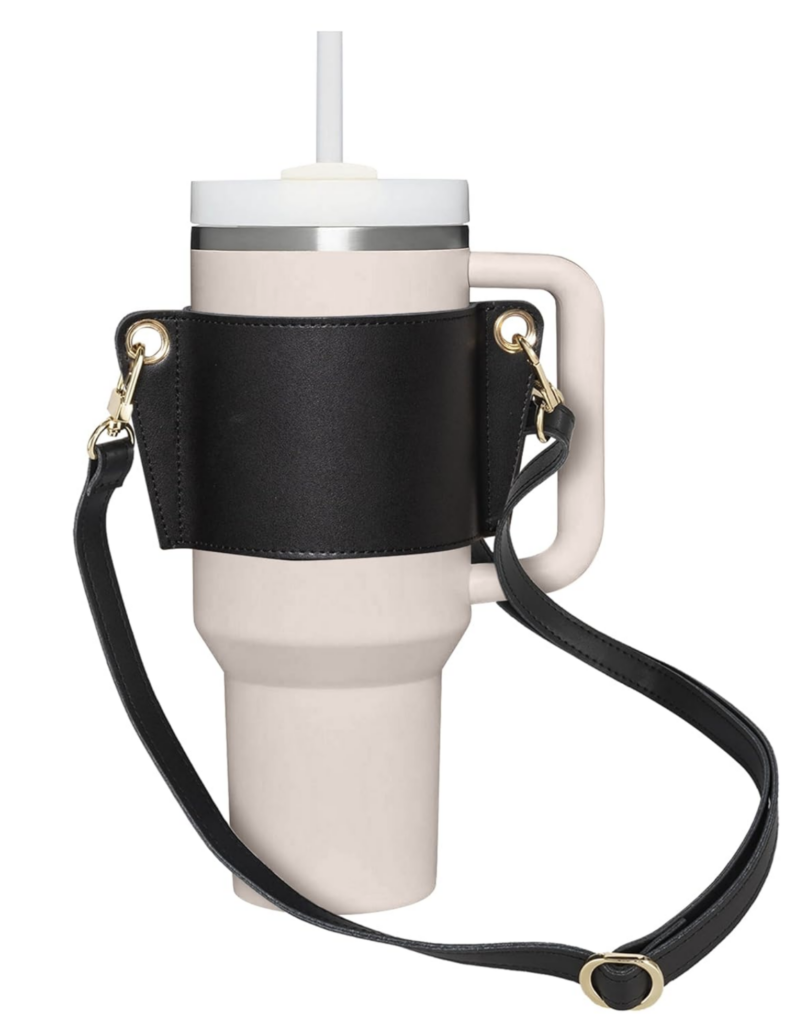 Neoprene Sleeve
Not only does a neoprene sleeve protect your Stanley from scratches, but it also adds a pop of color. You can even attach the carrying strap so you can carry it wherever you go without needing to carry it. You can easily slip your cup into the sleeve and go on your way! This one is my favorite because it has a stylish strap that you can choose!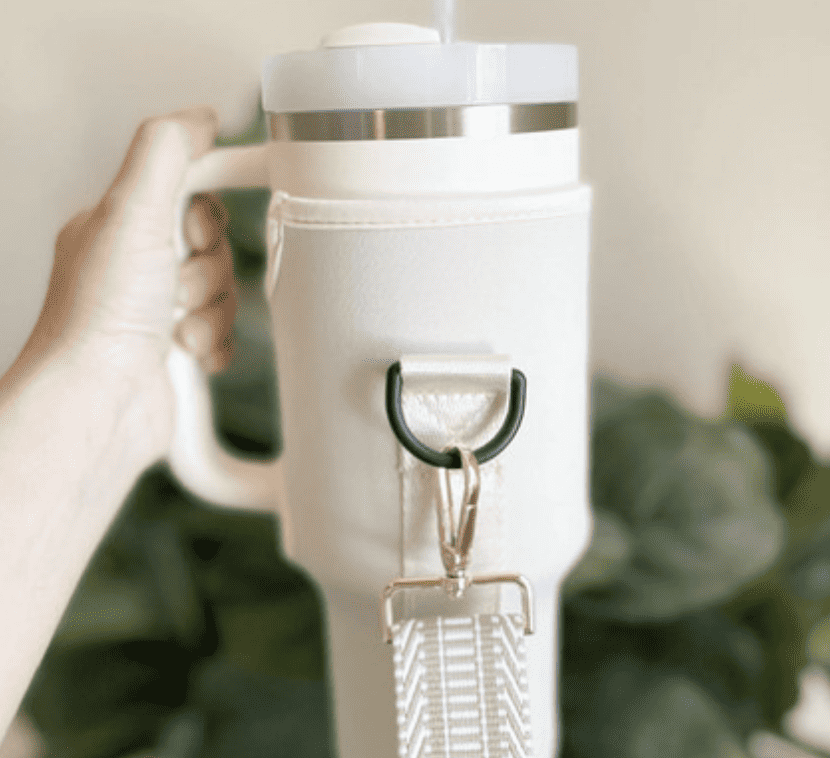 Divided Snack Bowl
Keep your snacks within reach at all times with a handy silicone-divided snack bowl that easily fits onto the top of your cup! This is the perfect way to keep your drink and snacks all in one place.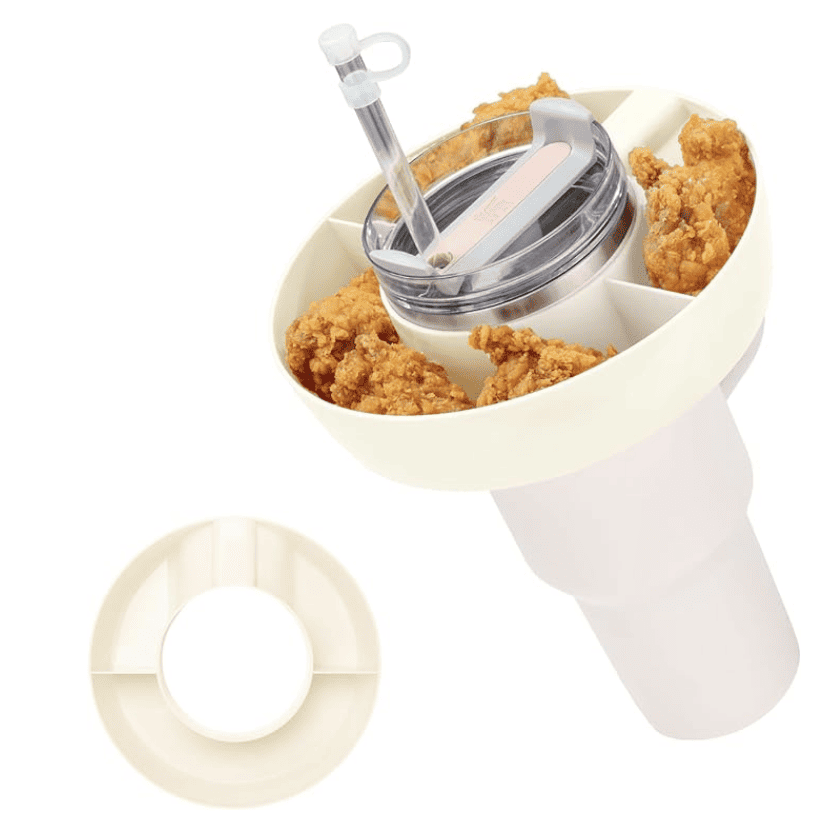 Fanny Pack
If you're not much of a purse person like me, then this fanny pack is a fantastic option to add to your Stanley! This is perfect for adding to your cup to store things like keys, chapstick, credit cards, gum, or money!
Bottle Brush
Keep your tumbler clean with a bottle brush specifically made for Stanley tumblers. It has the perfect amount of tools to help you clean the seal, the straw, etc. This is one of those essentials for your cup.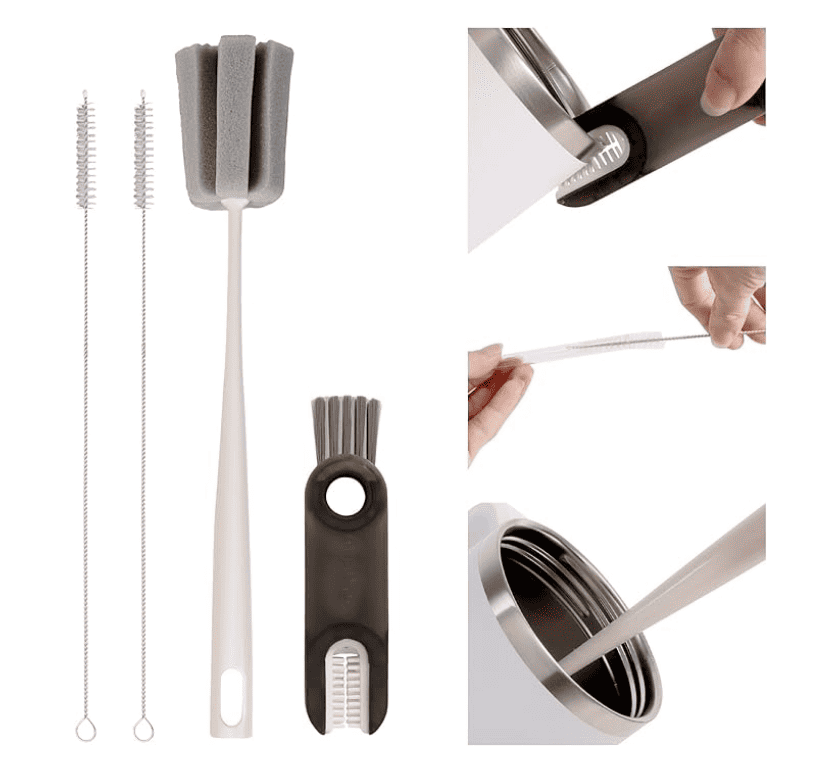 As you can see, the possibilities for accessorizing your Stanley tumbler are endless. Whether you want to personalize it or protect it, there is a perfect accessory out there for everyone. So go on and add a little flair to your Stanley with one of these 20 must-have accessories.