6 Easy and Budget-Friendly Boys Bedroom Ideas that Won't break your Wallet
Is your son's room looking tired? Does he need a more grown-up bedroom to fit his age? My two boys definitely did, too and I was so excited to update their space. My boys share a bedroom even though we have space for them to have their own. It has been so good for them and most days, they love it! Here are some budget-friendly boys bedroom ideas that we did for our boys.
Need more kids organization ideas? Check out my post on Organizing my boy's closet!
DIY Matching Headboards
My boys have shared a bedroom for years and I really wanted to update their room but we just didn't have a big budget to do it. Their beds didn't match at all and my youngest son's mattress was even laying directly on the ground. There are definitely worse things but I really wanted their rooms to have a cohesive look but knew we didn't want to spend hundreds of dollars on matching beds.
Instead of buying, we decided to build some beds! Overall, I think it cost us about $40 per bed…and we were super happy about that! Ana White is one of my favorite blogs, check out the plans for my boys' bed here.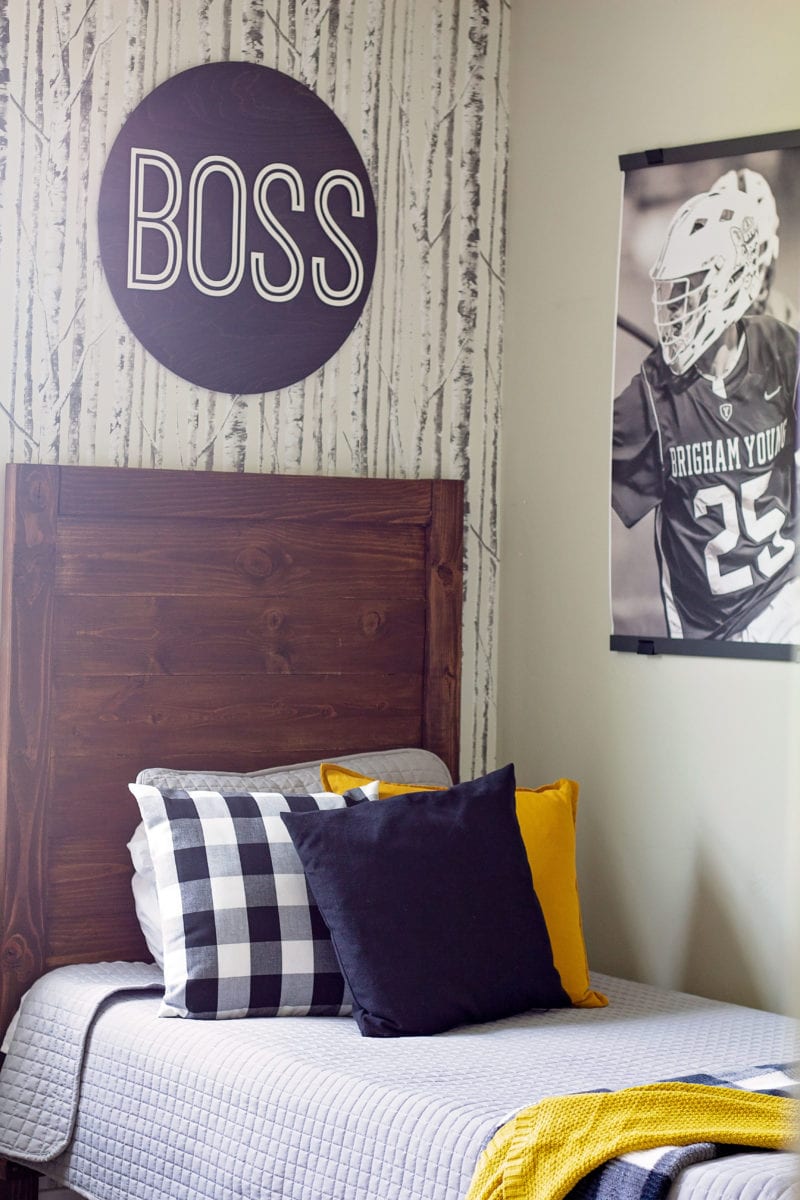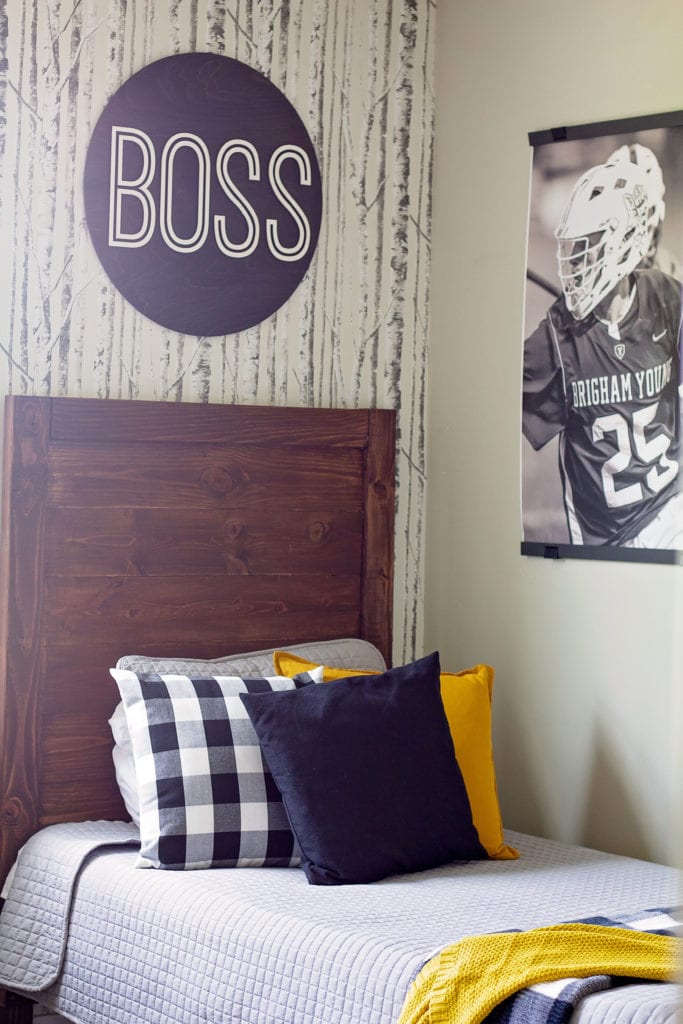 Wall Decor
I love the Name Rounds that I purchased, they are excellent quality. However, I had really bad customer service (it took me 4 MONTHS) to get my name rounds. I wish that I could recommend their shop to you but I can't. So I will just tell you that I got it from a seller on Etsy.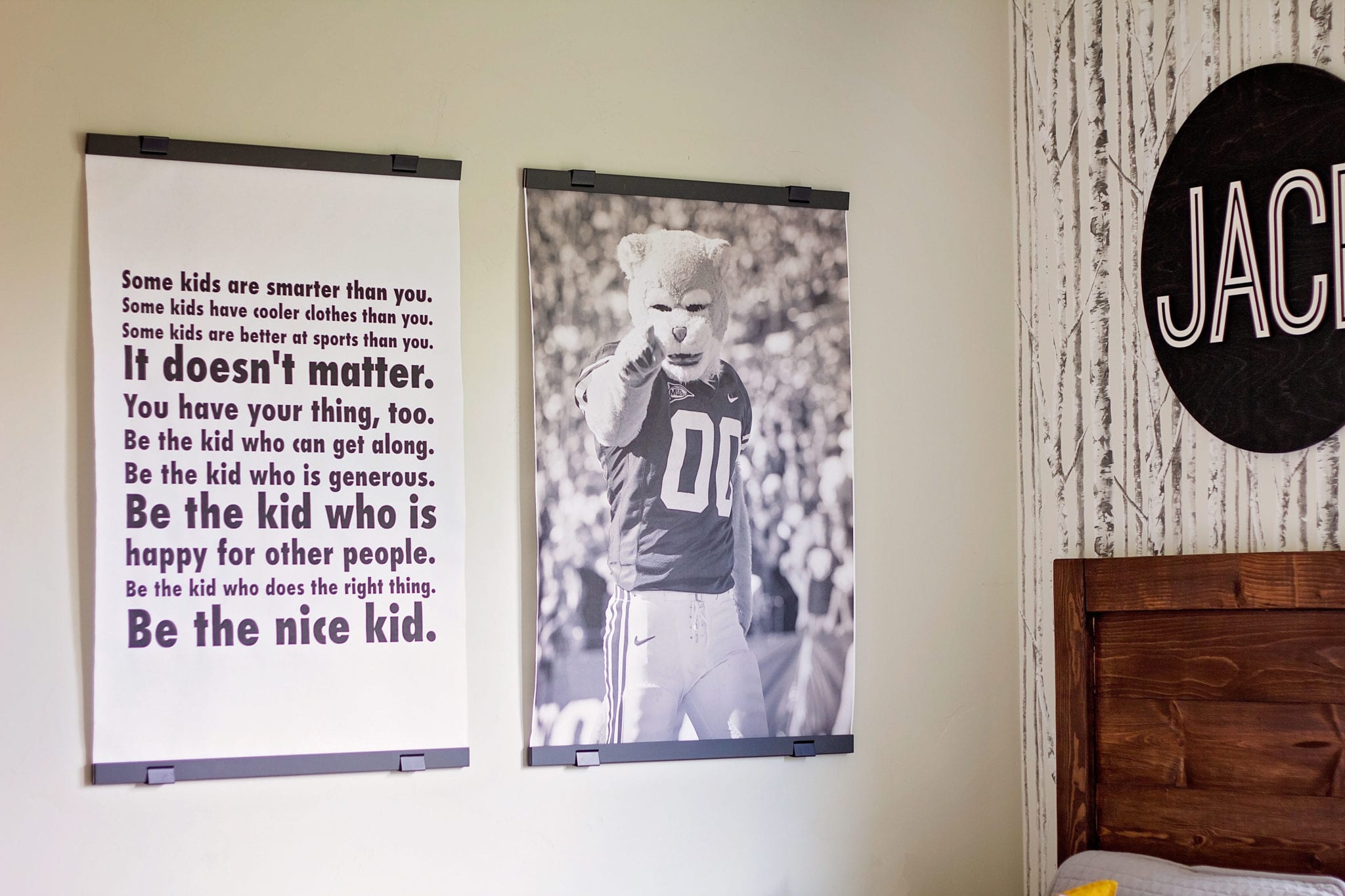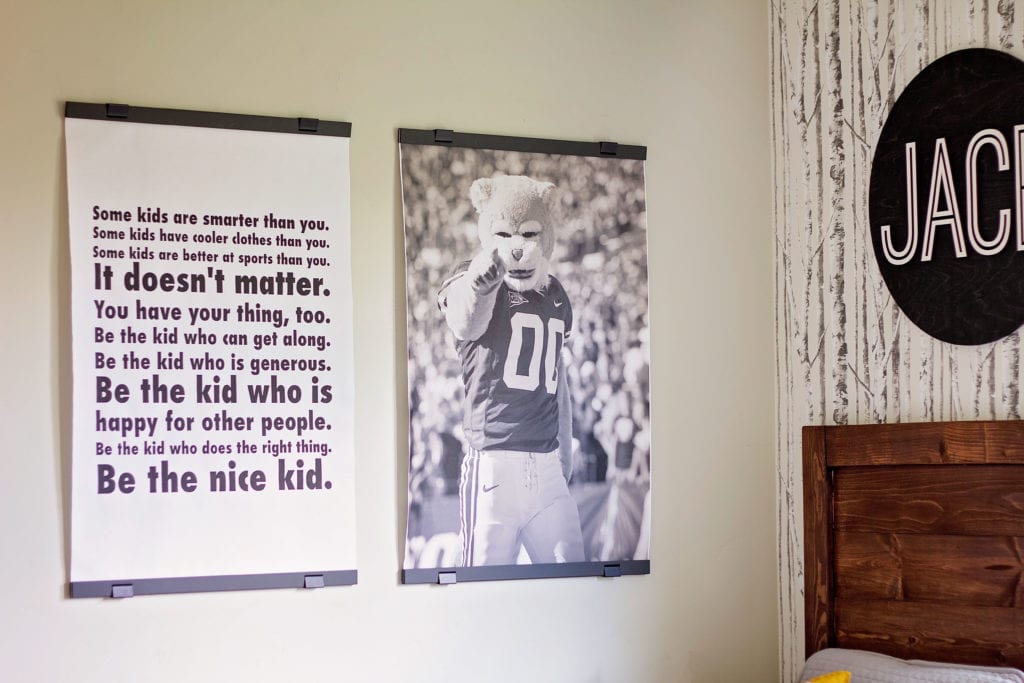 I wanted some big impact wall decor so I went with an old stand by that I've used quite a few times at my house. I sent my print at Staples using their "Engineer Prints" that usually run about $2! I wanted a cute way to hang them so I bought these poster hangers from Ikea! So each wall hanging only cost me $10! That's a STEAL! I even went a step further with the poster hangers and spray painted them the same color that I spray painted my boy's dressers.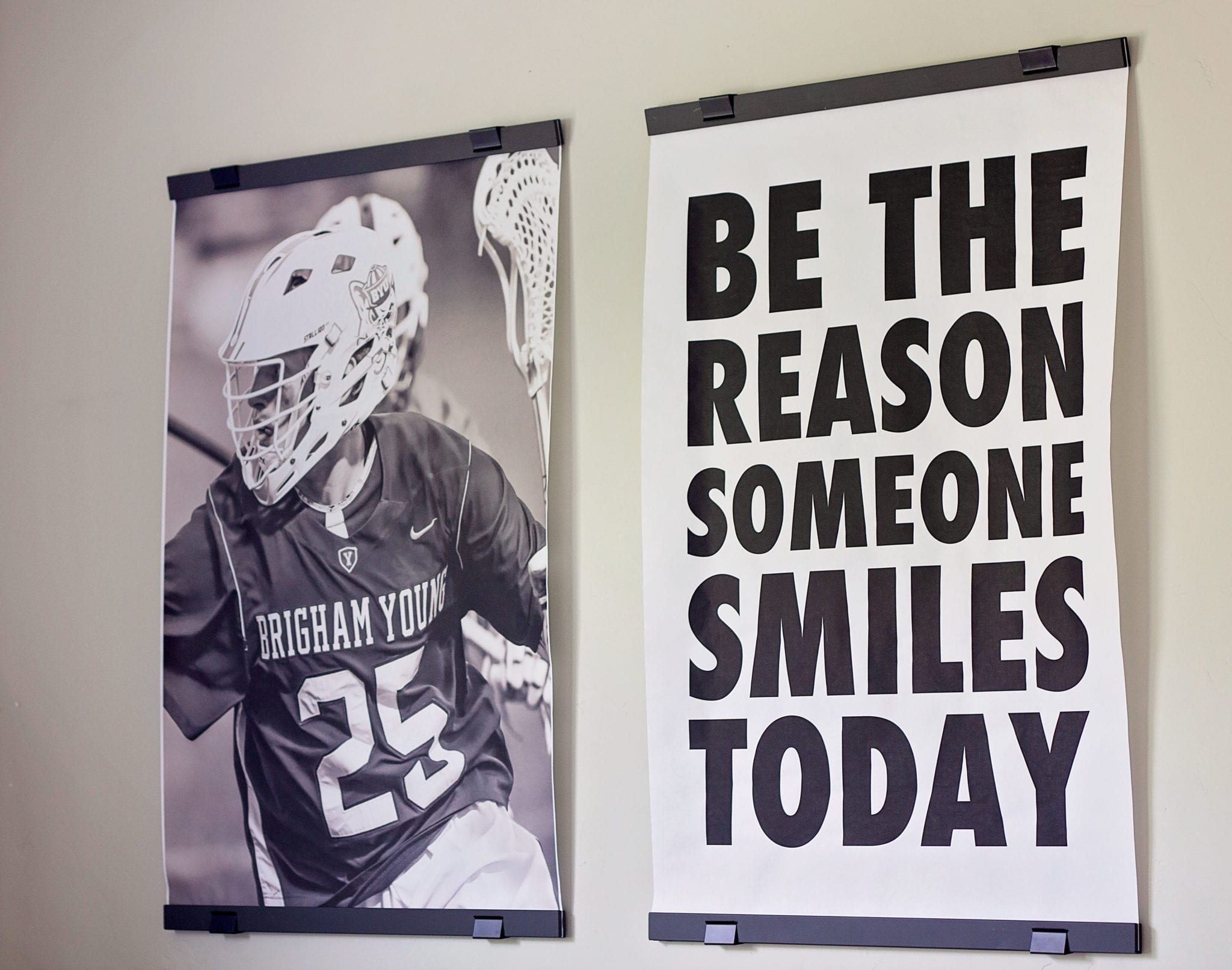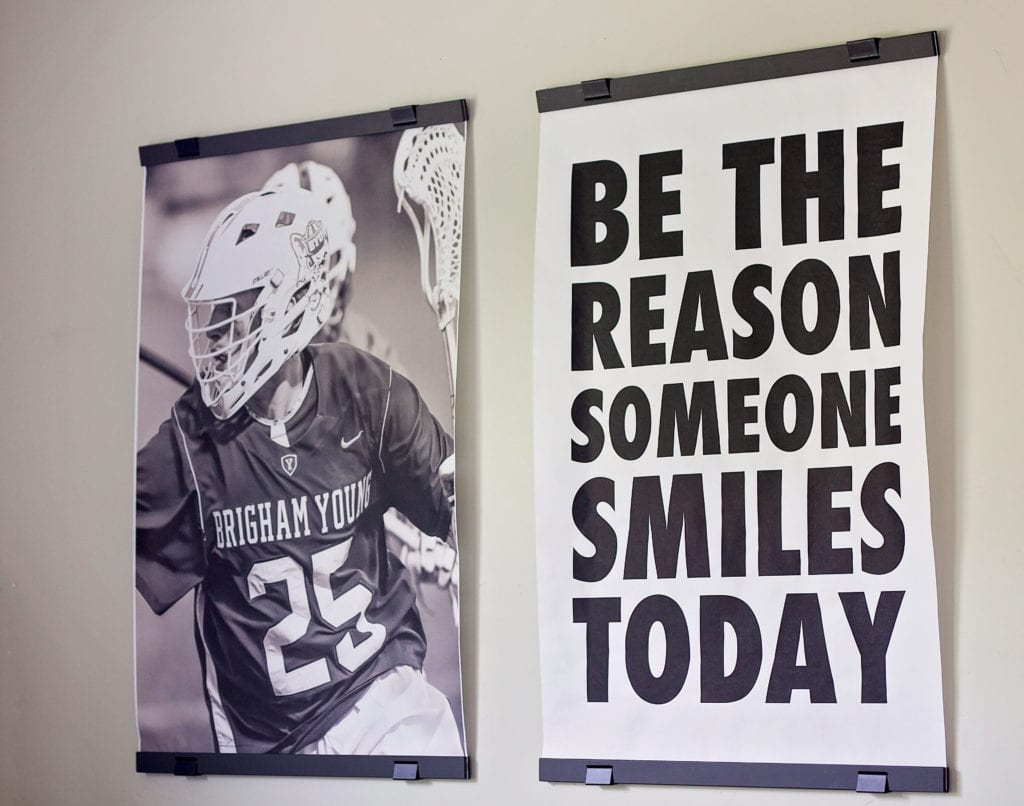 Wall Paper
When trying to choose wall decor, I wanted something that would be able to grow with my boys. I decided that my boy's wall decor would be the main place that I would splurge. Wallpaper can sometimes be expensive but if you use it in the correct place, you can really make a huge impact in a room.
Because I currently do not own the home that we live in, I needed to find a solution that would be easy to take down when we move away. That's when I discovered "Peel and Stick Wallpaper". I was SO relieved that there was another solution besides traditional wallpaper.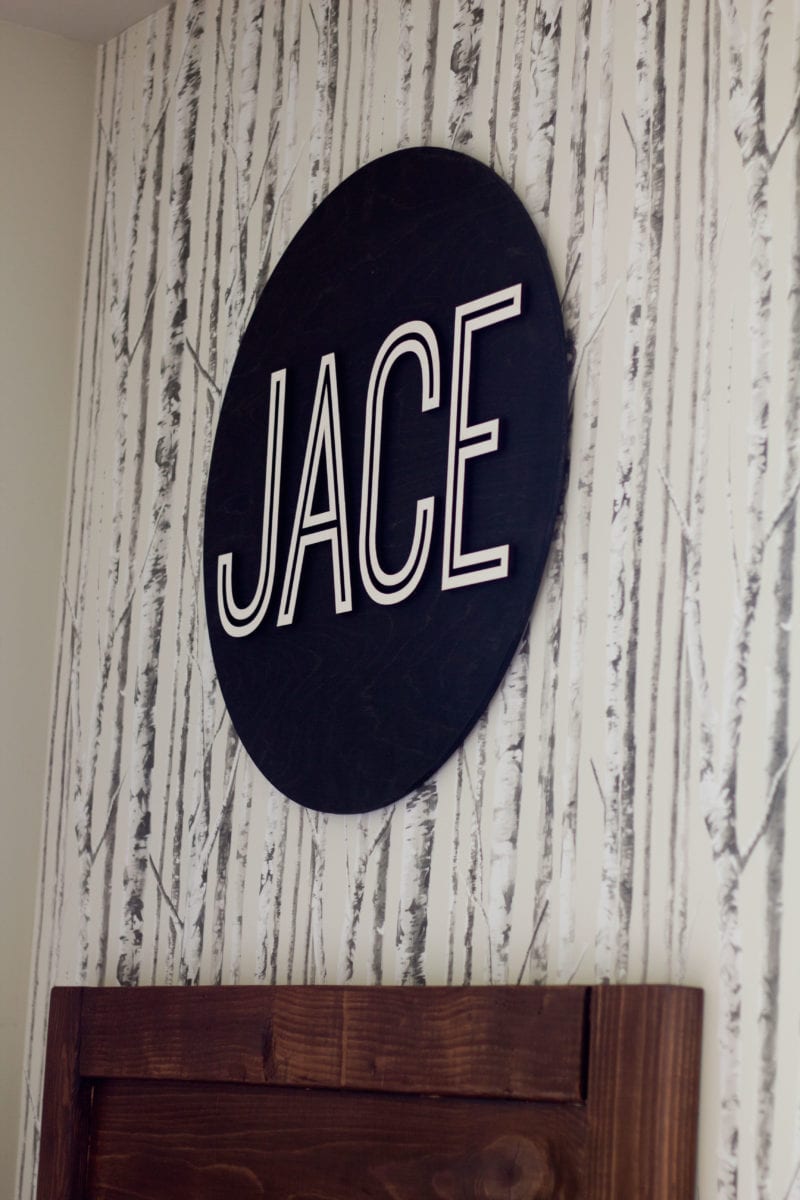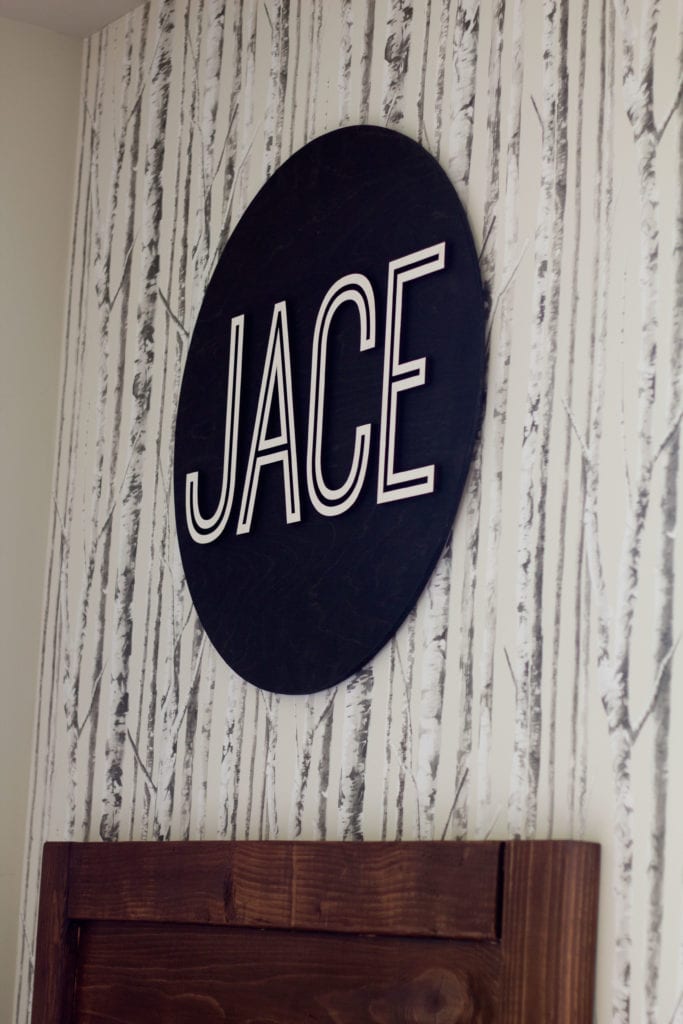 The best thing about this kind of wallpaper is that it sticks when you need it to stick and then it comes off when you need to! It is the same type of material as contact paper but a bit thicker.
It was SO easy to reposition and move around. We did the entire wall, start to finish in about an hour and a half. I would HIGHLY recommend it to anyone! Here is where I got my wallpaper.

Bedding
When I choose bedding for my kids, I always try to find something that isn't so bulky that I can't fit it in my washer if it needs to be washed. So I usually opt for quilts for this exact reason. I also try to find something that has texture to add interest and variety to the room.
When I found these quilted gray quilts, I knew they were exactly what I had been looking for! There were plenty of options out there, but I was also trying to find one within my budget. And because my boys share a room, everything I buy is double! So I was really happy about the weight of the quilt, the quilted pattern, and the price!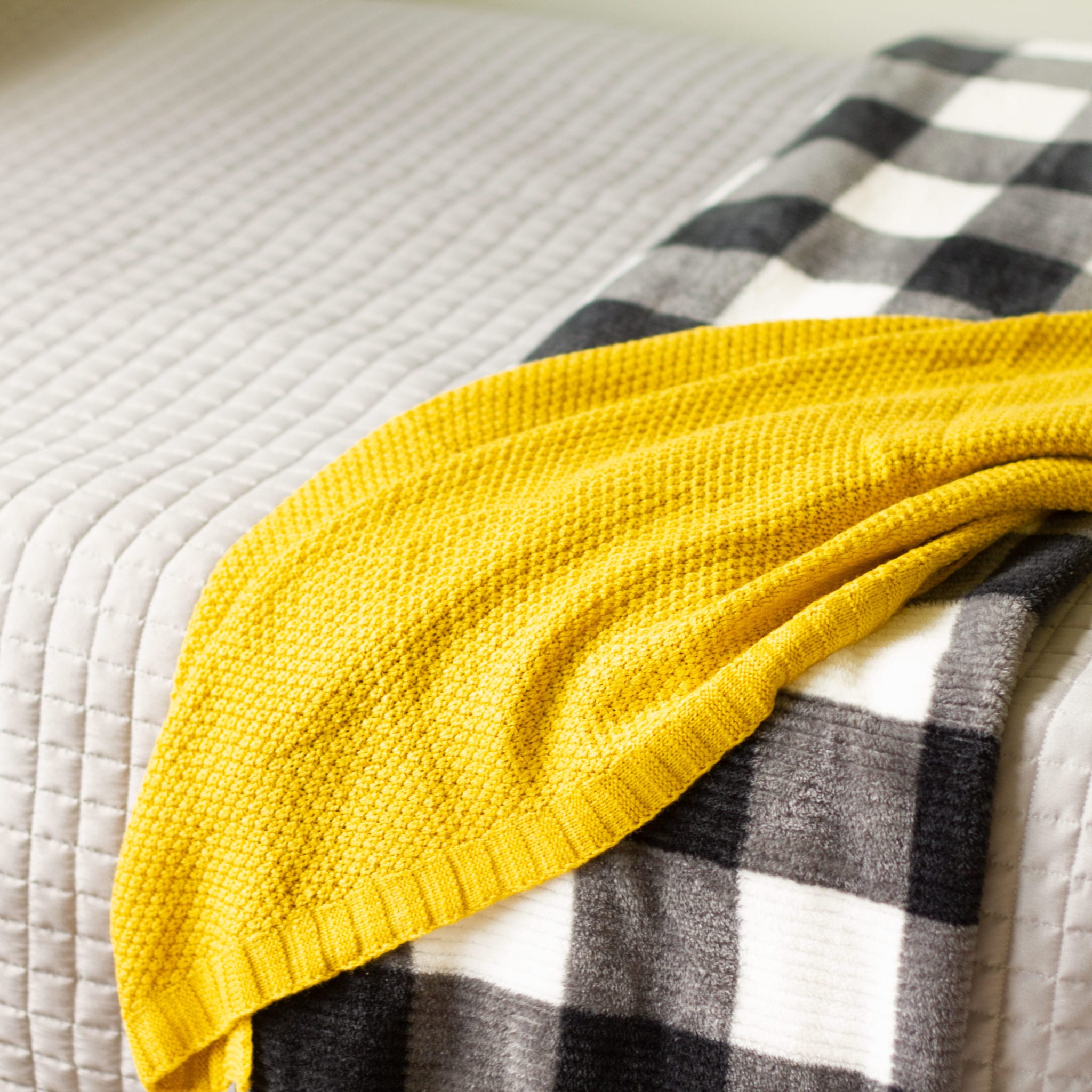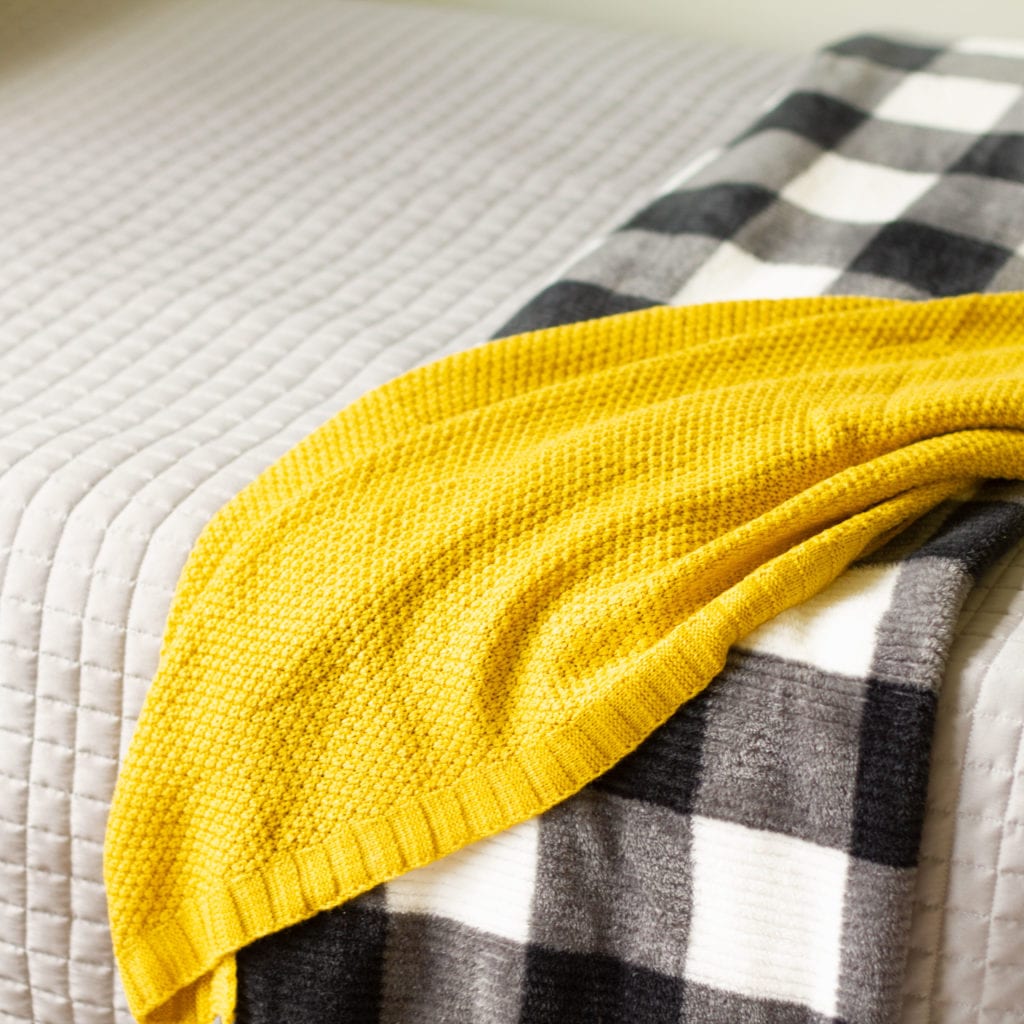 I also wanted to add some layers to the bedding so I bought a buffalo check blanket and folded it at the bottom of the bed. Then I bought a small yellow knitted baby blanket to add a pop of color! Adding extra elements to the bed really adds interest to the room.
The pillows were a big bang for my buck! The yellow pillows were from Ikea so they were only $3.99! And the buffalo check pillows were about the same price!
Boys Bedroom Budget Decor Ideas
I went really simple with the decor in my boy's room. I go some of my husband's old sports trophies and spray painted them! I already had the spray paint so it didn't cost me a thing! I just love how they turned out and they make a big impact for only a few minutes of my time. If you don't have old trophies lying around, check your local thrift shop!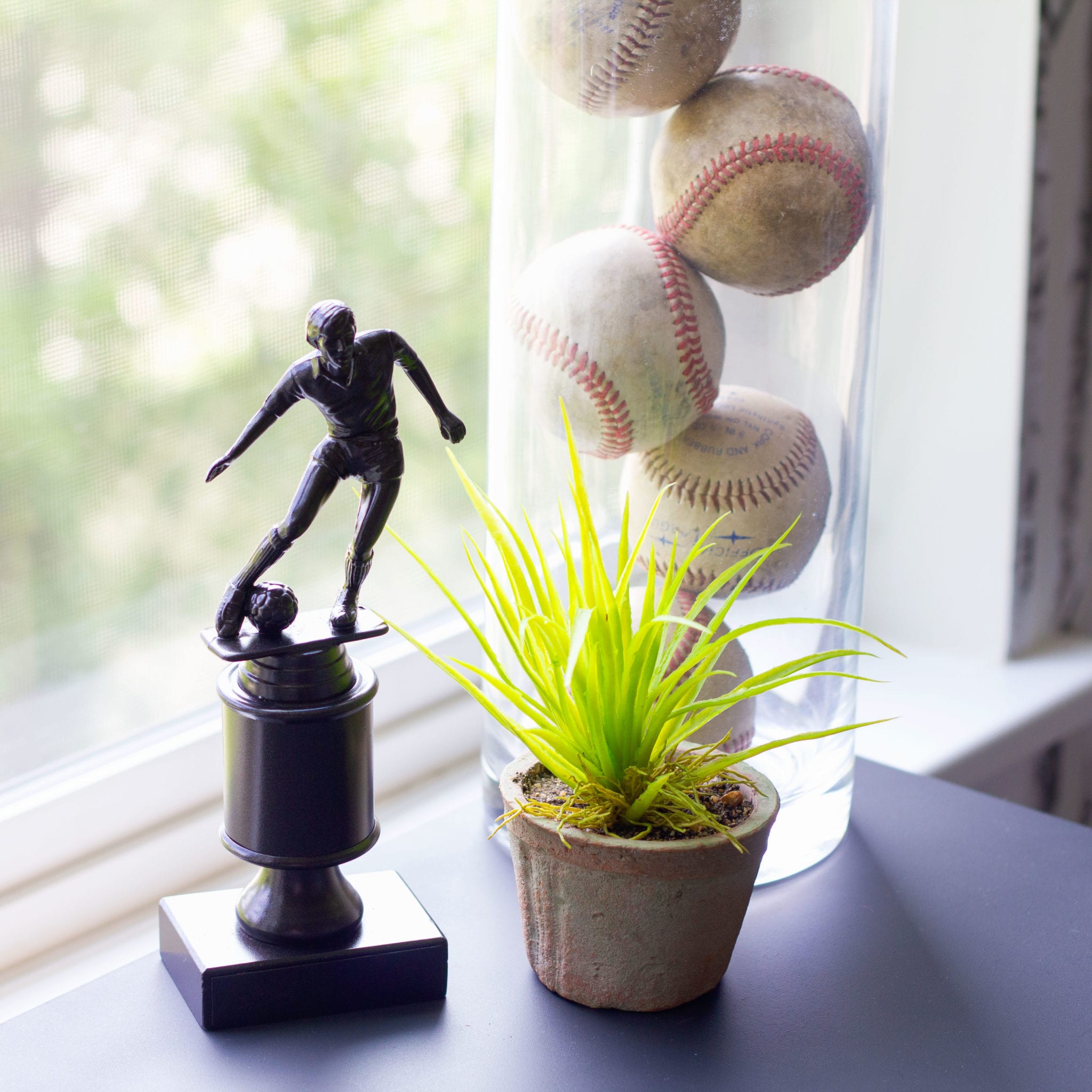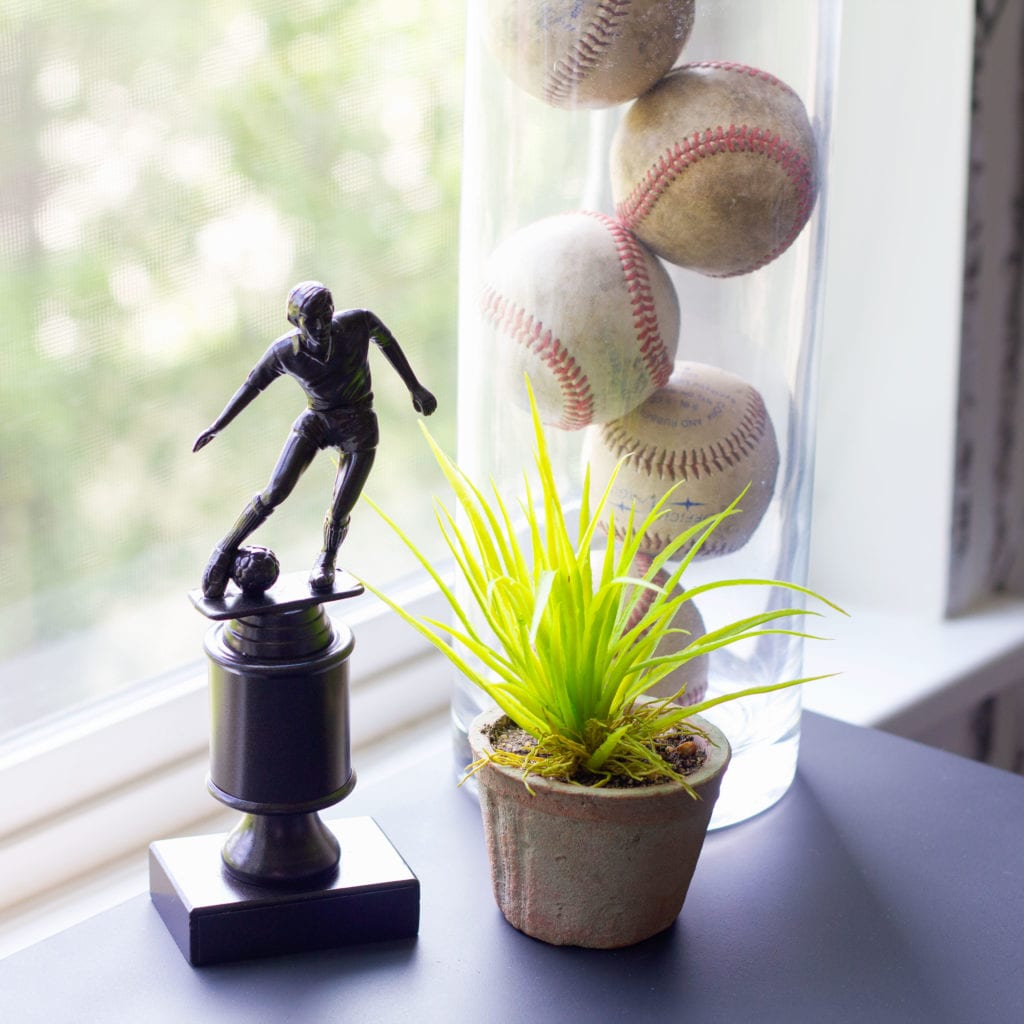 We made this super simple, super cheap DIY Rope Shelf. It cost us about $10!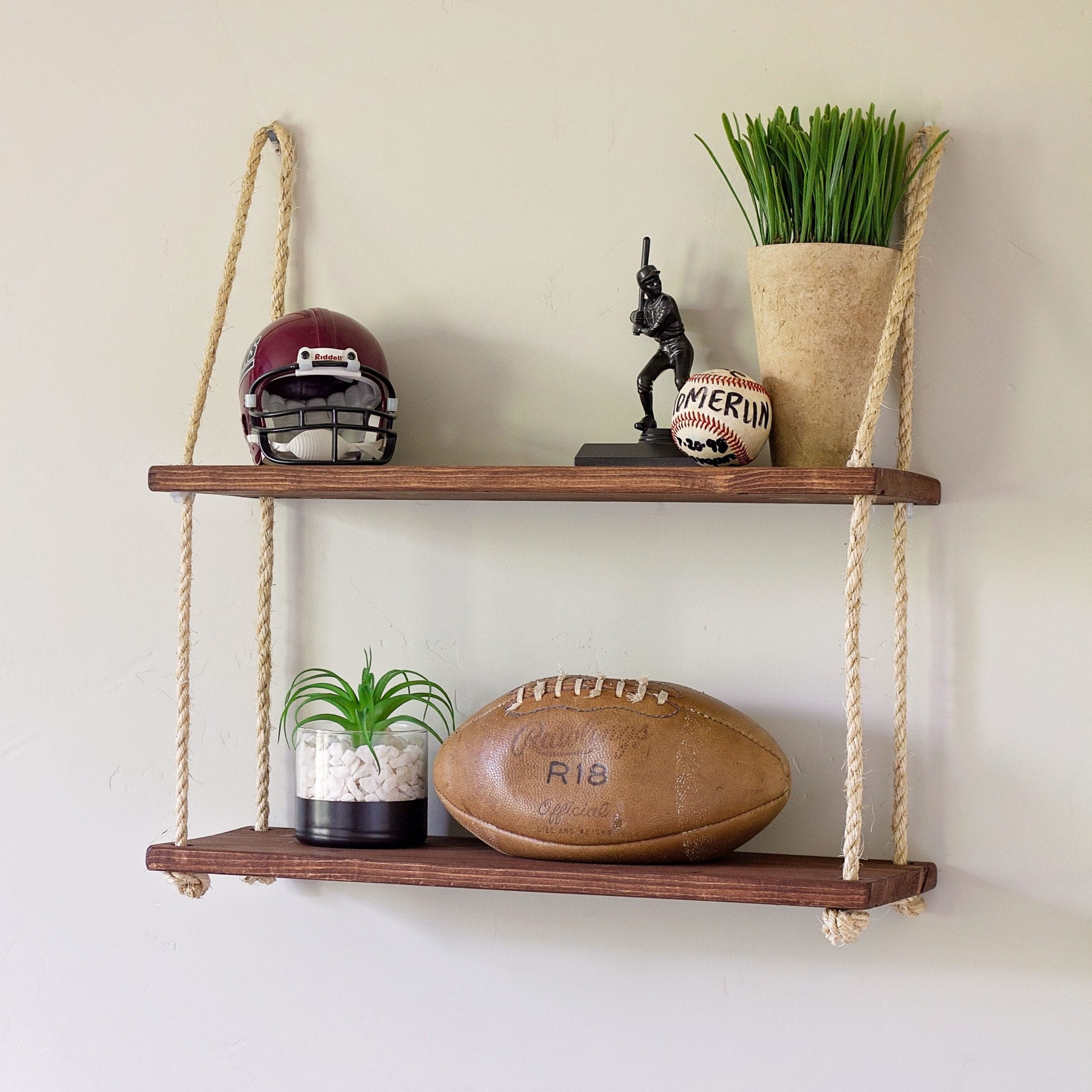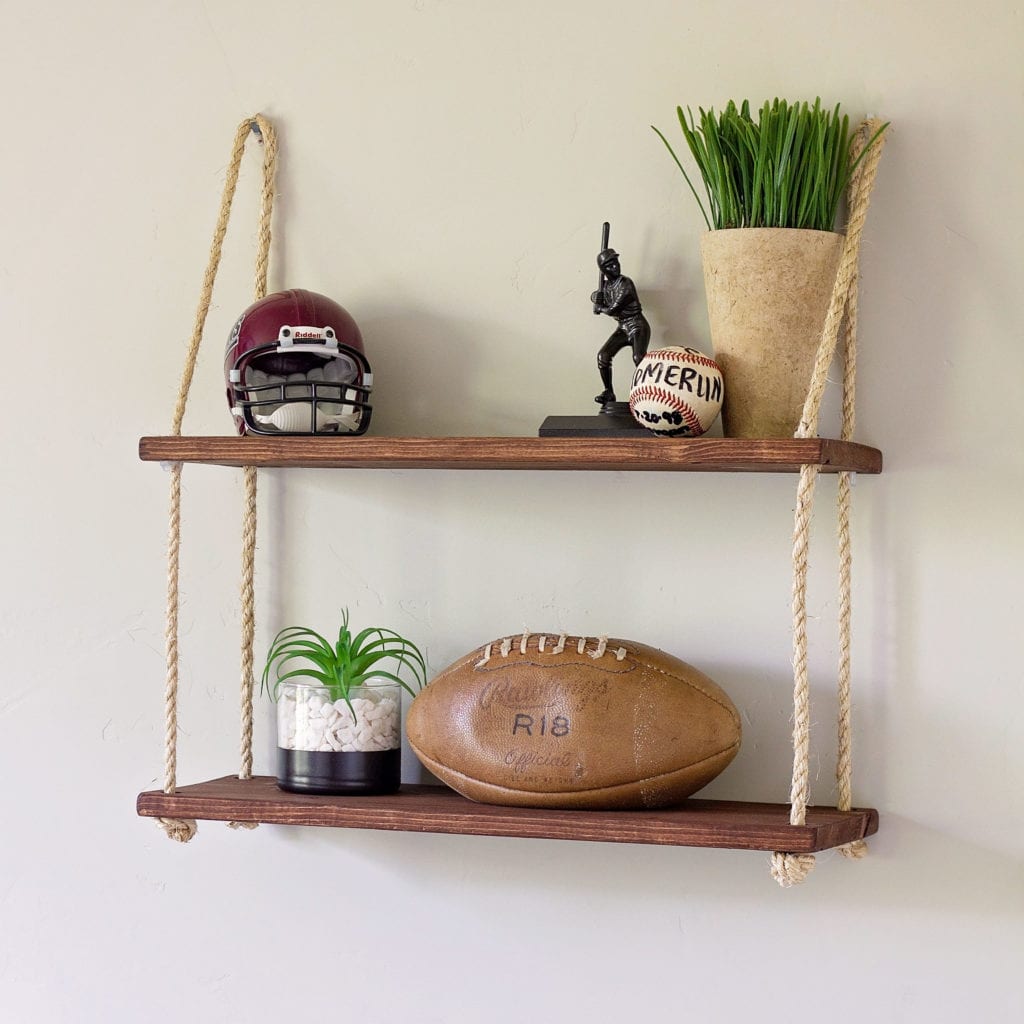 If I ever feel like something is 'missing' as I am decorating, it's usually greenery! For the planter in this picture below, I used a old Bath and Body Works Candle (that I cleaned out, of course). I taped the glass and spray painted the bottom half of the glass with the same spray paint that I used on the trophies. Then I added in white rocks and a succulent that I got from Dollar Tree!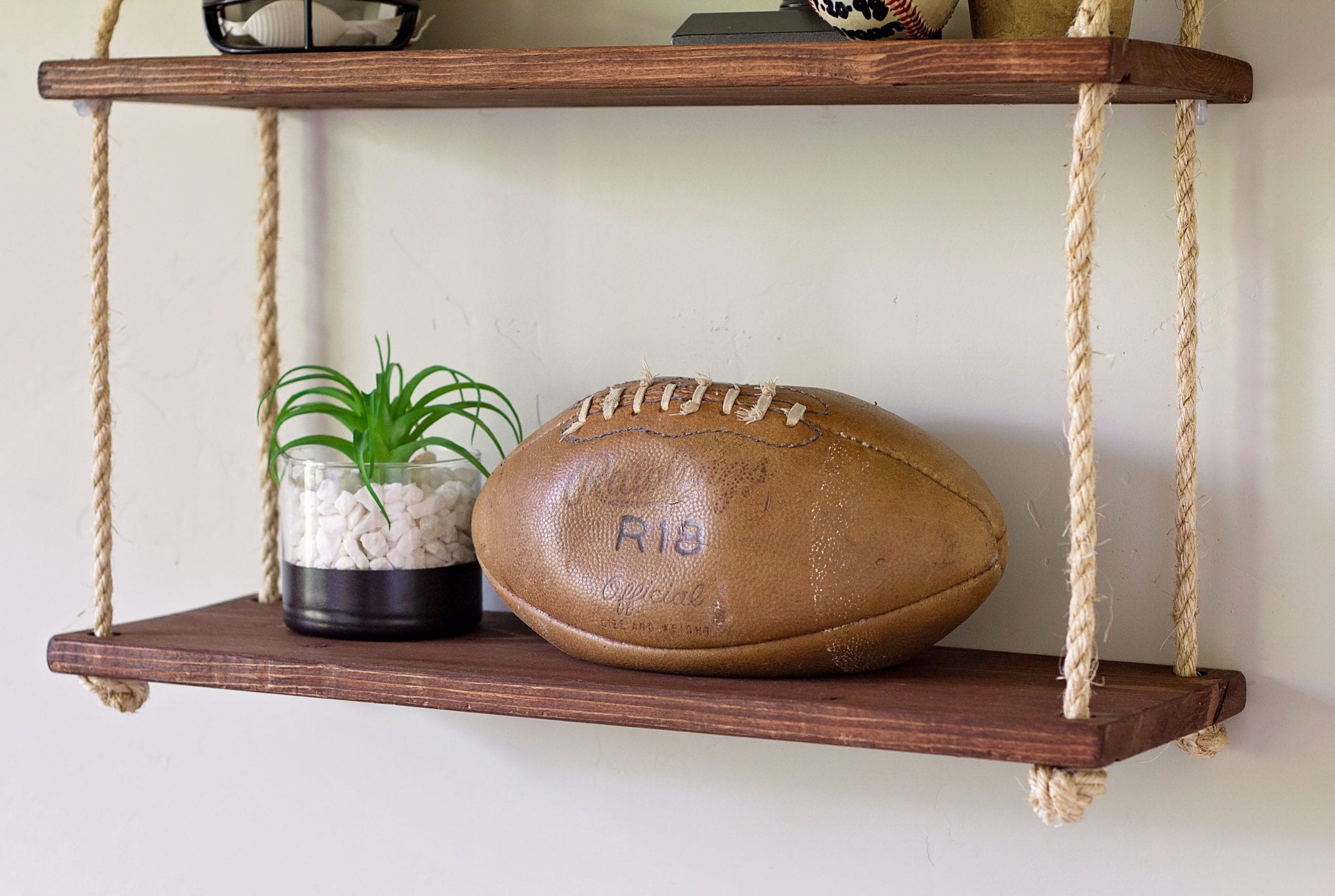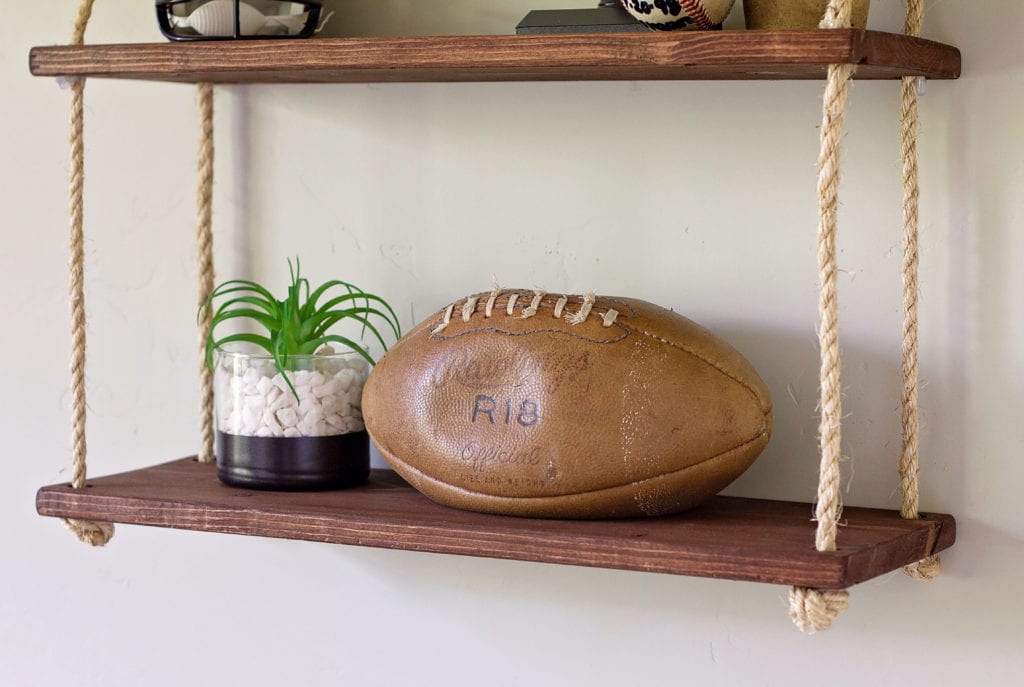 Blanket Storage
As you can see, I LOVE blankets for my family. So I was looking for a stylish storage solution that would be easy for my boys to upkeep. I found this really cute rope basket on Amazon that works just perfectly! It's surprisingly big and can hold at least 2 big blankets.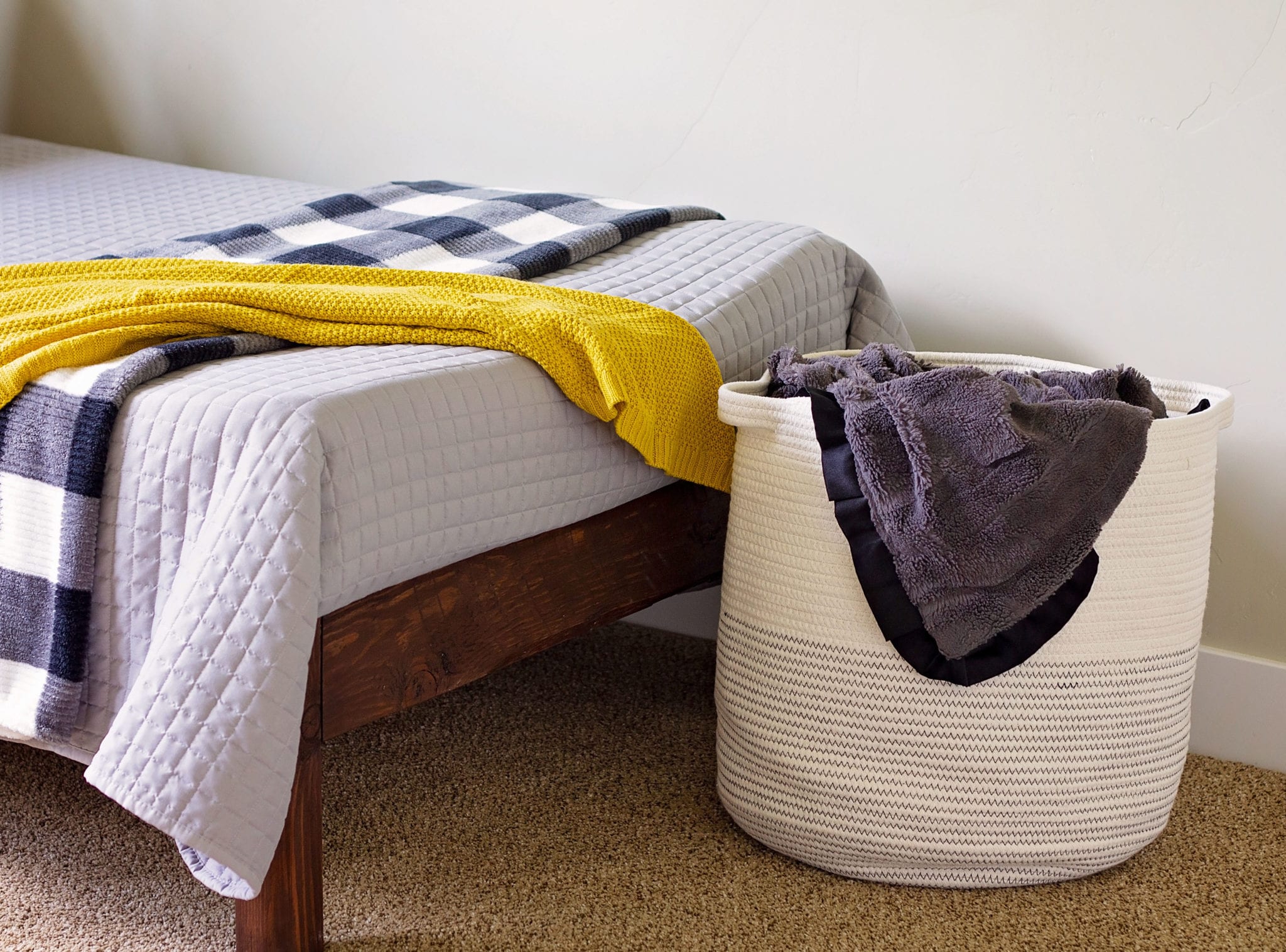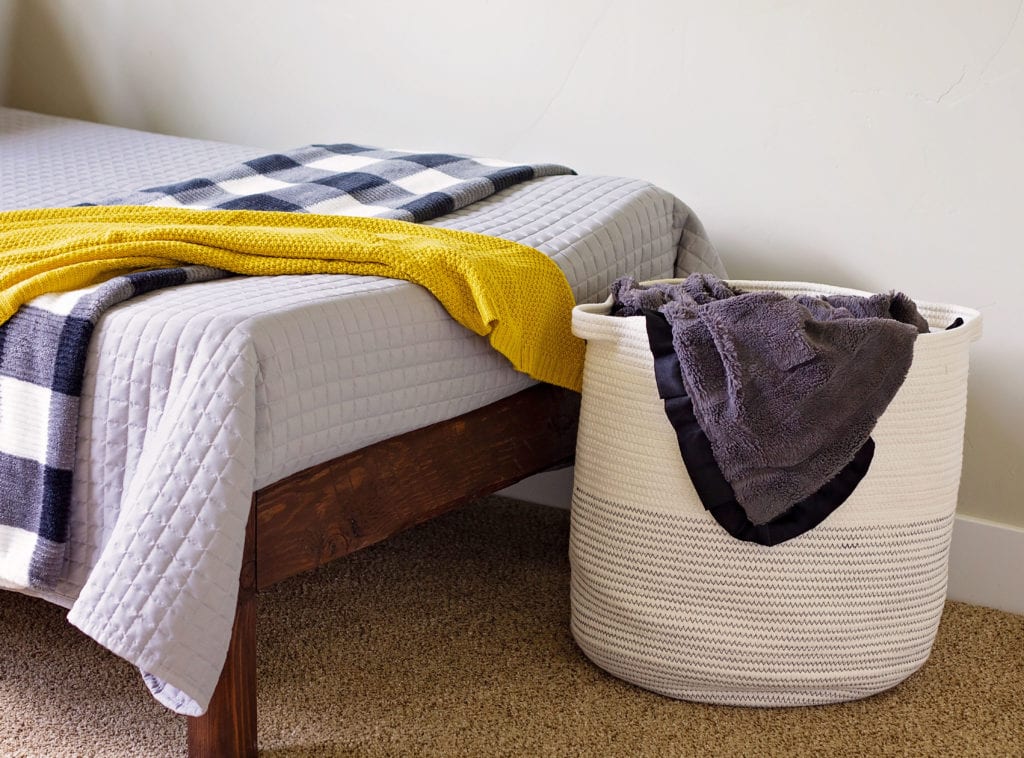 I hope that I have given you some fun budget-friendly boys bedroom ideas that will inspire you to implement some easy changes in your decor! If you are looking for more great tips, check out this awesome article: The Ultimate Guide to Design a Fun, Functional Kids Playroom at Home.