How to Build a Fall Capsule Wardrobe: Fun and Stylish Outfits for the Season
The leaves are changing color, the weather is getting cooler, and that can only mean one thing: it's time to start thinking about our fall wardrobes! A fall capsule wardrobe is a great way to get ready for the season. This means purchasing pieces that can be used in a variety of different outfits, so you don't have to waste time trying to put together looks.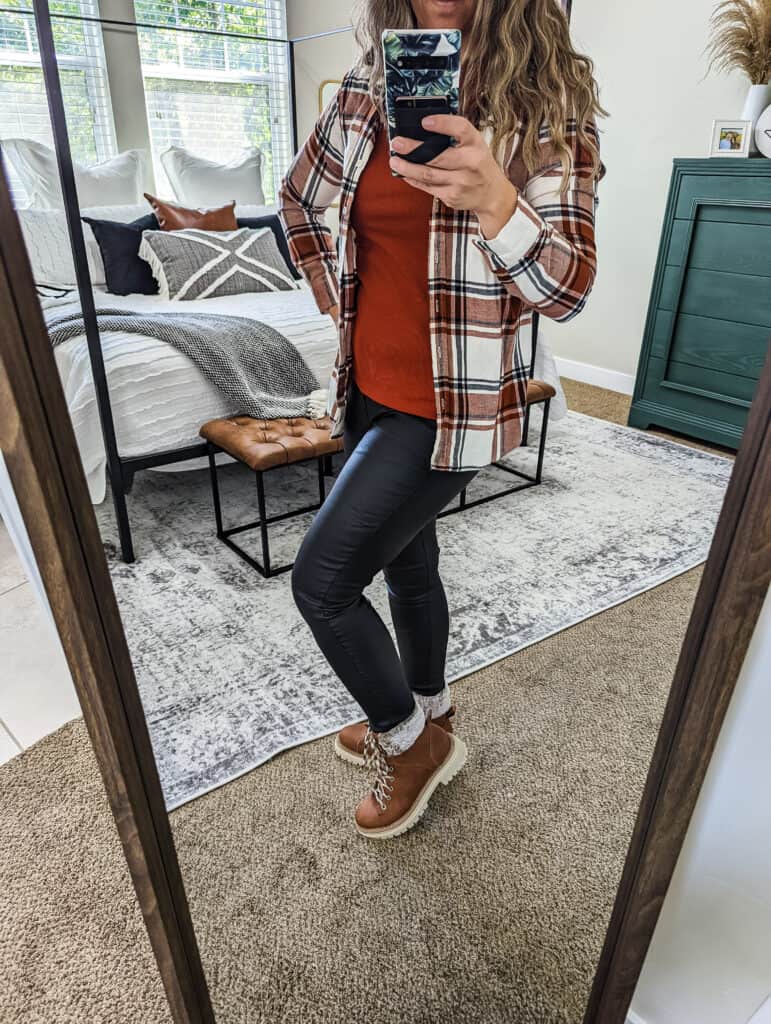 In this blog post, we will give you some tips on how to build your own fall capsule wardrobe. We'll also share some of our favorite outfit ideas for the season!
Why do you need a fall capsule wardrobe?
A fall capsule wardrobe is essential for a few reasons. First, it will save you time and money. If you can purchase pieces that can be used in multiple outfits, you won't have to waste time or money trying to find new pieces to wear all the time.
Second, a capsule wardrobe is perfect for busy ladies who don't have a lot of time to figure out what they're going to wear.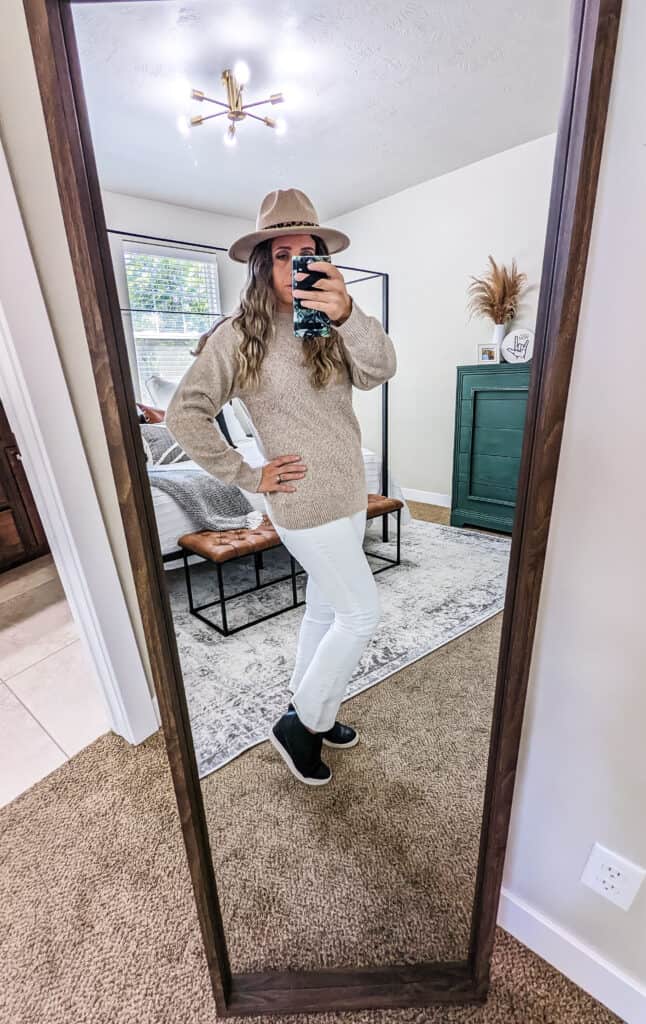 Third, a fall capsule wardrobe gives you endless outfit combinations that generally all look great together. This is the perfect way to have some great fall styles.
Generally speaking, it's great to pick a few versatile pieces in neutral colors. This will allow you to mix and match some colorful pieces while allowing everything to look cohesive. Don't be afraid to spend a little bit more money on these versatile pieces that can last you for years.
Tops
It's great to build your fall capsule wardrobe with pieces that will ebb and flow with the season. As the fall season progresses, it gets colder so it's important to build a capsule wardrobe that allows you to add layers as needed.
There are a few wardrobe staples that are great transitional pieces. These include a button-down shirt, a vest, a jean jacket, or a blazer. You also need to take into consideration what you'll actually wear. I'm a mom of 3 kids so a blazer is never something that I invest in because I simply don't have anywhere to wear it.
Vest
A vest is one of those pieces that can be worn a million different ways. You can layer it over a button-down shirt, a t-shirt, or even a dress. I like to wear mine with skinny jeans and ankle boots.
Button Down Shacket or Shirt
A button-down shirt is another great transitional piece. You can wear it alone with jeans or shorts on warmer fall days. You can even tie it around your waist if the weather outside is warm enough. I love styling my button-down shirts this way with my graphic T-shirts so that you can see the tee better.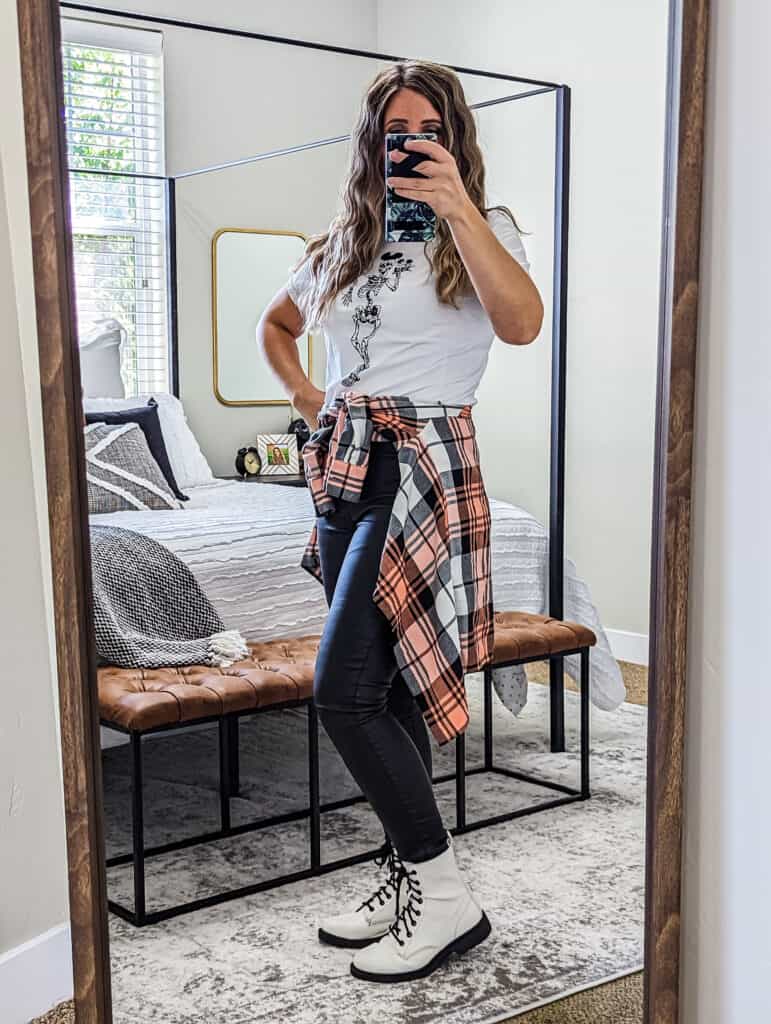 It's fun to be able to use the plaid button-down shirts with some boots for a nice casual style. A fall capsule wardrobe isn't complete without some plaid!

Graphic T-Shirts
Graphic T-shirts are always in style, and they are a great way to show off your personality. I like to wear mine with denim shorts in the summer, and then layer them under jackets and sweaters in the fall. These are must-have items for your fall capsule wardrobe.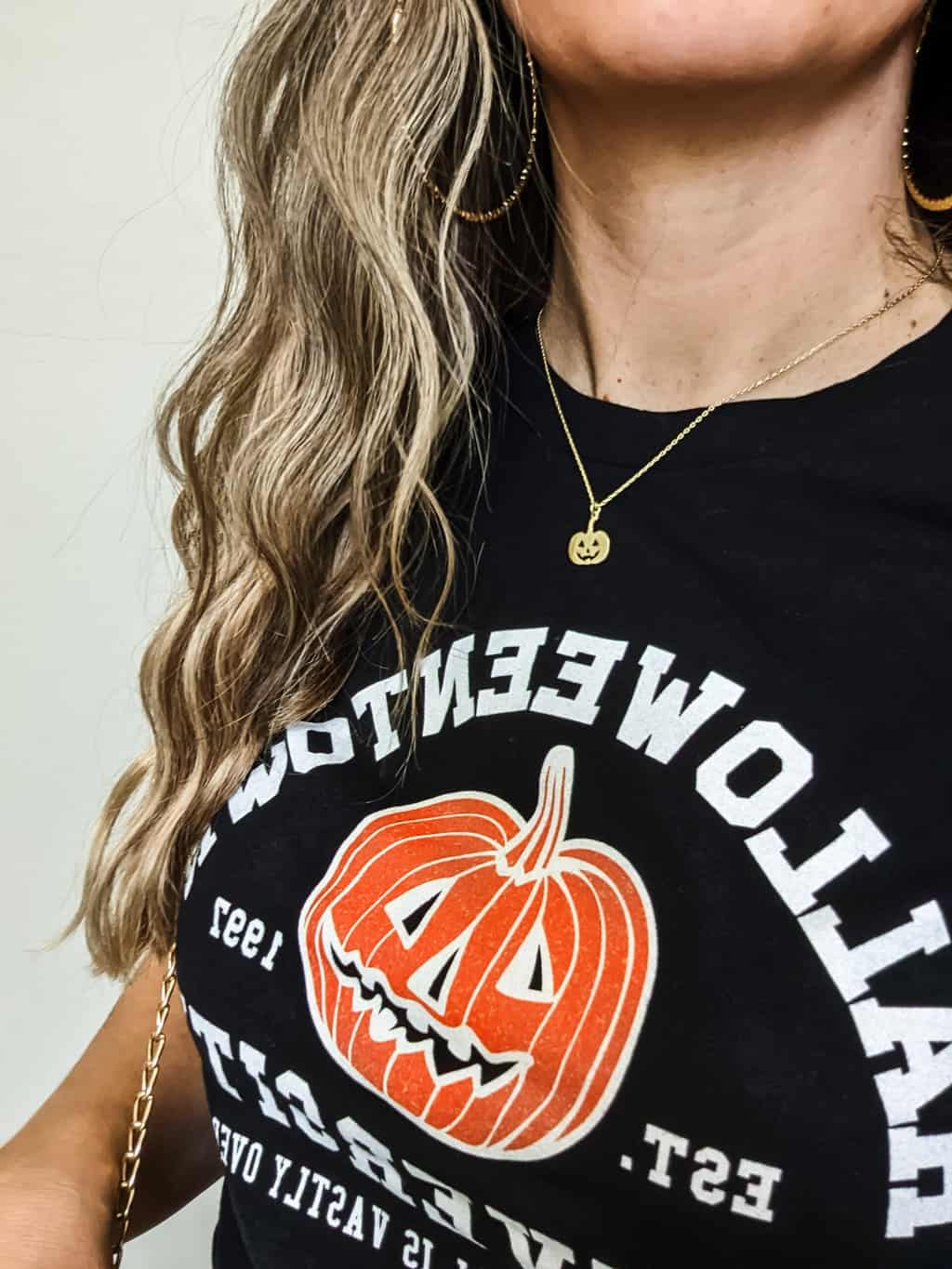 I am completely obsessed with Halloween so I have some darling Halloween graphic T-shirts that I'm super excited to wear this season. They go perfectly with my plaid shirts and a pair of jeans. It's a great casual look that I reach for often.
SHOP MY FAVE HALLOWEEN TEES

Sweater
A sweater is a must-have for any fall capsule wardrobe. You can dress them up or down, just by changing out your jeans and jewelry. I like to keep my sweaters neutral so they go with everything.
Lots of people like to wear a sweater dress, but personally, my legs get too cold and it's not my personal style! But a sweater dress is always another option for your capsule wardrobe.
Basic T-Shirts
You can never have too many basic t-shirts in your wardrobe. They are perfect for layering under sweaters and jackets or wearing on their own with a pair of jeans. They even go great with a baseball hat when you're headed out to support your team (or in my case, my kids!)
Neutral Long Sleeve Top
A neutral-colored long-sleeve top (such as white, tan, or black) pairs really great with a button-down shirt, jacket, or vest! I like to keep one of these in my capsule wardrobe so I always have something to layer with.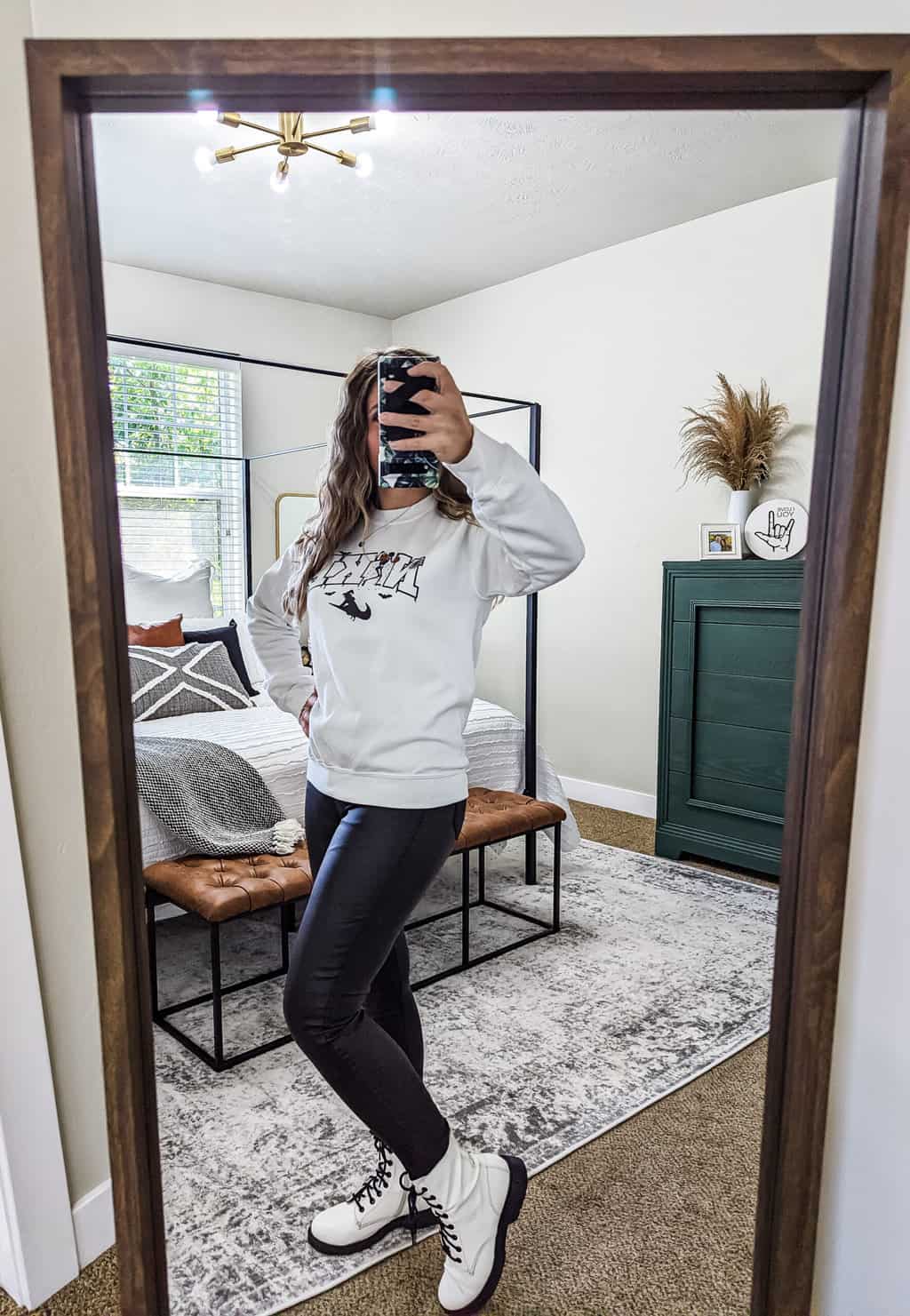 Sweatshirts
Everyone loves a sweatshirt…so why not have a few! I really wanted to have a few Halloween sweatshirts this year to complete my fall capsule wardrobe. They are perfect for those comfy days when the weather is gloomy and you want to stay inside. Or they pair really great with some faux leather pants and some combat boots for when you are out running errands.
SHOP MY FAVE HALLOWEEN SWEATSHIRT

A Light Jacket
It's always a great idea to add a light jacket to your fall capsule wardrobe. It can be something as simple as a denim jacket or a bomber jacket. This is perfect for those days when it's not quite cold enough for a coat but you still need an extra layer.
Jackets (or shackets!) are a great layering piece!
Bottoms
Pants are one of those areas where I choose to occasionally splurge on some pants. I've learned that if my pants are not comfortable, I will not wear them at all!
So it's worth it to me to spend a little bit of extra money on a brand of jeans that is truly comfortable and doesn't feel restricting. I really love jeans from Express! They are a bit more expensive but they will last for years and you can use them for many fall seasons to come.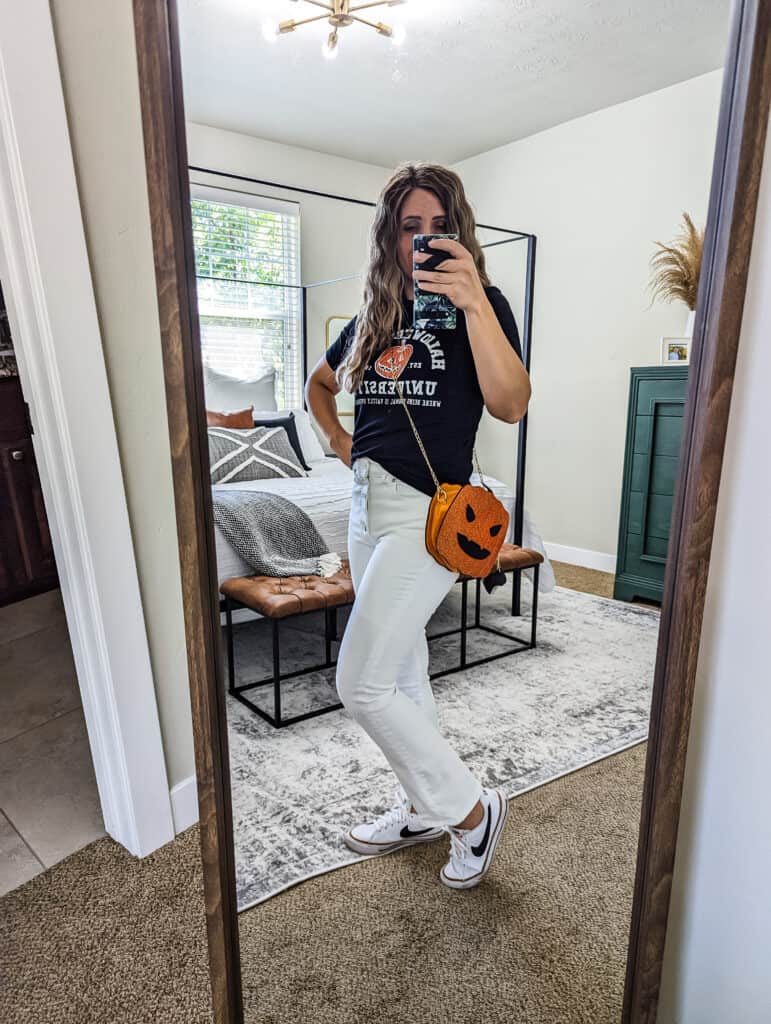 Versatile Pants
I also like to have a couple of pairs of versatile pants that can be dressed up or down.
Some of my favorites are black leggings, jeggings, and even joggers. You can find all of these at Express as well! I'll often pair them with a cute top and some jewelry for a more dressed up look.
Vintage Wash Jeans
Vintage wash jeans are another great option for fall.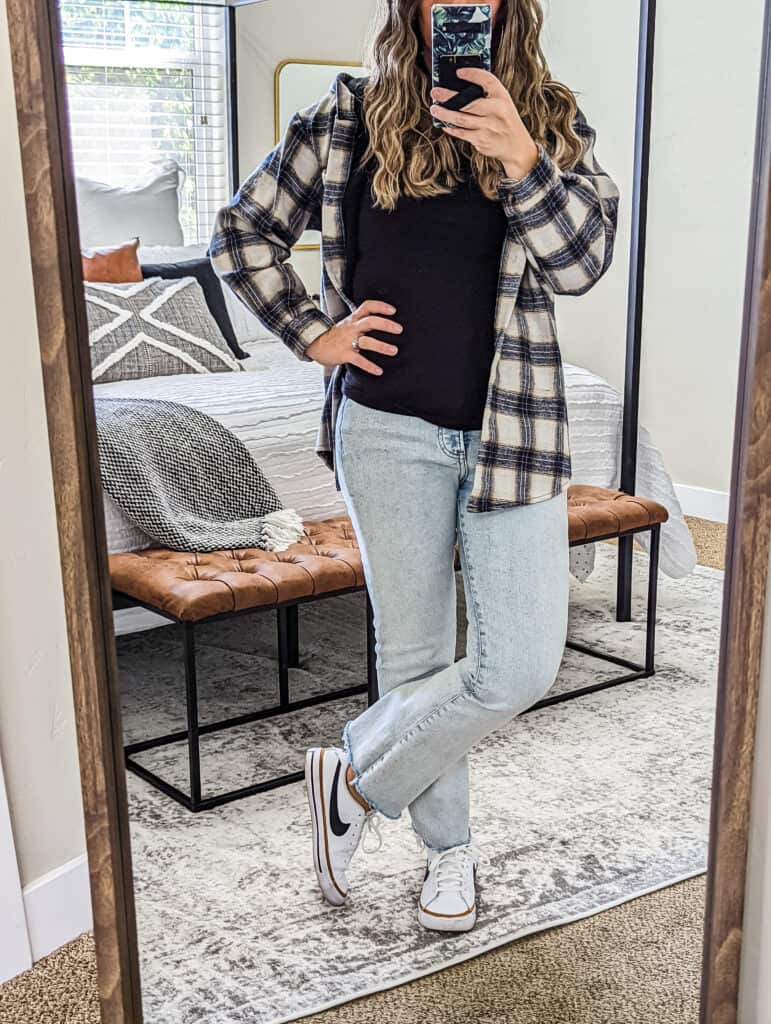 They tend to be a little bit more relaxed fit and they have that lived-in look which I love. You can find these at any retailer, but my favorites are from American Eagle.
Black Jeans or Flare Leggings
Black jeans are a staple for any fall capsule wardrobe. They literally match everything so they help you save money over the years.
Go grab a pair that you genuinely love. They work for date night, girls night, and can even be dressed down for running errands. Plus, getting a pair that you love will help you prevent an overstuffed closet!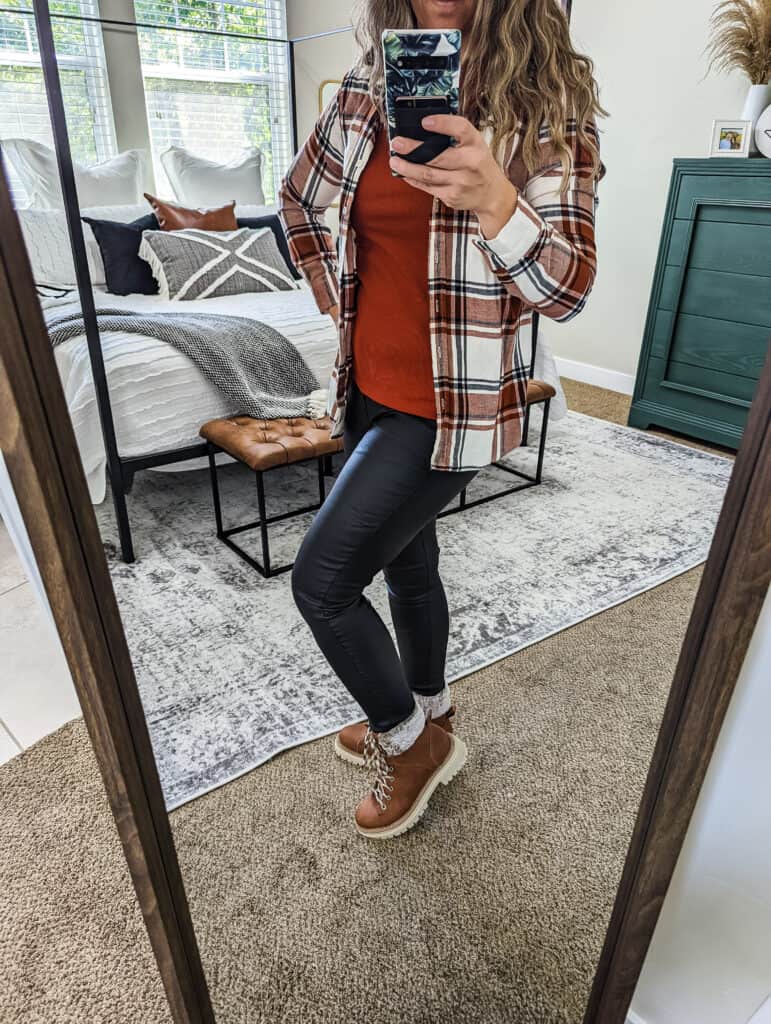 If you don't love black jeans, try a pair of flare leggings instead! They are just as versatile and will keep you comfortable all day long. Flare pants are really coming in strong so these are a safe bet and you'll be able to wear them for years.
Not to mention that black makes you look more skinny!
White Jeans
White jeans are similar to black jeans in that they are versatile and can be dressed up or down. They are perfect for any fall activities you have planned like apple picking, a day at the pumpkin patch, or a football game.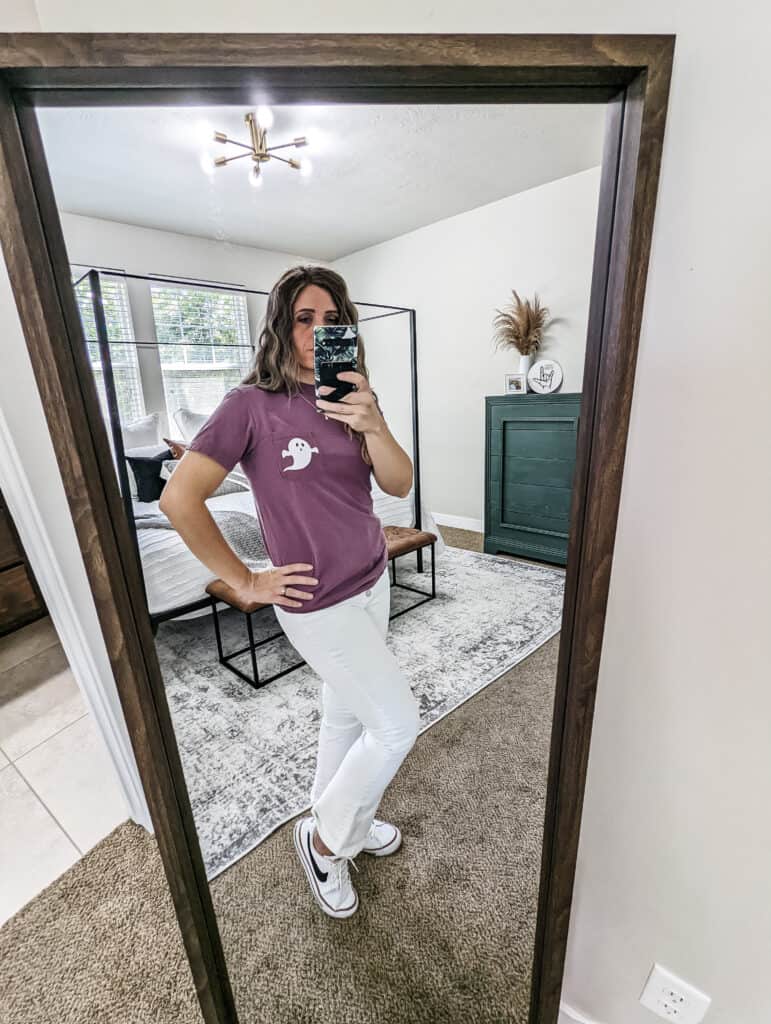 Shoes
Summertime often leaves most people sticking to just a few pairs of sandals. But when it comes to fall style, there are so many more options! That can make it a bit more complicated when putting together your fall capsule wardrobe but we're here to help!
You can still get away with wearing your summertime favorites like slides and mules, but you can also add in some new styles like ankle boots, knee-high boots, and over-the-knee boots.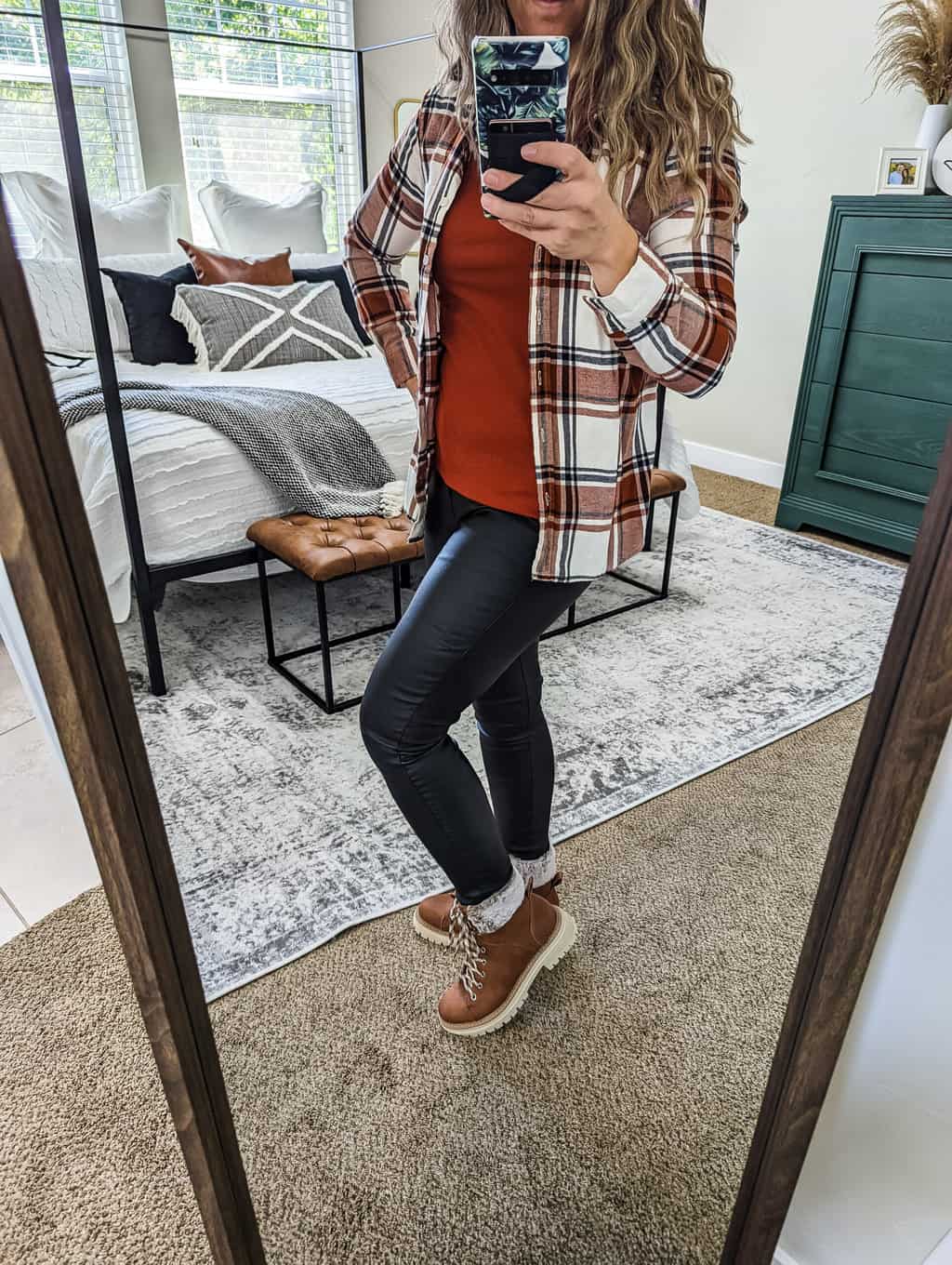 Sneakers
Sneakers are always a great go-to shoe, no matter the season. But they are especially handy in the fall when you want to be comfortable but also stylish.
Try pairing your casual sneakers with a cute dress or skirt and a denim jacket for a casual but put-together look. Or wear them with joggers or jeans and a cozy sweater when you're running errands. Sneakers are a must-have item for your fall capsule wardrobe.
Flat Ankle Boots
Boots are another essential for fall. You can find them in a variety of styles, from ankle boots to knee-high boots. Choose a style that you love and will be comfortable wearing all day long.
I always prefer boots without a heel because they are more comfortable. These are a must-have in any capsule wardrobe for fall!
Heeled Boots
Whenever you add a heel to a shoe, it adds a dressy element. So, if you're looking to dress up a casual outfit, add a pair of heeled boots. Just be sure that you can walk in them comfortably.
Pairing heeled boots with jeans is always a good idea. You can also wear them with tights and a dress or skirt.
Hiker Boots
Some of my very favorite boots that I always include in my fall capsule wardrobe are hiker boots. I love the way they look and they are so comfortable. They also pair well with everything from jeans to dresses.

Fall Accessories
Accesscories such as scarves, hats, and jewelry can really help to pull an outfit together. I always make sure to have a few key accessories that I can mix and match with different outfits.
Gold Jewelry
One of my favorite fall accessories is some great jewelry. I love how it can dress up anyone's fall capsule wardrobe…even if you're wearing sweats!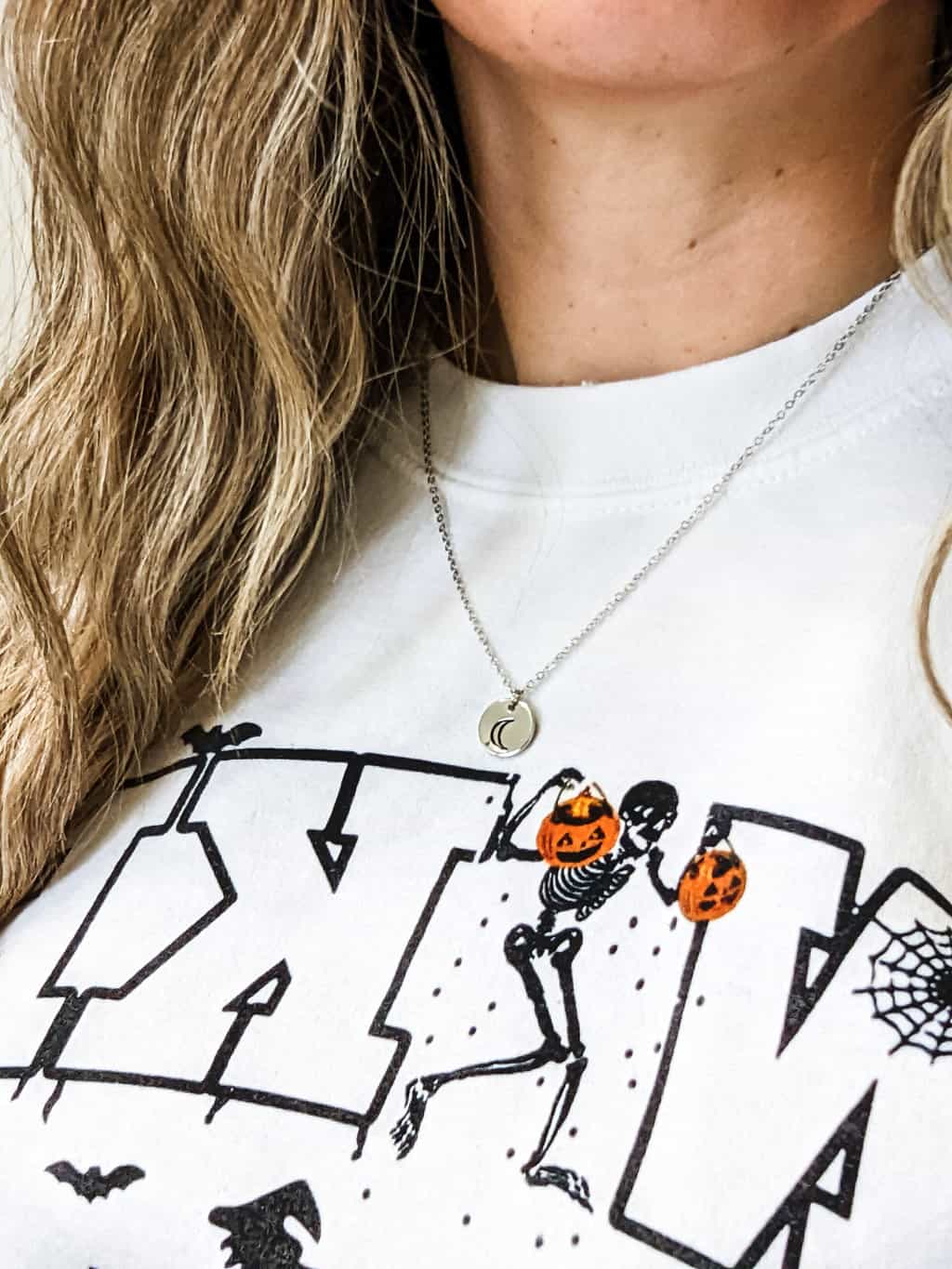 Gold jewelry is such a staple item in a capsule wardrobe and you just can't go without it! I love gold layering necklaces the most. This is another area where I prefer to splurge a little bit for a quality piece that will last you for years versus constantly buying cheap jewelry that wears away.
I would say that gold layering necklaces are at the very top of my capsule wardrobe list.
SHOP MY FAVE HALLOWEEN JEWELRY

Sunglasses
Even though the sun isn't as strong in the fall, you'll still want to have a great pair of sunglasses to protect your eyes. I prefer aviators because they go with everything and never go out of style, which makes them perfect for a capsule wardrobe!
I would say that my favorite thing about aviator sunglasses is that they can be worn with any type of outfit. Whether you are running errands or going out for a date night.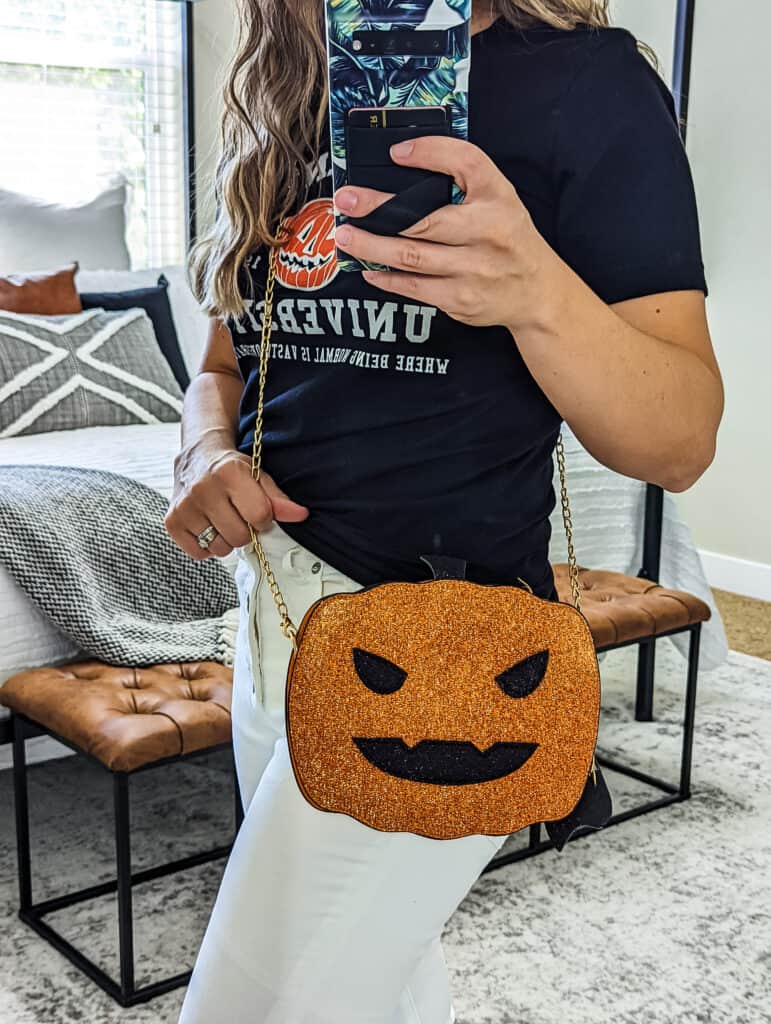 Tote Bag
It seems like there are tons of great tote bags on the market right now, which makes it easy to find one that fits your style perfectly. Look for a tote bag that has multiple compartments so you can easily organize everything you need to carry with you. I also love tote bags because they can double as a diaper bag if you have little ones!
Tote bags can really complement many different outfits in your fall capsule wardrobe.