How to Create a Cozy Fall Patio
Fall is right around the corner, and that means it's time to start decorating for the season! Fall is a time for cozy fires, pumpkin spice everything, and of course, fall celebrations. If you want to get in the autumn spirit, one of the best things you can do is create a cozy fall patio. A few simple changes can make all the difference in your patio's appearance and comfort level.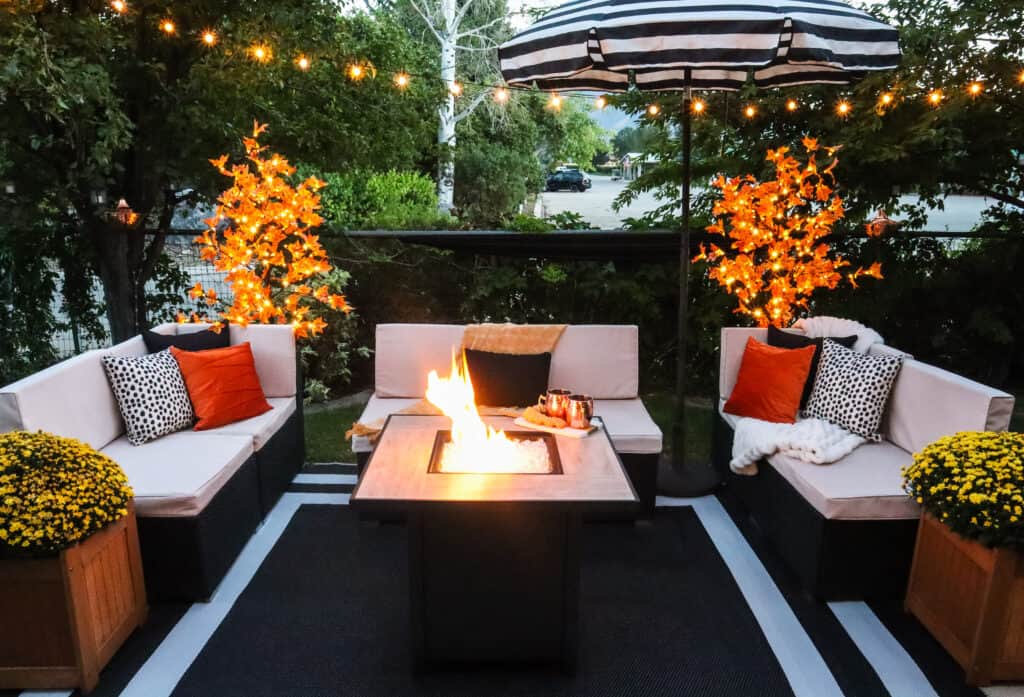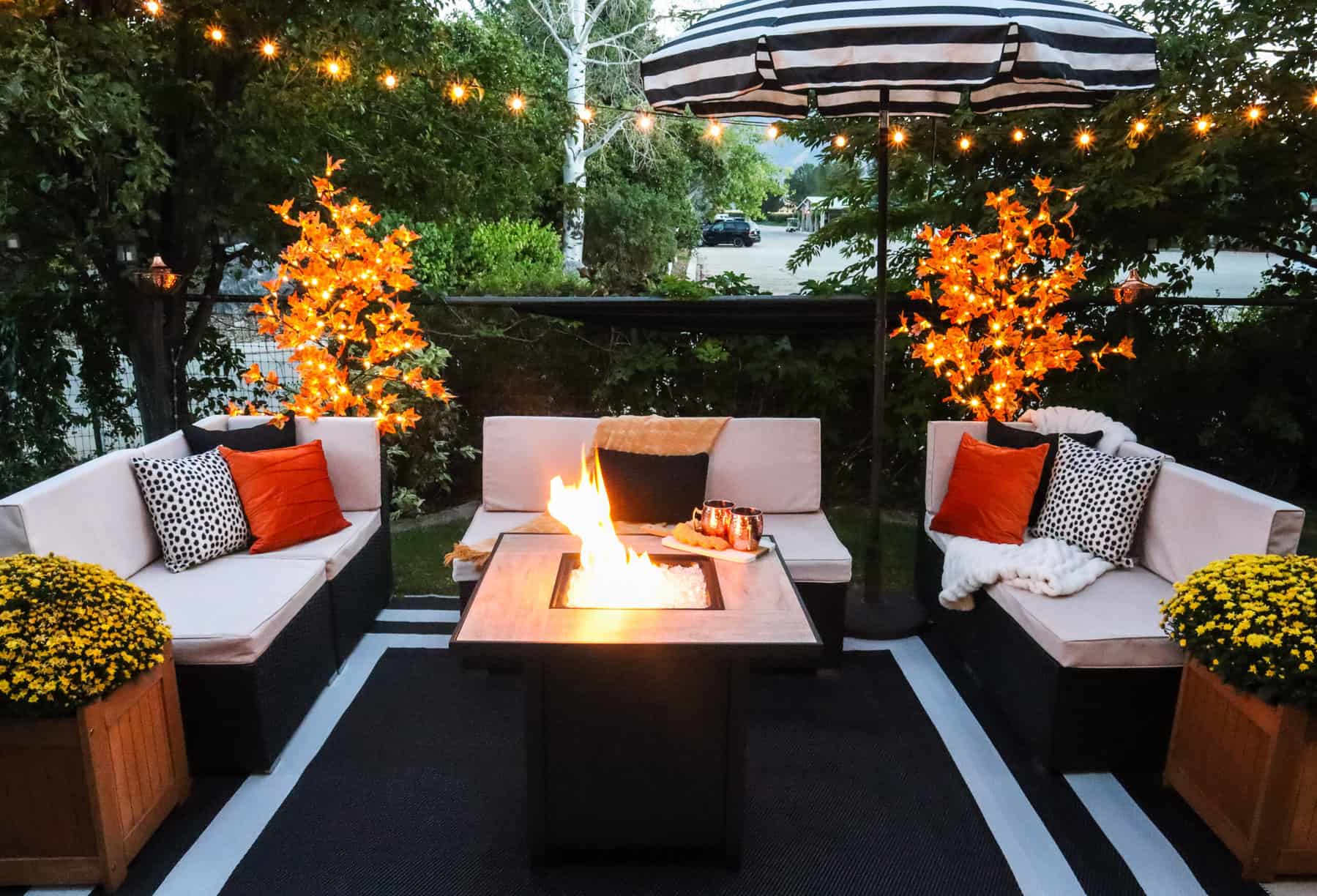 A cozy fall patio is perfect for enjoying the autumn weather. All you need are a few key items, like rugs, pillows, and planters. With just a little bit of effort, you can turn your outdoor space into a place where you love spending time!
How to Create a Cozy Autumn Patio
As temperatures dip and we head into autumn, it's turning into the perfect patio season!
Depending on where you live, you may have already been enjoying some outdoor living and now you get to just extend patio season, but for those in warmer climates who have had to spend the summer inside, it's time to spend the evening outdoors in the cool weather.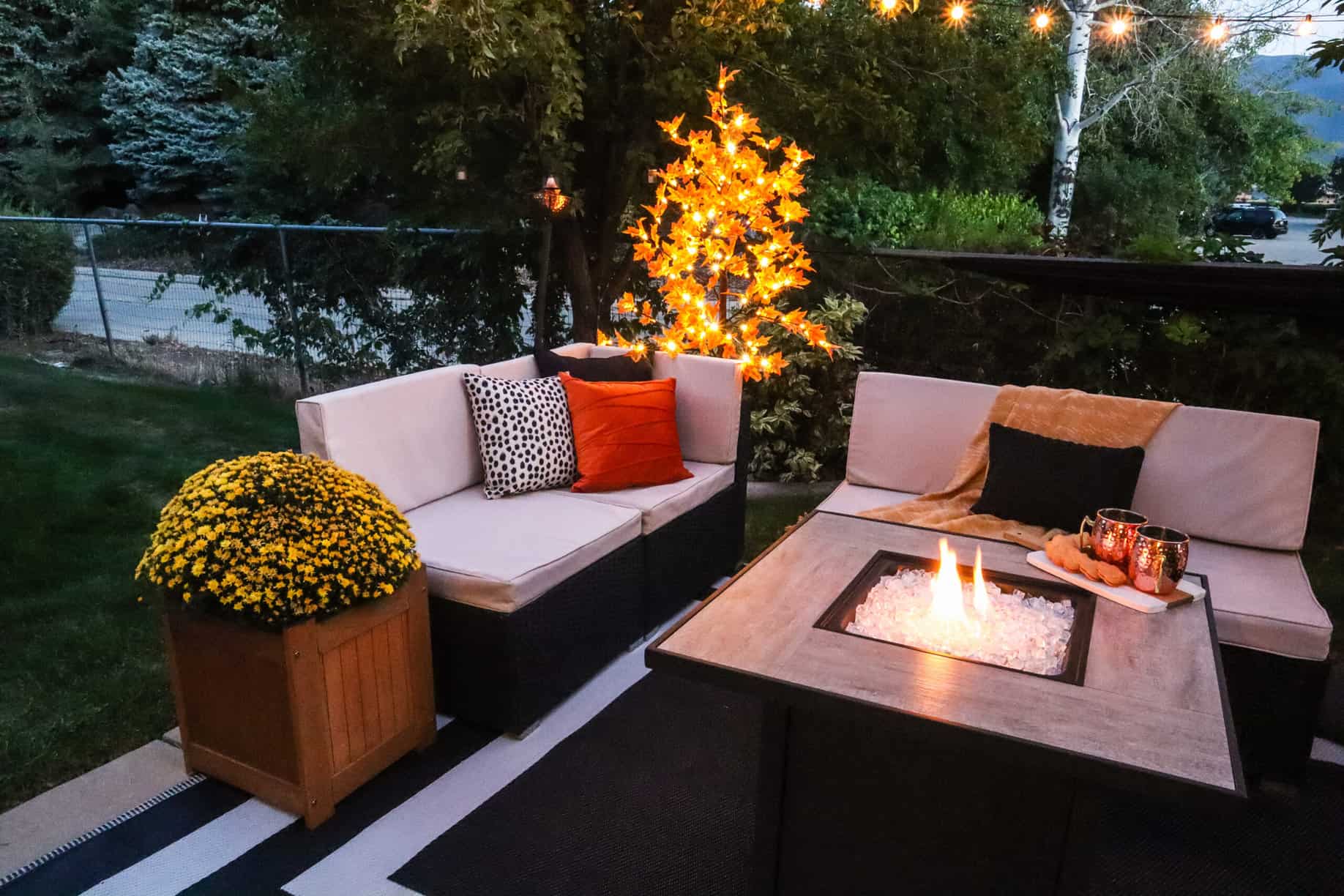 One of the best ways to enjoy the outdoor season of fall is to decorate your outdoor space with cozy fall decor! When your outdoor spaces have a cozy feel, it makes relaxing outside fun and homey.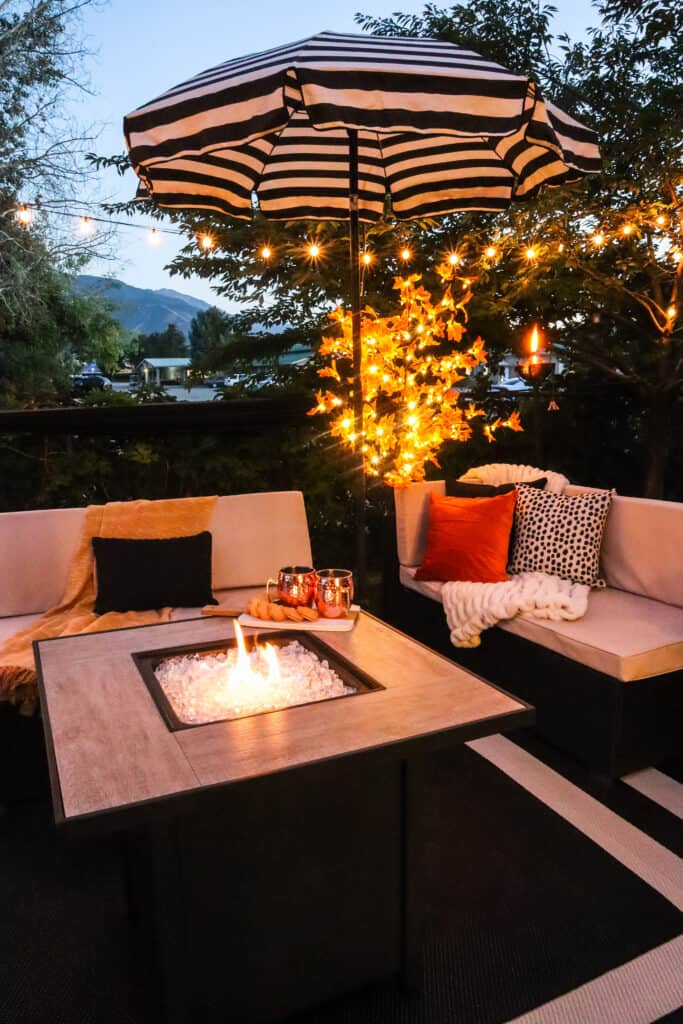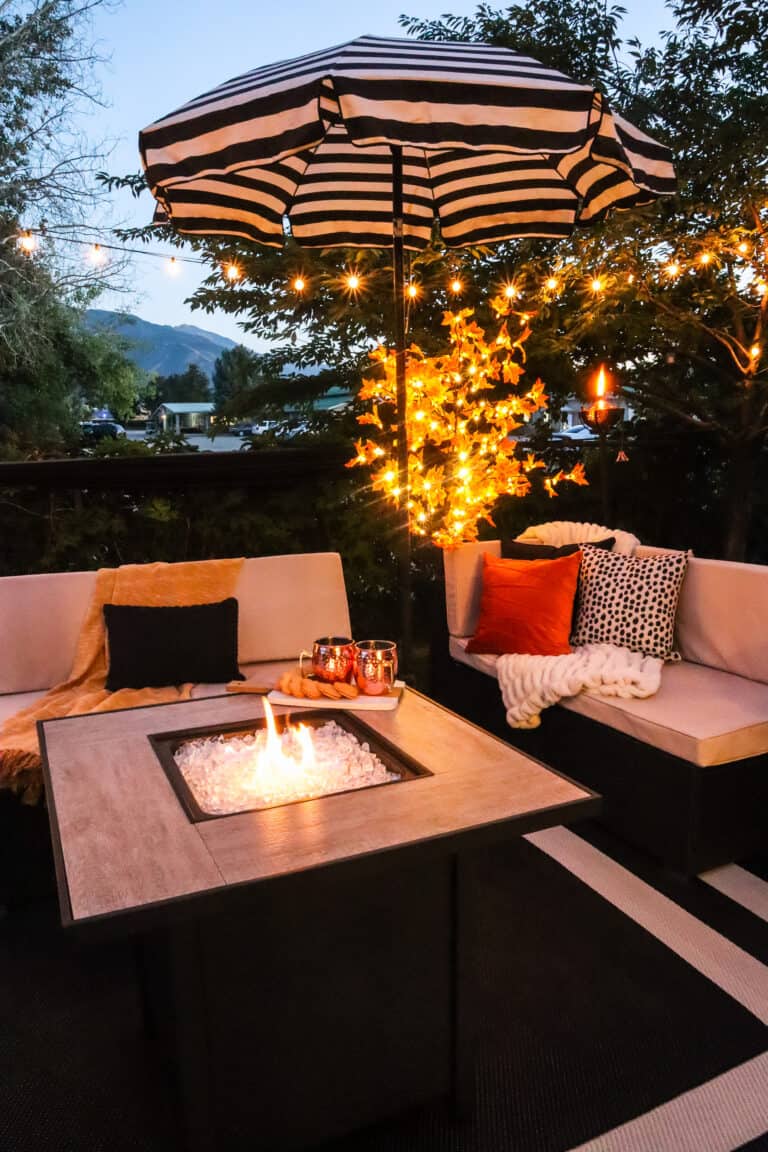 There are a lot of ways to give your outdoor spaces that cozy fall feel we all love, but here are some of my favorite ideas for fall porch decor.
Create a Cozy Seating Arrangement
One of the first things you need to do when you want to create a fall patio (or any patio) is to work on the seating arrangement. No amount of fall porch decor will save your patio space if it's not comfortable!
If you have a patio set, that's great. But if not, don't worry. There are plenty of ways to create a cozy seating arrangement without a lot of furniture. You can use outdoor rugs, floor cushions, and even hay bales to create a comfortable space for people to sit. You can also check on Facebook Marketplace or Craigslist for any used patio furniture that still looks nice!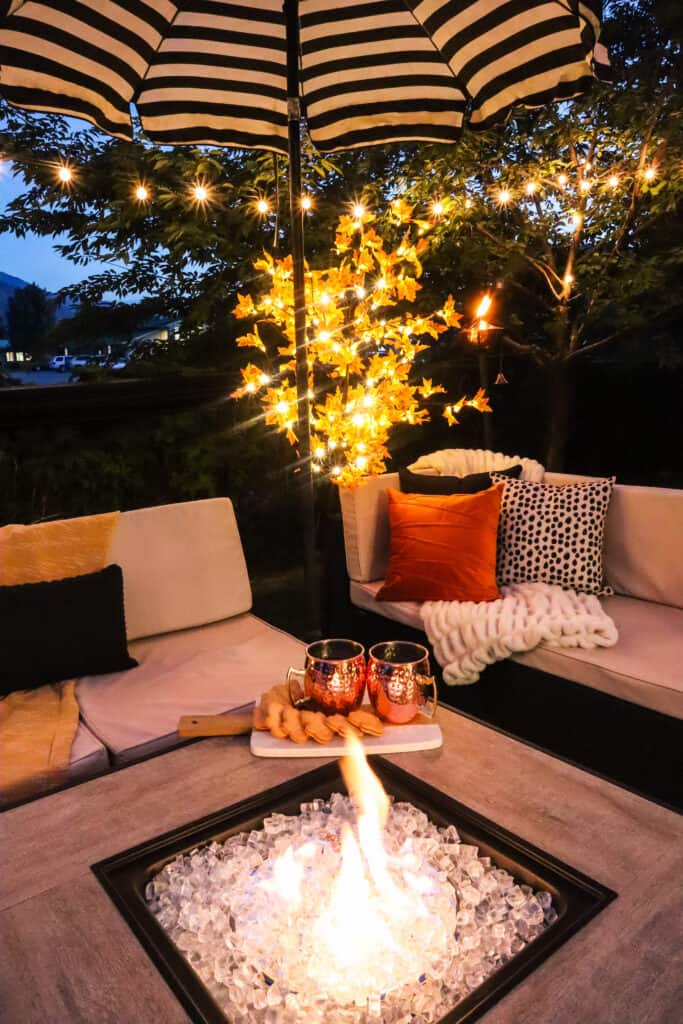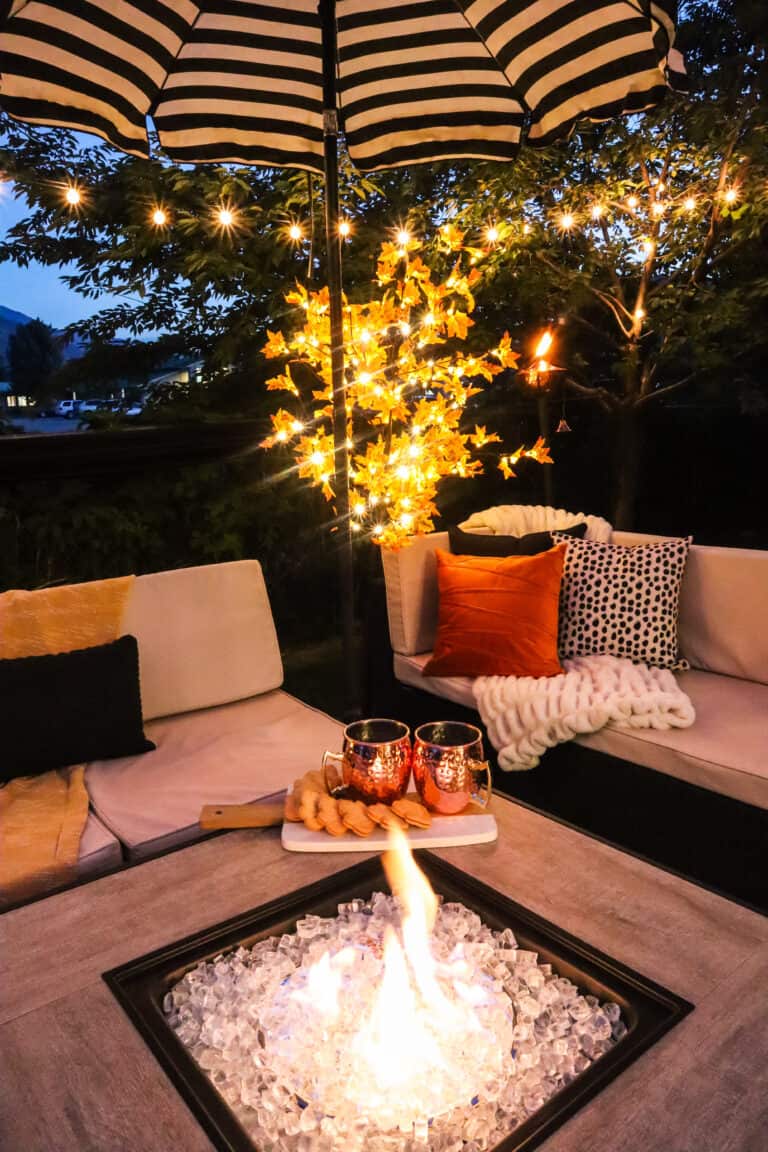 Sectionals or sets with couches and loveseats are perfect for a warm welcome to your porch. They are open and inviting and perfect for hosting autumnal celebrations! I love this rug for under my patio furniture because it makes the porch feel like a cohesive part of the house instead of just a random outdoor area.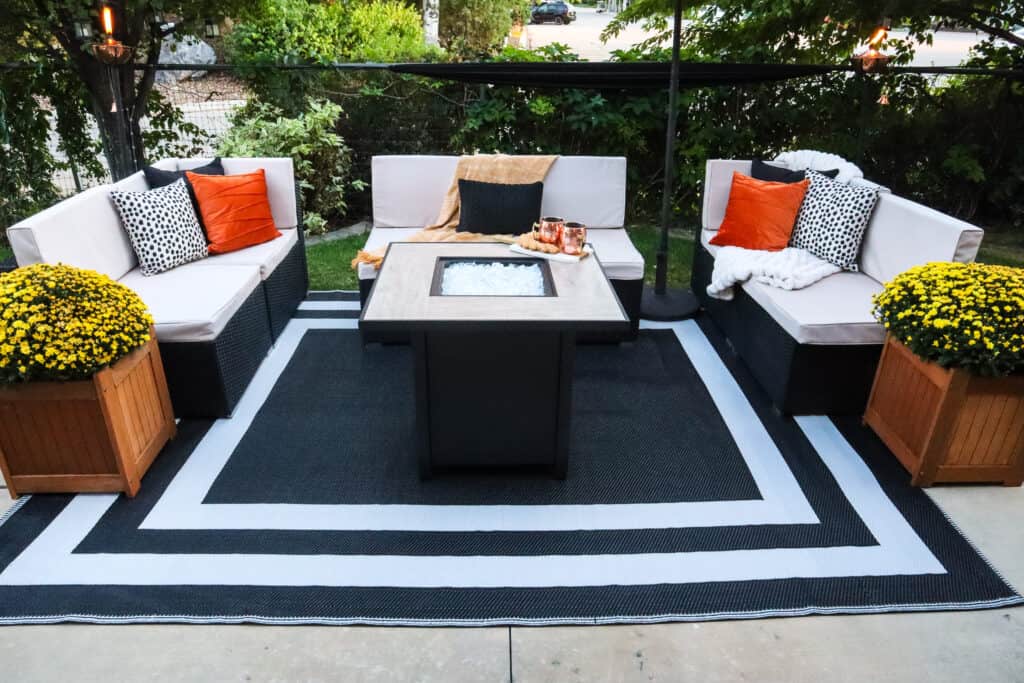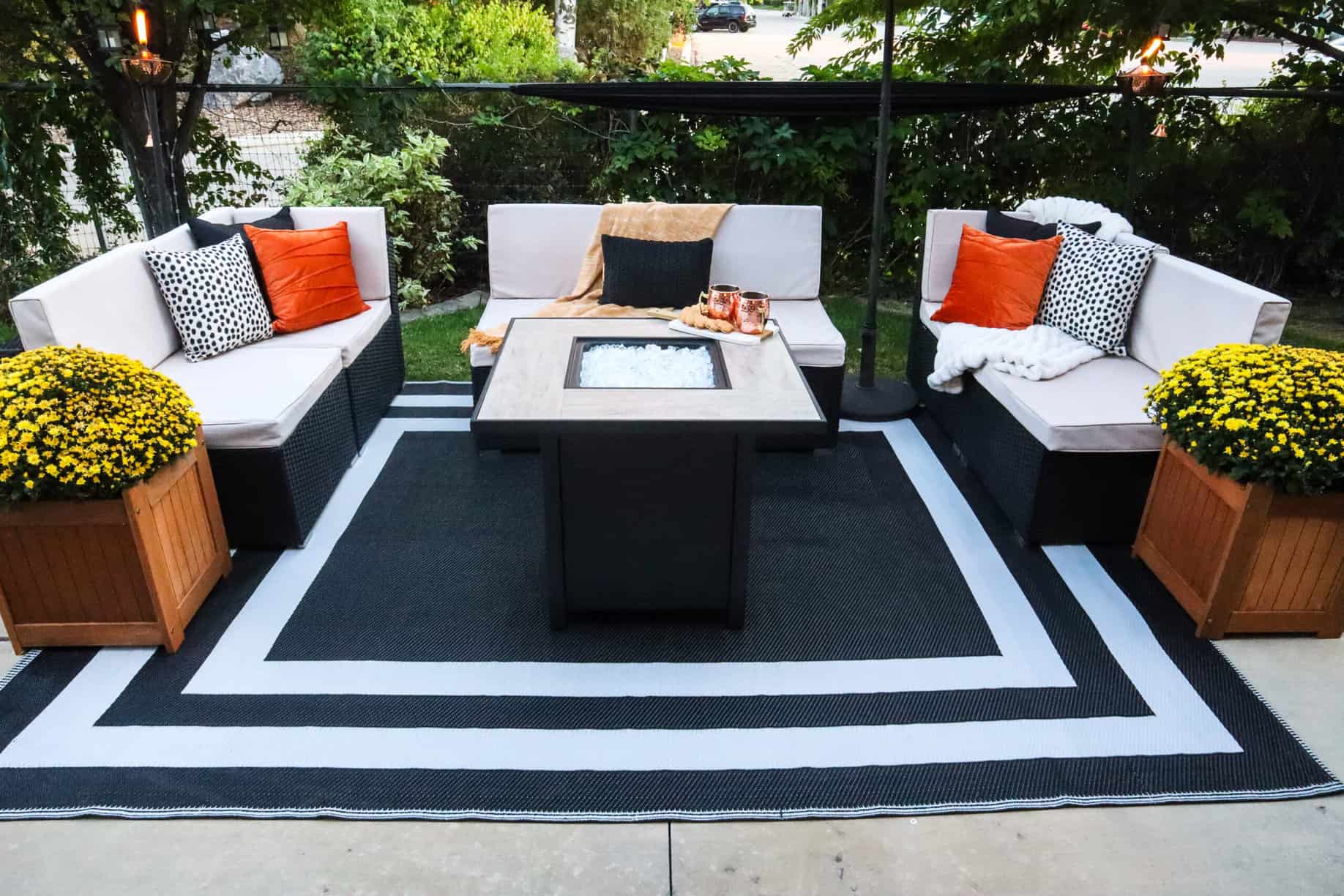 If you have a fire pit, it can be a great idea to arrange some seating around the fire pit. Depending on where your fire pit is, you might want to have seating that is easy to move, so it's not unprotected during the rainy season or cold winter months!
If you're concerned about the open flame, you can always check out this awesome article all about fire pit safety!
Once you work out the seating arrangement in your outdoor space, you'll want to add a few items to your seating area to make it add more warmth and coziness to the deck.

Take Your Seating to the Next Level
Blankets
One great way to turn your porch into an outdoor room of the house is to add blankets to your seats. I love using fall colors for my porch furniture items because it makes it feel more like fall. This throw blanket, for example, is perfect for fall porch decor.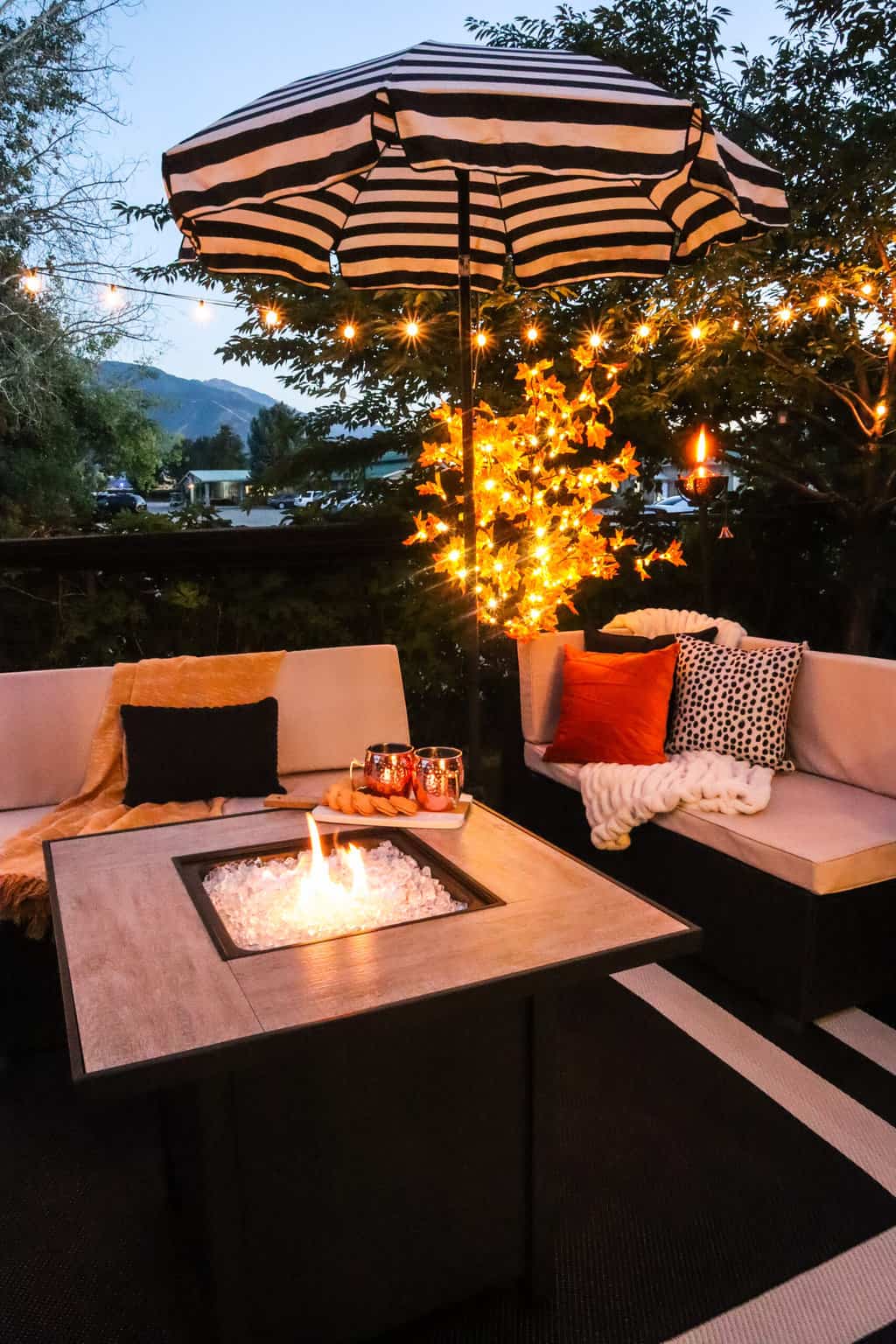 If you're looking for a really plush blanket then this one is my favorite! It is beyond anything you've ever felt! I wouldn't leave this blanket outdoors though…it's too nice to leave out there all the time. But you better believe that I bring it out with me!
Pillows
Pillows are another important part of fall porch decor. These pillow inserts are perfect for the outdoors because they are water-resistant! So not only are they comfortable, but they'll be durable in the autumn weather even if you don't have your seating under a covered area.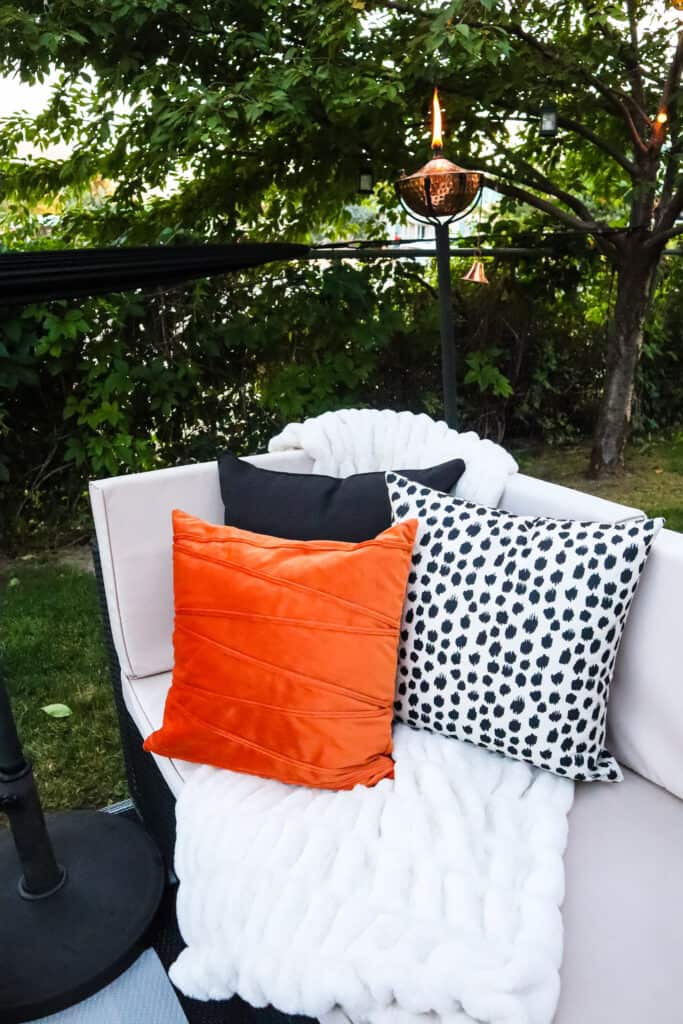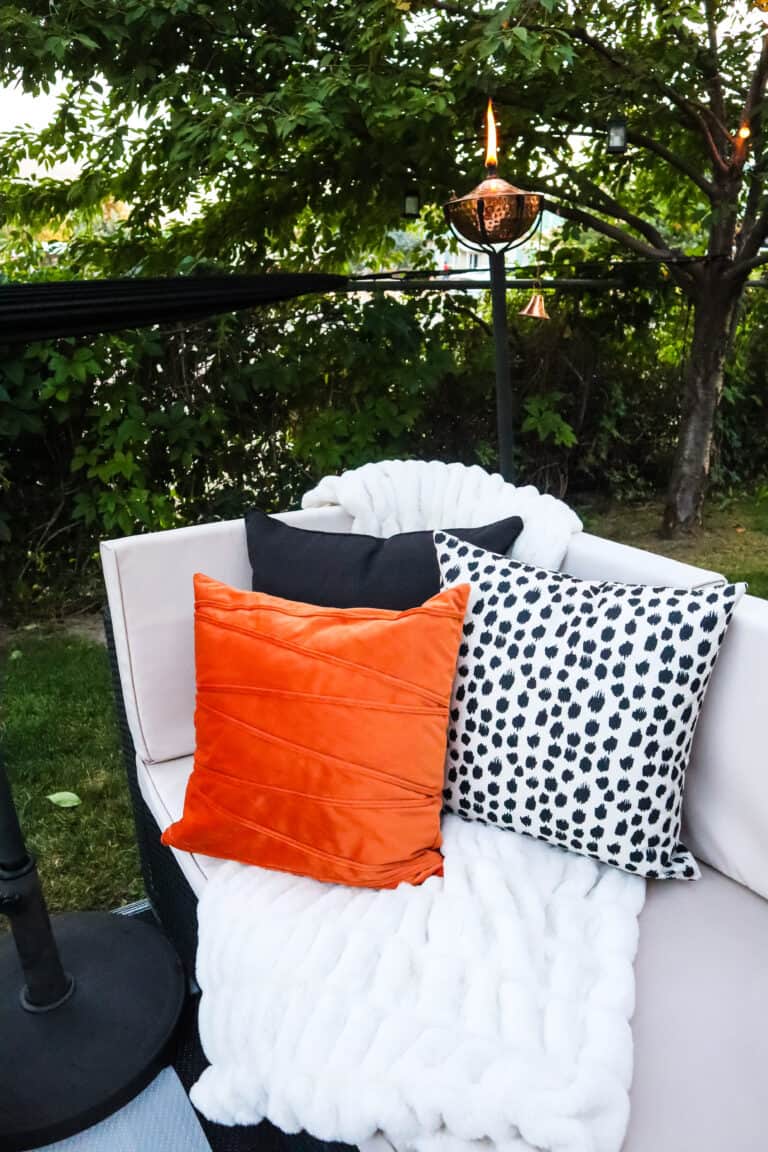 If you're looking for shams for those pillows, check out these ones! I love them because they are rich fall colors (burnt orange and black) without looking too much like Halloween props. They are classy and pretty! Check out the orange shams here and the black ones here.
I also love adding a pop of pattern to my porch decor, and these polka dot pillows are perfect for that!
Now that your porch seating is full of pillows and blankets to keep you warm and comfortable no matter the weather, it's time to spruce things up with some pretty fall porch decor.

Fall Porch Decor
When it comes to fall decor, I've got a lot of ideas to help you fill up your porch with beautiful things.
Lighting
These lighted maple trees are pretty as fall porch decor but they also work well as lighting due to the LED lights in the trees! You can use these with some pretty lanterns or string lights for subtle ambient lighting.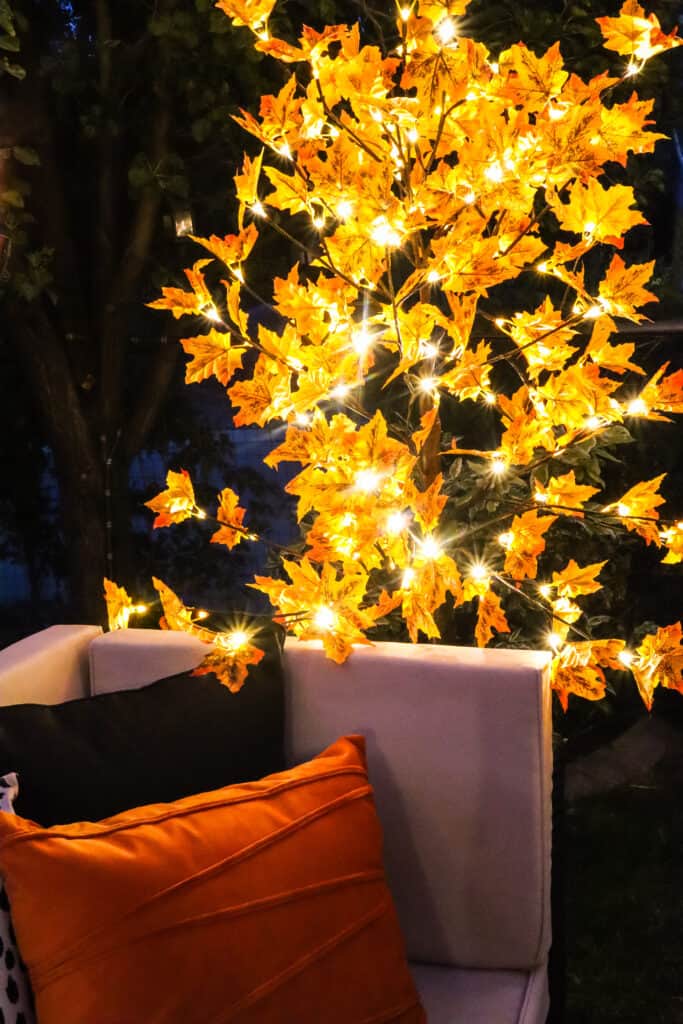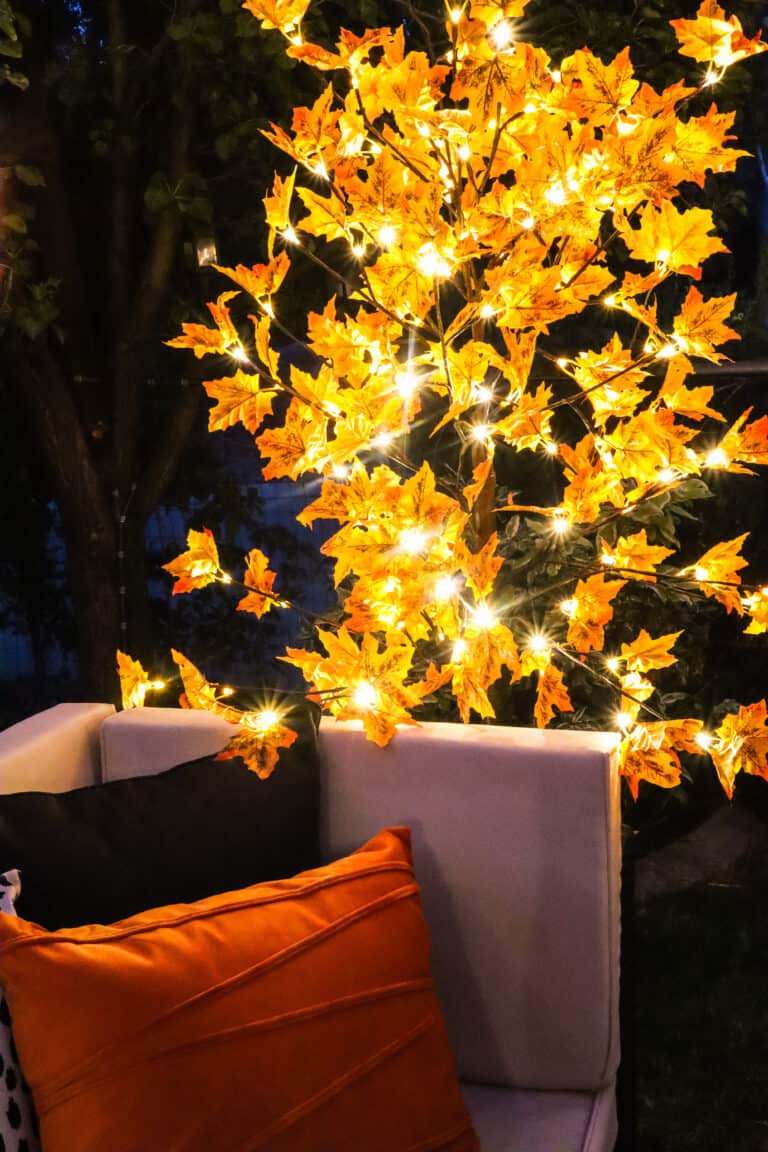 Plants and Flowers
These planters work well for autumn flowers or other plants because they are durable and water-resistant. I also love the dark wood – it's perfect for fall decor.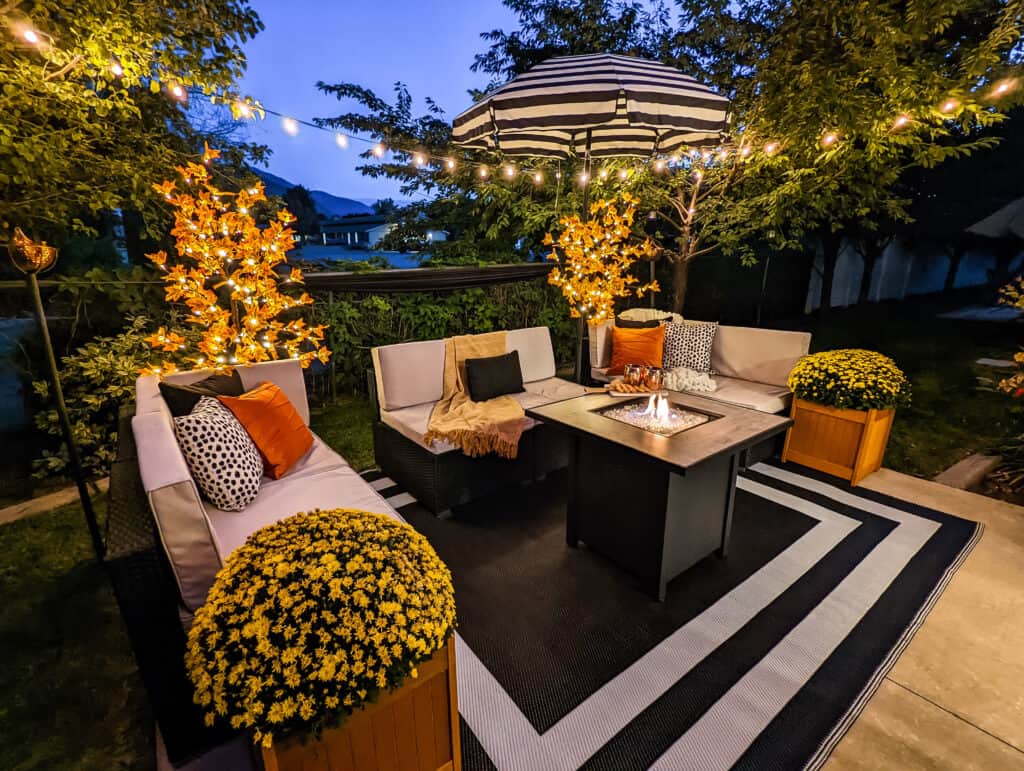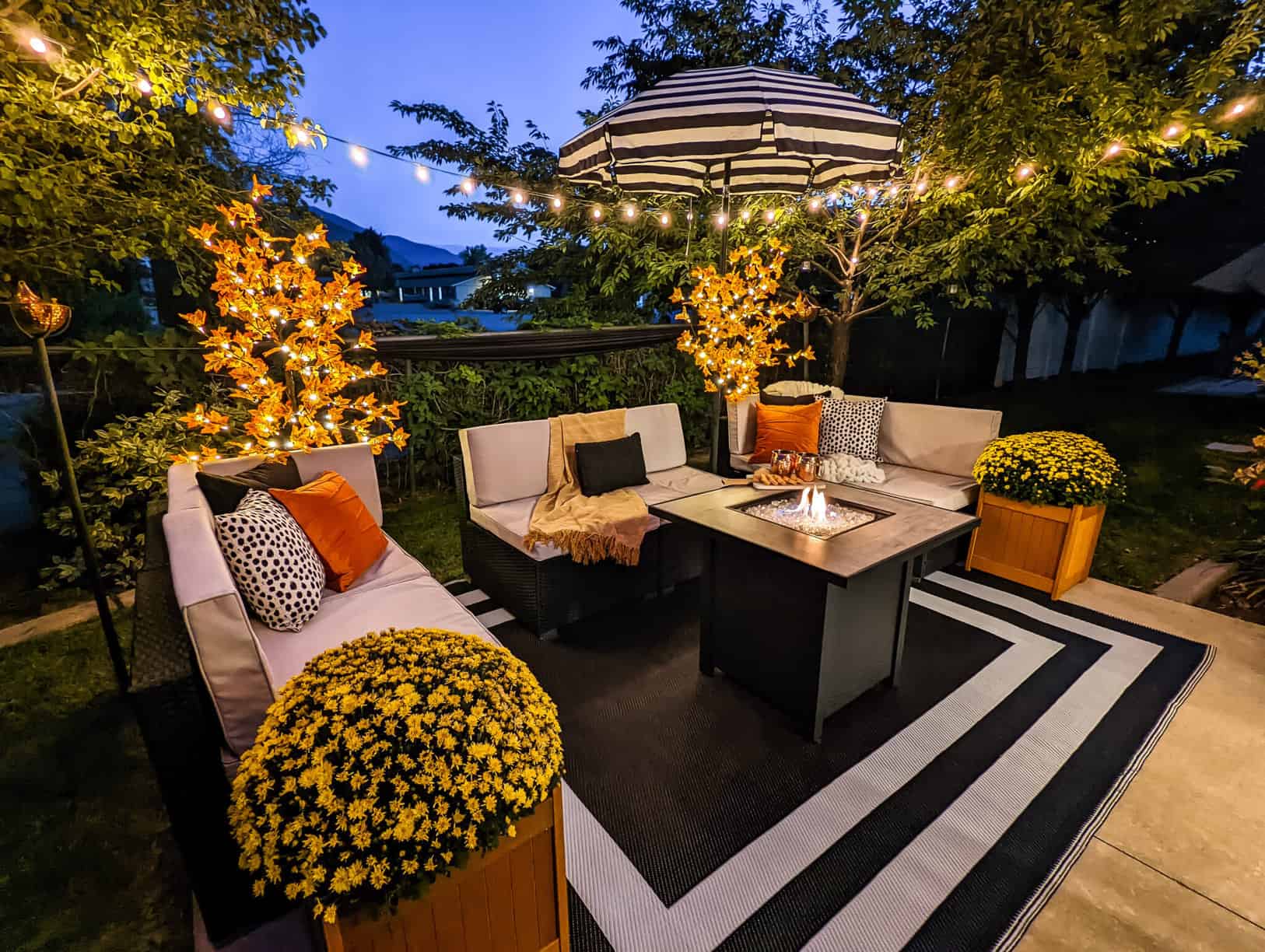 To add a personal touch of fall to your porch, you can hang a nice fall sign, more planters filled with pretty flowers, and some decorative pumpkins.
Pumpkins
Pumpkins are the perfect porch decor in autumn, and you can find them at pretty much any craft store or home goods store when temperatures begin to drop.
I like getting pumpkins of different shapes and colors to fill the porch because that brings a warm fall environment to your house.
I also like adding a few pumpkins to the front porch right by the front door! Then you're creating a cohesive look between your back and front porch.

Other Necessary Items for the Outdoors
If you're looking for more inspiration for things you might need to fill your porch, here are a few more ideas of things you might need for a perfect autumn evening.
This fire glass is perfect for a propane fire pit. If you don't already have a pit, this propane fire pit is small and can fit on pretty much any porch. It's also a sleep black design which will work well in any season – summer, fall, winter, or spring!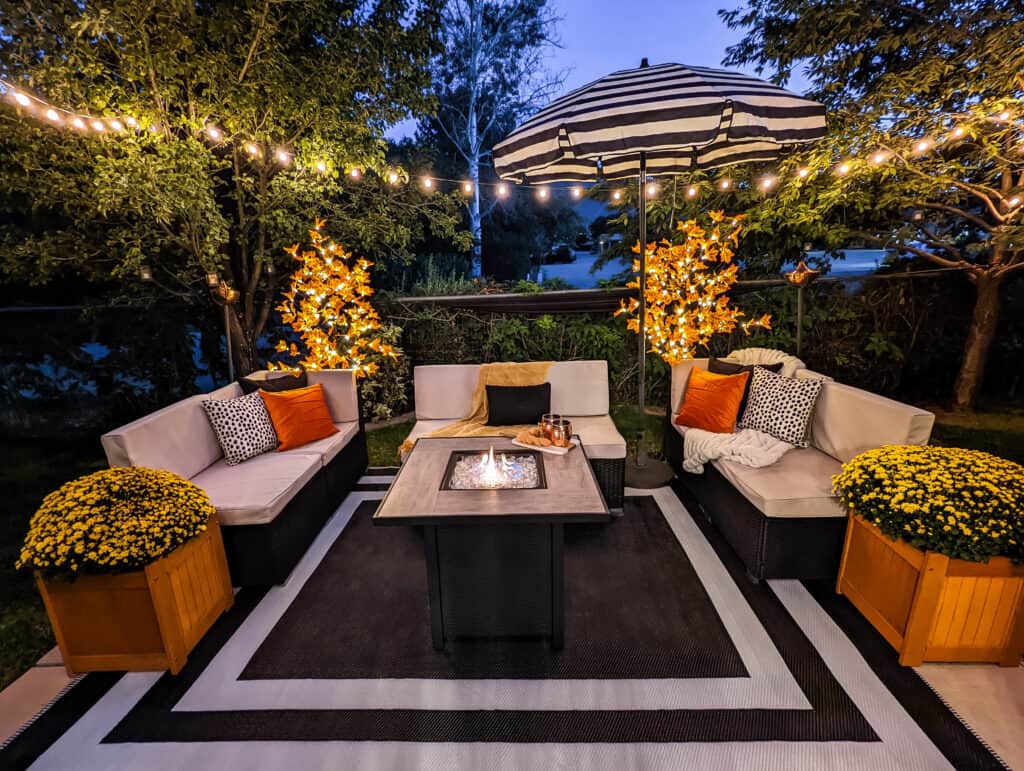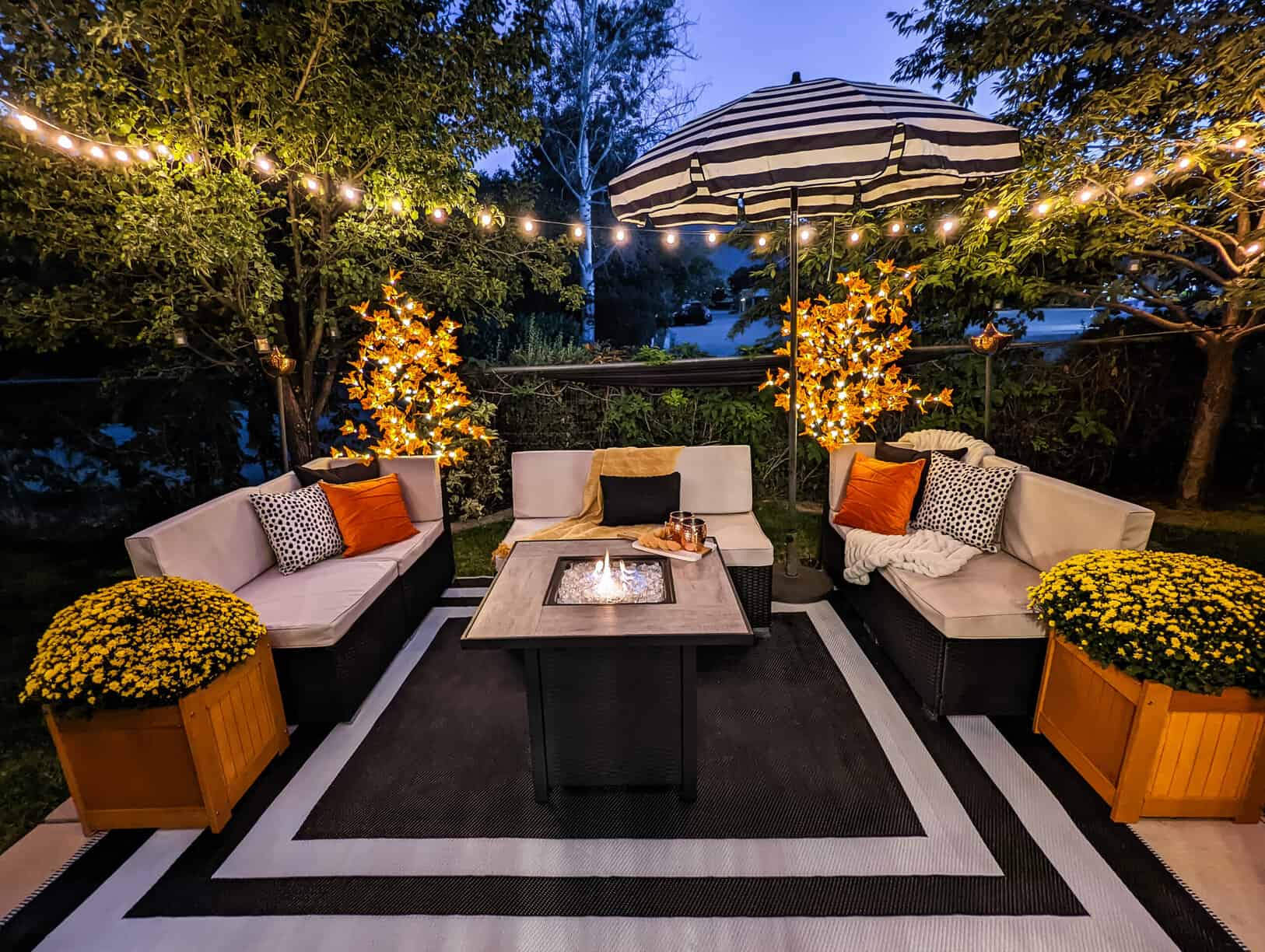 The Perfect Fall Porch
These are only a few of the many ideas you can use to create the perfect porch for the fall weather.
Remember, to give your porch that comfy feel, bring in some pretty ambient lighting with lanterns and string lights. Add some throw blankets and fill your porch with pretty fall pumpkins.
Then enjoy your evenings out on your porch!
What are your favorite tips for decorating your patio for fall? Let me know in the comments below!