Gym Bag Essentials and How to keep it Organized
Are you tired of going to the gym only to realize that you forgot half of the stuff you needed at home? Or if you did remember your stuff, are you tired of losing everything at the bottom of your gym bag? Here is a list of gym bag essentials and how to keep it organized. Plus I have created a 30-Day Water Tracker freebie for you to download!
Looking for ideas on how to improve your fitness journey? Here is my other post about How to Create a Protein Shake Station (with free downloadable labels) and Habit Tracker Printable and Tips to Creating a Better You
Don't forget to scroll down to download a free 30-Day Water Tracker Chart plus get free access to all 50+ pages of my printables!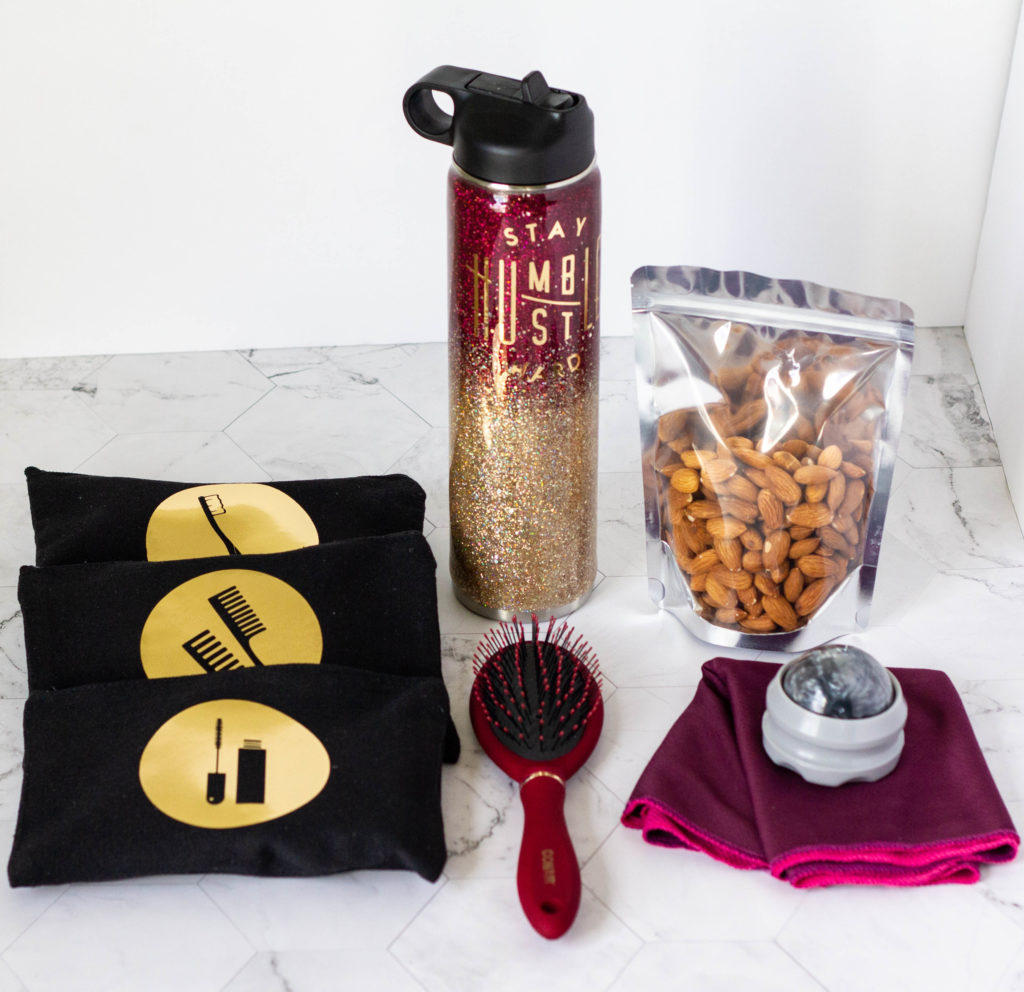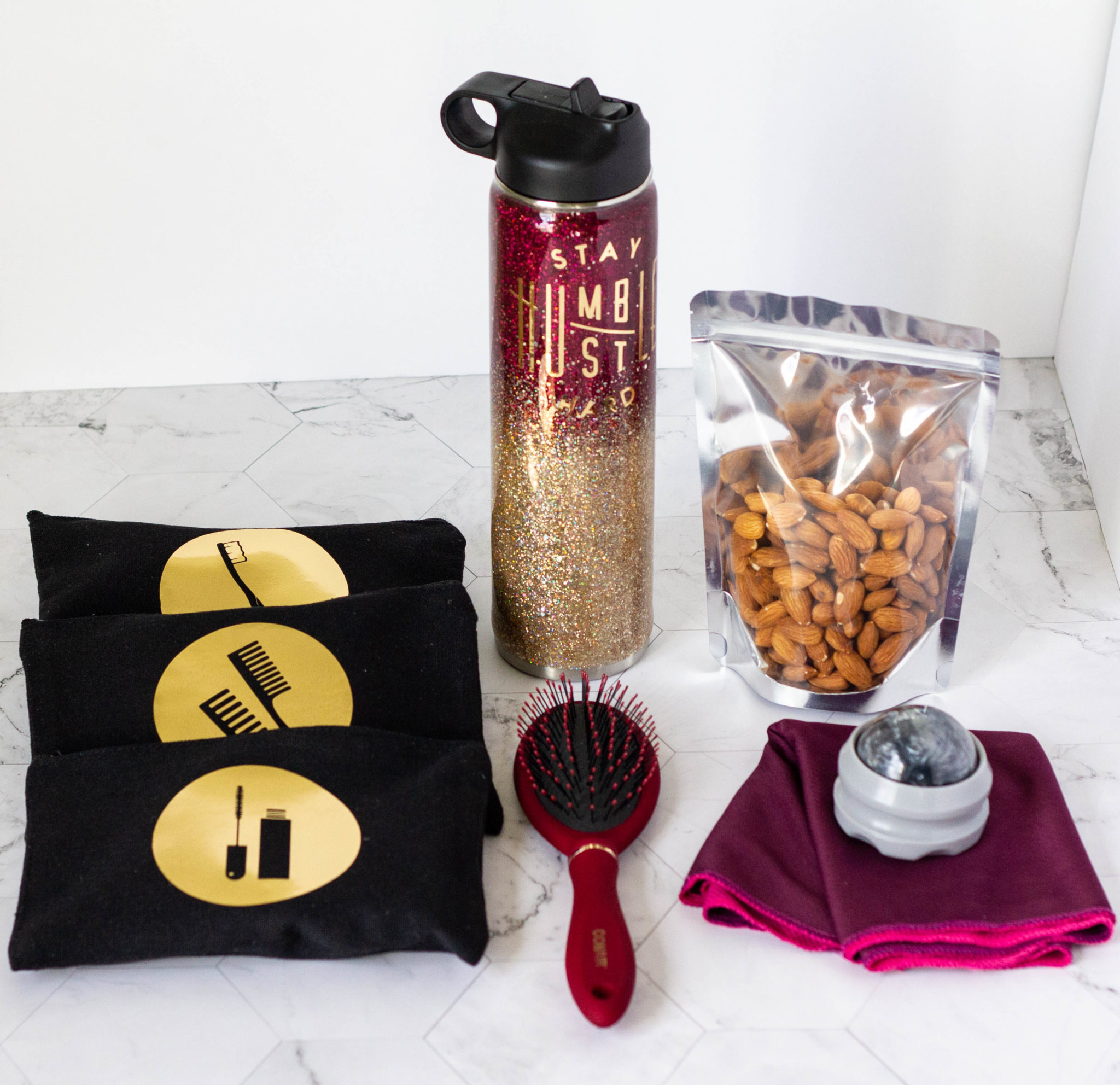 First off, I want to be completely transparent when I admit to you that I am not the best at exercising. Growing up, I was always very small and never had to worry about weight or anything like that.
Then all a sudden I started having kids and gaining 55ish pounds, then back down again, then back up, then back down, then back up and mostly back down. You get the idea. My youthful metabolism was forever changed. So it has been a huge adjustment for me to exercise to maintain a healthy weight.
My reasoning telling you that is so that you can understand that I am not some fitness guru. I actually really hate exercise so it takes a lot of willpower for me to get up in the morning to do it…if I do at all. But one thing I am great at is helping others create systems in their lives that help them stay organized and save time! Let's get on to the fun stuff, shall we?
Think Through the Process
Like any other organizing project, the first step to organizing your gym bag is dumping everything out. It does create an initial big mess, but it's essential to create a clean slate so you can assess what things really are necessary to have and what is not.
Think about your trip to the gym from start to finish. Do you shower at the gym? Do you wait till you come home to shower? Do you go to the gym right after work? Those will be huge determining factors of what you pack in your gym bag.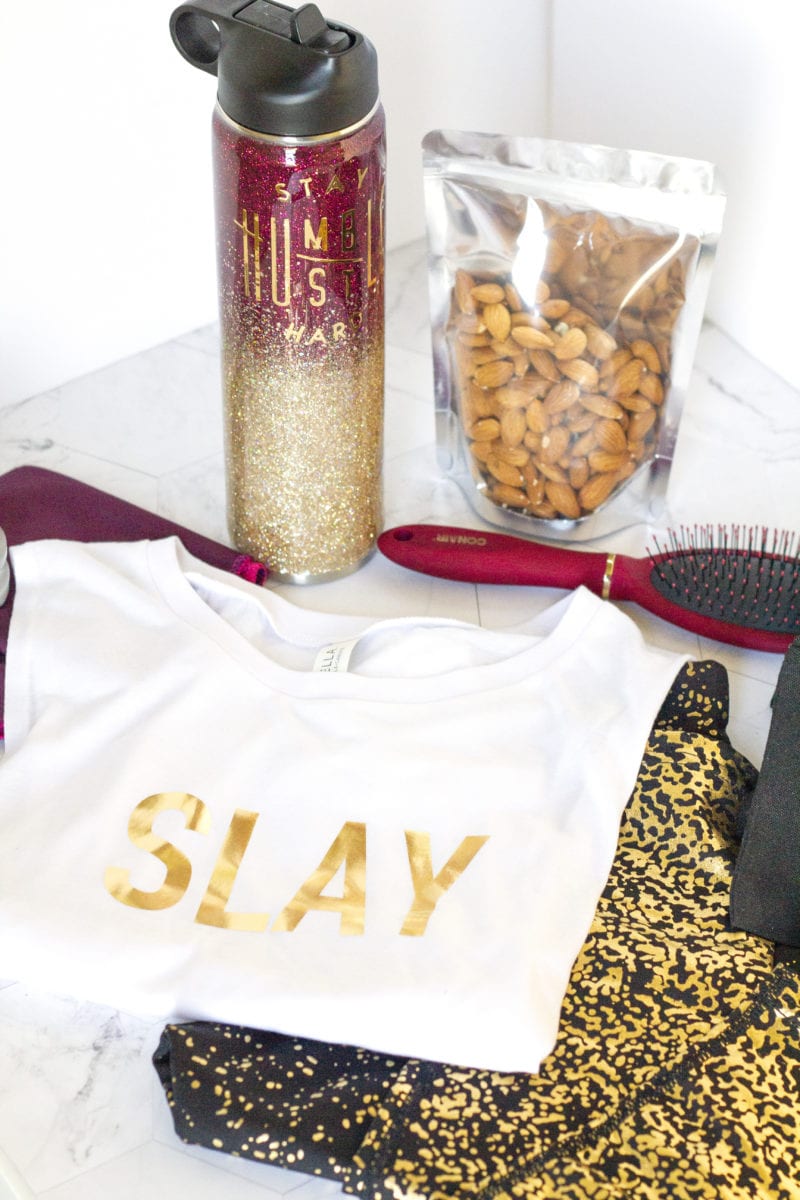 The type of exercise you do will also determine what things you bring. One of the very few ways of exercise that I enjoy is going to my sister-in-law's Zumba class. I am by no means a dancer but it does make exercise fun! So for me, a yoga mat is really important because my sister-in-law does a lot of cardio and mat work. Do you use resistance bands in your workout? Then make sure to pack those in your gym bag!
There have been many times that I have gotten up at 5:30 to go to Zumba and forgotten to brush my teeth before I went. Kind of embarrassing, I know! So mouthwash is one thing that I do bring with me in my gym bag. Sometimes my hair totally falls out while I'm dancing so for me, bringing hair elastics and a small travel brush are important too.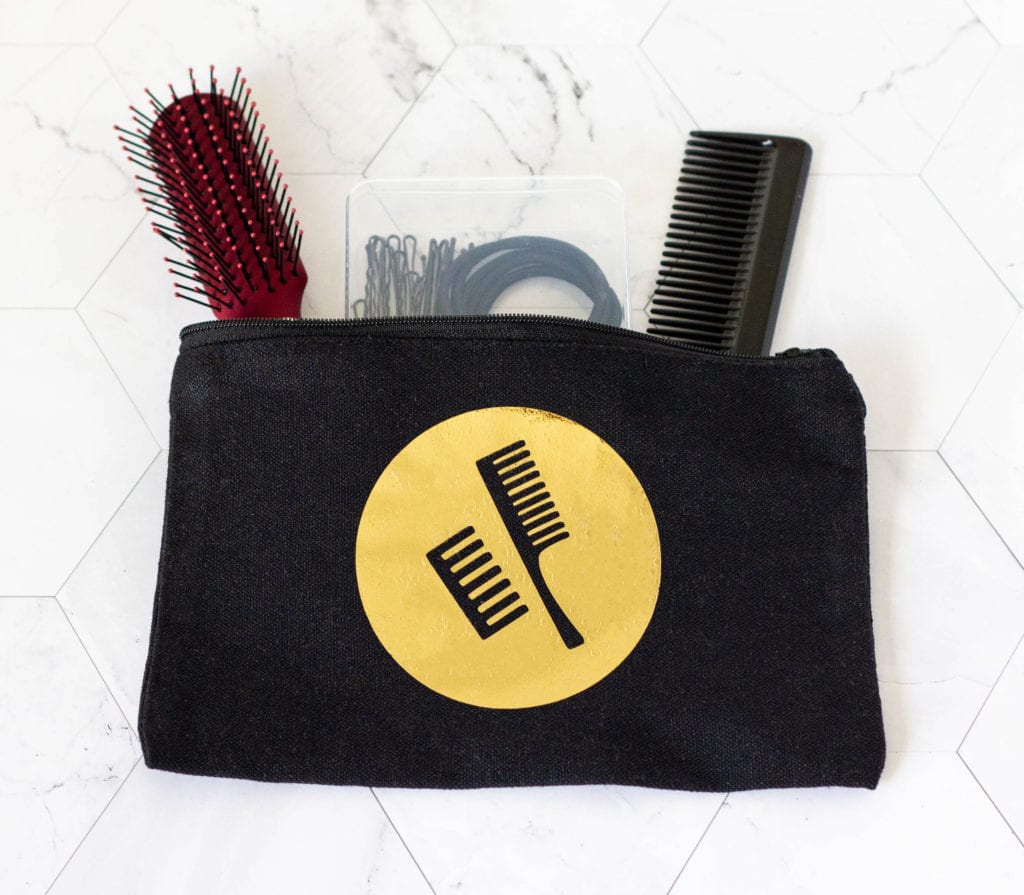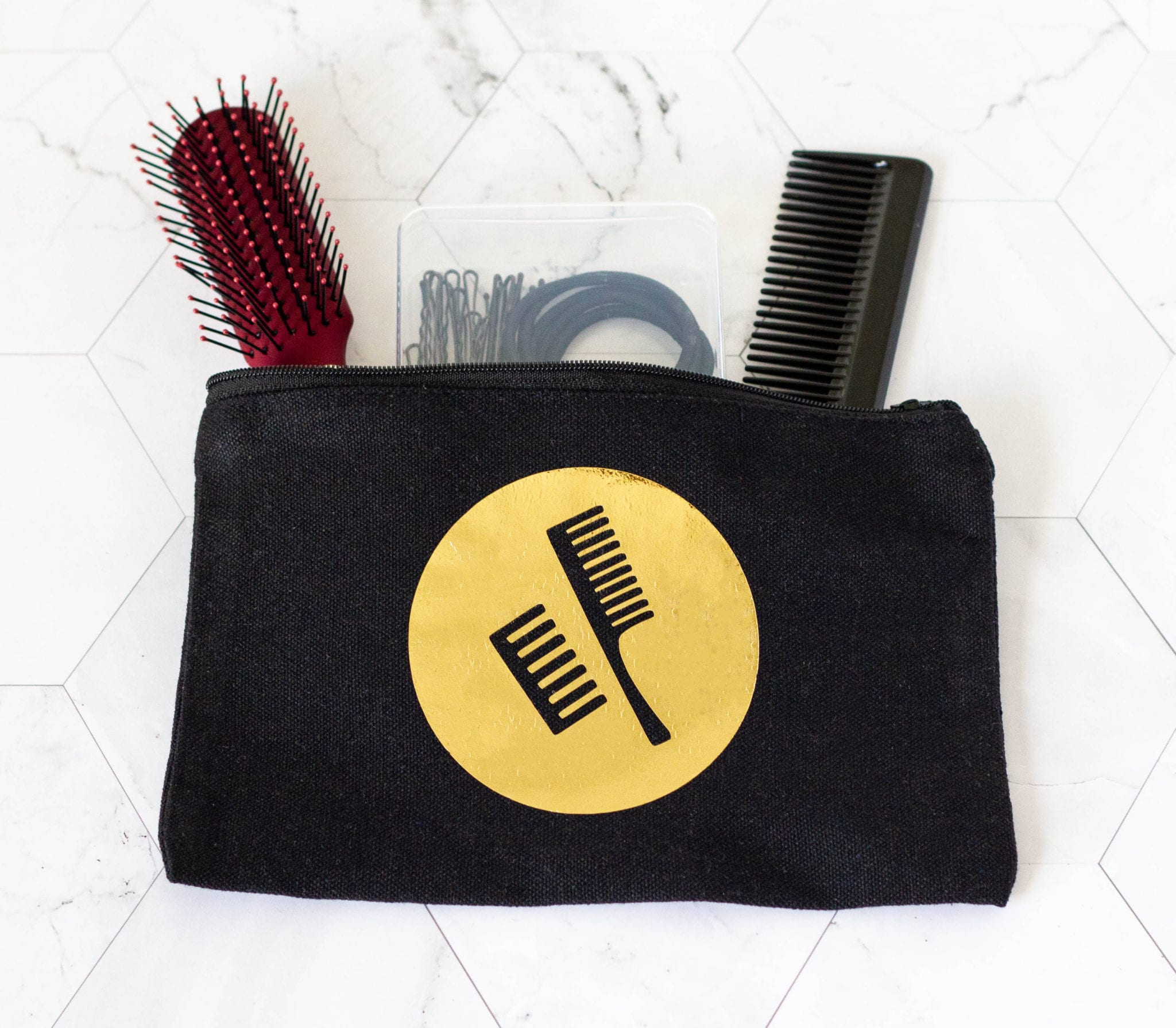 So think about your trip to the gym from start to finish and make a list of things you use, and a list of things you wish you had. This will help you get an idea of what things you'll need and how to organize them.
Gym Bag Essentials
Like I mentioned above, everyone's needs will be different when it comes to your own personal gym bag. But here is a list of ideas that I've compiled that may help you decide what you might need.
Gym Bag
Hair Brush
Comb
Hair Elastics
Hairspray
Headband
Massage Roller Ball
Sweat Towel (or a cooling towel)
Mouthwash (in case you forget to brush, like me!)
Deodorant
Chapstick
Snacks with Protein (such as almonds)
Yoga Mat
Weights
Resistance Bands
Headphones
Workout Pants or shorts
Sports Bra
Workout Shoes
Athletic Socks
Combination lock (if you lock up your stuff in a locker)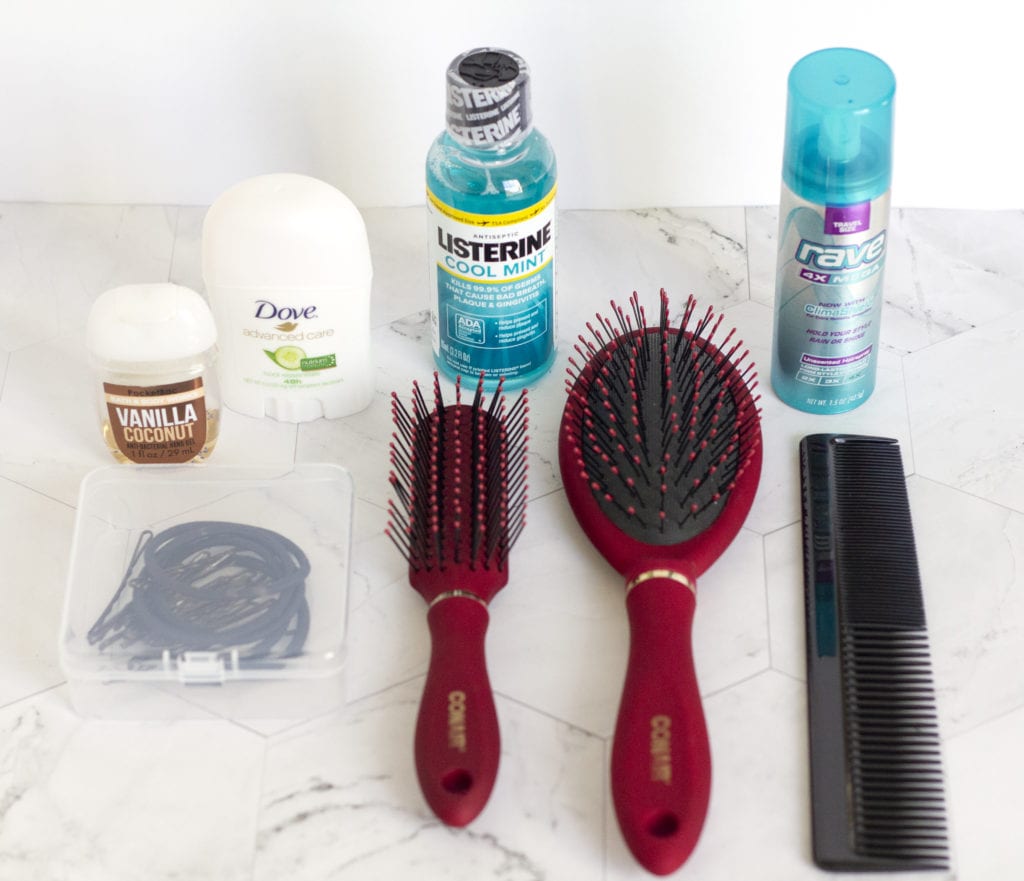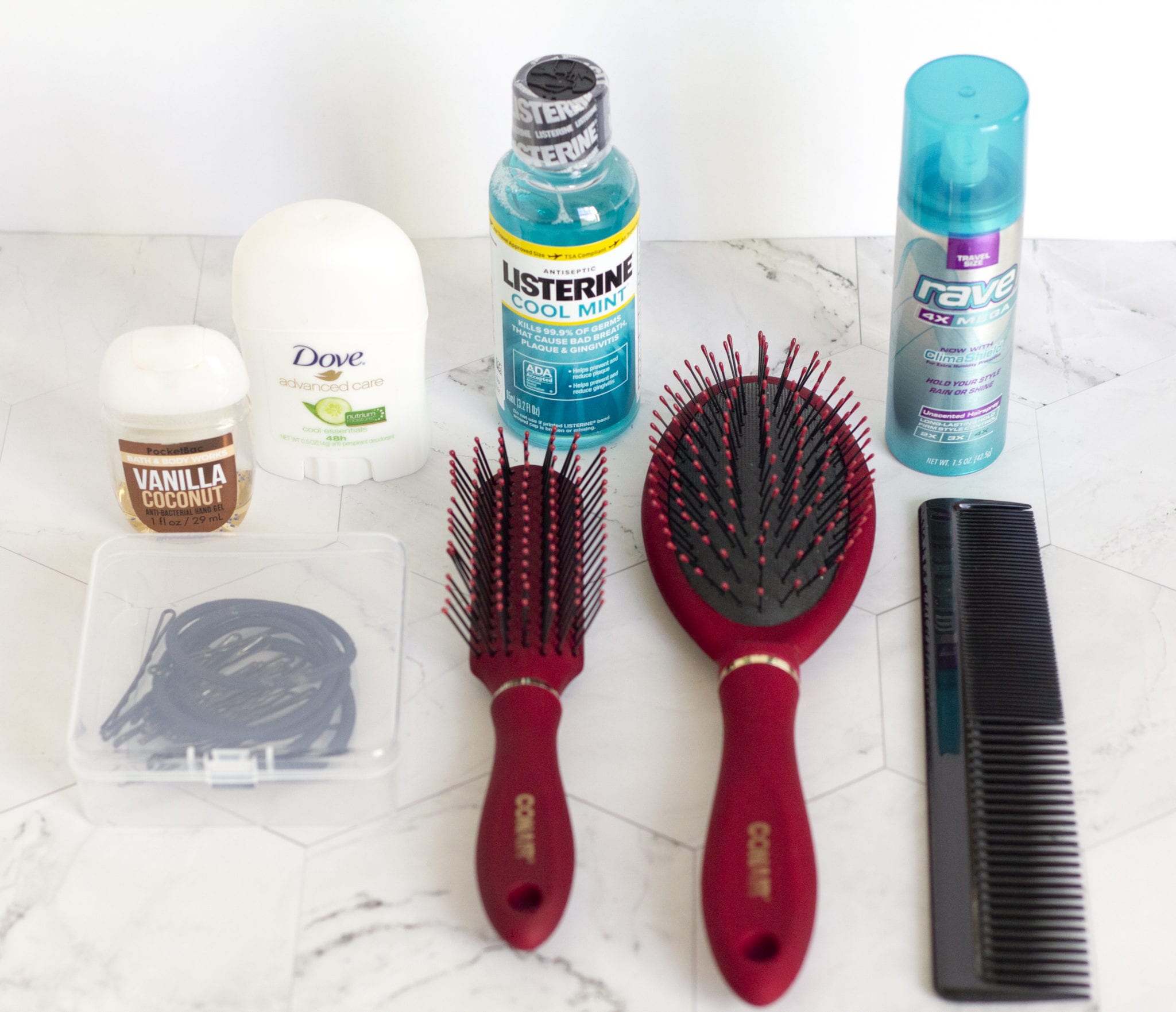 How to Keep Gym Bag Essentials Organized
Once you have your list of supplies together, the best thing that you can do is to find small pouches to help categorize things in. For example, if you have a lot of hair products used to keep your hair out of your face, then I'd suggest getting a pouch dedicated just for your hair supplies.
Continue through this process to help corral all of the small items that you have in your bag. Group things together that have a similar purpose. And if you can, label the bags in some way that will help you to easily identify them as you are sifting through your gym bag. It will save you so much time!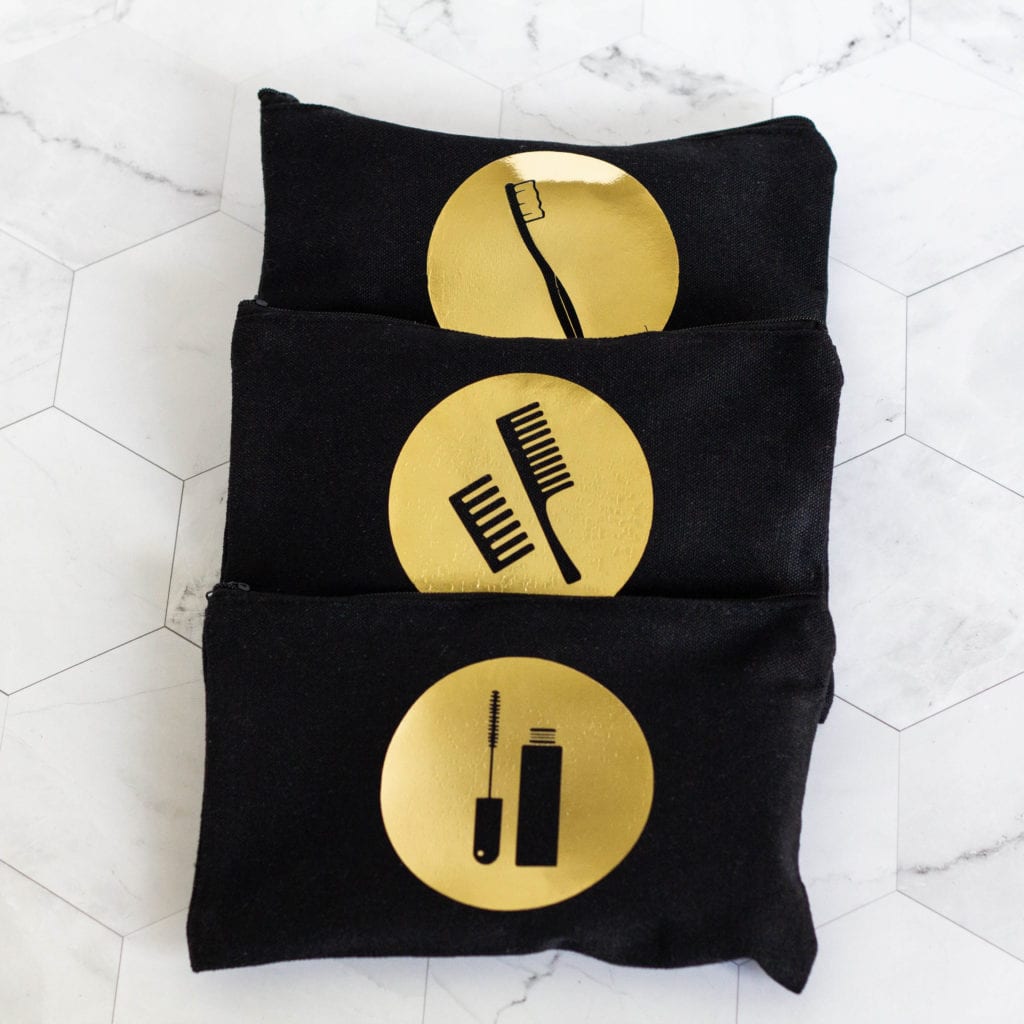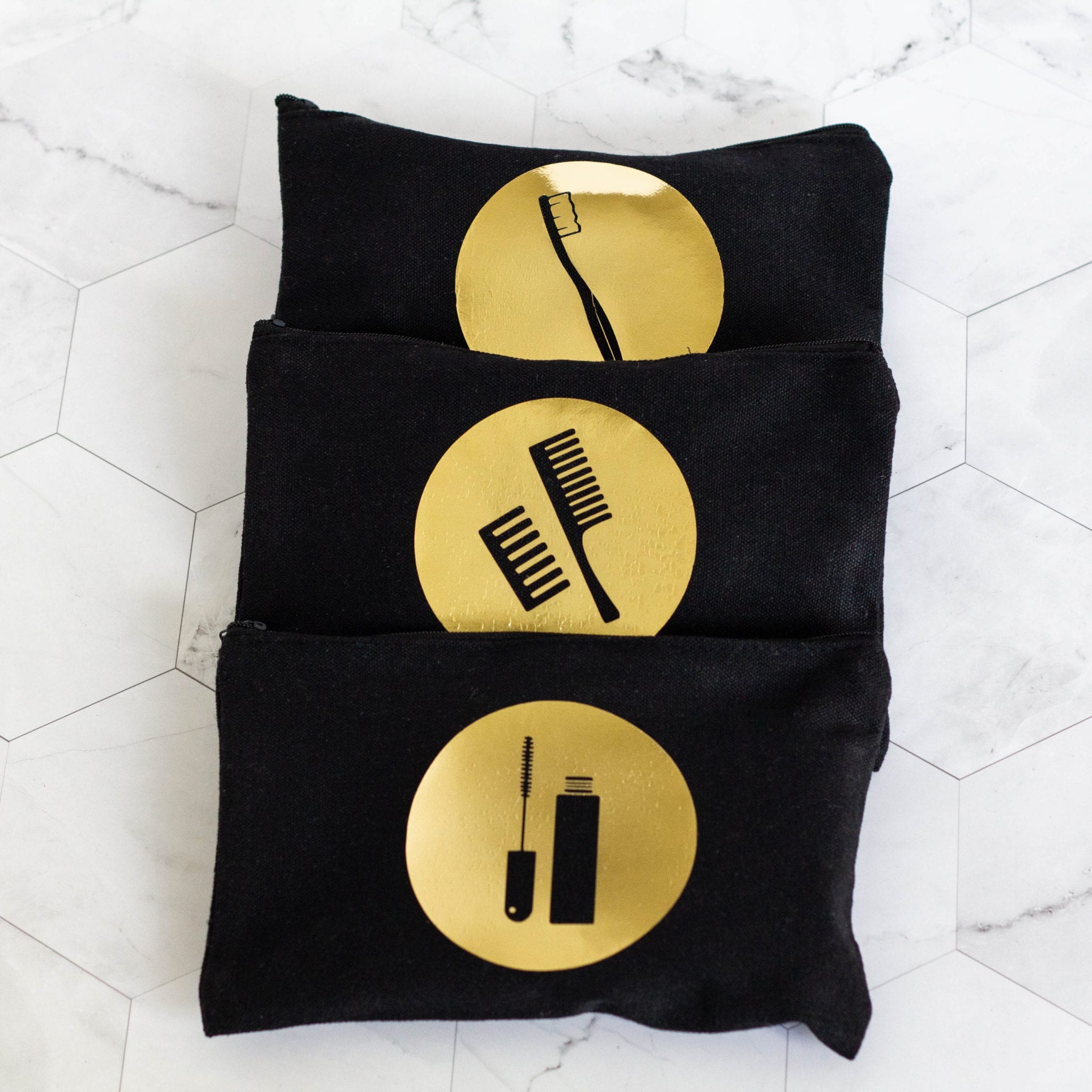 Ways to Drink More Water
One of my other main hangups is my complete inability to drink enough water. I don't know what my problem is, but I really just don't like water very much! But one thing I have learned about myself is that if it's in a pretty water bottle, I am much more likely to drink it! It's like the pretty water bottle is calling my name and saying, 'Drink Me!'. So for me, having a water bottle that I love is a huge help.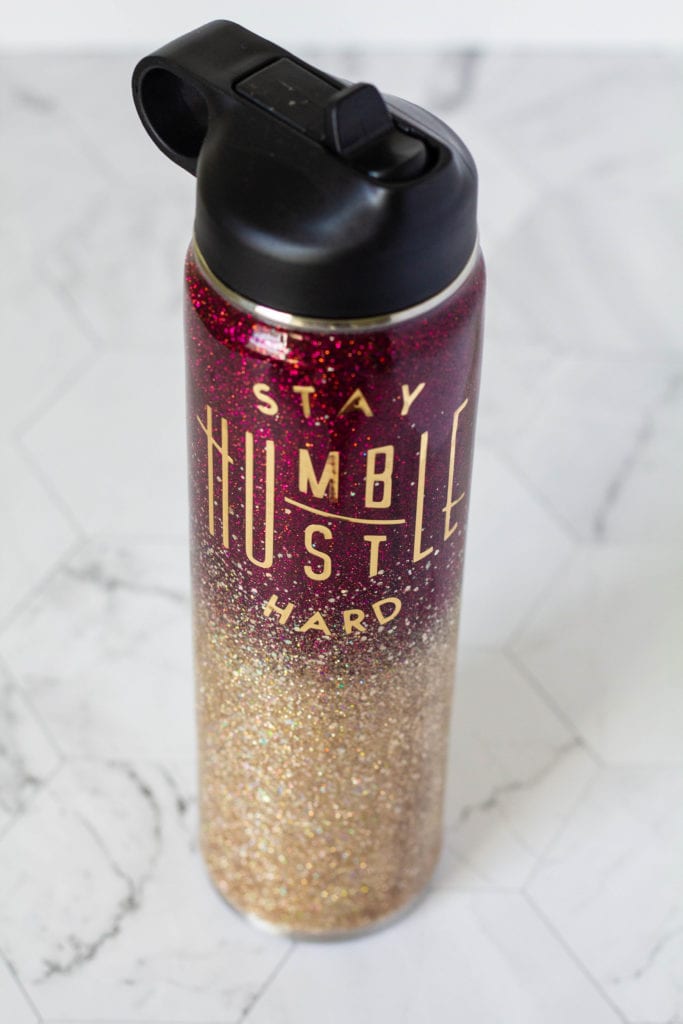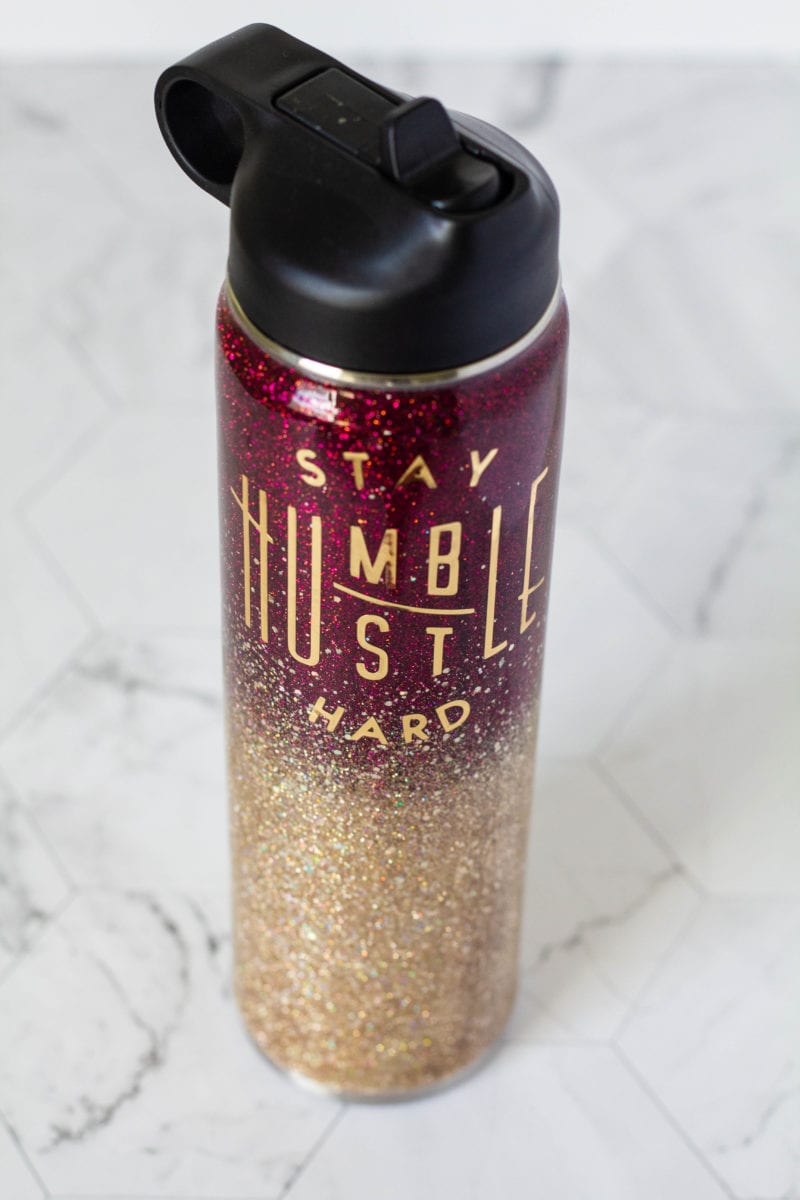 Anyone who knows me well knows that I am completely and utterly in love with glitter, or anything that sparkles. So when I saw these glitter water bottles and tumblers start popping up, I just had to have one! For the sake of drinking water of course… (cough, cough). 😉 So I teamed up with Megan at Happy Names Boutique on Etsy and she helped me create this custom water bottle that makes me so happy inside! The quality is so incredible and I am so so happy with it! Check out my water bottle I ordered!
Along with my awesome waterbottle, I created a water tracking freebie for you! Now you can print this out and mark off how much water you drink each day for 30 days. I don't know about you, but printables are a huge help and a great reminder to help keep me on track.
Don't forget your free 30-Day Water Tracker sheet. Free for my Newsletter Subscribers! Scroll back up to download.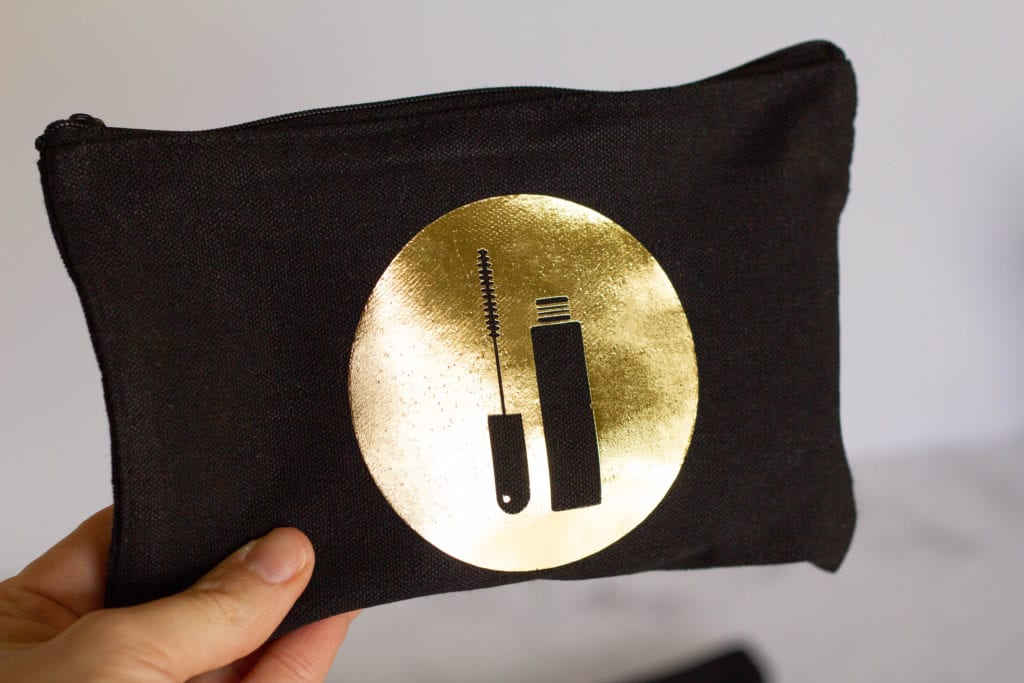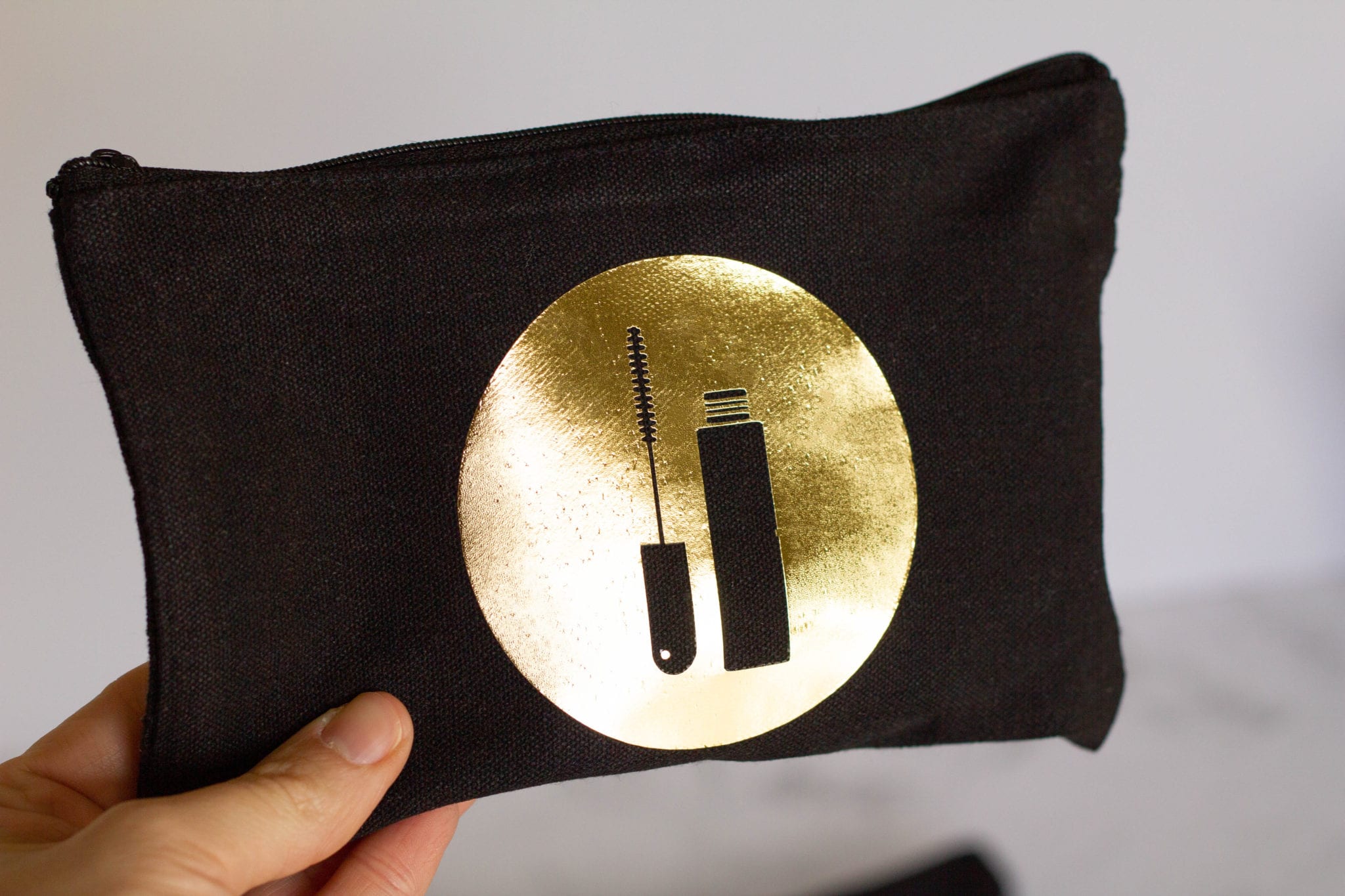 Ways to Motivate Yourself to Exercise
One thing that I discovered about myself is that I really have to feel good about myself in what I wear to class. I am certainly not the type of person to dress up to go to the gym. But I really do see a significant difference in my motivation if I like what I'm wearing. Sounds kind of vain now that I say it out loud. But if you are finding it difficult to get motivated to get to the gym, maybe you just need a cute new workout outfit!
I was looking for a cute new workout shirt that would motivate me to work hard. I teamed up with an awesome Etsy shop owner who has some awesome workout shirts! I ordered this one that has gold foil on the front and it says Slay. What a great word for a workout shirt, right? Check out the shirt I ordered!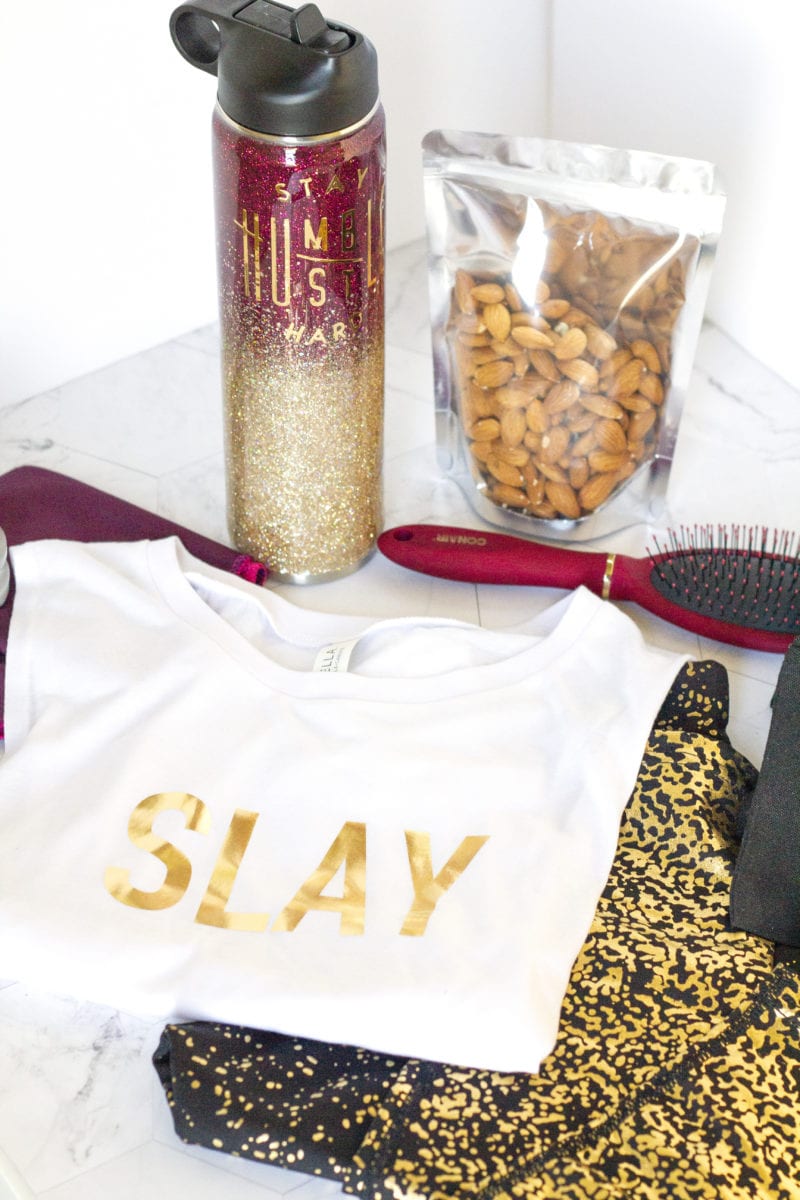 I hope that my gym bag essentials list and how to keep it organized tips have been helpful to you. I sincerely do what I do because I want to show people how easy it can be to be more organized. Because organization saves you time and allows you to get back to doing the things you love!
Sharing is caring! If you liked this post, share it with someone or pin it for later!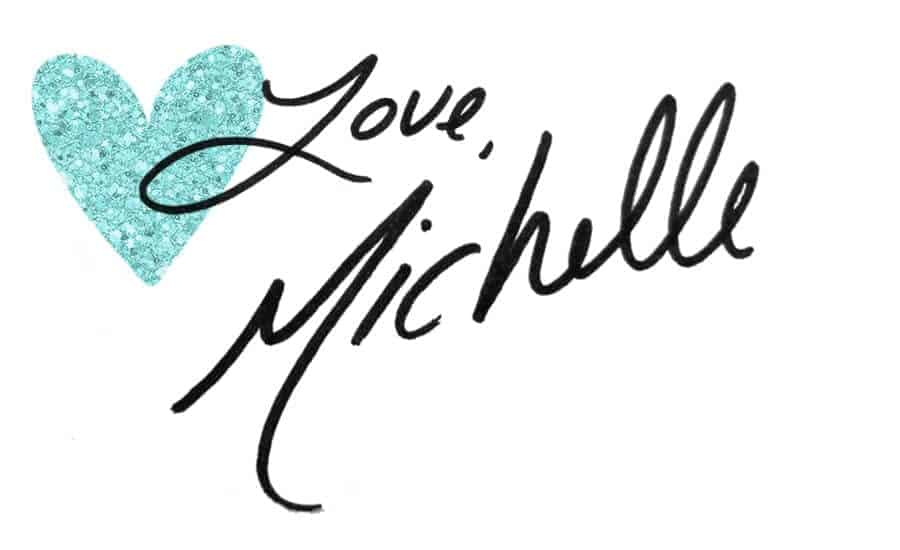 Shop this Post