Italian sodas are the perfect drink for any occasion. They are just as refreshing and delicious as a regular soda, but they also offer a little more flavor! That is why it is no surprise that many pop up restaurants have started to create Italian soda bars on site for their customers. In this blog post, we will teach you how to create an Italian soda bar from scratch so your next party can be one of the best ever!
*This post may contain affiliate links, which means I may receive a small commission, at no cost to you, if you make a purchase through a link!*
Need more ideas? How to Create the Perfect S'mores Caddy and How to Organize a Successful Lemonade Stand
How to Create an Italian Soda
Don't be intimidated by creating an Italian soda! The beauty of an Italian soda is that you are in charge, and you get to decide what goes into your drink! But there are a few guidelines that will help ensure that you create a delicious drink that you and your guests will love.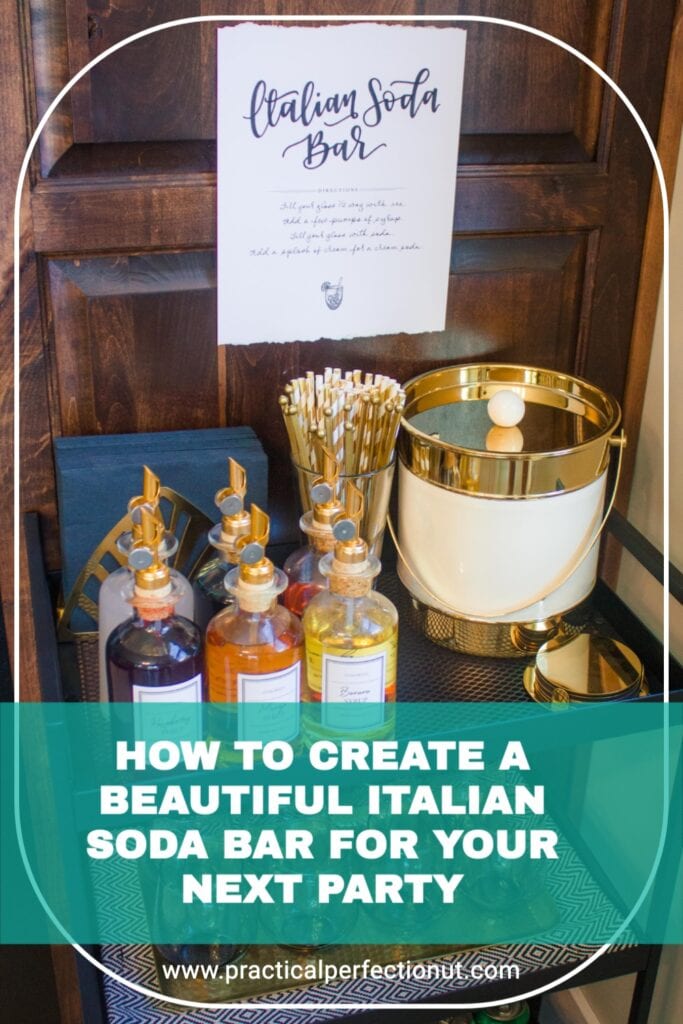 First you take your glass, fill it with ice and then pour your syrup over the top. Then you add a splash of seltzer water or club soda to create bubbles!
I usually try to estimate about a tablespoon of syrup for a larger glass. If you try your Italian soda and decide that it isn't flavorful enough, you can easily go back and add more. Or you can even add in an additional flavor or two! If it's too sweet for you, you can easily add in more soda to water it down.
After pouring in the syrups, you add any other desired ingredients you can add in a fresh fruit garnish (and make it fun by adding colors like orange slices, lemon wedges or strawberries)! You can also add whipped cream if you want to turn it into a creamy Italian soda.
Then you can add in a fun straw and stir your drink with a drink stirrer.
What do I need for an Italian Soda Bar?
There are a few key elements that you need to create a successful Italian soda bar at your next party. Some people feel intimidated by Italian sodas because they don't know what the different flavors are or how to combine them. But don't worry, we'll teach you all about it!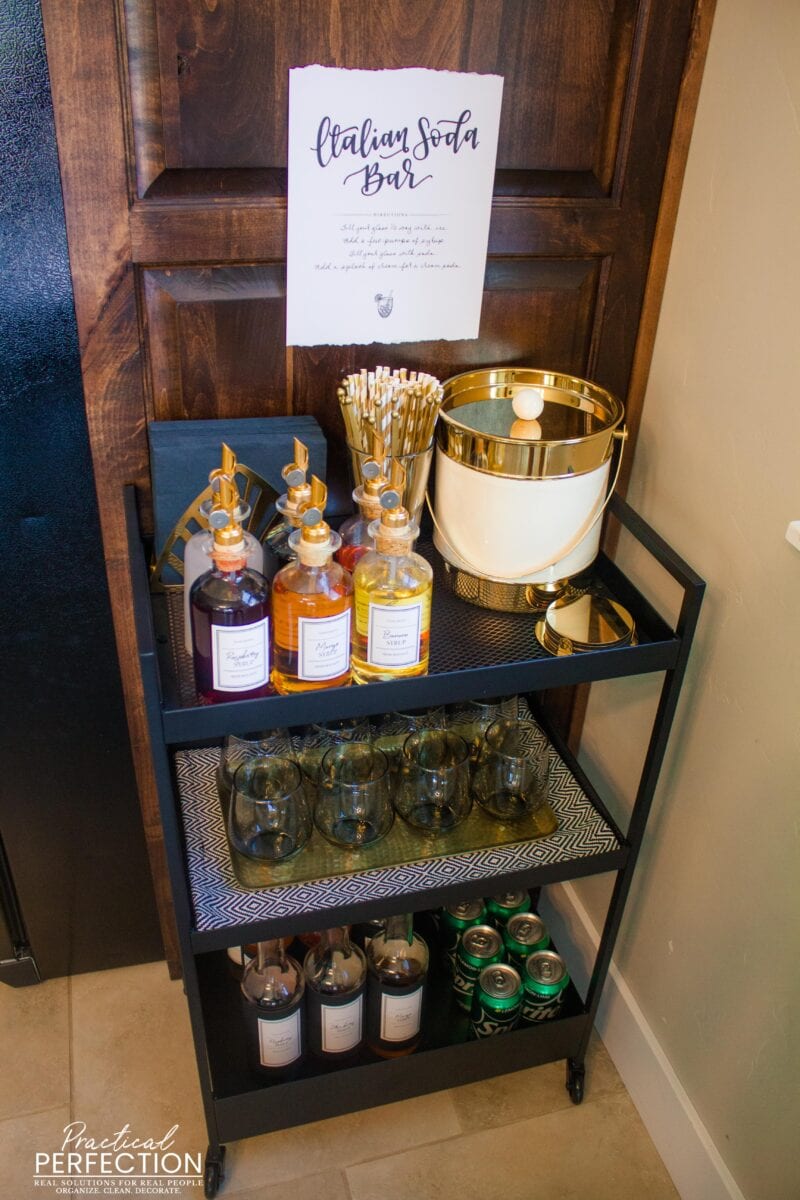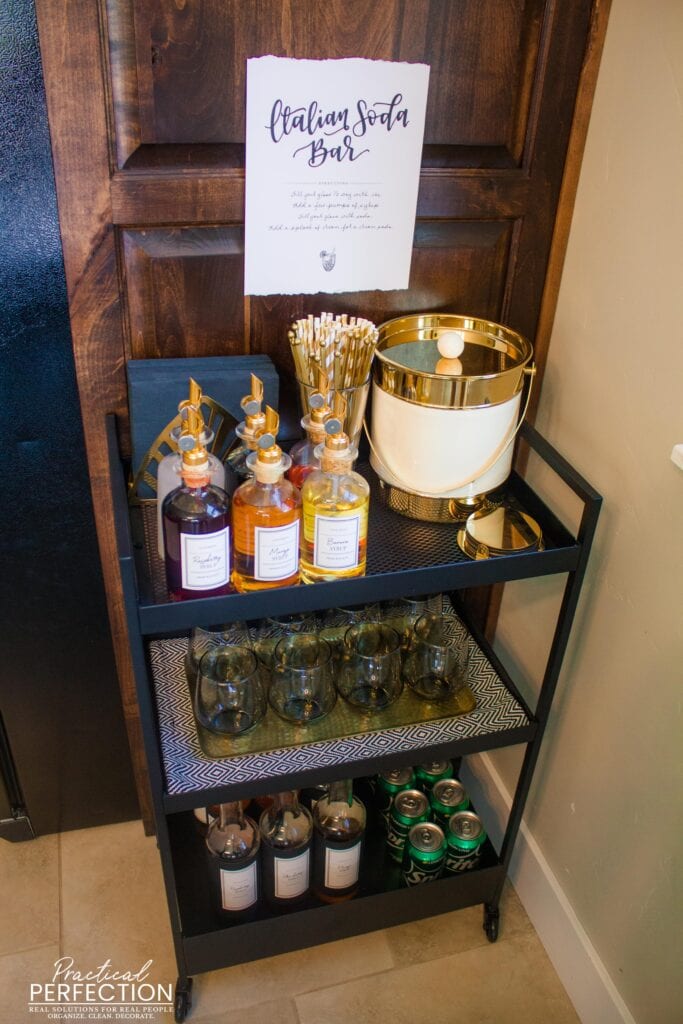 First and foremost, you need an Italian soda bar station with a table. For this part of your party décor, I would recommend using white linens so that they match with any color scheme for your event. Next, gather some glassware like wine glasses for each person that will be attending the party.
Flavoring syrups
There is a huge variety of different flavors to choose from, like vanilla, mango, banana, and raspberry. You can also buy a variety pack of them so you have lots of options for your party guests! I prefer tropical flavors such as Mango, Pina Colada, Coconut, and Pineapple.
The most popular flavors for Italian sodas are strawberry and raspberry so buy these two in case they're your favorites too – but be sure to check out the other flavors beforehand because there's a whole world of fun waiting to be explored! There is no rule on how many bottles you should get at once…it all depends on what your party will require.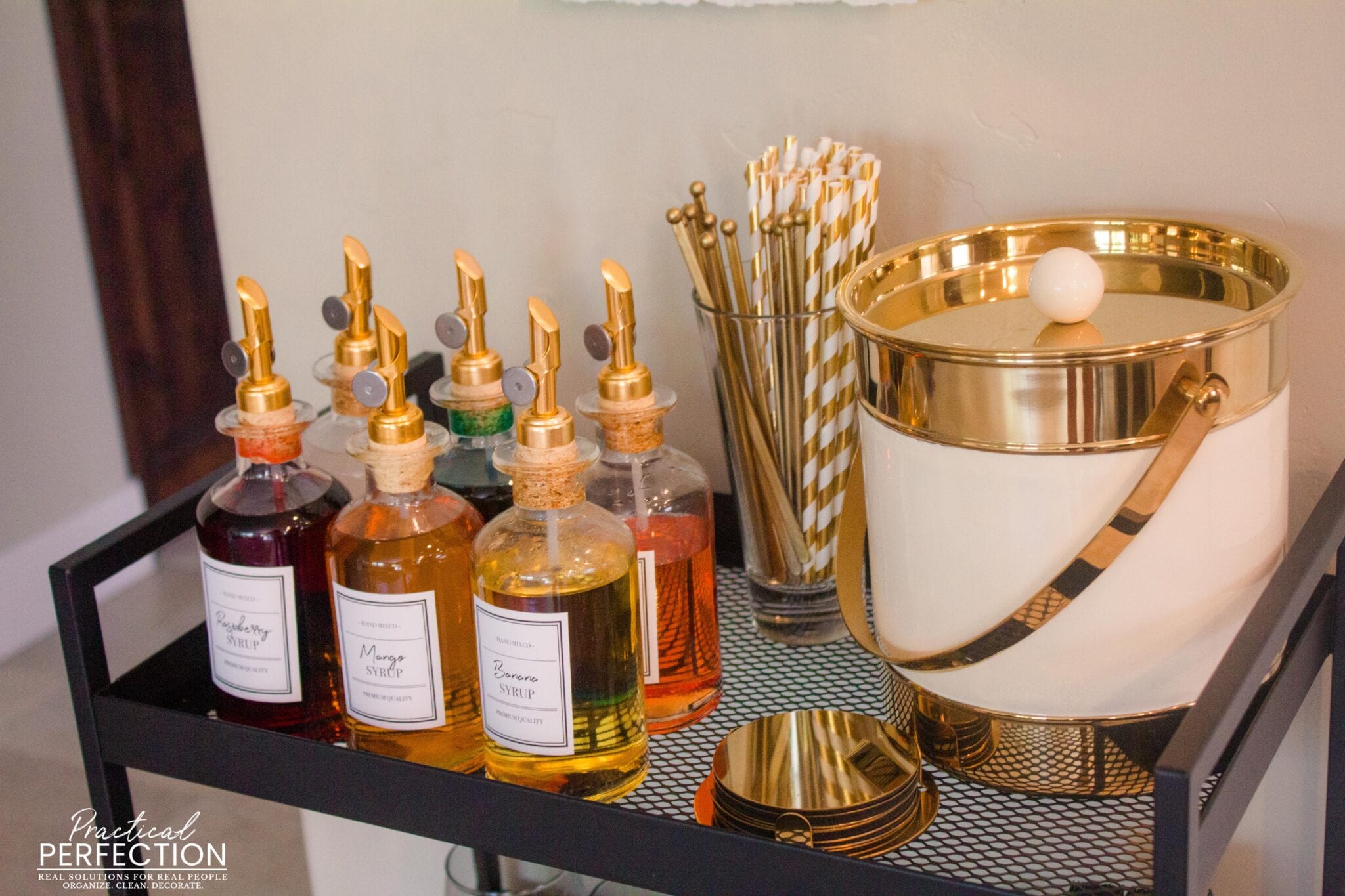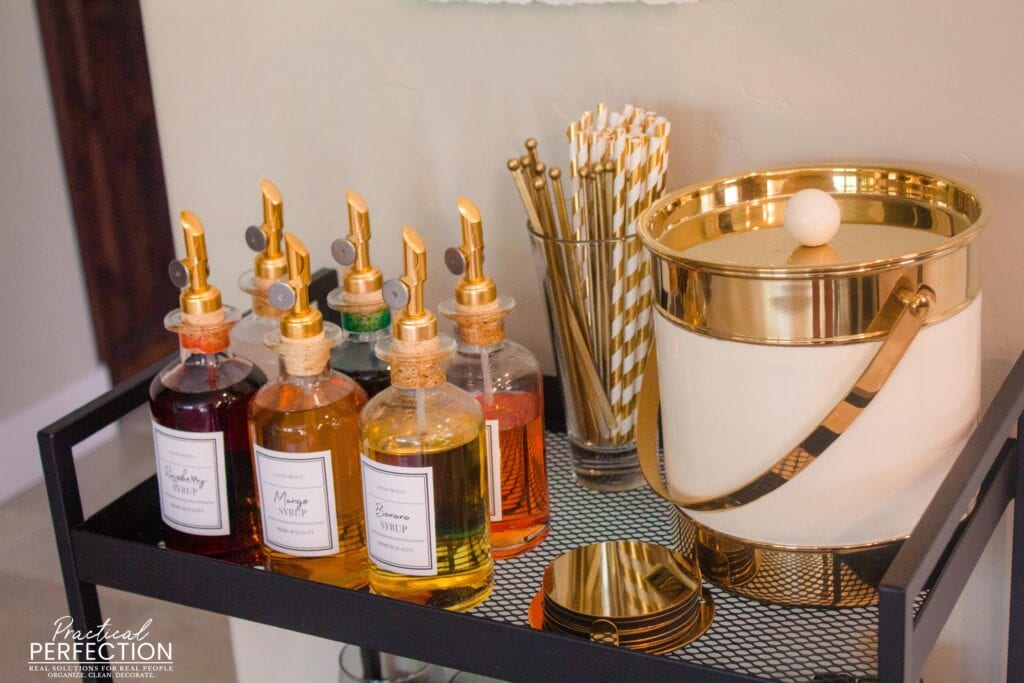 A little bit of syrup goes a long way so you will most likely only need one bottle per each flavor.
Also, don't be afraid to mix flavors together to try different combinations! Torani is one of the more popular brands that sell flavored syrups. Skinny Syrups is another prominent brand.
Flavored syrups are a must when it comes to an Italian soda bar! You can use them for many different recipes such as root beer floats, slushies, and more. They also come in really interesting flavors so you'll never get bored of serving your drinks with these!
The best part about this syrup is that they last forever because they're sealed airtight! So if you have any leftovers at the end of the party, just store it away until next time.
If you are a Harry Potter fan, you can easily create your own Butterbeer mixture by using butterscotch and butter rum flavored syrups.
Shop Flavored Syrups:

Syrup Pumps
Syrup pumps are an item that is completely optional but it adds convenience to the process. You can buy syrup pumps to screw on top of your flavored syrup bottles. This way, when you are making soda for your guests it will be a lot faster and easier to do!
I don't have any syrup pumps personally. I chose to purchase these 'oil bottles' to put my syrup in. They are super cute and you can get them at World Market!
Shop Pumps and Bottles:

Serving Tray
It's really beneficial to have a serving tray for all of your ingredients in one place. It can be as simple or elaborate as you want it to be! I bought this awesome cart from Ikea (it's super cheap, too!) to set up my Italian Soda Bar. It makes everything seem extra fancy and it doesn't take up extra space on my counter. And even better, I can keep it out all of the time! It doubles as a decoration because it's so beautiful. But if you don't have space for a cart, some sort of serving tray will be just great!
Make sure to buy trays that won't ruin if syrup is spilled on them:

Sodas
Make sure that all the sodas are either diet or regular because they will be too sweet if they're both full of sugar. You can use sodas that are pre-bottled. You may want to consider using a variety of base sodas to see what ones you think your guests will like best. Seltzer water is a popular choice for Italian soda bars but you can also use sparkling water or club soda.
The best part about Italian soda bars is that they can have any combination of flavors so feel free to use other juices as well like lemonade or lime juice.
You can also serve fizzy beverages on your Italian soda bar such as Ginger Ale, Club Soda, Tonic Water, and Sprite! They're all great choices for a party because they have refreshing flavors that everyone loves. The main thing to remember about these is that the are the base of the soda…the flavoring comes in with the flavoring syrups.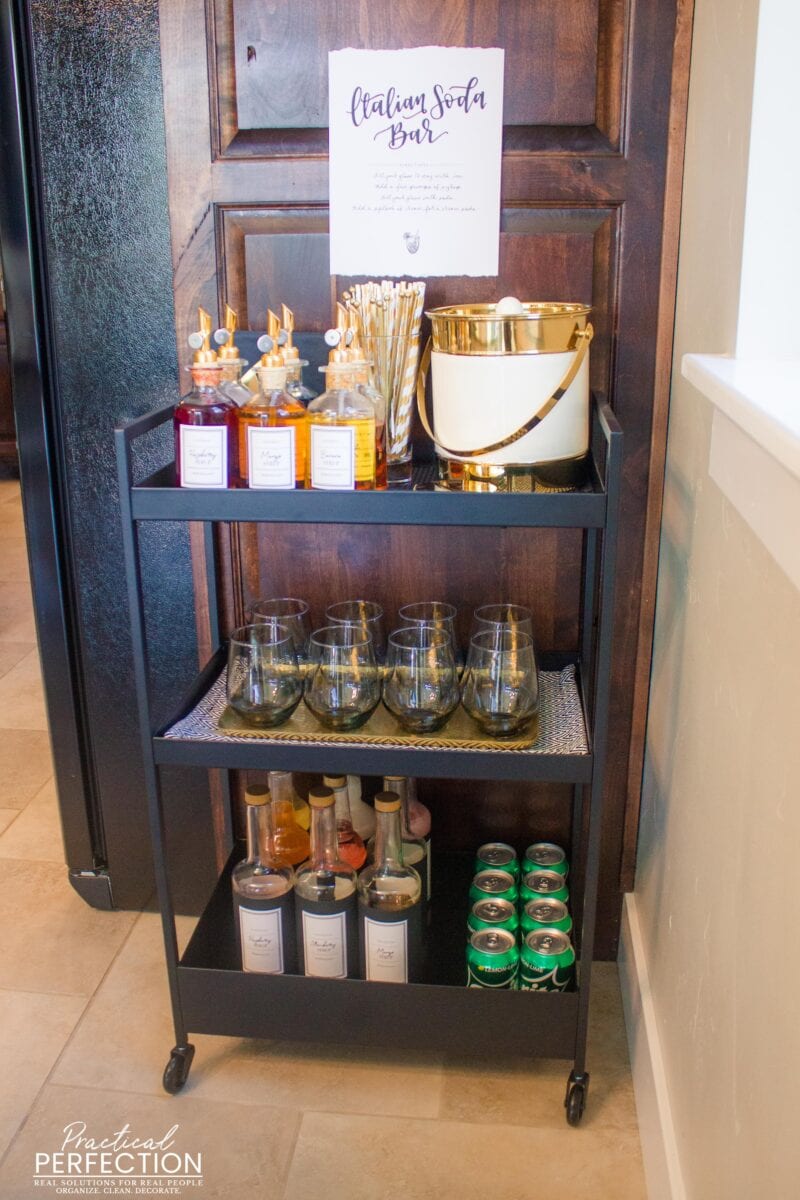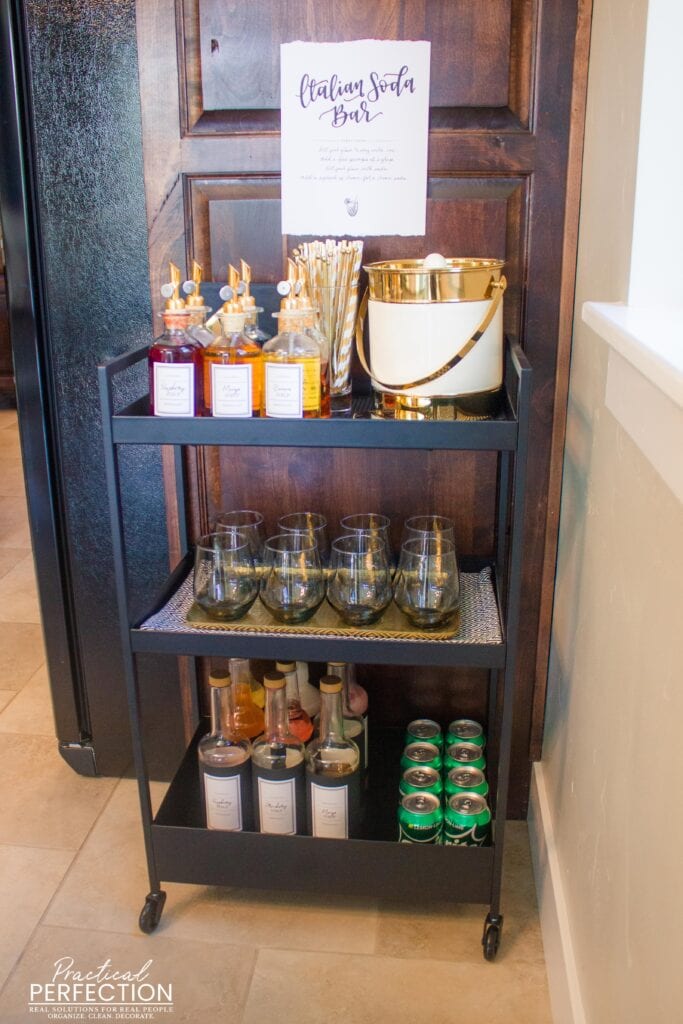 Glasses
Buy clear plastic glasses with lids because this way no matter how much people drink they'll still look great and professional on camera! Plus, try getting some metal straws to add an extra stylish touch to the bar area where you're setting up everything.
Shop Glasses:

Garnishes
Garnishes are no a necessary part of Italian sodas but they are a great way to add an extra bit of flair. You can keep it simple with some sliced fruits like oranges and apples but you may also want try things like cucumbers, mint leaves, or lemon wedges! My personal favorite is to lightly crush raspberries or strawberries to add to my soda.
Whipping Cream
If you want to make your Italian soda creamy, add some whipped cream. It's a very easy way to make it more indulgent and satisfying! It gives it a nice creamy texture that makes it extra delicious.
Ice and an Ice Bucket
Nobody likes warm soda, so it's important to have ice available. You can just store some ice in a bowl that you already have or you can get an ice bucket that will help to keep the ice cold (and clean)!
Ice can really make your drink taste better by cooling it down and adding the perfect amount of crunch.
Shop Ice Buckets:

Syrup Labels
This isn't a necessary step but if you want to make your Italian soda bar look polished and uniform, you can add some syrup labels! You can just use some cardstock to create your labels and then write the name of each syrup on it.
I sell a set of 50 syrup labels in my shop if you're interested in purchasing some for your next party. I highly recommend using waterproof sticker paper to print them on so that the labels aren't ruined the second you get syrup on them.
Italian Soda Instruction Sign
Because many people are unfamiliar with Italian sodas, it can often seem overwhelming to try and make one from scratch. It can be really helpful to have an Italian Soda Bar sign next to your drink supplies to give your guests some direction on how to make their own drink creations.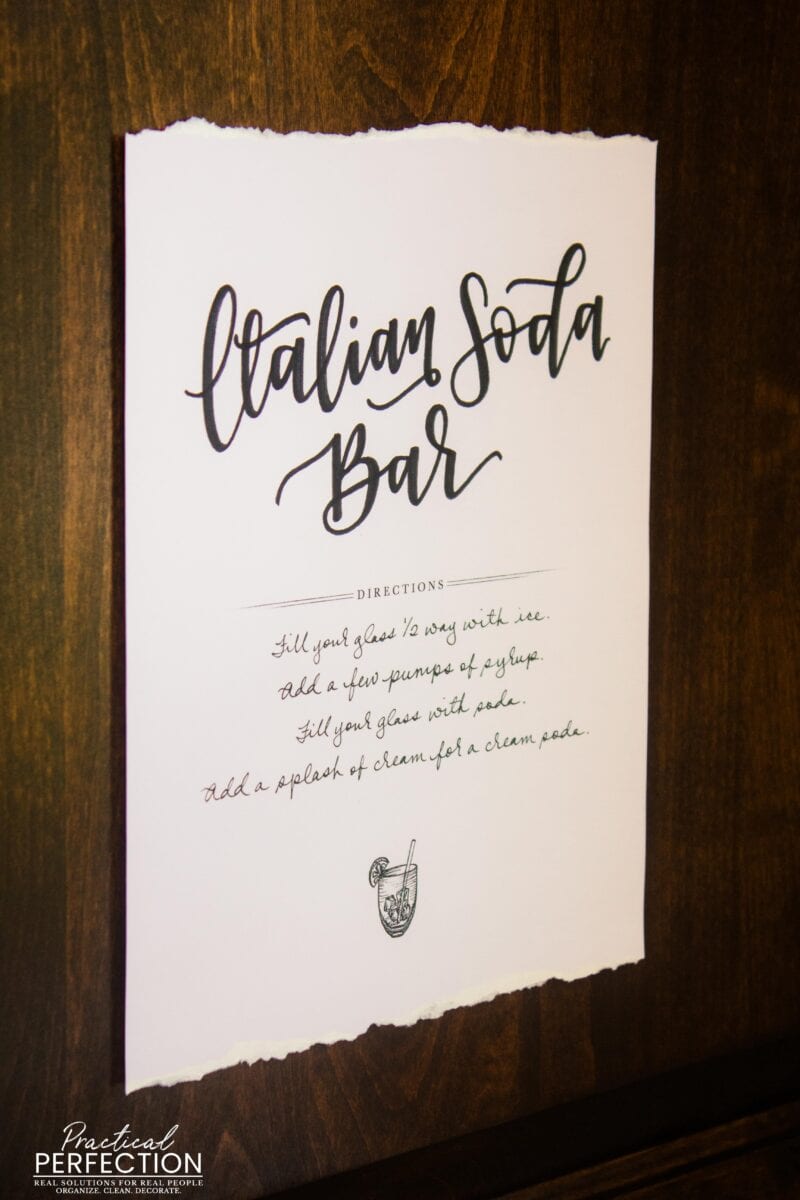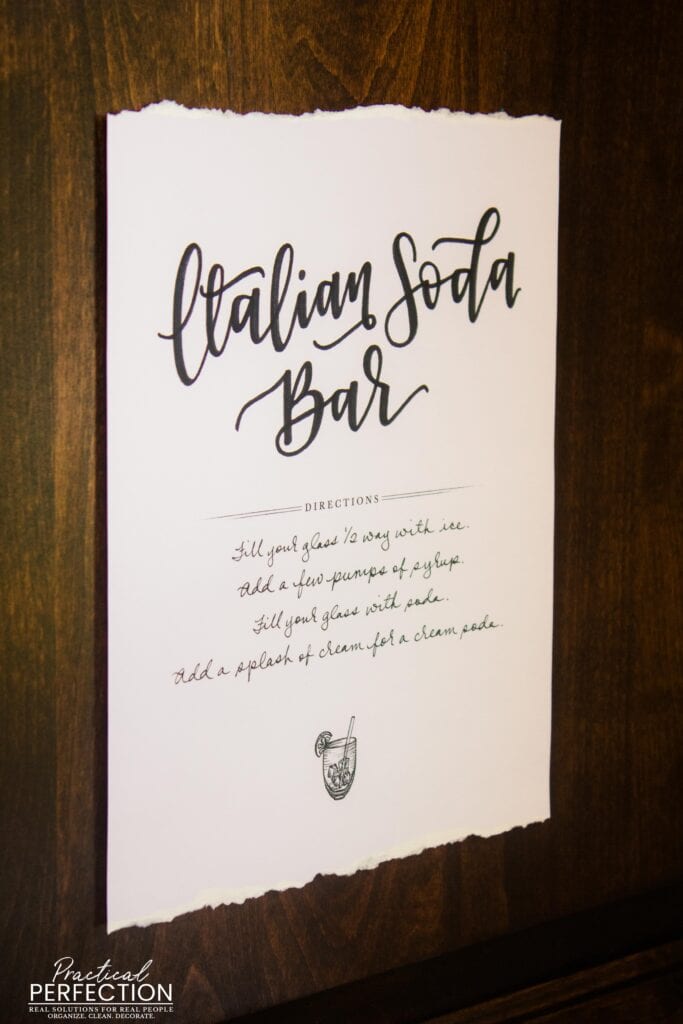 This can be especially helpful to guide your guests when you otherwise would be tending to other party details. The sign frees you from explaining how to make an Italian soda to your guests who have never made one before.
The sign that I have pictured here is a beautiful custom sign that was handwritten by a talented Etsy seller named Lezlee.
Straws
Straws are not an essential part of an Italian soda bar but if you plan on serving your sodas with straws, it's important to have a variety of colors and lengths available. This will help make the drinks look more appealing and add to the festiveness of the occasion!
There are many different types of straws you can purchase such as bendy straws, the classic clear ones and even some colored ones. Metal straws are a great eco friendly option that is really popular right now. Just make sure you clean them out well with a straw cleaner. Metal straws are great because they look impressive and add an extra pop of style that elevates the feel of your Italian soda bar.
Shop Straws:

Drink Stirrers
Drink stirreres are not necessary for an Italian soda bar but it makes it easy and convenient to mix everything together after you've added the soda. These are also a great way to add more color and variety to your drink station!
Metal straws work well as drink stirrers so you do not have to worry about them breaking like some plastic ones might when stirring thicker ingredients in drinks.
Shop Drink Stirrers:

Dirty Glass Tray
You'll need a big tray or platter for guests to place their empty glasses on when they're done drinking their soda so there's no clean-up needed after your party ends. You should also have some cocktail napkins handy in case someone spills something while making one of these yummy drinks!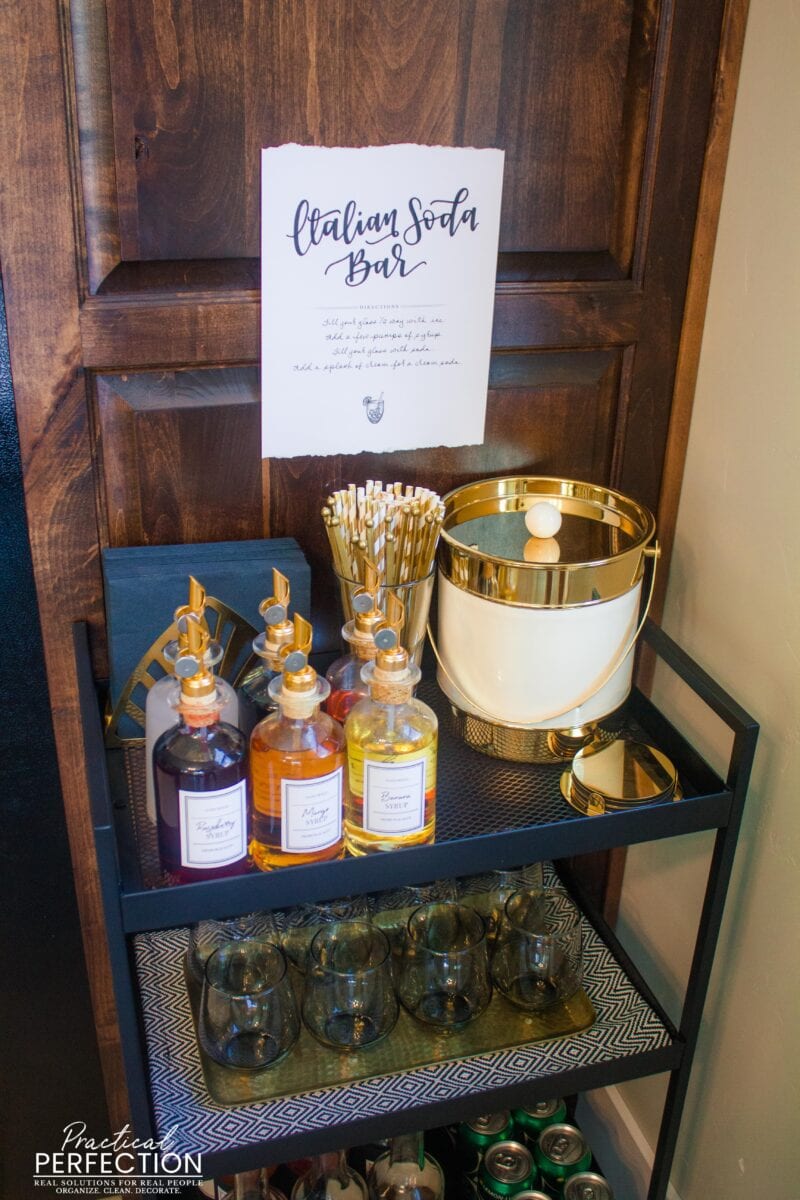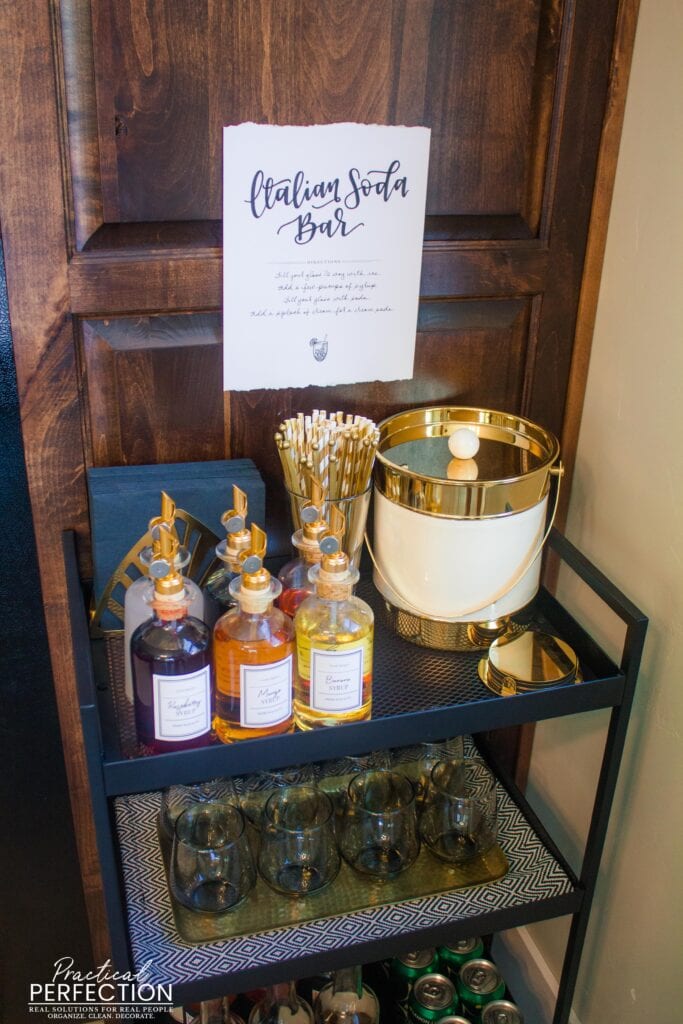 Where can I buy affordable flavored syrups?
Flavoring syrups can be quite expensive, especially if you want to buy multiple flavors for your Italian soda bar. But there are a few tricks to making it affordable.
My favorite place to purchase discounted flavoring syrups is from discount stores such as Ross Dress for Less, TJ Maxx, Tuesday Morning, and Burlington. All of these stores tend to have a section where they sell gourmet foods and you can almost always find flavoring syrups there for about $4.00.
Shop at a wholesale store like Costco or Sam's Club. These stores usually have the best deals on flavored syrups and other bar supplies. Or better yet, find out if they offer any discounts for being an employee.
You can also check online to see if you can buy in bulk from Amazon. But be careful of the Amazon prices because they can be really expensive if you buy them individually.
You can also find Torani Syrups in most grocery stores near the coffee section.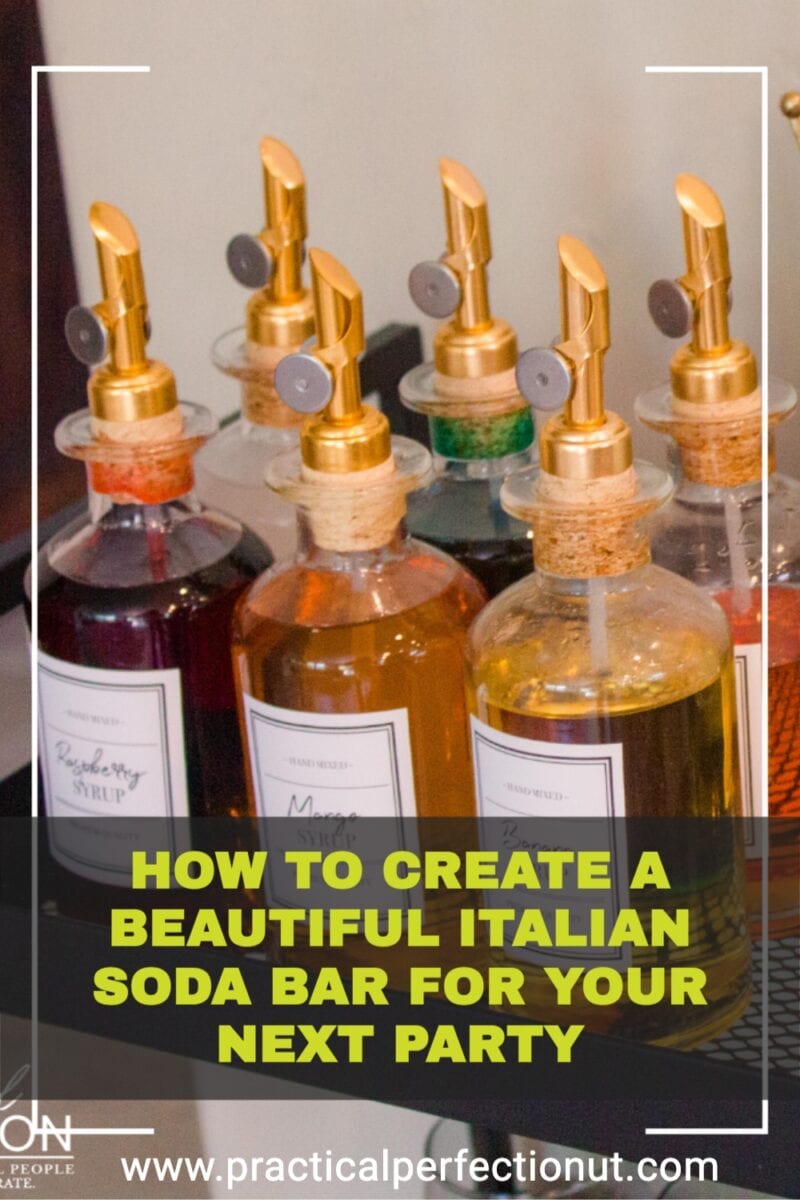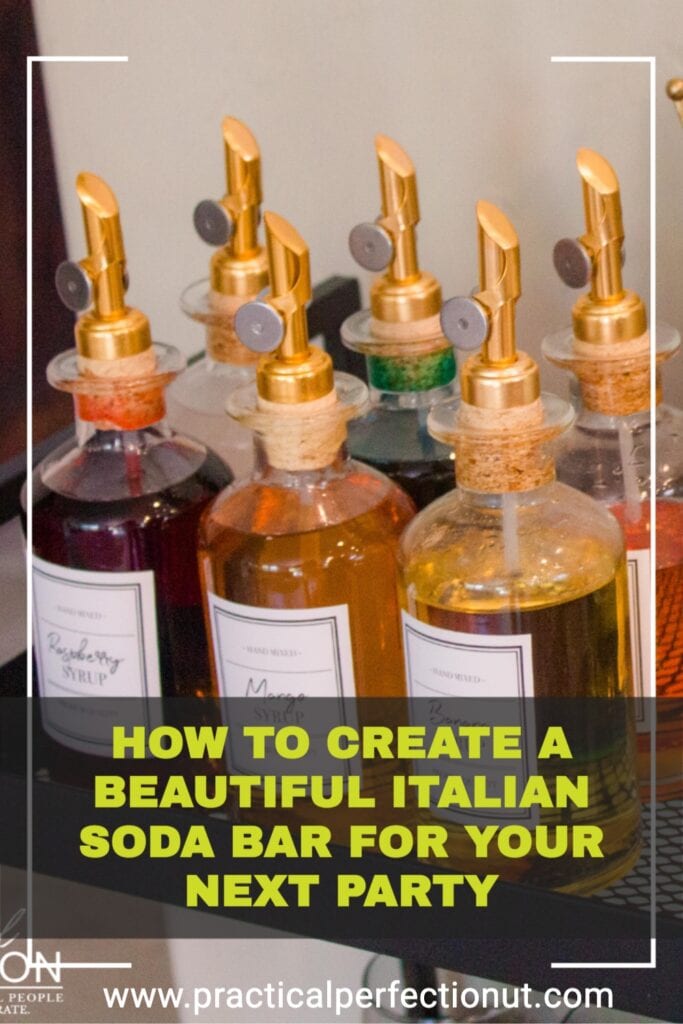 What are some Italian Soda Recipes?
It can get overwhelming to know where to start with which flavor combinations to try so I thought it might be helpful to give you a few Italian soda recipe ideas to get you started.
Strawberry and Kiwi Italian Soda: Add a teaspoon of strawberry Torani syrup, about a quarter cup kiwi juice, and some ice to make it nice and cold.
Peach Mango Italian Soda: Add in equal parts peach syrup and mango syrup to your soda. Add in some crushed up canned peaches for garnish.
Pina Colada Italian Soda: Mix pineapple syrup and coconut syrup on top of your soda. Add in ice to make a delicious Italian soda. Add in cream to make it extra creamy.
Tiger's Blood Italian Soda: mix strawberry syrup and coconut syrup
Creamsicle Italian Soda: Orange and vanilla syrups mixed together (don't forget to add the cream!)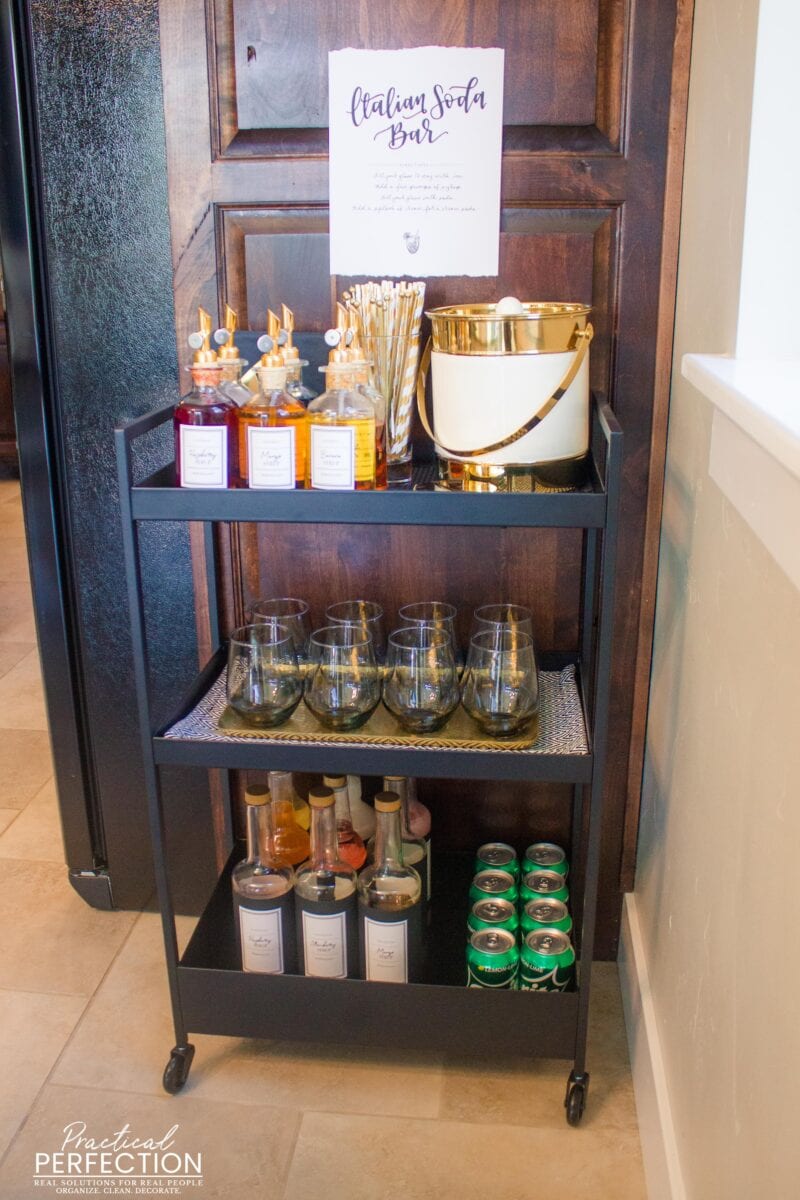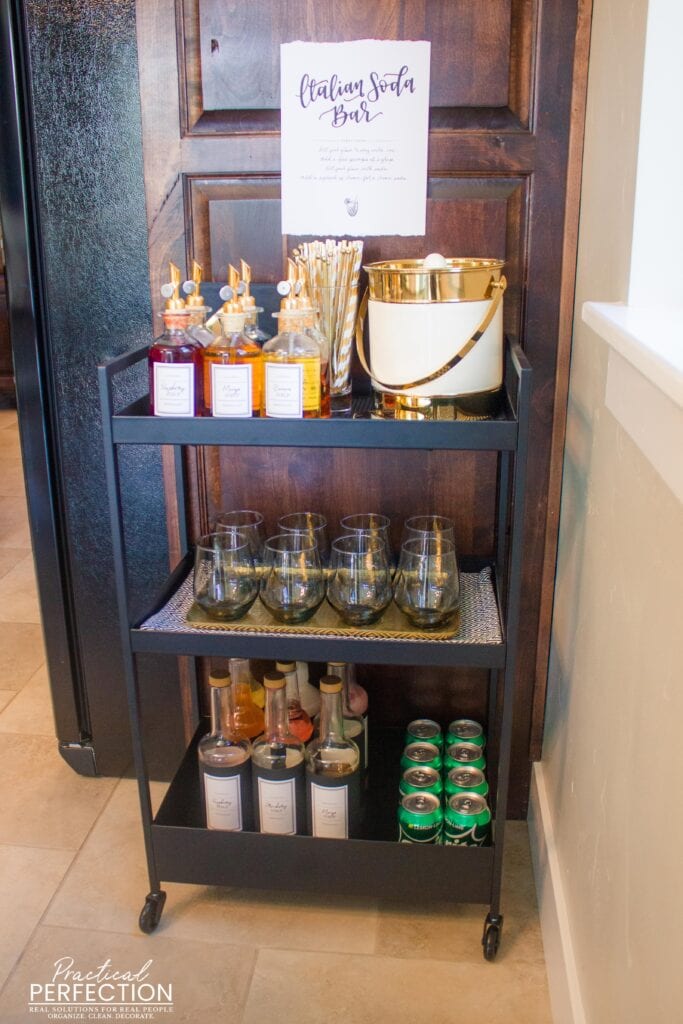 Why does Italian soda curdle?
Sometimes when you add cream to your Italian soda, the cream curdles and gets a weird texture. This happens because the fat in the cream doesn't mix well with soda. This is due to a chemical reaction that causes it to happen, and there's not much you can do to prevent it from happening. It happens particularly with citrus-based sodas such as Sprite or 7-Up.
The best way we've found so far is by using heavy whipping cream instead of milk or half-and-half cream (just make sure your beverage isn't too cold). We also recommend stirring before adding the cream, and then again after adding it into your drink for an even smoother texture!
Now you know everything that it takes to create a beautiful Italian soda bar for your next party! It might seem complicated at first, but once you have all the key elements together it's not too difficult. That being said, don't forget about other things like food and decorations because these also make an impact on how successful or memorable your event will be. After reading this post I hope now feel confident in hosting events with Italian sodas as one of their main attractions!