How to Organize Your Trunk: 5 Simple Solutions
Do you have trouble finding things in your car trunk? Is it cluttered and full of random items? If so, don't worry – you're not alone! Many people have trouble organizing their trunks.
This can be a big problem, especially if you need to carry around a lot of things. It's frustrating to try to find that emergency kit buried beneath a pile of grocery bags or sporting equipment.
In this post, we will discuss five simple solutions for organizing your trunk. Follow these tips and you'll be able to find everything easily!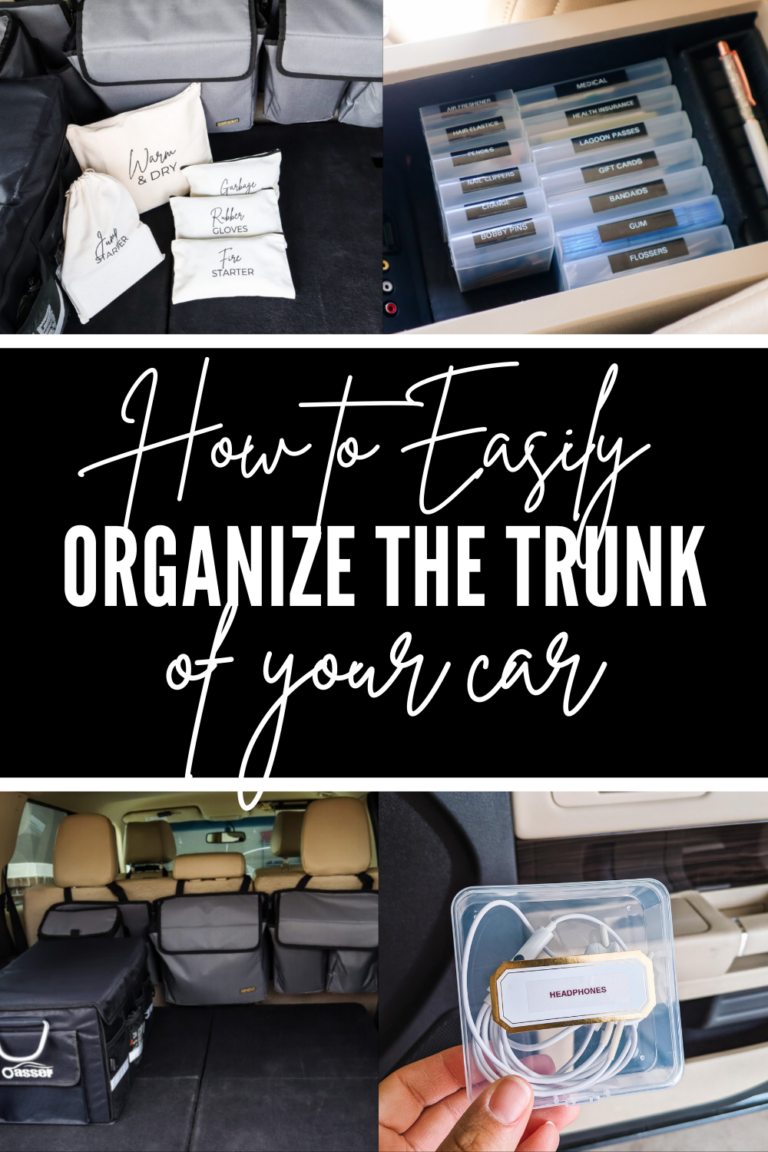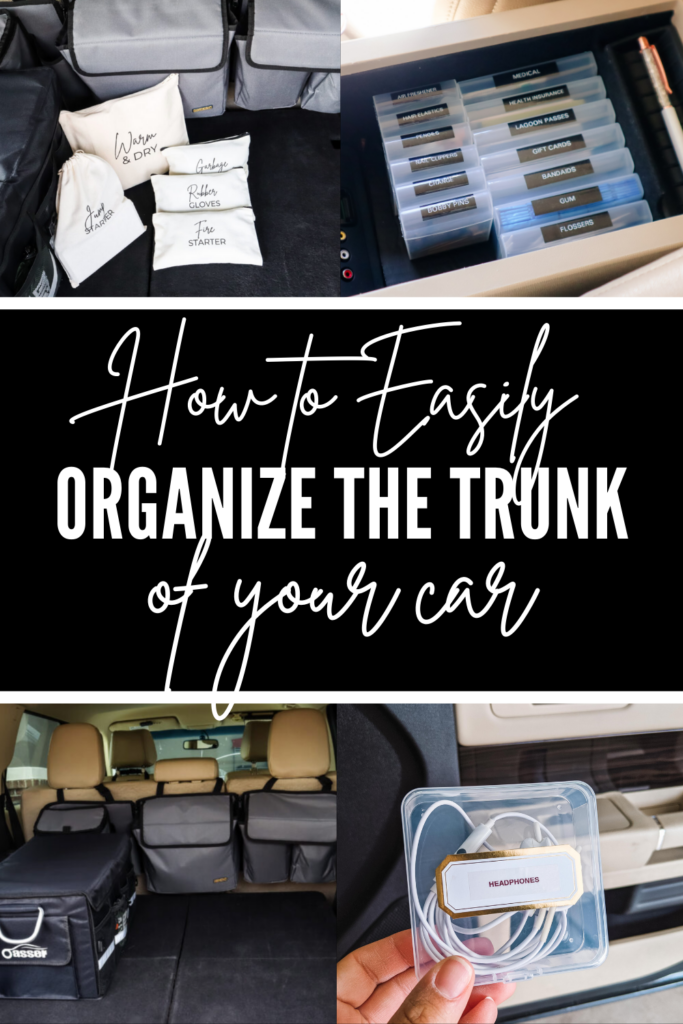 Why should I worry about organizing my trunk?
You might be wondering why you even need to organize your car trunk. It's just one more thing to mess with. But if you utilize your trunk space to store jumper cables, sporting gear, and other loose items, it's important to have a system in place.
A messy trunk can be dangerous. If you have to slam on the brakes, everything can come flying forward and hit you or your passengers. This is especially dangerous if you're carrying items like tools that could injure someone.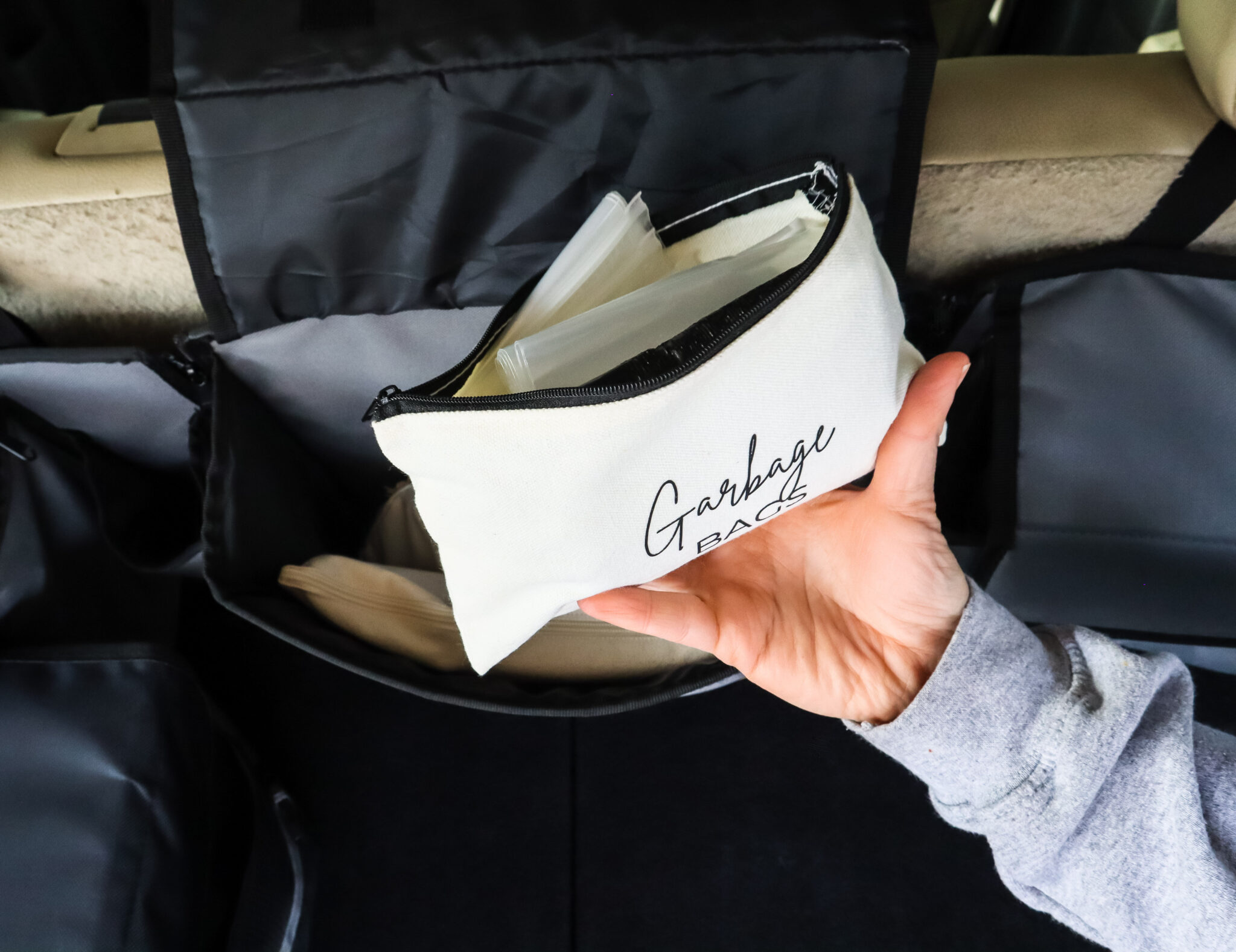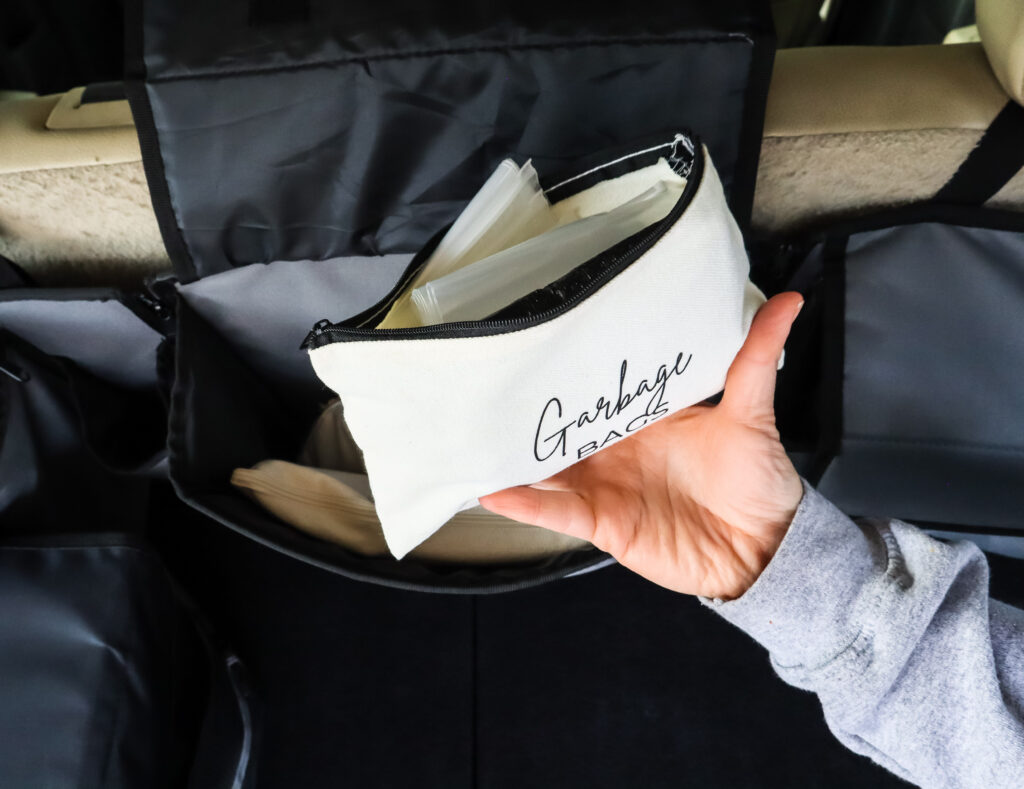 In addition, a messy trunk is just inconvenient. It's hard to find what you really want in your car trunk if it's cluttered with grocery bags, essentials, or clutter. You don't want to get to the hockey game of one of your kids and not be able to find the gear they need!
Organizing your car's trunk is a great idea to keep your car and schedule running smoothly!
How to Organize Your Trunk
Organizing your car trunk isn't as bad as it sounds. After all, it's a pretty contained area, so it's not like cleaning and organizing a massive room in your house.
You can do a few simple things to feature everything in your trunk and make sure everything has its place!
Here are five great tips on how to organize your trunk and utilize your trunk space well.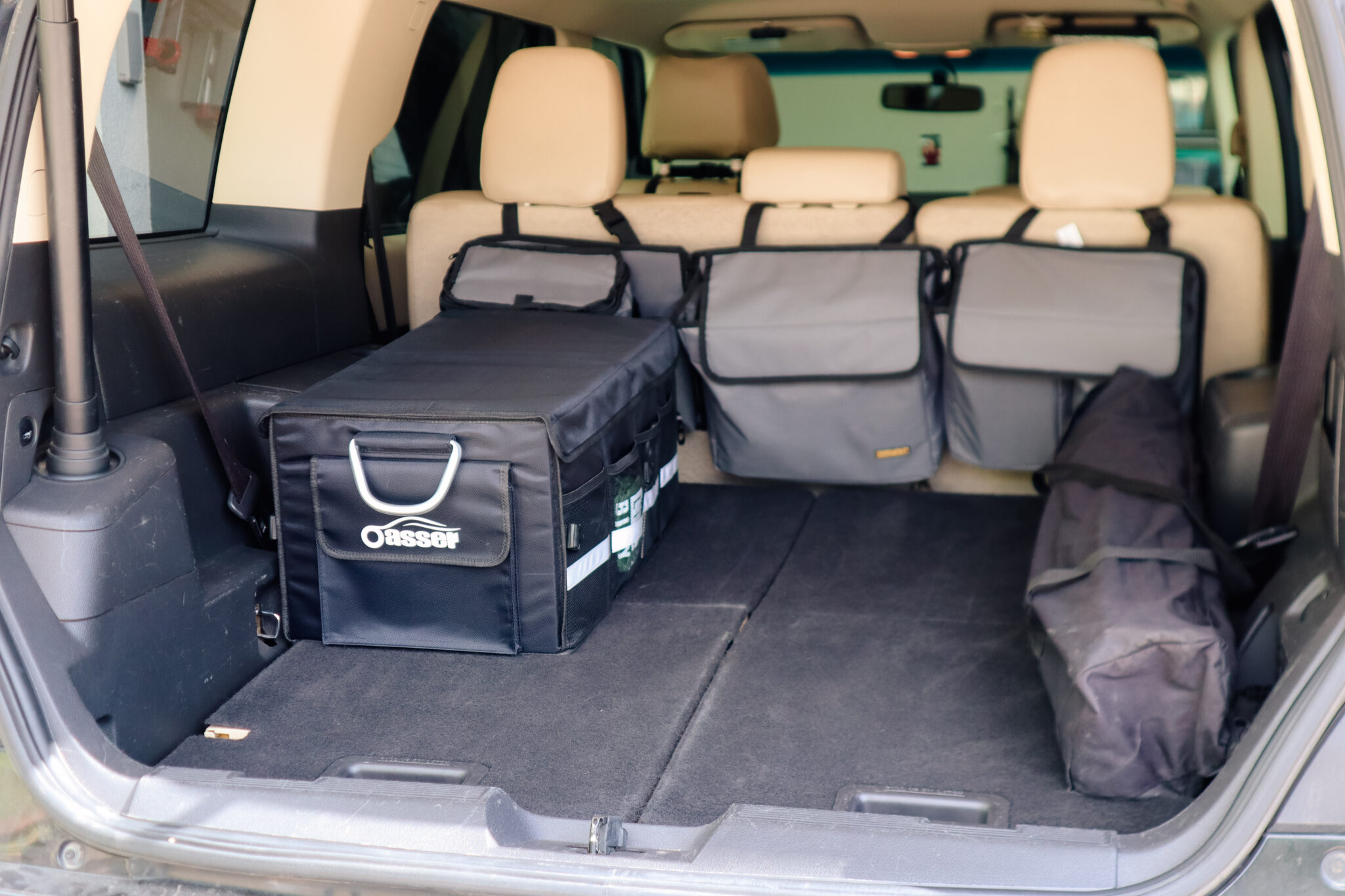 1. Use Storage Containers
Using a storage container or bin is an easy way to keep everything organized, sorted, and in one place. You can easily find a good bin at the container store.
I love getting collapsible bins because they can separate all of your items and keep them contained, but can also collapse down when you're not using them. You can also get a trunk organizer that is collapsible and works the same way.
There will be times when we have tons of items in our trunk and other crimes when we might not have to carry that much. So having a collapsible bin is a great way to make more room in your trunk without having to take the bins out of your vehicle's trunk completely.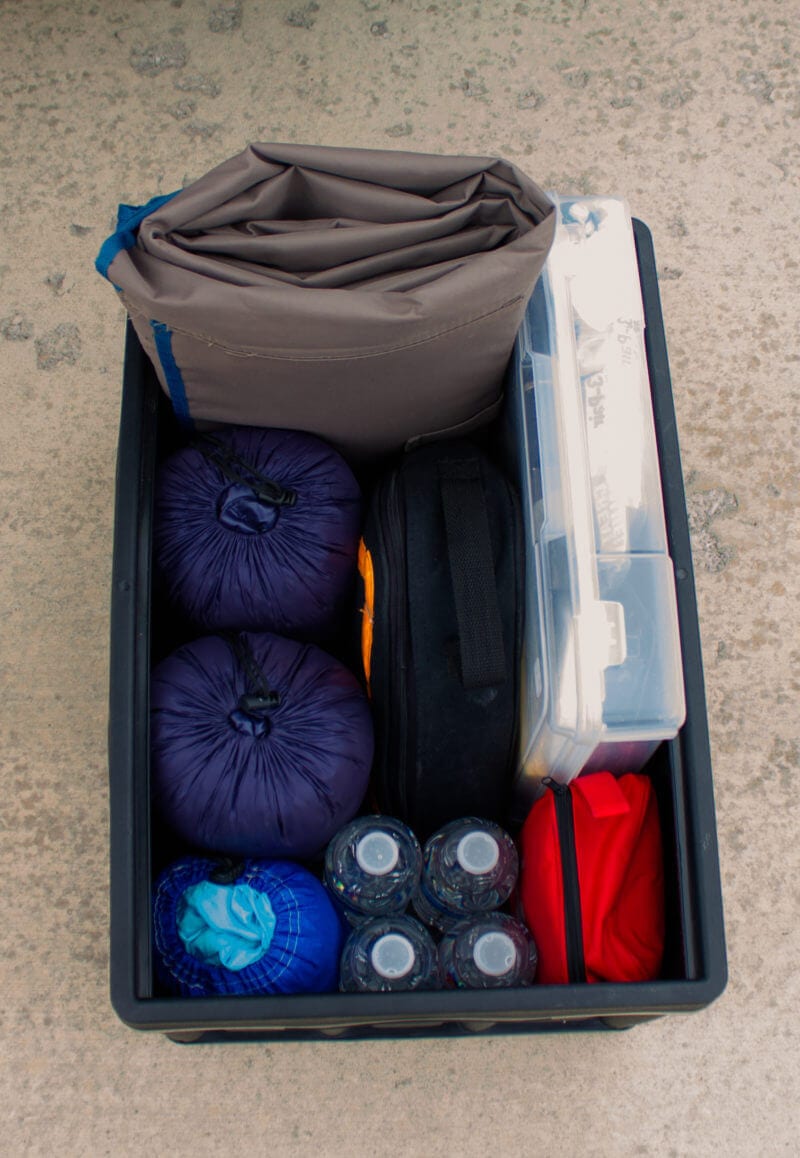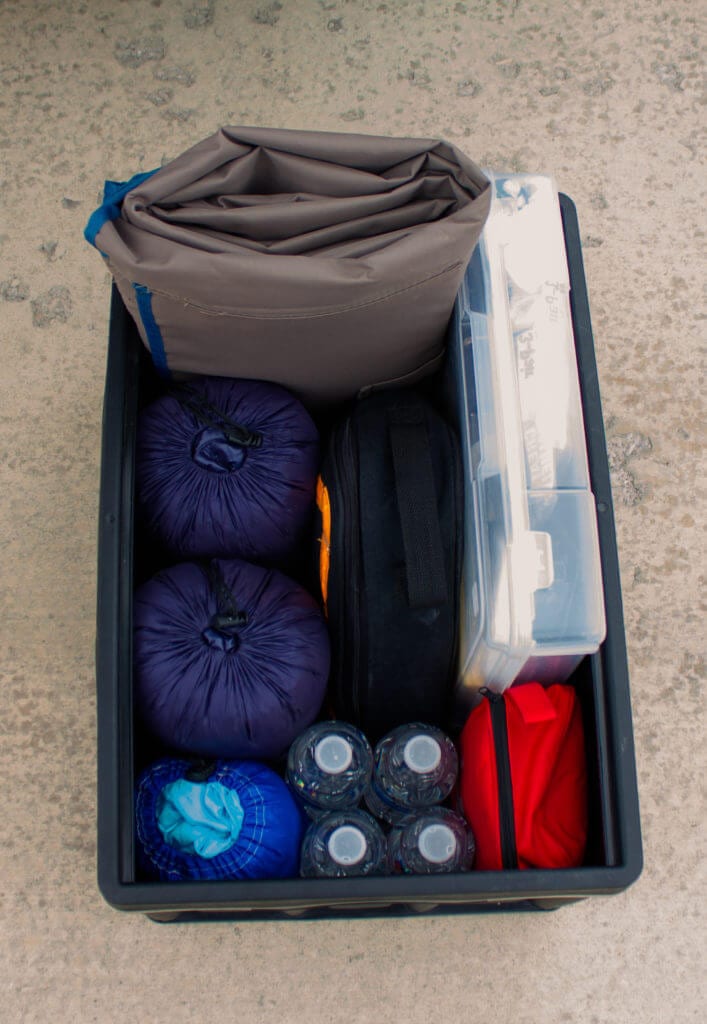 How to Use Storage Containers in Your Trunk
Storage containers can help contain any loose items which will not only keep your trunk organized, but will make your car safer. You want to keep those items contained so they don't go rolling around when you stop your car.
Get a container with multiple pockets or separate sections so you can categorize your storage. Add your first aid kit and emergency essentials to one area (like non-perishable food items or bottled water). If you bring toys or coloring books for your kids, stick those in a separate car trunk container.
Organize all your essentials, emergency supplies, and camping or sporting gear into separate bins or separate sections in the same container. You should be able to easily find a trunk organizer with multiple areas for you to organize your things.

2. Add a Car Trunk Shelf
If you have the space, putting up some shelves is a great solution. You can buy shelves specifically designed for trunks or you can use regular shelves.
There are some vehicle shelves that easily pop up or down depending on if you need them. But using a shelf in your vehicle is super helpful when getting groceries. You can put some bags on the top shelf and some on the bottom, so you don't have to worry about crushed bread or smashed snacks anymore.
Car trunk shelves are also good ideas for anyone who carts around a lot of stuff. If you tend to store a lot of things in your vehicle, fill that space wisely by putting a shelf in your trunk so you can stack items and have more surface area to store stuff.
It's a great idea and feature to have in your car! It could also work if you're going on a road trip in particular as a good place to store your snacks for a road trip.
3. Use a Grocery Organizer
Speaking of groceries, it's a good idea to organize your shopping bags when your vehicle is full of groceries.
I don't know if this has happened to you, but sometimes I'll get back from driving home with groceries in my car and find that my shopping bags have fallen over and my food has gone rolling around my car.
There are tons of ways to store and keep your groceries organized in your vehicle, but a trunk organizer is a great way. You can easily throw your bags of food into the trunk organizer and you're ready to go.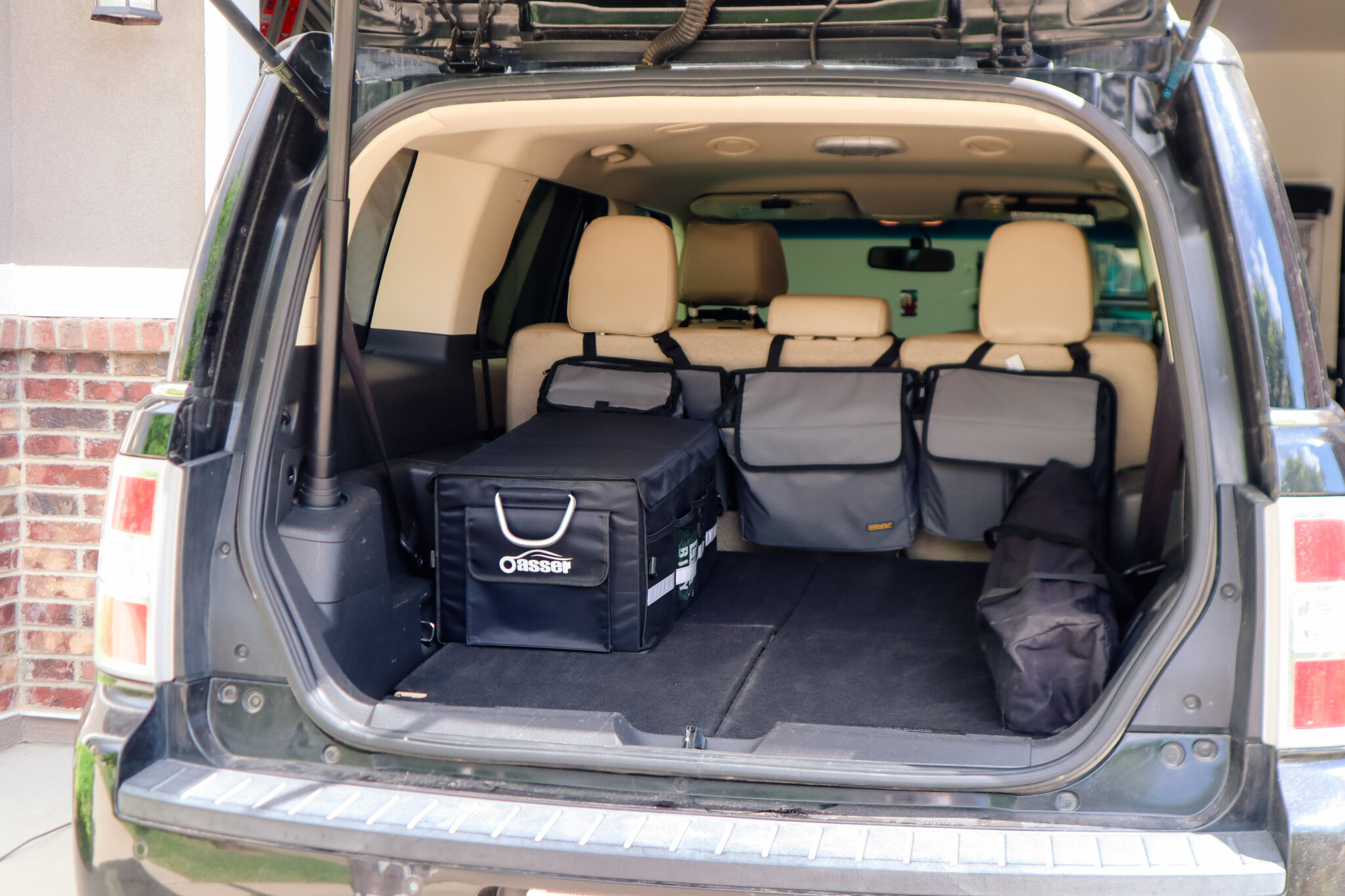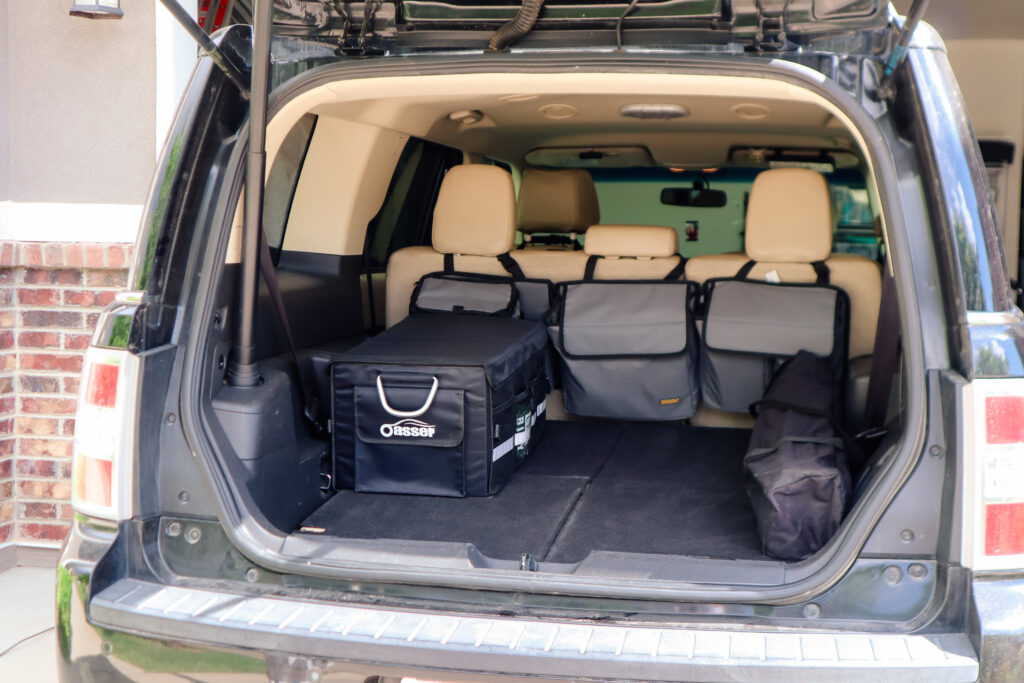 It will also help you save time when you're unloading since you won't need to crawl into your car or trunk to catch all those cans that have rolled off under the seat.
Now the next time you're coming back from the store, you won't have to worry about more groceries flying around in your car's trunk.

4. Get a Back Seat Organizer
If you want to keep your car trunk space mostly empty, you can get an organizer to hang on the back seat. Hanging pockets or an organizer on the back of the seat of your car will help you keep your trunk organized and will also give your kids a place to put their things.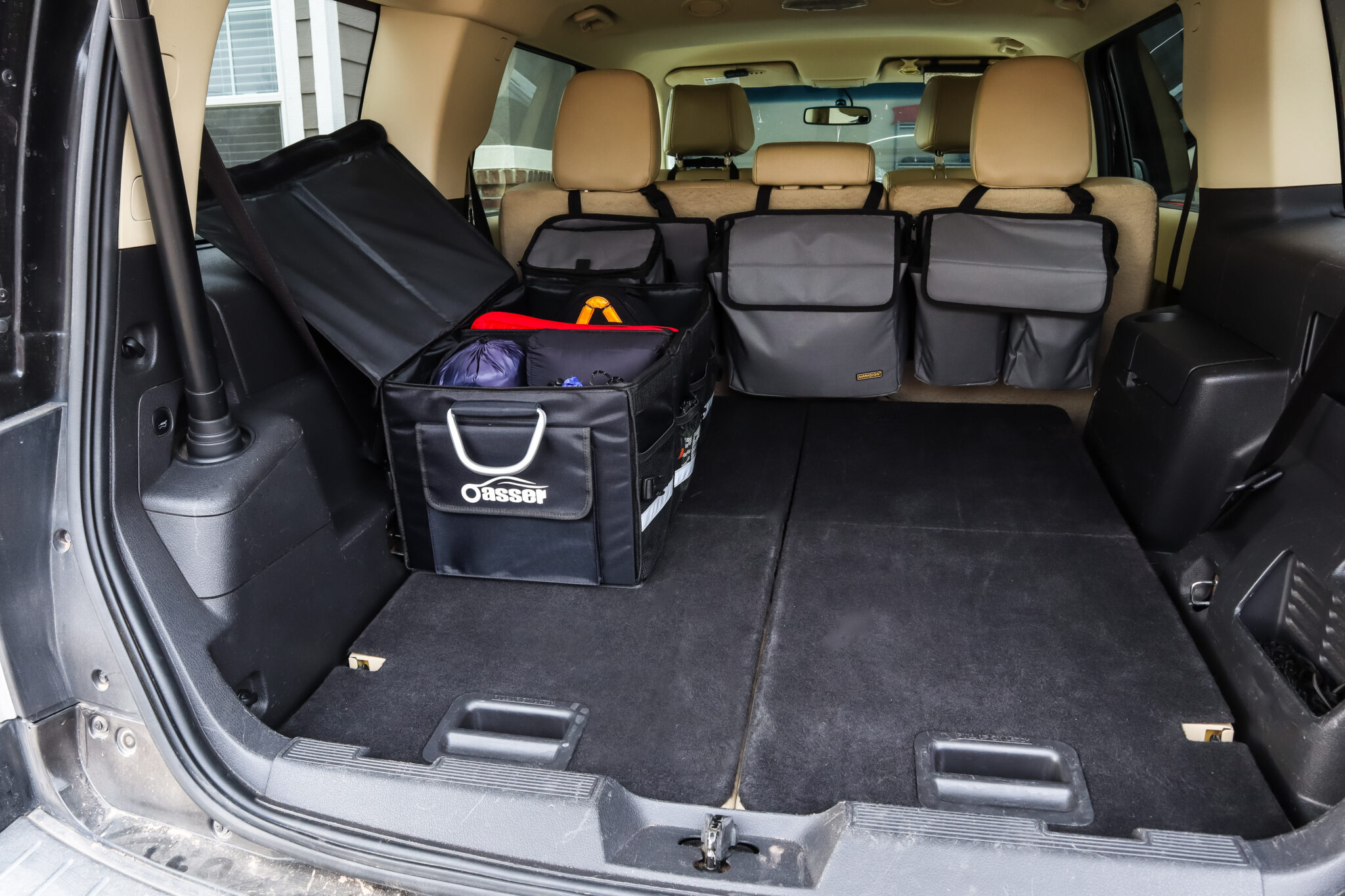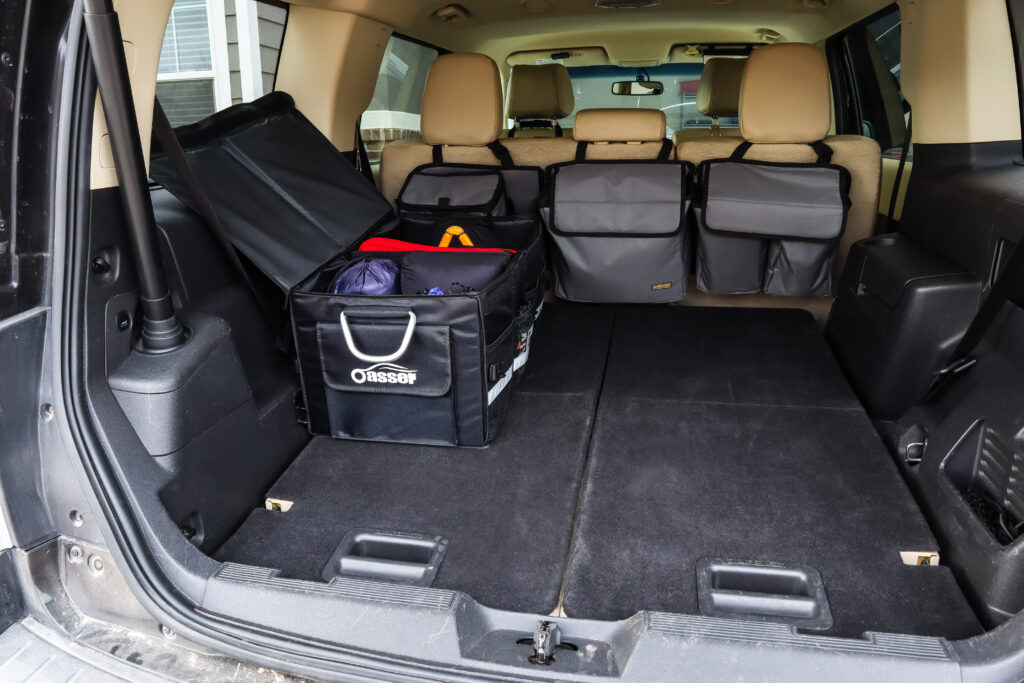 This is especially useful if you want to keep the floor of your trunk empty so that you can easily access things or if you need to store something large in the trunk.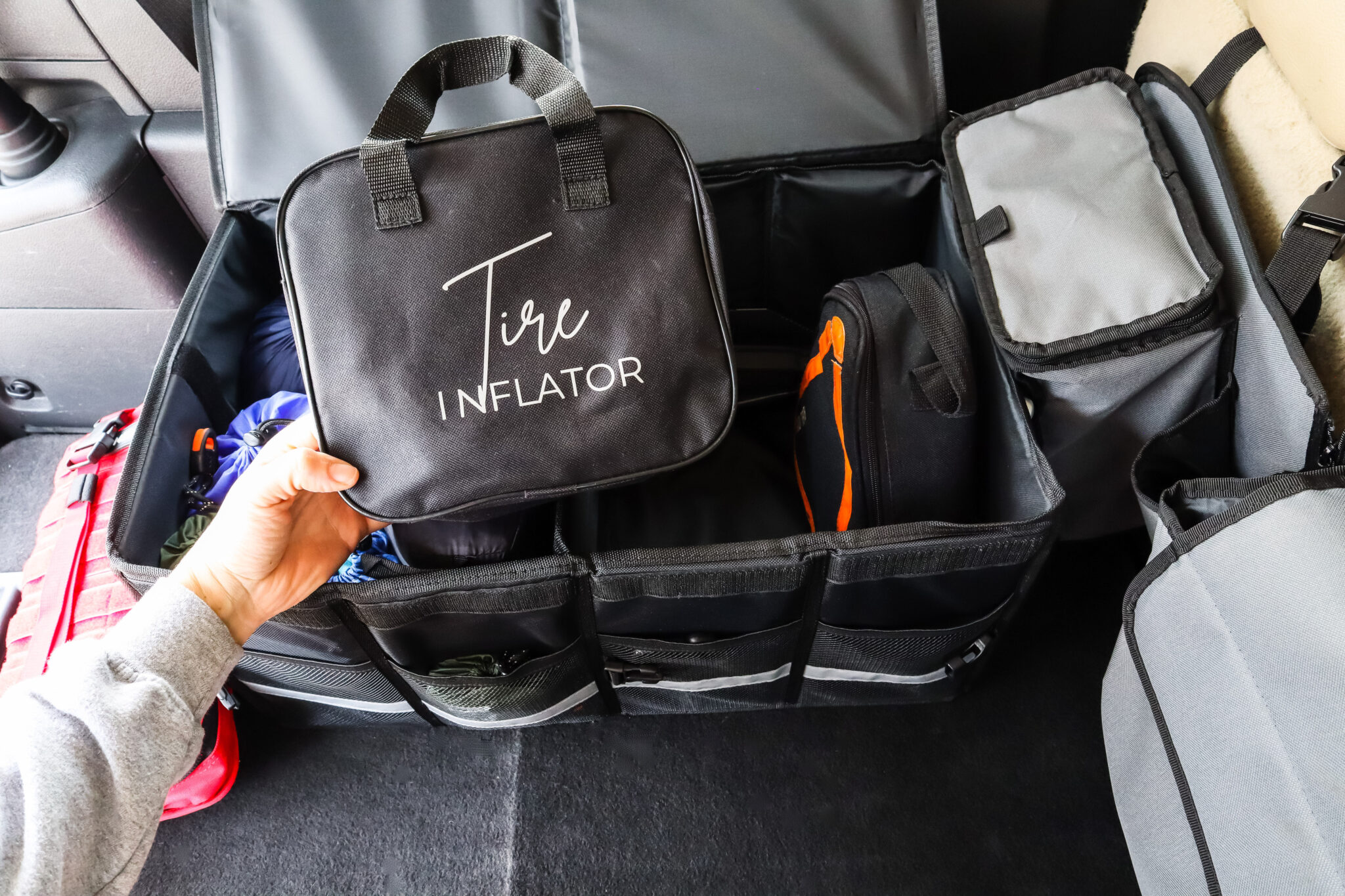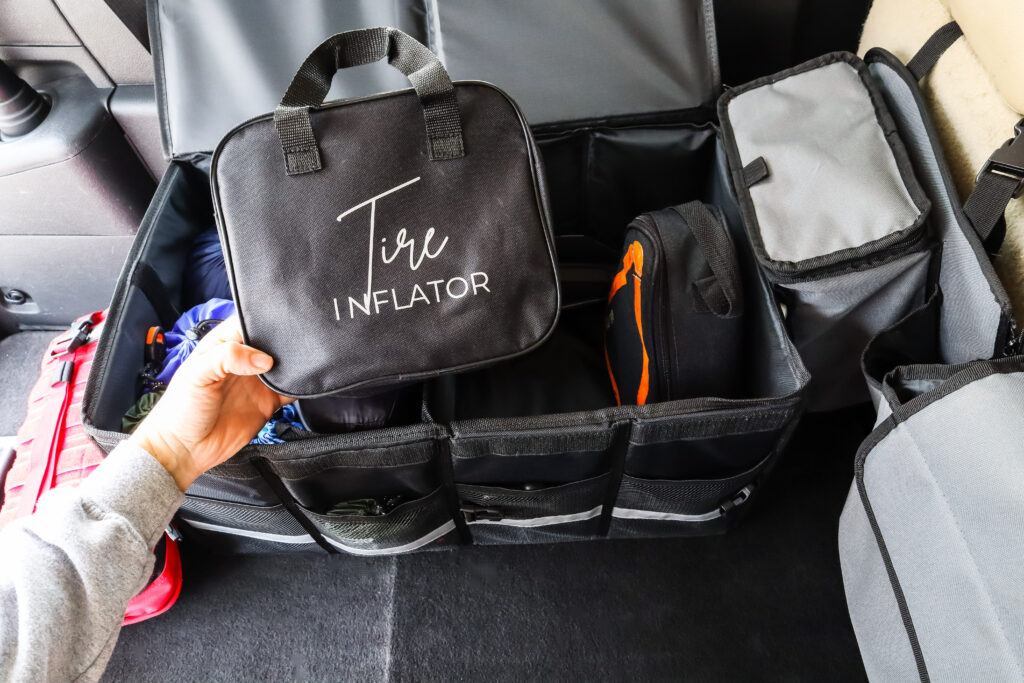 You can find and purchase a back seat organizer at most stores that sell car accessories.
I do highly recommend this for a road trip. Your kids can keep their stuff in the pockets hanging right behind them in the car.

5. Make Your Own Organizer
If you don't want to spend money to buy a new organizer or product for the trunk of your vehicle, there are tons of ways you can make your own car organizer with things around your house!
Look around your house for cardboard boxes or plastic containers that would fit well in your car. You can even use an old laundry basket! Just make sure whatever you use is sturdy enough to hold everything you need it to.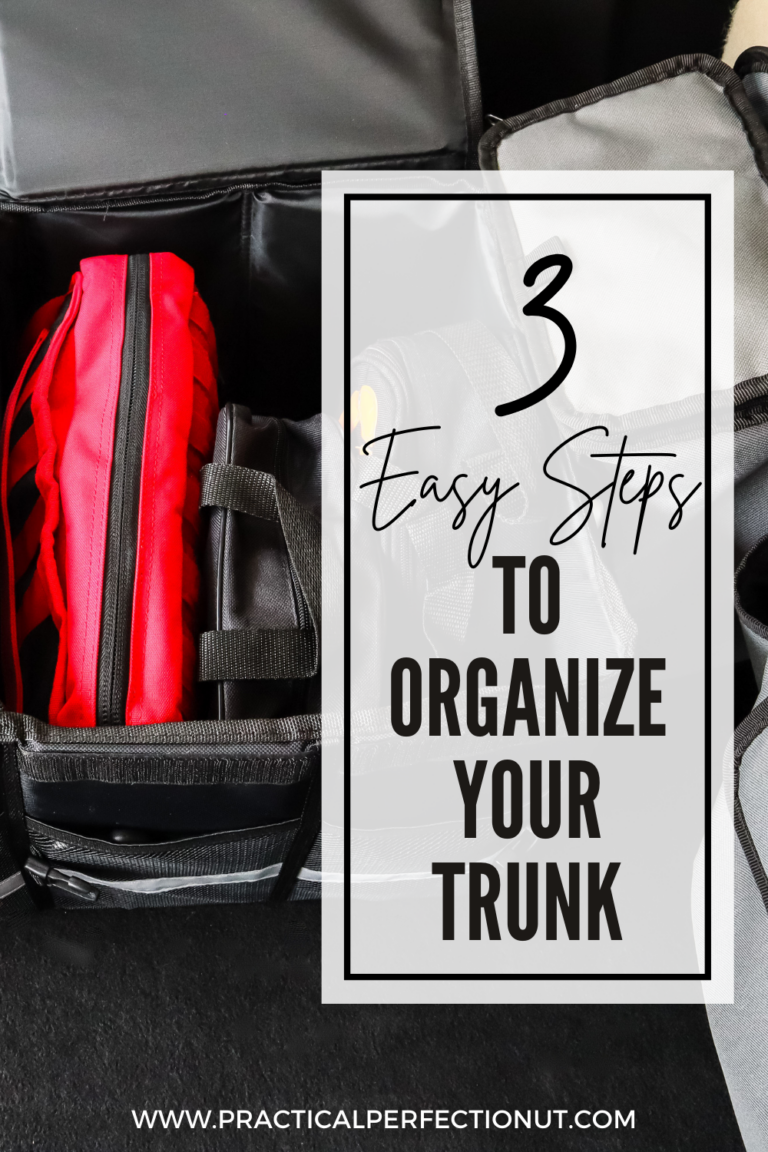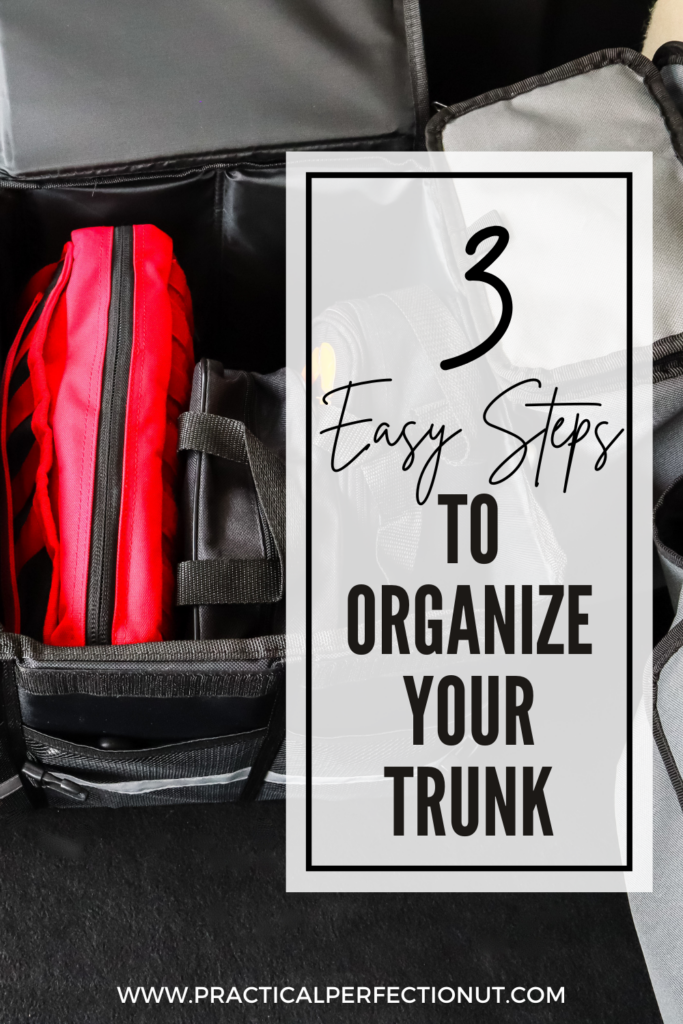 You can even use an old shower caddy if you want a small organizer for little items like paper towels or jumper cables to keep in your car.
So, depending on the size of the things you'll be carrying in your car, you can use things from a big box or laundry box to a smaller shower caddy. It doesn't really matter what you use, as long as it fits in your car and holds your things.
And a huge perk is that you'll be recycling old items in your car while saving money!
Your car is ready to go!
Now that you know how to organize your trunk, put these tips and ideas into action and enjoy a clean and organized space!
You'll be able to ride in peace, knowing that containing loose things can protect you and your kids from sudden stops and you'll be able to find those finicky jumper cables when you need them.
Have fun organizing those cars!